(1) DUBLIN 2019 WRITING WORKSHOP. To be led by GoH Diane Duane.
(2) IN THE BEGINNING. Here's part two of Anne-Louise Fortune's video series Worldcon 101 – Dublin 2019.
(3) MAD NO MORE. ComicBook.com originally reported "MAD Magazine to Cease Publication":
MAD Magazine will cease publication later this year, according to reports. Blogger Jedidiah Leland reportedly discovered the news after a MAD editor confessed to the magazine's doom in a Facebook group, and shortly thereafter, cartoonist Ruben Bolling seemed to confirm the report on Twitter….
But as it turned out, MAD – unlike the Wicked Witch of the West — is not really and completely dead: "Details Surface About Plans for MAD Magazine's Future":
MAD magazine will not be completely closing down, as previously reported — although most of its new content will cease, and availability for the iconic humor magazine will be reduced. Earlier tonight, the news broke that MAD was set to cease publication after two more issues of new content, with the magazine using archival content to fulfill its obligation to existing subscribers. This is a little true, and a little not, and ComicBook.com has heard from a source with knowledge of the situation who clarified what is going on.

MAD will be leaving the newsstand after issue #9, which will land on newsstands in early August with all-new content. MAD #10 will also contain new content, but will be available only via direct market comic book retailers and subscriptions. Rather than closing up shop, the plan at present is to continue publishing issues that will feature reprinted classic MAD pieces, wrapped with new covers art. Further, MAD will continue to publish its end of year specials, as well as books and special collections, capitalizing on the value of the MAD brand in spite of the loss of new content in the magazine
(4) FRIGHTENING FLICK. NPR's Justin Chang reports that "'Midsommar' Shines: A Solstice Nightmare Unfolds In Broad Daylight":
In the viscerally unnerving films of Ari Aster, there's nothing more horrific than the reality of human grief. His haunted-house thriller, Hereditary, followed a family rocked by traumas so devastating that the eventual scenes of devil-worshipping naked boogeymen almost came as a relief. Aster's new movie, Midsommar, doesn't pack quite as terrifying a knockout punch, but it casts its own weirdly hypnotic spell. This is a slow-burning and deeply absorbing piece of filmmaking, full of strikingly beautiful images and driven less by shocks than ideas. It's not interested in frightening you so much as seeping into your nervous system.

And like Hereditary, Midsommar is very much rooted in loss. It begins with a young American woman named Dani, played by the great English actress Florence Pugh, panicking over a family emergency that moves swiftly toward its worst possible outcome. As she tries to pick up the broken pieces of her life, Dani seeks solace from her boyfriend, Christian, and is surprised to learn that he's about to go on a trip with some of his grad-school buddies. They're headed to a remote Swedish commune that is holding a nine-day festival to observe the summer solstice. Dani presses him about why he didn't tell her earlier, and an argument ensues.

They fly to Sweden and, after a few hours' drive, arrive at a remote, centuries-old village where they are greeted by about 60 men and women wearing white robes embroidered with mysterious symbols. They are known as the Hårga, and they invite their American guests to participate in each day's festivities, which include lavish feasts, silent meditations, exhausting maypole dances and the consumption of various mind-altering drugs. Aster has a gift for dreaming up fictitious subcultures, and he visualizes these ancient customs and artifacts with an almost anthropological attention to detail. The Hårga seem benevolent enough at first, and there's something comforting about their strange rituals and their intimate communion with nature.
(5) MORE TOOLS FOR FINDING GOOD SFF. Rocket Stack Rank, says Eric Wong in "New Recommenders and Improved Scoring" "has added 10 more recommenders, improved how story scores are calculated from 13 awards, 12 'year's best' anthologies, and 11 prolific reviewers, and updated the Best SF/F lists for 2015, 2016, 2017, 2018, and 2019 YTD."
(6) ASTRONOMY HISTORY, The Atlas Obscura Society can get you in to see "The Second Largest Public Telescope in the World" on July 6 and 7. It's on Mount Wilson near Los Angeles. See schedule and details at the link. (Note: Observatory is not ADA compliant,.)
Collecting ancient light in a 60-inch mirror, the Hale Telescope reflects images in your eye of beautiful objects, some that lie millions of light years away from Earth.

Join Atlas Obscura for an exclusive evening of observation with Mount Wilson Observatory's historic 60-inch telescope. Assisted by a telescope operator and a session director, you will investigate objects in the night sky and get up close and personal with our solar system. Depending on the evening's weather conditions, you could get a glimpse of faraway planets, a staggeringly close-up look at the moon, or star clusters looming over Mount Wilson, where the seed of the idea for this groundbreaking scientific invention was planted.

In 1903, astrophysicist George Ellery Hale went hiking in the San Gabriel Mountains. Resting at the summit of Mount Wilson, he gazed at his surroundings and realized he had found the perfect place to build an observatory. Five years later, at the very same spot, he unveiled the world's largest operational telescope, a 60-inch reflector that attracted preeminent scientists such as Albert Einstein and Edwin Hubble. In fact, it was with this telescope that Harlow Shapley discovered that the Sun's position was not the center of the Milky Way Galaxy. It now operates as the second largest telescope made exclusively for the public.
(7) MOTION IN LIBRARY. NPR's Bethanne Patrick finds "In 'The Ghost Clause,' 2 Marriages, A Missing Child, And Yes, A Ghost".
Howard Norman writes elegant prose — but really, that's because everything about Howard Norman is elegant. The Vermont-based novelist and scholar of Native American lore sprinkles his fiction with all the things that interest him, from literary to culinary to planetary. Like many of Norman's previous books, The Ghost Clause pays attention to Japanese poetry, binge-reading Trollope, what makes an intimate supper (mushroom omelets, salad, cherry pie with ice cream), and varieties of Northeast Kingdom moths.

The denizens of Adamant, Vt. — was there ever a better place name? — have a lot going on, even if by "a lot going on" one simply means making sure to leave time to have your cranberry scone toasted at the local café presided over by grumpy Vanessa. The first two people we meet are newly minted PhD Muriel Streuth and her husband Zach, a private investigator at the Green Mountain Agency. They've bought an old house with a library room, and their modern security system keeps picking up "Motion in Library."

Investigations into the unknown motion-detector blips don't reveal much. Fortunately for readers, our narrator soon reveals all (and this is not a spoiler): He is novelist Simon Inescort, whose widow, painter Lorca Pell, sold the house to Muriel and Zach after Simon's untimely death by heart attack on the ferry from Maine to Canada. He also informs us of the title's meaning, which refers to a perhaps-apocryphal Vermont statute whereby if new owners of a building discover it is inhabited by a "malevolent presence," the sale can be nullified.
(8) CASTING FOR MERMAIDS. Here's who they caught: "Halle Bailey: Disney announces singer to play Little Mermaid".
Disney has cast singer Halle Bailey in the starring role of Ariel in a live action remake of The Little Mermaid.

"Halle possesses a rare combination of spirit, heart, youth, innocence and substance, plus a glorious singing voice," director Rob Marshall said.

Halle, 19, half of R&B sister duo Chloe x Halle, "said it was a "dream come true".

The film, which will start shooting in 2020, will feature new songs written by Hamilton creator Lin Manuel Miranda.
(9) IN A HOLE IN THE GROUND. In 2015, Westword published an article about a community spawned from the Shaver Mystery: "Maurice Doreal and His Brotherhood of the White Temple Awaited the Apocalypse in Colorado".
… The American science-fiction community was still in an uproar over the Shaver Mystery, "The Most Sensational True Story Ever Told," according to Amazing Stories magazine, a publication whose circulation had skyrocketed after it published "I Remember Lemuria!," a fantastic story purporting to be a memoir of the extraordinary subterranean-world encounters of writer/artist Richard Sharpe Shaver, in 1945.

…One of those letters, published in the October 1946 issue of Amazing Stories, came from Dr. Maurice Doreal, the Denver-based "Supreme Voice" for the Ascended Masters, super-evolved human beings who live below Tibet. Doreal had recently announced that he was moving his Brotherhood of the White Temple from central Denver to rural Colorado to wait out the coming nuclear holocaust. "Like Mr. Shaver, I have had personal contact with the Dero and even visited their underground caverns," he now wrote. "In the outer world they are represented by an organization known loosely as 'the Black Brotherhood,' whose purpose is the destruction of the good principle in man…. The underground cities and caverns are, in the most part, protected by space warps, a science known to the ancients, but only touched on by modern science…. I note that many are wanting to enter these caves. For one who has not developed a protective screen this would be suicide and one who revealed their location would be a murderer…."
(10) TODAY IN HISTORY.
July 4, 1865 — Lewis Carroll's Alice's Adventures in Wonderland was published.
(11) TODAY'S BIRTHDAYS.
[Compiled by Cat Eldridge.]
Born July 4, 1883 — Rube Goldberg. Not genre, but certainly genre adjacent. Born Reuben Garrett Lucius Goldberg, he was a sculptor, author, cartoonist, engineer, and inventor who's certainly best known for his very popular cartoons showing overly complex machines doing simple tasks in a terribly convoluted manner, hence the phrase "Rube Goldberg machines". The X-Files episode titled "The Goldberg Variation" involved an apartment rigged as a Goldberg machine. (Died 1970)
Born July 4, 1901 — Guy Endore. Writer of The Werewolf of Paris which is said by Stableford in the St. James Guide to Horror, Ghost & Gothic Writers as "entitled to be considered the werewolf novel". He also wrote "The Day of the Dragon" which Stableford likes as well. He was a scriptwriter hence for writing Mark of the Vampire starring Bela Lugosi. He also the treatment for The Raven but never got credited. (Died 1970.)
Born July 4, 1910 — Gloria Stuart. She was cast as Flora Cranley opposite Claude Rains in The Invisible Man in 1933, and 68 years later she played Madeline Fawkes in The Invisible Man series. She was in The Old Dark House as Margaret Waverton which is considered horror largely because Boris Karloff was in it. And she was in the time travelling The Two Worlds of Jennie Logan as well. (Died 2010.)
Born July 4, 1949 — Peter Crowther, 70. He is the founder (with Simon Conway) of PS Publishing where he's editor now. He edited a series of genre anthologies that DAW published. And he's written a number of horror novels of which I'd say After Happily Ever and By Wizard Oak are good introductions to him. He's also done a lot of short fiction but I see he's not really available in digital form all that much for short fiction or novels.   
Born July 4, 1967 — Christopher McKitterick, 52. Director of the Center for the Study of Science Fiction, a program at the University of Kansas that supports an annual series of awards, lectures, classes, workshops, the Campbell Conference, and AboutSF, a resource for teachers and readers of science fiction. He's also a juror for and Chair of the John W. Campbell Memorial Award for Best Science Fiction Novel from 2002 onward. And yes, he does write genre fiction with one novel to date, Transcendence, more than a double handful of stories, and being an academic, critical essays such as  "John W. Campbell: The Man Who Invented Modern Fantasy and the Golden Age of Science Fiction" which was published in Steven H. Silver Hugo-nominated Argentus. 
Born July 4, 1977 — David Petersen, 42. Writer and illustrator of the brilliant Mouse Guard series. If you haven't read it, do so — it's that good. It almost got developed as a film but got axed due to corporate politics. IDW published The Wind in The Willows with over sixty of his illustrations several years back. 
Born July 4, 1989 — Emily Coutts, 30. She plays the role of helmsman Keyla Detmer on Discovery. She's also her mirror universe counterpart, who is the first officer of that universe's Shenzhou. (I like the series and am definitely looking forward to it when it jumps a thousand years into the future next season!) She was in one episode of the SF series Dark Matter and in Crimson Peak, a horror film but that's it for genre appearances.
(12) COMICS SECTION.
A court judge and Frankenstein help Bizarro live up to its name today.
(13) SANDMAN TO TV. Deadline reports: "Netflix Orders 'The Sandman' Series Based On Neil Gaiman's DC Comic".
Netflix has given an 11-episode series order to The Sandman, based on Neil Gaiman's DC comic, from Warner Bros TV.

Allan Heinberg (Wonder Woman, Grey's Anatomy) is slated to write and serve as showrunner on the series, with Gaiman executive producing alongside David Goyer.
(14) THE ITALIAN SFF SCENE. The subject is Italian Science Fiction when Arielle Saiber is interviewed by Lex Berman for the Diamond Bay Radio podcast.
Lex Berman is the publisher of Diamond Bay Press.

Arielle Saiber is a professor of Italian literature and romance languages, and also a big science fiction fan!

Recorded with Zencaster on 8th May, 2019.

Find out about the history of Science Fiction and fandom in Italy, and why flying saucers would totally land at Lucca!
(15) VOX DAY AT THE MOVIES. "I look forward to the shrieks and wails," writes aspiring moviemaker Vox Day. The Rebel's Run Teaser Trailer has dropped, publicizing that a movie based on one of Arkhaven's Alt-Hero characters, is now in pre-production. A one-minute trailer is followed by Chuck Dixon extolling the comics, and even a shot of Vox smiling happily. So if any of that is the kind of thing you need a warning about, you won't click.
(16) LIPLESS READING. Extra Credits devotes a video to Harlan Ellison's story and game in I Have No Mouth and I Must Scream – The End of the Apocalypse.
Harlan Ellison was a little dismissive of this short story that you've might only heard of because you saw it on a Steam summer sale, but at the time of its publication (1967) its ideas about the possibility of "evil AI," as well as the possible degeneracy of humanity, were shocking and unexpected, and it set the stage for the wave of sci-fi we'll talk about next season.
(17) WHAT'S BUZZING? Nature has a nice artist's impression and short description of the drone proposed for use on Saturn's moon, Titan — "NASA drone to soar across Titan".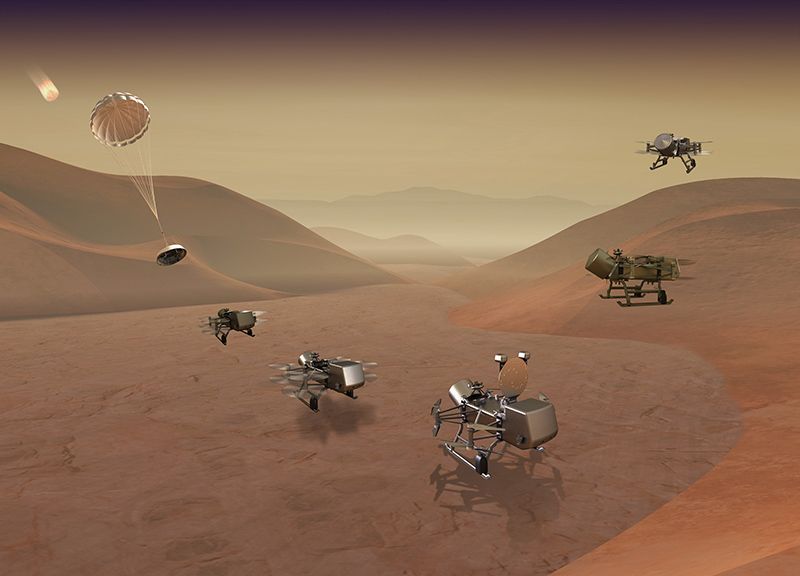 Named Dragonfly, the US$850-million mission will launch in 2026 and arrive at Titan in mid-2034. The nuclear-powered drone (pictured, artist's impression) could traverse hundreds of kilometres during its two-year mission.
(18) IDENTIFYING PROS IN THE WILD. Orbit Books tweeted an amusing guide for telling two of its similarly-named writers apart.
(19) HARD WORK. Last Week Tonight With John Oliver ripped Amazon's treatment of warehouse employees, now Amazon is trying to recover – Deadline has the story: "Amazon Calls John Oliver's Report On Warehouse Work Conditions 'Insulting' To Employees".
Amazon is calling John Oliver's depiction of conditions at the company's shipping and warehouse facilities "insulting" to Amazon workers.

Dave Clark, Amazon's SVP Worldwide Operations, responded to a harsh segment that aired Sunday on HBO's Last Week Tonight With John Oliver. In the 20-minute segment, Amazon — as well as other companies with quick online-delivery systems — was lambasted for the exhausting chores required of the warehouse workers.

"The injury and illness rate in the warehouse industry is higher than coal mining, construction and logging," Oliver said during the HBO show, in which he called Amazon the "Michael Jackson" of shipping because they're "the best at what they do, everybody tries to imitate them, and nobody who learns a third thing about them is happy they did."
(20) CHARACTERS WITH AGENCY. TV Sins wants you to know "Everything Wrong With Agents of S.H.I.E.L.D. 'Pilot'"
This week we head into the MTU by finding everything wrong with the pilot of Agents of S.H.I.E.L.D.! It's was a show with a lot of promise, and also a lot of sins.
[Thanks to Cat Eldridge, John King Tarpinian, JJ, Eric Wong, SF Concatenation's Jonathan Cowie, Carl Slaughter, Mike Kennedy, Andrew Porter, mlex, Chip Hitchcock, and Martin Morse Wooster for some of these stories, Title credit goes to File 770 contributing editor of the day Daniel Dern.]