(1) CLARKESWORLD UNCOVERED. Neil Clarke told Facebook readers about an exasperating discovery that they had violated their no-AI policy, and what he was going to do about it.
Much to our embarrassment, evidence suggesting that our most recent cover was generated art rather than the artist's own work has surfaced. We have removed the cover from our site while we make a final assessment. Our contracts include a clause where the artist verifies that the work is entirely their own, created by them, and without the assistance of AI tools. They signed this contract.
We apologize for this mess and stand firmly on our no-AI policy. We will learn from this and do better.

In the event that we determine the work is generated, it will be replaced. In the meantime:
(2) YOU MAY ALREADY HAVE WON. Or not. The deadline to nominate for the Hugos arrived last night, and Cora Buhlert has updated her advice in "An Open Letter to the 2023 Hugo Finalists, Whoever They May Be".
7. Once the Hugo finalists have been announced, there will be people who have opinions about the ballot. Most will be positive or at least fair – I always try to be fair in my own Hugo and Nebula finalist commentaries, even if I don't care for some of the finalists – but some will be not. There are always people who think that your category or the entire ballot is too male, not male enough, too white, not white enough, too queer, not queer enough, too American, not American enough, too bestselling, not bestselling enough – you get the idea. There will be people who complain that only people no one knows got nominated or that only the usual suspects got nominated – and multiple bestsellers and Hugo winners can be "people no one knows", while first or second time finalists can be "the usual suspects". Some of these people won't even wait 24 hours after the Hugo finalists have been announced to air their opinions – at least they didn't in 2021. Some will even tag you, just to make sure you don't miss their very important opinions. The best thing to do is ignore those people.
(3) CELEBRITY IMPERSONATORS. Alina Adams' guest post for Writer Beware is about "The Book Marketing Scam That Went the Extra Mile". The scammers she dealt with didn't merely gin up fake client endorsements from Joe Blow – they faked one from Piranesi author Susanna Clarke!
…My research did turn up a NYT feature article on Martha. But when I reached out to the author who wrote it, she told me: "I've never even heard of [them]. You're absolutely right — coverage in the Times cannot be bought, and everything must be approved by an editor."

When confronted with this fact, my friendly neighborhood scam artist got a little testy:

"We directly worked with Martha T. You should confirm from her. Yes we sent the order for an article for Martha to be published in that."

Likely sensing that I was wriggling off the hook, they sent me the contact info of another author they claim to have worked with, Susanna Clarke. She's even featured on their website, with a testimonial that reads like it was created by a self-published author rather than a writer with a Big 5 publisher whose debut novel sold 4 million copies…
(4) WHO'D HAVE GUESSED? Alva Rogers' cover art (ink on paper) for The Acolyte #9, the Winter 1945 issue of Francis T. Laney's fanzine (yes, that Laney), has sold at auction for $25,000.
This cover for the pioneering Lovecraft-related science fiction/fantasy fanzine features one of the most striking, early renditions of the author's most famous creation.
Mike Ward comments, "Yeah, this is the Alva Rogers we used to hang out with. He was a good guy, long gone. Those were some great days.
"That's probably about 2500 times more than Alva ever got for a drawing. His best-known work is probably the historical volume A Requiem for Astounding from Advent:Publishers."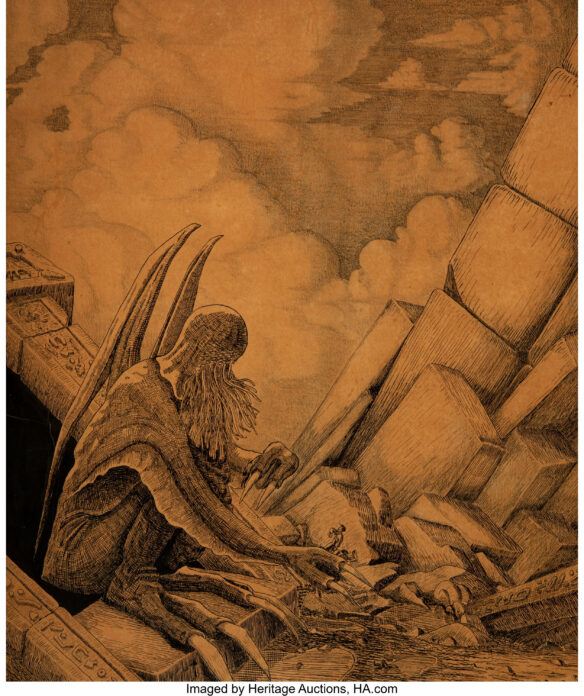 (5) MEMORY LANE.
2001 – [Compiled by Cat Eldridge.]
Jack Williamson's a genius. He truly is. Living not quite a century, he was an amazing writer selling his first story to Gernsback at age twenty. That story, "The Metal Man" would be published in the December 1928 issue of Amazing. His career would then last another ninety years. He published a novel, The Stonehenge Gate, just a year before he died at home.
I'll get to our Beginning in a minute but first let me note what I like among his works. First of course is the Legion of Space series which is well-worth reading, and there is the Starchild trilogy written with Frederik Pohl. Darker Than You Think is weird and really fun. I love his short stories but I'm really unsure which collection to recommend, so do recommend which ones you think are essential reading.
Our Beginning is from Terraforming Earth, published by Tor twenty-two years ago, and won the John W. Campbell Memorial Award. It had started out as several novellas that became a fix-up novel, the first being "Agents of the Moon" in Science Fiction Age, their March 2000 issue which is the image below. The second, "The Ultimate Earth", was published in Analog Science Fiction and Fact in the December 2000 issue.
Our Beginning starts here…
Terraforming Earth
We are clones. A hundred years have passed since the great impact. All our natural parents lay in the cemetery on the rubble slope outside the crater rim long before the robots brought our frozen cells to life in the maternity lab. I remember the day my Robo father brought the five of us up to see the Earth, a hazy red-spattered ball in the black Moon sky. "It looks—looks sick." Looking sick herself, Dian raised her face to his. "Is it bleeding?"
"Bleeding red-hot lava all over the land," he told her. "The rivers all bleeding iron-red rain into the seas."
"Dead." Arne made a face. "It looks dead."
"The impact killed it." His plastic head nodded. "You were born to bring it back to life."
"Just us kids?" "
"You'll grow up."
"Not me," Arne muttered. "Do I have to grow up?"
"So what do you want?" Tanya grinned at him. "To stay a snot-nosed kid forever?"
"Please." My Robo father shrugged in the stiff way robots have, and his lenses swept all five of us, standing around him in the dome. "Your mission is to replant life on Earth. The job may take a lot of time, but you'll be born and born again till you get it done."
(6) TODAY'S BIRTHDAYS.
[Compiled by Cat Eldridge.]
Born May 1, 1905 — Edna Mayne Hull. Wife of A.E. van Vogt. And yes, she too wrote genre fiction. Her initial sale, "The Flight That Failed", appeared in the November 1942 issue of Astounding Science Fiction under chosen author credit of "E.M. Hull" though eventually she used her own name. She has but one novel of her own, Planets for Sale, and one with her husband, The Winged Man, and only a dozen stories, one with A.E. Van Vogt & James H. Schmitz. I'm not find that her novels are available at the usual suspects. (Died 1975.)
Born May 1, 1924 — Terry Southern. Screenwriter and author of greatest interest for the screenplay from Peter George's original novel, Two Hours to Doom (as by Peter Bryant) of Dr. Strangelove Or: How I Learned to Stop Worrying and Love the Bomb directed (and in part written) by Stanley Kubrick. He was also involved in scripting Barbarella. (Died 1995.)
Born May 1, 1952 — Andrew Sawyer, 71. Member of fandom who managed the Science Fiction Foundation library in Liverpool for 25 years. For his work and commitment to the SF community, the Science Fiction Research Association awarded him their Thomas D. Clareson Award for Distinguished Service. The paper he wrote that I want to get and read is "The Shadows out of Time: H. P. Lovecraftian Echoes in Babylon 5" as I've always thought The Shadows were Lovecraftian! And his fanpublication list is impressive, editing some or all issues of &, Another Earth Matrix, Paperback Inferno and Acnestis.
Born May 1, 1955 — J. R. Pournelle, 68. Some years ago, I got an email from a J. R. Pournelle about an SF novel they wanted Green Man to review. I of course thought it was that Pournelle. No, it was his daughter, Jennifer. And that's how I came to find out there was a third Motie novel called Outies. It's much better than The Gripping Hand.
Born May 1, 1956 — Phil Foglio, 67. Writer, artist, and publisher. Twice winner of the Best Fan Artist Hugo. Foglio co-won with his wife Kaja the first Hugo Award for Best Graphic Story at Anticipation for the absolutely stunning Girl Genius, Volume 8: Agatha Heterodyne and the Chapel of Bones, and the next two in the category at Aussiecon 4 and Renovation. If you haven't read them, you're in for treat as they're quite amazing.
(7) COMICS SECTION.
(8) TARGETED BOOKS. PEN America has released their annual report on books that were challenged or banned in school libraries. The report covers the 2021-2022 school year. Some of the books are works of genre interest, including Neil Gaiman's American Gods and The Ocean at the End of the Lane, Diana Gabaldon's Outlander, and Leigh Bardugo's Ninth House. "2023 Banned Books Update: Banned in the USA".
The 2022-23 school year has been marked to date by an escalation of book bans and censorship in classrooms and school libraries across the United States. PEN America recorded more book bans during the fall 2022 semester than in each of the prior two semesters. This school year also saw the effects of new state laws that censor ideas and materials in public schools, an extension of the book banning movement initiated in 2021 by local citizens and advocacy groups. Broad efforts to label certain books "harmful" and "explicit" are expanding the type of content suppressed in schools.

Again, and again, the movement to ban books is driven by a vocal minority demanding censorship. At the same time, a 2022 poll found that over 70% of parents oppose book banning. Yet the bans continue. Many public school districts find themselves in a bind. They face threats and political pressure, along with parental fears and anxieties surrounding the books on their school shelves. School Boards, administrators, teachers, and librarians are told in some cases to "err on the side of caution" in the books they make available. Too often, they do just that….
(9) CREATING WITH AI. For those using AI as a tool, Francis Hamit recommends The Copyright Society's video "Exploring the Impact on Copyrightability When Creating New Works Through AI". "This webinar is an hour long but well worth watching for anyone who is concerned about the copyrightability of artificial intelligence assisted creative work."
(10) SOMEONE HAD TO BE FIRST. Mr. Sci-Fi, Marc Scott Zicree, names his candidate for "The First GREAT Science Fiction Movie!" It's Metropolis.
[Thanks to John King Tarpinian, Lise Andreasen, Mike Ward, Francis Hamit, Nina Shepardson, Chris Barkley, Michael Toman, Cat Eldridge, Mike Kennedy, and Andrew Porter for some of these stories. Title credit belongs to File 770 contributing editor of the day John A Arkansawyer.]