(1) NEW COPYRIGHT INFRINGEMENT SUIT OVER AI TRAINING. "The Authors Guild, John Grisham, Jodi Picoult, David Baldacci, George R.R. Martin, and 13 Other Authors File Class-Action Suit Against OpenAI". The Authors Guild explains the case.
The Authors Guild and 17 authors filed a class-action suit against OpenAI in the Southern District of New York for copyright infringement of their works of fiction on behalf of a class of fiction writers whose works have been used to train GPT. The named plaintiffs include David Baldacci, Mary Bly, Michael Connelly, Sylvia Day, Jonathan Franzen, John Grisham, Elin Hilderbrand, Christina Baker Kline, Maya Shanbhag Lang, Victor LaValle, George R.R. Martin, Jodi Picoult, Douglas Preston, Roxana Robinson, George Saunders, Scott Turow, and Rachel Vail.

"Without Plaintiffs' and the proposed class' copyrighted works, Defendants would have a vastly different commercial product," stated Rachel Geman, a partner with Lieff Cabraser and co-counsel for Plaintiffs and the Proposed Class. "Defendants' decision to copy authors' works, done without offering any choices or providing any compensation, threatens the role and livelihood of writers as a whole."

Scott Sholder, a partner with Cowan, DeBaets, Abrahams & Sheppard and co-counsel for Plaintiffs and the Proposed Class, added, "Plaintiffs don't object to the development of generative AI, but Defendants had no right to develop their AI technologies with unpermitted use of the authors' copyrighted works. Defendants could have 'trained' their large language models on works in the public domain or paid a reasonable licensing fee to use copyrighted works." …
(2) THE RULE OF THREE. Didn't Gallagher have a routine about that rule? "Amazon restricts authors from self-publishing more than three books a day after AI concerns" – the Guardian has the story.
Amazon has created a new rule limiting the number of books that authors can self-publish on its site to three a day, after an influx of suspected AI-generated material was listed for sale in recent months.

The company announced the new limitations in a post on its Kindle Direct Publishing (KDP) forum on Monday." …

The rule change will "probably not" be a "gamechanger for managing the influx of AI-written content on Amazon's platform," said Dr Miriam Johnson, senior lecturer in publishing at Oxford Brookes University. "It will dent the numbers a bit, but for those who are making money by flooding the market with AI-generated books and publishing more than three a day, they will find a work-around."

The three-book limit announcement comes a week after Amazon introduced the requirement for authors to inform the company when their content is AI-generated and added a new section to their guidelines featuring definitions of "AI-generated" and "AI-assisted" content….

The new sets of rules come after Amazon removed suspected AI-generated books that were falsely listed as being written by the author Jane Friedman. Earlier this month, books about mushroom foraging listed on Amazon were reported as likely to have been AI-generated and therefore containing potentially dangerous advice. AI-generated travel books have also flooded the site.
(3) CHENGDU WORLDCON ROUNDUP. [Item by Ersatz Culture.] Watch these videos at the links.
This was posted by a Chengdu-related account – the Google Translation of their account bio states "Chengdu People's Government Press Office" – yesterday (Tuesday 19th), but the card at the end indicates the video was produced by some division of the Red Star media organization. (Are they maybe some sort of sponsor or partner?) No new information; it's a vaguely comedic skit, presumably aimed at a general audience.
This is over a week old, but I only just came across it, because it's not hashtagged with any of the more commonly used tags. A Three-Body Problem-inspired 3D effect public display counting down to the start of the Worldcon. The captions refer to it being a 1000-hour countdown, but you can see in the video it actually starts at 1200-hours.
This seems to be another product of Red Star media and posted by a Chengdu local government account. It's a fairly random collection of CG imagery of the con venue, (likely) copyright infringing clips from Hollywood films, and stock footage, but the Hugo Awards get namechecked a couple of times.
From September 10th, it looks like this Yahoo-ish site is running a few Worldcon-related articles. It looks like this interview was carried out at an science-related event earlier in September, that might have some ties to the Worldcon. A brief extract from the interview (via Google Translate):
Reporter: What are your views and expectations on the World Science Fiction Convention being settled in Chengdu?

Jiang Bo: For a long time, Chengdu has been a "source" for Chinese science fiction, and the reputation of "science fiction capital" is completely deserved. The World Science Fiction Convention can be held in Chengdu, which has a very positive effect on further expanding the influence of Chengdu in science fiction, and allows the world to witness why Chengdu is a "science fiction capital".

I know that the World Science Fiction Convention is held in Chengdu's Pidu District very grandly, and this excellent hardware facility will attract more opportunities, which is a positive effect for Chengdu. Similarly, it can also promote the world, especially the majority of "science fiction fans" to understand Chengdu.

What I am most looking forward to is meeting science fiction authors from all over the world and communicating with them. I also look forward to their trip to have a deeper understanding of our Chinese writers, learn from each other, and jointly promote the development of science fiction culture.
Red Star News is part of the Chengdu Business Daily media organization that seems to be running the Chengdu Worldcon, so it's hardly surprising that they're putting out lots of stories about the event.
(4) JAPANESE FILM FAVORITES. "Notorious Film Nerd Hideo Kojima Reveals His Criterion Collection Picks" at IGN. Several are horror.
…Criterion, the organization behind the Criterion Collection, invited Hideo Kojima to do a video in its 'Closet Picks' series on its YouTube channel. The series is dedicated to highlighting notable voices in creative industries where a selected luminary picks their favorites from the "Criterion Closet," which is exactly what it sounds like; a closet containing physical copies of each film in the Criterion Collection….
Here are a couple of Kojima's picks.
Onibaba

"Again, I watched this at night as a kid and it shocked me," he said, before he recalled discussing Kaneto Shindo's folk-horror set in medieval Japan with Guillermo Del Toro when they met for the first time. He added, "He loves this film as well. There's a monster called Onibaba in Pacific Rim."

Woman in the Dunes

Kojima got discovered Hiroshi Teshigahara's 1960 art-house darling after reading Kobo Abe's book (also called Woman in the Dunes).
If you'd like to watch the full video–and watch Kojima light up as he talks about some of his favorite Japanese movies–check it out on Criterion's YouTube channel.
(5) DISTILLATION OF A CAREER IN SFF. Alvaro Zinos-Amaro's Being Michael Swanwick, a collection of interviews, will be released in November 2023.
In 2001, Michael Swanwick published the book-length interview Being Gardner Dozois. Now Swanwick himself becomes the subject of inquiry. During a year of conversations, Alvaro Zinos-Amaro (Traveler of Worlds: Conversations with Robert Silverberg) set about discussing with Swanwick his remarkable career, with a particular focus on his extraordinary short fiction.

The resulting collection of transcribed interviews is a tribute to the similarly-named book that inspired it, a discussion of writing craft, an anecdotal genre history, and a chronological survey of the work of a modern master.

"Michael Swanwick shows a rare, writerly combination: He's articulate about his own work and also one of the kindest people I've ever met. What can I say other than I thoroughly enjoyed this book and felt privileged to have read it." — Samuel R. Delany
(6) SPEAK, MEMORY. Cat Rambo came up with a great perk for her $10 level Patreon supporters:
Here are four audio files that can be used as ringtones or other places requiring audiofiles. They feature me saying the following things:
You should be writing.
Why aren't you writing?
Stop fucking around and write.
Be kind to yourself.
(7) EARLIEST LE GUIN. In "Ursula K. Le Guin on Writing Fantasy as a Young Girl", Literary Hub invites readers to watch the second in a series of videos about the author.
The Journey That Matters is a series of six short videos from Arwen Curry, the director and producer of Worlds of Ursula K. Le Guin, a Hugo Award-nominated 2018 feature documentary about the iconic author.

In the second of the series, Ebony Elizabeth Thomas introduces "Elves, Dragons, and Countries That Didn't Exist," in which Ursula reflects on how her childhood influenced her development as a writer.
Watch the video on Vimeo: "The Journey That Matters: Elves, Dragons, and Countries That Didn't Exist".
(8) GO RIGHT TO THE SOURCE AND ASK THE HORSE. Have the producers offered a good deal? This striker says nay.
(9) MEMORY LANE.
1995 — [Written by Cat Eldridge.]
Jane Yolen's The Wild Hunt is where our Beginning is taken from.
It was released as a hardcover edition twenty-eight years ago by Harcourt Brace with copious illustrations and cover art by Francisco Mora, a pupil of Diego Rivera, who was deep into the Mexican political scene making posters for trade unions and government literacy campaigns.
If one takes into account the illustrations it's not a novel really as there's not that much text, so I'd say it'd be a novella if judged by length alone.
I've got my personally-signed copy on hand and I read every Winter. Yes, she is on the chocolate gifting list. She prefers no more than seventy percent chocolate.
It is that rare wonderful work where the text and the illustrations (see the cover illustration below of The Wild Hunt) are truly intrinsic to each other. I cannot imagine it as just text, though I can imagine it as a spoken work as Yolen's language here is brilliant.
So let's have just the introduction now…
A wild winter storm rages around a large house that is isolated from the rest of the world. Traditionally, the Wild Hunt appeared around the time of Epiphany— January 6 in the Church Calendar—when winter was at its most severe in Northern Europe. No country is specified, but this is, after all, a fantasy world. The house is both a comfortable dwelling with a large library in keeping with Jerold's quiet personality, and a parallel setting that matches Gerund's much more active one. A hundred yards from the house is a granite outcrop where the Hunt gathers: "This rock might have been a thousand miles away. Or a thousand years."
(10) TODAY'S BIRTHDAYS.
[Compiled by Cat Eldridge.]
Born September 20, 1935 — Keith Roberts. Author of Pavane, an amazing novel. I'll admit that I've not read anything else by him, so do tell me about other works please. I've downloaded his collection of ghost stories, Winterwood and Other Hauntings, with an introduction by Robert Holdstock, from one of the usual digital suspects where he's very well stocked. Oh and he has four BSFA Awards including ones for the artwork for the cover of his own first edition of Kaeti & Company. (Died 2000.)
Born September 20, 1940 — Jonathan Hardy. He was the voice of Dominar Rygel XVI, called simply Rygel, once the royal ruler of the Hynerian Empire, on Farscape. He was also Police Commissioner Labatouche in Mad Max, and he had a one-off in the Mission: Impossible series that was produced in his native Australia in the "Submarine" episode as Etienne Reynard. (Died 2012.)
Born September 20, 1948 — George R. R. Martin, 75. I'll admit that I've only read the first two volumes of A Song of Fire and Ice as I lost interest at the point — massive volumes in general don't appeal to me given how much great fiction there is to read. I loved The Armageddon Rag and think that he's a wonderful short story writer. And no, I've not watched A Game of Thrones.
Born September 20, 1950 — James Blaylock, 73. One of my favorite writers. I'd recommend the Ghosts trilogy, the Christian trilogy and The Adventures of Langdon St. Ives which collects all of the Langdon St. Ives adventures together as his best writing, but anything by him is worth reading. He's generously stocked at the usual suspects these days.
Born September 20, 1974 — Owen Sheers, 49. His first novel, Resistance, tells the story of the inhabitants of a valley near Abergavenny in Wales in the Forties shortly after the failure of Operation Overlord and a successful German takeover of Britain. It's been made into a film. He also wrote the "White Ravens", a contemporary take off the myth of Branwen Daughter of Llyr, found in the New Stories from the Mabinogion series
Born September 20, 1986 — Aldis Hodge, 37. He plays Alec Hardison on Leverage. Ok, I know it's not SFF but if there's a spiritual descendant of Mission: Impossible, this series is it. Both the cast and their use are technology of that series are keeping with MI spirit. He's also had one-offs on Charmed, Buffy the Vampire Slayer, Supernatural, The Walking Dead, Star Trek Discovery's and Bones (which given that it crossed over with Sleepy Hollow…
(11) COMICS SECTION.
Bizarro reveals what collectible is at the top of the heap.
Tom Gauld knows some people just can't help being who they are.
(12) SIGNPOSTS TO A GOLDEN AGE. Charlie Jane Anders, who says "We are living in a new golden age of space opera," discusses "11 Books That Changed How I think About Space Opera" at Happy Dancing. Second on the list:
2) The Stainless Steel Rat by Harry Harrison

Okay, continuing the theme of ridiculousness… in high school, my friend John turned me on to these bonkers books, about an interstellar con man who falls in love with the super-assassin who keeps trying to kill him. And he runs for president of a planet! (Back then, the notion of a slimy con man getting elected president felt satirical.) Unlike Arthur Dent, "Slippery" Jim di Griz is hypercompetent and he definitely knows where his towel (and blaster) are. In a corrupt, rotten galaxy, an amoral con man can become kind of a good guy, using dirty tricks to clean up a planet. I often think about Harrison's clever explanation of why an interstellar war would make no sense — essentially because given the costs of transporting goods between star systems, there's nothing worth going to war for.
(13) THE MAJOR AND THE MISSIONARY. The Habit podcast features "Diana Glyer on Warnie Lewis's Letters".
Diana Glyer teaches in the honors college at Azusa Pacific University. Her writing and research focus on C.S. Lewis, J.R.R. Tolkien, and the other Inklings. Her most recent book is The Major and the Missionary. Dr. Glyer edited this collection of letters between Warren Lewis, the brother of C.S. Lewis, and Dr. Blanche Biggs, a medical missionary in Papua New Guinea. Their conversation spans faith, literature, fear, doubt, tragedy, sickness, health, friendship, and life & death itself.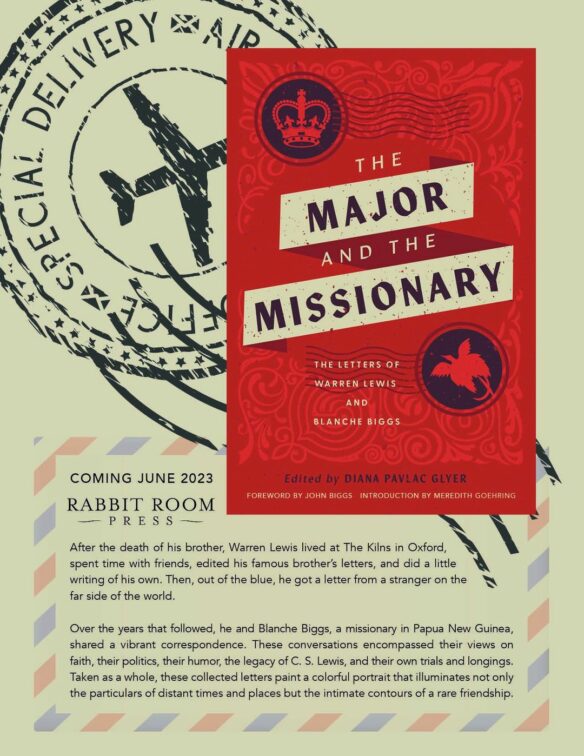 (14) CHRISTOPHER NOLAN WILL SPEAK. The Bulletin of the Atomic Scientists "Conversations Before Midnight — 2023" online event will take place November 6 from 5:00-7:00 p.m. Central. Full information and purchase tickets at the link.
For our annual gathering, Conversations Before Midnight (CBM) 2023, we will remain virtual, acknowledging that our audience is spread throughout the United States and around the world. This year we are thrilled to feature award-winning and Academy Award-nominated director Christopher Nolan as our keynote speaker. As with past gatherings, we also will continue to provide unique access to high-level conversations with world-renowned experts on a variety of topics including nuclear risk, climate change, disruptive technologies like AI, and biosecurity.

For those that have purchased Zoom room ("tables") in the past, we have a few exciting changes to enhance your experience. This year, each attendee can select which conversation to join based on their area of interest, rather than travel through the evening together as a table. Participants will still have the opportunity to ask questions of the experts, who will be led in discussion by a seasoned moderator.  Then, following these focused discussions, your guests can return to your private Zoom room to share what they heard over the course of the evening.

You get the opportunity to interact with guests at your hosted table during the evening, but you also join other groups in your topic of interest. Here are the dynamic conversations we have planned for you:
(15) AND IF WE DON'T BLOW OURSELVES UP. The Smithsonian Magazine says "Humans Have Exceeded Six of the Nine Boundaries Keeping Earth Habitable".
… According to the paper, Earth's ability to sustain human society depends on nine primary "planetary boundaries," or global systems that are key indicators of its health. Of these nine limits, humans have blown past six: climate change, biosphere integrity (which includes biodiversity), freshwater availability, land use, nutrient pollution and novel entities (meaning human-made pollution, such as microplastics and radioactive waste). Only the categories of ocean acidification, air pollution and ozone depletion remain within the constraints….
(16) VIDEO OF THE DAY. Ryan George takes us inside the "Maze Runner: The Death Cure Pitch Meeting". "So now six months have passed." "What was everybody doing for six months?" "Stuff."
[Thanks to Andrew Porter, John King Tarpinian, Ersatz Culture, Alvaro Zinos-Amaro, Steven French, Chris Barkley, Cat Eldridge, SF Concatenation's Jonathan Cowie, and Mike Kennedy for some of these stories. Title credit belongs to File 770 contributing editor of the day Andrew (not Werdna).]