(1) KOWAL ON WALLY FUNK. The New York Times has run an essay by Lady Astronaut author (and DisCon III chair) Mary Robinette Kowal on Wally Funk. "Wally Funk's Launch With Jeff Bezos Defies 60 Years of Exclusion From Space". (Registration may be required.)
Ms. Funk's trip to space with Jeff Bezos is reason to celebrate. But the launch this week, decades after she was denied the opportunity, also raises questions about whom space is for.
(2) APEX APPEAL. Apex Publications has launched a Kickstarter to fund Apex Magazine 2022. On the first day people have contributed $5,325 of its $10,000 goal. Editor-in-Chief Jason Sizemore says:
The last few years of Apex Magazine (including 2021), we've produced an incredible run of transformative and diverse fiction. We relaunched with Fargo Tbakhi's "Root Rot," a timely tale regarding colonization. "Mr. Death" by Alix E. Harrow threaded the needle between heartbreaking and hopefulness. Sam J. Miller celebrated the power of music in "A Love That Burns Hot Enough to Last: Deleted Scenes from a Documentary."

We published back-to-back Hugo Award winners (2018 & 2019) in the category of Best Short Fiction ("Welcome to Your Authentic Indian Experience™" by Rebecca Roanhorse and "A Witch's Guide to Escape: A Practical Compendium of Portal Fantasies" by Alix E. Harrow, respectively) and the 2017 Hugo Award winner in the category of Best Novelette ("The Tomato Thief" by Ursula Vernon). Fiction from Apex Magazine has also won the Nebula Award, Locus Award, and numerous others.

In addition to our phenomenal fiction, every issue of Apex Magazine offers evocative cover art, thought-provoking nonfiction, author and  artist interviews, and a professional-quality podcast produced by KT Bryski.

All these wonderful things would exist if not for the community of readers, creators, and staff—the extended Apex family. Thank you so much for your love and continued support!
The Apex Magazine 2022 Kickstarter also promises: "Should we fund, we will commission new original fiction from five writers who we think embodies the type of bold, diverse work we seek to publish." Those writers are: Gabino Iglesias, Jennifer Marie Brissett, Bonnie Jo Stufflebeam, Samit Basu, and Lavie Tidhar.
(3) THE OOPS DIRECTIVE. James Davis Nicoll makes you wonder if there would be a story if people followed the rules. There's plenty where they don't, as James shows in "Five SF Stories About Disobeying Non-Interference Directives" at Tor.com.
…For historical reasons—that throughout Earth history, first contact between dissimilar cultures was generally followed by vigorous efforts by whichever culture enjoyed a military advantage to strip-mine the other of goods and services—many science fiction authors (particularly during the mid-century period when various empires were winding down) gave their settings laws encouraging non-interference. One might call this a Prime Directive….
(4) HELP REQUESTED. The"Fundraiser by Adam-Troy Castro : In the Aftermath of Unexpected Death" is a GoFundMe brought on by the sudden death of his wife, Judi. It has raised $26,979 so far.
…She was also, through her own income, the chief support of our family. I am a writer and my money comes in irregularly, sometimes in decent sized chunks (like last week, but delayed for a year by COVID), sometimes in tiny little amounts. I am going to have to restructure my new life as a freshly minted widower, and I will, but in the interim our fragile climb back to solvency has been slammed back to the earth. I am in big, big trouble; destitute with debt still looming.

I damn the whims of fate.

I am not the kind of person who finds this easy. It hurts me to type these words, and I am intensely self-conscious about asking for help this soon after the last time. I can tell you that I did not want the prior worst period of my life to be followed so soon by another loss that is even more primal, even more destructive. I have had no time to think, just arranging the memorial — and I am sure that the bills for her time for the ICU, after insurance, will be coming, inevitable and unswayed by sentiment, even as we run late on bills that would have normally been her duty to pay. (She died in a distant city, in the home of a family we were pet-sitting for, so we are far from our records, from our mailing address, and…this is a pyramid, folks. It gets higher and higher.)

If you knew Judi at all, you loved her. If you know me at all, maybe you have some of that same feeling. I have to jettison pride. She has left me bereft. I will be deeply grateful for any help you can give,
(5) SPACE JAM RULES AT BOX OFFICE. Critical reviews did not keep Space Jam: A New Legacy from overtaking Black Widow in theater ticket sales last weekend.
The Hollywood Reporter starts the ball rolling:
Space Jam: A New Legacy, starring the basketball great [LeBron James], beat holdover Black Widow to top the chart with a better-than-expected domestic debut of $31.7 million from 3,956 theaters.

Marvel and Disney's Black Widow fell to No. 2 in its second outing with $26.3 million. The superhero pic suffered a steep 67 percent decline, one of the biggest drops ever for a Marvel title, and the worst among the Marvel films released by Disney. The decline underscores that the box office recovery is far from over; also, the tentpole is available in the home via Disney+ Premier Access (piracy is another problem)….
Deadline notes that's the steepest second-weekend drop ever for a Disney-distributed MCU title, beating Ant-Man and the Wasp (62 percent). They say piracy is a big problem: "'Black Widow' Post Steep Box Office Drop For MCU Title; Disney Mum On PVOD".
…Fact: Black Widow was the most-pirated movie last week on Torrent Freak, ahead of The Tomorrow War in the No. 2 spot. I understand from sources that have seen several piracy reports that apparently Black Widow might be the most-pirated title to date during the pandemic, ahead of Wonder Woman 1984.

Studios go to extra lengths to encrypt and watermark their movies before release. Pristine copies of a tentpole spell death at the box office, and they further spell death here on both the box office and Disney+ Premier side.

Many of these piracy sites dress themselves up with images from the film to make it look like they're legit. One industry analytics source informed me over the weekend that in one study they did for a studio, it showed that these piracy sites were the No. 1 means for those at home to watch movies, not Disney+ or any other streamer….
The LA Times tries to account for this surprising showing: "'Space Jam' sequel unseats 'Black Widow' at the top of the box office":
…Not many expected "Space Jam: A New Legacy" to pull off this win. The poorly reviewed film was pegged for an opening in the $20-million range. But a sizable number of families and millennials who grew up with the original "Space Jam" left the house and went to a theater to see it, even though it's currently streaming on HBO Max free for subscribers. Not only that, audiences also gave the film a promising A- CinemaScore, suggesting word of mouth could be strong….
(6) SPEAKING UP. In the Washington Post. Michael Cavna interviews Jeff Bergman, who voices Bugs Bunny in Space Jam, met Mel Blanc once, but only met LeBron James at the premiere when he shouted something to James in his Bugs voice. "'Space Jam: A New Legacy': The Bugs Bunny voice actor has spent a lifetime perfecting the craft".
…After the premiere, James was surrounded by layers of fans. What could Bergman do to get the NBA star's attention despite the distance and din? "I yelled out from about 20 feet away and said in Bugs Bunny's voice, 'Hey, Doc, we really are family,'" Bergman said. "He heard and saw me." Bergman was ushered through the throng to greet him.

"He was holding his daughter and we embraced and thanked each other," Bergman said. Even amid the crowd, it felt like "a very private congratulatory moment."
(7) VISION AND REVISION. "At times it's hard to believe what you see" it says on the cover of Dragons Walk Among Us, source of "The Big Idea: Dan Rice" at Whatever.
Is there a world before our eyes that most people overlook? What are the ramifications for someone who can see the unseeable? This is the big idea behind my debut novel Dragons Walk Among Us.

I first became interested in the world that most people overlook through photography. For example, star trails illuminate landscapes that most people never experience except through photographs taken by others. What really started to fascinate me years ago are water droplets––on blades of grass, flower petals, leaves, windows, etc. Individual little worlds are scattered across the dewy grass, and most people never take the time to appreciate them. Sometimes I imagine each dewdrop is a microcosmos populated by strange creatures. I suppose on the infinitesimal scale of microbes, this is true….
(8) SALLY MILLER GEARHART (1931-2021). Author and academic Sally Miller Gearhart died July 14 at the age of 90. The Advocate has a profile about her activism and work as an educator: "Sally Gearhart, Veteran Activist and Academic, Dead at 90".
…Gearhart, a Virginia native, taught for many years at San Francisco State University, where in 1973 she became the first out lesbian to be named to a tenure-track position (at the school and, apparently, in the nation). At SF State, she established one of the first women's and gender studies programs in the nation. She was an author of feminist science fiction as well….
The Wikipedia entry synopsizes her sff career:
…In 1978, her most famous novel, The Wanderground, was published, exploring themes of ecofeminism and lesbian separatism. She wrote two books as part of the Earthkeep trilogy, The Kanshou, published in 2002, and The Magister, published in 2003. Both stories explore a dystopian world where women outnumber men, and humans are the only beings on the planet.
(9) MEMORY LANE.
1976 – Forty-five years ago, Roger Zelazny's "Home is The Hangman" novella wins the Hugo at MidAmeriCon. The other nominated works that year were "The Storms of Windhaven" by George R. R. Martin and Lisa Tuttle, "ARM" by Larry Niven, "The Silent Eyes of Time" by Algis Budrys, and "The Custodians" by Richard Cowper. It would also win a Nebula Award. His Doorways in the Sand would be nominated for Best Novel that year, finishing second to Joe Haldeman's The Forever War.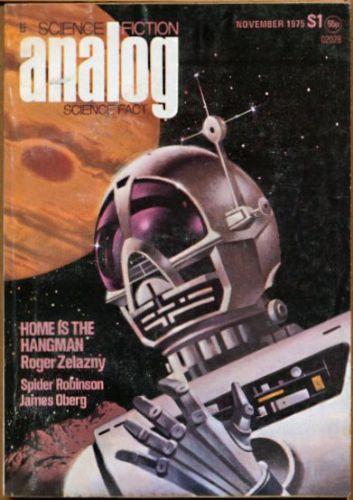 (10) TODAY'S BIRTHDAYS.
[Compiled by Cat Eldridge.]
Born July 19, 1883 — Max Fleischer. Animator, film director and producer. He brought such animated characters as Betty Boop, Popeye and Superman to the screen and was responsible for a number of technological innovations including the Rotoscope and Stereoptical Processes. You can see Betty's first screen appearance here in the 1930 Cartoon, "Dizzy Dishes". (Died 1972.)
Born July 19, 1924 — Pat Hingle. He portrayed Jim Gordon in the Burton Batman film franchise. Genre wise, he had roles in Alfred Hitchcock Presents, The Twilight Zone, Carol for Another Christmas, Mission: Impossible, The Invaders, Tarantulas: The Deadly Cargo, Amazing Stories and The Land Before Time. He would reprise his Gordon role in the Batman OnStar commercials. (Died 2009.)
Born July 19, 1927 — Richard E. Geis. I met him at least once when I was living out West. Interesting person.  He won the Hugo Award for Best Fan Writer twice; and whose science fiction fanzine Science Fiction Review won Hugo Awards for Best Fanzine four times. The Alien Critic won the Best Fanzine Hugo once (in a tie with Algol), and once by himself. And yes, I enjoyed reading the Science Fiction Review. I've not any of his handful of genre novels, and certainly haven't encountered his softcore porn of which there's a lot. (Died 2013.)
Born July 19, 1938 — Jayant Vishnu Narlikar, 82. He and Fred Hoyle developed the Hoyle–Narlikar theory, which Stephen Hawking would prove is incompatible with an expanding universe. He would write two genre novels, The Return of The Vaman (translated from Marathi) and The Message from Aristarchus. His autobiography is My Tale of Four Cities: An Autobiography.
Born July 19, 1957 — John Pelan. Committed (more or less) the act of opening serial small publishing houses in succession with the first being Axolotl Press in the mid-Eighties where he'd published the likes of de Lint and Powers (before selling it to Pulphouse Publishing) followed by Darkside Press, Silver Salamander Press and finally co-founding Midnight House. All have been inactive for quite awhile now and he'd been editing such anthologies as Tales of Terror and Torment: Stories from the Pulps, Volume 1 for other presses though even that has not happened for some years as near as I can tell. As a writer, he had more than thirty published stories and he had won both a Stoker for The Darker Side: Generations of Horror anthology and an International Horror Guild Award for his Darkside: Horror for the Next Millennium anthology. (Died 2021.)
Born July 19, 1963 — Garth Nix, 58. Writer of children's and young adult fantasy novels, to wit the Keys to the Kingdom, Old Kingdom, and Seventh Tower series. The Ragwitch which I read quite some time ago is quite excellent and being a one-off can give you a good taste of him without committing to a series. 
Born July 19, 1969 — Kelly Link, 52. First, let me note that along with Ellen Datlow, she and her husband Gavin Grant were responsible for the last five volumes of The Year's Best Fantasy & Horror. They all did a magnificent job. All of her collections, Pretty Monsters, Magic for Beginners and Get in Trouble are astonishingly good. And she's much honored having won a Hugo Award, three Nebula Awards, a World Fantasy Award, an Otherwise Award, a Sturgeon Award and received a MacArthur Genius Grant.
Born July 19, 1976 — Benedict Cumberbatch, 45. Confession time: I really didn't care for him in the Sherlock Holmes series as that series didn't work for me, nor did I think his Khan In Star Trek Into Darkness was all that interesting but his Stephen Strange In Doctor Strange was quite excellent. He did do a superb job of voicing Smaug in The Hobbit, and his Grinch-voicing in the latter film was also superb. And yes, he's the voice of Satan in Good Omens.
(11) COMICS SECTION.
(12) GETTING PAID. The Hollywood Reporter discovers that "Marvel, DC Offer 'Shut Up Money' As Comic Creators Go Public".
… Multiple comic creators have publicly stated that DC's payments for adaptations, in general, is higher. Comic creator Jim Starlin turned heads in 2017 when he publicly noted that Warner Bros. paid him more for a minor character that appeared in DC's Batman v. Superman: Dawn of Justice than he received for Marvel's major Guardians of the Galaxy characters Thanos, Gamora and Drax combined. After Starlin's airing of grievances, Disney renegotiated his deal for Thanos, the villain of Avengers: Infinity War and Avengers: Endgame. Those films went on to gross $4.83 billion globally, and Starlin, while not sharing details of his deal, walked away happy. "The cliche is that the squeaky wheel gets the grease," Starlin tells The Hollywood Reporter. "The way these agreements are written up, Disney can be more generous if they want. It is written right there that they can change the terms to make it better."

There's no legal obligation to make additional payments for adaptations, with companies such as Marvel viewing these payments as thank-you gifts — and
a way to avoid the bad publicity of warring with a creator. "It's 'shut-up' money," as one Marvel creator who receives such payments, but also declined to share details of compensation, likes to call it. Even if companies have no legal obligation to compensate these writers and artists, paying more is akin to contract renegotiations with an actor. If a TV show or movie is a smash success, studios believe it makes sense to offer an actor more money for the sequel (or the next season of TV) to keep them happy. No one wants a bitter actor on set….
(13) THE SQUAD. DC dropped a Suicide Squad "In On The Action Featurette". Comes to HBO Max on August 6.
Welcome to hell—a.k.a. Belle Reve, the prison with the highest mortality rate in the US of A. Where the worst Super-Villains are kept and where they will do anything to get out—even join the super-secret, super-shady Task Force X. Today's do-or-die assignment? Assemble a collection of cons, including Bloodsport, Peacemaker, Captain Boomerang, Ratcatcher 2, Savant, King Shark, Blackguard, Javelin and everyone's favorite psycho, Harley Quinn. Then arm them heavily and drop them (literally) on the remote, enemy-infused island of Corto Maltese. Trekking through a jungle teeming with militant adversaries and guerrilla forces at every turn, the Squad is on a search-and-destroy mission with only Colonel Rick Flag on the ground to make them behave…and Amanda Waller's government techies in their ears, tracking their every movement. And as always, one wrong move and they're dead (whether at the hands of their opponents, a teammate, or Waller herself). If anyone's laying down bets, the smart money is against them—all of them.
(14) WILLIAM F. NOLAN & CO. At the Rod Serling Memorial Foundation website, a 1999 article about the many-named writing group Christopher Conlon likes to call the "Southern California Sorcerers".
…Group member William F. Nolan, whose film credits include Burnt Offerings and Trilogy of Terror, explains: "We'd talk plot, read stories we'd finished for opinions, talk about markets and what was selling and who was buying, discuss character development and structure, and, yes, we'd argue, but in a constructive way. We all helped each other…and inter-connected on projects."

"Sometimes, of an evening," Ray Bradbury has written, "Richard Matheson would toss up there merest dustfleck of a notion, which would bounce off William F. Nolan, knock against George Clayton Johnson, glance off me, and land in [Charles Beaumont's] lap. ..Sometimes we all loved an idea so much we had to assign it to the writer present who showed the widest grin, the brightest cheeks, the most fiery eyes."

Direct collaborations between Group members were common. And no wonder. In those early days, most of them, particularly the "inner circle" of Nolan, Charles Beaumont, George Clayton Johnson, and novelist John Tomerlin, were men in their twenties who were just beginning their careers. They found strength, encouragement, and a sense of solidarity in the company of other struggling young writers. Because of the Group, says Nolan, "We were not alone; we had each other to fire us creatively, to bounce ideas around, to solve plot problems. It was the best kind of writing class that could ever be imagined."…
(15) YOUTH MOVEMENT. In the Washington Post, Dalvin Brown says that Facebook has come up with new software that lets robots walk like toddlers, which might be a good first step in letting robots walk like human adults. Especially if it lets robots learn to do so without falling down all the time, for which they're less prepared than toddlers. "Facebook reveals AI development to help robots move in uncharted territory"
Facebook developed what it calls a foundational "breakthrough" in the race to create more humanlike robots: software that enables machines to learn to walk like toddlers.

Humans are very efficient at maneuvering. As kids, we figure out how to adjust our stride and cadence to trek through mud, water, and up and down hills with ease. Through trial and error, we adapt, figuring out the best ways to move our feet according to real-time situations. And we can do this while toting a variety of objects, either in our hands or on our backs.It's tough to program robots to make instantaneous adjustments to their legs and feet to accommodate such a variety of tasks, mainly because it's hard to train themto deal with corner cases, or objects and environments they've never seen before….
(16) CLIMB THE HIGHEST MOUNTAIN. Sure, that's easy for you to say. According to Gizmodo, "Neutron Stars Have Mountains That Are Less Than a Millimeter Tall" but that would be one big step even for Barlennan.
A team of astrophysicists recently used new models of neutron stars to map the mountains—tiny raised areas—on the stars' otherwise perfectly spherical structures. They found that the greatest deviations were still extraordinarily small due to the intense gravitational pull, clocking in at less than a millimeter tall.

Neutron stars are the dead cores of once-huge stars that collapsed in on themselves. They are the densest objects in the Universe aside from black holes. They're called neutron stars because their gravity is so intense that the electrons in their atoms collapse into the protons, forming neutrons. They're so compact that they pack a mass greater than that of our Sun into a sphere no wider than a city.
(17) VIDEO OF THE DAY. Sleepy Hollow International Film Festival, Creature Features and La-La Land Entertainment present a virtual panel celebrating the 30th anniversary of Arachnophobia with director Frank Marshall and special guests.
Recorded in November 2020, moderator Mike Matessino hosts a lively and informative discussion with ARACHNOPHOBIA's director / executive producer Frank Marshall, co-producer Richard Vane, actor Peter Jason, production designer James Bissell and entomologist Steve Kutcher.

No stranger to delighting audiences worldwide for decades, Mr. Marshall, producer of RAIDERS OF THE LOST ARK, POLTERGEIST and JURASSIC WORLD, made his directorial debut with ARACHNOPHOBIA in 1990, bringing rapt audiences to the edge of their seats with laughter and shrieks in equal measure. The film has remained a beloved fan favorite to this day and its appreciation continues to grow as it connects with a new generation. Now, Mr. Marshall and special guests take you behind the film, its production, and its astounding spider effects and action!
[Thanks to JJ, Michael Toman, Joel Zakem, James Davis Nicoll, David K.M. Klaus, Daniel Dern, John King Tarpinian, Cat Eldridge, Mike Kennedy, Andrew Porter, and Martin Morse Wooster for some of these stories. Title credit belongs to contributing editor of the day David Shallcross.]