(1) VERTLIEB MEDICAL UPDATE. Please keep File 770 contributor Steve Vertlieb in mind on Monday, April 25 when he will be having major heart surgery. He explained to Facebook friends:
…With the impending replacement of not one, but both heart valves … Atrial and Mitral … as well as stopping the continuing dripping of blood into my heart cavity … and stitching back together a hole in my heart … I'm trusting in God, the fates, and the grateful prayer support of so many countless friends and loved ones to overcome this….
(2) DOUBLE-OH. Luke Poling looks at YA James Bond pastiches, including one where the teenage Bond fights a pirate named "Walker D. Plank." "You Know, For Kids! The History of a Teenage James Bond" at CrimeReads. Even YA horror legend R.L. Stine has written one, Win, Place or Die.
When you think of the British agent with a license to kill, seducing his way around the world, keeping the rest of us safe, you likely don't think of children. This is probably a good thing since the source novels are most definitely of their era, rife with casual sexism, racism, misogyny, homophobia and rape. While the films do a little better in some of these areas, they're not exactly blameless.

It's for these reasons that perhaps the idea of a teenage Bond isn't something that instantly springs to mind as a great idea. Yet, as you'll see, it's been a long sought after market that the keepers of the Bond legacy have repeatedly tried to reach, with varying degrees of success….
(3) LE GUIN PRIZE DEADLINE. You have until midnight April 30 (Pacific time) to nominate for this year's Ursula K. Le Guin Prize for Fiction. Click here for the nomination form and eligibility criteria. The winner will receive a $25,000 cash prize. The members of the 2022 jury are discussed here.
(4) THE FAN FROM UNCLES. The Minneapolis Star-Tribune's tribute to Independent Bookstore Day includes "The return of the Uncles and other good news".
…And Uncle Hugo's and Uncle Edgar's bookstore — the deeply beloved science fiction and mystery store owned by Don Blyly — has found a new home. The "uncles," as the store is known, burned during the unrest that took place in Minneapolis following the murder of George Floyd. Now, two years on, the store will reopen at 2716 E. 31st St., just a half-block away from Moon Palace Bookstore….
(5) NOTHING IS CERTAIN BUT DEATH AND TAXONOMY. Rob Thornton has a question about something he noticed at the New York Times Book Review.
They said that the column by Amal El-Mohtar was about "science fiction and fantasy" but said in a headline that Emily St. John Mandel's new (and acceptable) novel was "speculative fiction."
Is NYTBR trying to split the genre into "pulp" (genre) and "literary" branches?
(6) FAN DISSERVICE. Netflix's financial setback, mentioned here the other day, was only to be expected says The Mary Sue: "No One Is Surprised That Netflix Lost 200,000 Subscribers in The First Quarter".
In the first quarter of 2022 (Janurary 1 to March 31), Netflix lost a net 200,000 subscribers, making it the first time in over a decade that the streaming service didn't grow in subscriptions. If this weren't bad enough, the loss was on the backdrop of Netflix projecting a 2,500,000 subscriber gain. Thier stock dropped roughly 30% in the last 24-ish hours. While Netflix continues to provide a handful of favorably received properties like Bridgerton, The Crown, Squid Game, and more, this drop was bound to happen. Everyone has beef with the company.

Stacking controversies from platforming bigoted comedians like Dave Chappelle (proud TERF), pay disparities, choosing to cancel fan-favorite content over bland hate-watched content, region-locked content, creepy cover art changes, and consistently colorist casting choices regarding Black women haven't helped. A whole wiki page (divided into five categories) exists documenting Netflix criticism. To be very clear, not all of these grievances are equal. However, it does show that many people have issues with the company and the content for a broad range of reasons.
(7) I'M NOT THE MAN THEY THINK I AM AT HOME. Short-lived CNN+ is shutting down at the end of the month — not fast enough to prevent Chris Wallace from annoying the world's most famous sci-fi celebrity: "Shatner Jokes He'll Kill Chris Wallace Over Rocket Man Clip" at Mediaite.
… Fans of Shatner are probably well-acquainted with Shatner's dramatic interpretation of "Rocket Man" at the January 20, 1978. Saturn Awards, also called the Science Fiction Film Awards. For the uninitiated:

Mr. Shatner was a guest of Mr. Wallace on the latest episode of the CNN+ series Who's Talking to Chris Wallace, and had a strange reaction to being confronted with the clip. He joked about torturing and killing Wallace for playing a very brief clip — then made the preposterous claim that he had been unaware the performance was being filmed at the time, even thought there were elements of the performance that couldn't possibly have been incorporated in a non-televised setting:

MR. WALLACE: I want to explore these spoken word albums, and I get what exactly what you're saying, it's not quite singing. It's not quite talking, but it's you're going to kill me for this. Nineteen…

MR. SHATNER: No, I would never kill you…. I'd torture you.

MR. WALLACE: …1978. I'm going to play… Here's another spoken word album. Take a look. Okay.

MR. SHATNER: (video clip) Rocket Man. Burning out his fuse out here, a. I think it's going to be a long, long time 'til touchdown bring me round again to find I'm not the man they think I am. Oh no, no, no. I'm a Rocket Man now.

MR. SHATNER: Now your audience is going to watch Chris die, as I kill you. (Wallace laughs) It was an award show…
(8) TOOL TIME. Christopher Barzak invites us to share "A Moment with Ellen Datlow" at Jenny Magazine, the Youngstown State University's Student Literary Arts Association online literary magazine. In addition to talking about her professional work, Ellen answers questions what she collects. There are many photos of the items.
[CB] … It made me wonder if you see the collecting and arrangement of these art objects as a curatorial process in the same way that you essentially collect and arrange stories for anthologies? Do the processes seem similar to you? At heart, is being an editor essentially being a collector or curator?

ED: Wow-you're much more perceptive than I am. I've usually started collecting by discovering one weird/beautiful/perfect object, then deciding I want more of them or more like them. I love antiquing and going to yard/garage sales. The first tool I ever bought was something I found in London's Jubilee market hall in Covent Garden. I had no idea what it was for and neither did the seller. I didn't discover its use until more than twenty years after I acquired it, when Kaaron Warren and I collaborated on Tool Tales (a chapbook consisting of photographs of ten of my tools/odd objects and the micro fictions she wrote about each one. A reader was able to match the item on ebay: Antique Nipper- Tool-Pliers-Adjust-Teeth-Saw-Hacksaw.

I prefer to find objects randomly, in-person. I started collecting native American fetish animals while visiting the American Southwest, then alas, discovered ebay and started buying way too many fetishes that way. But it's not as satisfying. …
(9) ART FOR NEW LOTR EDITION. Artist Alan Lee fills in Literary Hub readers about the challenges: "Alan Lee on Illustrating J.R.R. Tolkien's The Lord of the Rings".
…I was asked to produce fifty watercolors for the single-volume edition. The question of which episodes I should choose as subjects, which could have occupied me for a good part of the allotted time, was more easily settled; the color plates were to be printed on separate sheets and bound around alternating signatures of text pages, which meant that the illustrations would fall between every thirty-two pages of text.

This limitation turned out to be a blessing; it was important for me that every illustration should relate immediately to the text on the opposite page to create a harmony between story and image, and it also relieved me of the obligation to represent all the dramatic high points of the tale. This meant that I could concentrate more on scene setting and atmosphere building, and creating some quieter moments.

My feeling was that it would be better to add detail and color to those parts which the author had not described in great depth than to try to echo his powerful storytelling. That said, there are very few pages in The Lord of the Rings where nothing remarkable is happening! …
You can admire examples of Lee's work in a promotional video from The Folio Society at the link.
(10) TODAY'S DAY.
April 23 is Impossible Astronaut Day
The unofficial annual holiday celebrates the day in 2011 when the first episode of the sixth season of the series was aired in the United Kingdom, United States, and Canada.
(11) MEDIA BIRTHDAY.
1974 — [Compiled by Cat Eldridge.] Forty-eight years ago on ABC, Gene Roddenberry's Planet Earth film first aired. It was intended to be a pilot for a new weekly television series but that was not to be.
It was written by Roddenberry and Juanita Bartlett, who had this point had no genre experience but later on would be the Executive Producer on many episodes of The Greatest American Hero and even wrote a handful of them.
It starred John Saxon as Dylan Hunt. Yes Dylan Hunt. If you remember, Gene Roddenberry's Andromeda series will be fronted by Kevin Sorbo playing Dylan Hunt. Roddenberry was famous, or infamous for reusing almost everything. The previous pilot was Genesis II, and it featured many of the concepts and characters later redeveloped and mostly recast in this film.
So how was it received? Comic Mix correctly noted I think that "As a concept, it's not bad. The execution, from Samuel A. Peebles' script on down, is where the pilot film gets into trouble. Peebles' writing was stiff, and whatever rewriting Roddenberry did, didn't help. The characters are types, never fully fleshed out, and Cord's heroic role is blunted by his cold, aloof performance (making him better suited as Airwolf's Archangel a few years later)."
And Moria's Reviews says of it that "Planet Earth tends to represent Gene Roddenberry at his preachy worst. Genesis II, when it came down to it, was only a variant on the basic premise of Buck Rogers (1939) about a man from the present-day waking up in the future and showing people how things should be done with a little 20th Century knowhow and individualism. That is to say, Genesis II was a Buck Rogers with Gene Roddenberry's social utopianism added to the mix."
Audience reviewers at Rotten Tomatoes give it a thirty percent rating.
(12) TODAY'S BIRTHDAYS.
[Compiled by Cat Eldridge.]
Born April 23, 1879 — Talbot Mundy. English-born, but based for most of his life in the States, he also wrote under the pseudonym of Walter Galt. Best known as the author of King of the Khyber Rifles which is not quite genre and the Jimgrim series which is genre, much of his work was published in pulp magazines. (Died 1940.)
Born April 23, 1923 — Avram Davidson. Equally at home writing mystery, fantasy or science fiction, he wrote two splendid Ellery Queen mysteries, And on the Eighth Day and The Fourth Side of the Triangle. I'm fond of his Vergil Magus series if only for the names of the novels such as The Phoenix and the Mirror or, The Enigmatic Speculum. His only Hugo was at Solacon (1958) for his "Or All the Seas with Oysters" short story. During his tenure as editor of The Magazine of Fantasy and Science Fiction (1962-1965) it won the Best Professional Magazine Hugo (1963) and was nominated twice more at Pacificon II (1964) and Loncon II (1965). He was honored with the World Fantasy Award for Lifetime Achievement in 1986. (Died 1993.)
Born April 23, 1935 — Tom Doherty, 87. Publisher of Ace Books who left there in 1980 to found Tor Books. Tor became a subsidiary of St. Martin's Press in 1987; both are now divisions of Macmillan Publishers, owned by Holtzbrinck Publishers. Doherty was awarded a World Fantasy Award in the Lifetime Achievement category at the 2005 World Fantasy Convention for his contributions to the fantasy field. He also partnered in the founding of Baen Books.
Born April 23, 1939 — Lee Majors, 83. Here for his role as Colonel Steve Austin in The Six Million Dollar Man. He reprised the role in The Bionic Woman. Much later, he had a recurring role in Ash vs. Evil Dead as Brock Williams. In the new version of Thunderbirds Are Go, he voiced Jeff Tracy. He shows up in Scrooged as himself.
Born April 23, 1955 — Paul J. McAuley, 67. Four Hundred Billion Stars, his first novel, won the Philip K. Dick Award, Fairyland which I adore won a Arthur C. Clarke Award and a John W. Campbell Memorial Award for Best SF Novel. His short story, "The Choice", won a Sturgeon Award, and "Pasquale's Angel" won a Sideways Award. He was Toastmaster along Kim Newman at Interaction.
Born April 23, 1956 — Caroline Thompson, 66. She wrote the screenplays for Tim Burton's Edward Scissorhands, The Nightmare Before Christmas, and Corpse Bride. A stage version of the latter with director and choreographer Matthew Bourne was co-adapted with her this year. She also wrote the screenplay for The Addams Family. And she wrote the screenplay for the television film, Snow White: The Fairest of Them All.
Born April 23, 1962 — John Hannah, 60. Here for being Jonathan Carnahan in The Mummy, The Mummy Returns, and there was apparently a third film as well though let's not talk about it please, The Mummy: Tomb of the Dragon Emperor. In a more meaty role, he was the title characters in Dr. Jekyll and Mr. Hyde, and of late he's been Holden Radcliffe on Marvel's Agents of S.H.I.E.L.D. series.
Born April 23, 1973 — Naomi Kritzer, 49. I saw that her 2015 short story "Cat Pictures Please" had been a Hugo Award winner at MidAmeriCon II, so I went and purchased Cat Pictures Please and Other Stories off Apple Books so I could read it. It was superb as was Catfishing on CatNet which is nominated for a Lodestar Award for Best Young Adult Book at this year's Hugos. It's since been expanded continued in two more novels, Catfishing on CatNet and the Chaos on Catnet. DisCon III saw her nominated for two Hugos, one for her "Monster" novelette and one for her most excellent "Little Free Library" short story. She also picked up a nomination at Dublin 2019 for her "The Thing About Ghost Stories" novelette.
(13) COMICS SECTION.
(14) SUMMERTIME. "Archie Comics Brings a Queer Character to Riverdale" reports the New York Times.
The world of Riverdale, the comic book home of the redheaded Archie Andrews and friends, will expand in June with the introduction of Eliza Han.

The new character, created by the writer Tee Franklin and the artist Dan Parent, is queer and biracial. She meets the Riverdale gang in a summer special comic when she visits Harper Lodge, a cousin of Veronica — for whom she has romantic feelings, something Eliza has in common with Reggie Mantle. Oh, teenage love!

"The best Archie characters are the ones you can drop in and have them create a little fun chaos," Mike Pellerito, the editor in chief of Archie Comic Publications, said in a telephone interview. "Eliza is another character that you can fall in love with very easily — and there's a lot more to be revealed about the character besides her sexuality."

Eliza also has a fuller figure, something new for Archie, Pellerito said, a move to have more characters people can relate to. "Body diversity is something we don't tackle a ton of," Pellerito said….
(15) CARTOONIST PROFILED. Eye on Design shows how "The Cartoonist Seth Has Built a Real Life Entirely Around His Fictional Work".
…Inspired by The New Yorker cover artists of the mid-century, Seth made a name for himself with semi-autobiographical literary comics rendered in that classic style, most notably his Palookaville series, including It's a Good Life, If You Don't Weaken and the acclaimed Clyde Fans. Perhaps this encroaching modern world is what he's guarding against in his own home in Guelph's historic neighborhood, The Ward. Many curtains are drawn, and custom stained glass windows with the words Inkwell's End and Nothing Lasts set in beautiful hues, with an illustration of the house—pull you deeper into this world as they seal off the one outside.

…The house. Seth sees it as an art project that's not only directly connected to his work, but to the city of Guelph and the province that runs in his blood. For one, electrical towers are a running theme, depicted in the ironwork outside, in one of the stained glass windows, in the sculptures on the first floor, even in the shower tiles; Seth regards them as a central image of Ontario. Elsewhere, the nearby train bridge and the two towers of Guelph's basilica can be spotted in cabinetry masterfully crafted by Seth's father-in-law.

His comic work lives and breathes here, too. For fans, it's like walking into a museum of the creator's mind. In the parlor alone there's a light-up ceramic sculpture of Kao-Kuk, an Inuit astronaut from his book The Great Northern Brotherhood of Canadian Cartoonists. There's a trio of nesting cookie jar sculptures of the titular character from George Sprott (1894–1975), a series he originally created for The New York Times Magazine; he removes the top of one to reveal a younger Sprott within, which is then removed to reveal Sprott as a child. There are dolls of all the characters from Wimbledon Green: The Greatest Comic Book Collector in the World….
(16) PLUS ÇA CLIMATE CHANGE. William McKibben's doom-sounding article "The End of Nature" sounds like it could have been published this week, but The New Yorker first ran it in 1989.
…In other words, our sense of an unlimited future, which is drawn from that apparently bottomless well of the past, is a delusion. True, evolution, grinding on ever so slowly, has taken billions of years to create us from slime, but that does not mean that time always moves so ponderously. Over a lifetime or a decade or a year, big and impersonal and dramatic changes can take place. We have accepted the idea that continents can drift in the course of aeons, or that continents can die in a nuclear second. But normal time seems to us immune from such huge changes. It isn't, though. In the last three decades, for example, the amount of carbon dioxide in the atmosphere has increased more than ten per cent, from about three hundred and fifteen parts per million to about three hundred and fifty parts per million. In the last decade, an immense "hole" in the ozone layer has opened up above the South Pole each fall, and, according to the Worldwatch Institute, the percentage of West German forests damaged by acid rain has risen from less than ten per cent to more than fifty per cent. Last year, for perhaps the first time since that starved Pilgrim winter at Plymouth, America consumed more grain than it grew. Burroughs again: "One summer day, while I was walking along the country road on the farm where I was born, a section of the stone wall opposite me, and not more than three or four yards distant, suddenly fell down. Amid the general stillness and immobility about me, the effect was quite startling. . . . It was the sudden summing-up of half a century or more of atomic changes in the material of the wall. A grain or two of sand yielded to the pressure of long years, and gravity did the rest."…

…Soon Thoreau will make no sense. And when that happens the end of nature, which began with our alteration of the atmosphere and continued with the responses of the planetary managers and the genetic engineers, will be final. The loss of memory will be the eternal loss of meaning…
(17) WHISKEY BRAVO TANGO. This is what Hollywood might call a successful product placement. "Fort Collins whiskey gets TV cameo, now has unexpected 'Star Trek' following" at Yahoo!
Two weeks ago NOCO Distillery founder and master blender Sebastien Gavillet was going about his normal life. Now he's commissioning custom bottle corks affixed with Star Trek figurines.

Life — and, in Gavillet's case, some opportune product placement — sure comes at you fast.

It all started April 6, when a bottle of the Fort Collins distillery's "Bourbon II" whiskey appeared on the latest season of Paramount+ series "Star Trek: Picard."

The bottle, which was shown during a bar scene in episode six, appeared on screen for a few seconds — just long enough for fans to pause and make out its name, batch, cask, bottle numbers, the distillery's logo and hometown: Fort Collins, Colorado.

"I was floored," said Gavillet, who woke up to a flurry of text messages and calls after the episode dropped on the streaming service.

NOCO Distillery had dipped its toes in product placement thanks to Mark McFann, a distillery customer and owner of Cast a Long Shadow, a Fort Collins-based product placement company that's had placements in everything from "Avengers" movies to HBO's "Westworld" and, now, "Star Trek: Picard," McFann said.

Seeing it as an interesting marketing opportunity, Gavillet said NOCO Distillery also pursued small placements on Netflix's "Lucifer," the new Ben Affleck movie "Deep Water" and Peacock's "The Fresh Prince of Bel-Air" reboot, "Bel-Air."

While most of NOCO Distillery's previous product placements were minor — "if you don't know it's there, you don't really see it," Gavillet explained — Bourbon II's extended appearance on "Star Trek: Picard" was "very unique," he said….
Those who want to order a bottle of the next run are invited to enter their contact info here: startrekpicard (nocodistillery.com).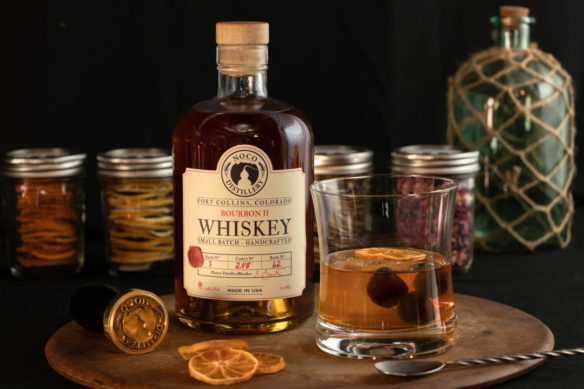 (18) LANSDALE Q&A. Joe R. Lansdale talks Born for Trouble and more with Michelle Souliere of the Green Hand Bookshop in Portland, Maine. Born for Trouble: The Further Adventures of Hap and Leonard was released March 21.
[Thanks to Mike Kennedy, Martin Morse Wooster, JJ, John King Tarpinian, Chris Barkley, Rob Thornton, Andrew Porter, Michael Toman, and Cat Eldridge for some of these stories. Title credit belongs to File 770 contributing editor of the day Daniel Dern.]