The Sad Puppies always predicted, for their own vindictive reasons, that the time would come when the internet fell on me. I never disagreed. I knew they were right. Today was that day.
(1) SAVING BOOKSTORES. In his latest e-newsletter Barry Hoffman, Publisher of Gauntlet Press, included this news about aid to crisis-affected indie bookstores:
James Patterson has donated $500,000 in partnership with the American Booksellers Association to help Independent bookstores (#SaveIndieBookstores).
Odyssey Bookshop in South Hadley, Mass., launched a GoFundMe campaign earlier this week after being closed to the public since March 17.
Annie Philbrick, owner of Bank Square Books in Mystic, Conn., and Savoy Bookshop & Cafe in Westerly, R.I., launched a GoFundMe campaign. Philbrick and her team are looking to raise $100,000, and raised over $10,000 on the fundraiser's first day. Funds raised will go to payroll, utilities, liabilities and rent.
The Bookworm of Edwards in Edwards, Colo., launched a GoFundMe page. In the days since, store owner Nicole Magistro has managed to raise more than $62,000 out of a $75,000 goal. Since launching the campaign and appealing to customers, Magistro reported, online sales have jumped tremendously.
(2) WAIT A MINUTE, THAT WAS YOU? Veteran conrunner Laurie Mann also works as a movie extra: "Happy Tales from Set: The "Quiet" Jack Reacher Bus Scene".
I'm a movie extra, paid for something like 30 different productions since 2008, and this turned out to be my favorite day on set…

… The movie came out in 2012, and I think the DVD came out in 2013.  I love to listen to director's commentary, which, for this movie, was both the director, Christopher McQuarrie and the star, Tom Cruise.  When this scene came up, they both made a point of saying how hard the Pittsburgh extras worked on this movie!!  So what was another reason this scene was my favorite scene – not only was I in it, but I got to suggest three bits of business that the director used!
(3) SOMTOW'S LISTENING GUIDE. Somtow Sucharitkul lists "Programming on OperaSiamTV.com that MIGHT be of interest to my friends in science fiction community" — all times GMT+7 (Thailand Time)
Thursday 8 pm with reruns midnight, Friday morning 8 am, 12 noon: by popular request, the Ultimate Star Wars Symphony Concert once again (this is all Thursday for L.A.)
Friday (Good Friday) 8 pm and 12 am plus 8 am and 12 noon a production of "Jesus Christ Superstar" from Bangkok, directed by Somtow
Saturday (for Passover) – first broadcast of Somtow's opera about the Holocaust, Helena Citrónová 8 pm, 12 am, 8 pm, 12 noon
Sunday (Easter) same times — Mahler's Resurrection Symphony
Monday (Songkraan, Thai Buddhist New Year) — marathon run of the first seven works in Somtow's "Ten Lives of the Buddha" noon and midnight (this will run around 10 hours) — this probably has some interest in the fantasy crowd
(4) FOWL PLAY DELAYED. Shelf Awareness reports –
Disney has pulled its upcoming film Artemis Fowl, based on Eoin Colfer's fantasy novels, from theatrical release and will debut the movie exclusively on its Disney+ streaming service sometime this summer. The Wrap reported that the move "comes as all theatrical releases are being shuffled around and delayed–some by as long as a year–while movie theaters remain closed during the coronavirus pandemic."
(5) HOMEWORK. In the Washington Post, Michael Cavna talks to comics creators Lynda Barry, Kelly Sue DeConnick, Paige Braddock, Faith Erin Hicks, and Dean Haspiel about how they are staying creative during the coronavirus pandemic."5 tips to spark your creativity while working alone, from artists who do it all the time".
1. Find an inspiring place to think

Many of [Jeff] Kinney's familiar haunts are shuttered during the pandemic — including An Unlikely Story, the bookstore and cafe he owns in town. (Closed for nearly three weeks, the store had to cancel even Hillary Clinton's scheduled tour stop.)

Sign up for our Coronavirus Updates newsletter to track the outbreak. All stories linked in the newsletter are free to access.

"Theoretically, the coronavirus quarantine shouldn't affect a cartoonist's productivity, because we're experienced at working from home," Kinney says. But "I've lost all my spaces in which I could generate ideas."

So, he now spends his workdays parked at the local cemetery. Even his supplies and goodies support his creative routine.
(6) FISH IN A BARREL. National Review's Jack Butler made me click, which I guess was the whole point. "Isaac Asimov's Comforting Technocratic Fable". Tagline: "The sci-fi great's Foundation novels are an unrealistic depiction of free will, civilization, and crisis management."
As leaders and those they govern struggle to confront the global challenges of COVID-19, wouldn't it be nice if a hologram from the past spontaneously appeared with a pre-recorded message telling us exactly what to do? In Isaac Asimov's Foundation novels, that's exactly what happens. First serialized as novellas in the sci-fi magazine Astounding Stories between 1942 and 1950 and published as proper novels in the early '50s, the first three books in the Foundation series provide a superficially comforting tale of technocratic triumph. But they suffer from a failure in their central conceit that both renders the works fundamentally flawed and limits their utility for our own confusing time….
(7) KGB. Ellen Datlow and Matt Kressel announce:
Due to the NYC Coronavirus shutdown, there will be no in-person reading at the KGB Bar. Instead, we will live stream readings with April's authors, Michael Cisco and Clay MacLeod Chapman on YouTube on April 15th, 2020, 7pm Eastern Time.
You can watch the readings live by clicking here.
If you wish to support the KGB Bar during the shutdown, you may do so here.
Michael Cisco
Michael Cisco published ten novels including The Divinity Student, The Great Lover, The Narrator, Animal Money, and Unlanguage, and a short story collection called Secret Hours.  His short fiction has appeared in: The Thackery T. Lambshead Pocket Guide to Eccentric and Discredited Diseases, Lovecraft Unbound, Black Wings, Blood and Other Cravings, The Weird, The Grimscribe's Puppets, and Aickman's Heirs, among others.  He teaches at CUNY Hostos.
Clay McLeod Chapman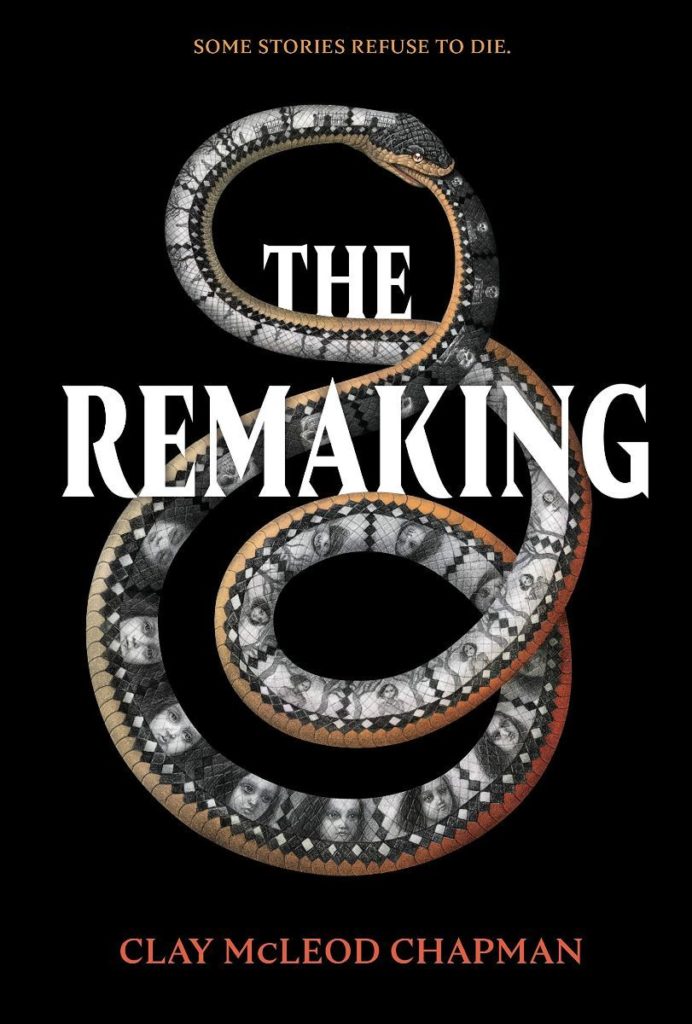 Clay McLeod Chapman is the author of The Remaking, Nothing Untoward, Commencement, and several other novels. He has written the films The Boy, Henley, and Late Bloomer. In the world of comics, he is the writer for Marvel's ongoing series Scream: Curse of Carnage, as well as Iron Fist: Phantom Limb, Lazaretto, Self Storage, Edge of Spider-Verse, and American Vampire, among others.  For more information, check out his website: www.claymcleodchapman.com
You can listen to podcasts of KGB readings here.
(8) THE WINTER LINE. George R.R. Martin said this was coming in "Crossovers and Cameos". Now you can see a clip on YouTube.
I got a message from my friend Jonah Nolan last week. Jonah is one of the creators and showrunners of HBO's WESTWORLD, along with his wife Lisa Joy, and he told me to be sure to catch Sunday's episode, there might be something that would amuse me.
(9) TODAY'S BIRTHDAYS.
[Compiled by Cat Eldridge.]
Born April 8, 1912 — John Carnell. British editor well regarded  for editing New Worlds two different times. He also edited Science Fantasy starting in the Fifties. After the magazines were sold off to another publisher, he left to create the New Writings in Science Fiction serieswhich ran until his death. Damien Broderick and John Boston have a two volume history of him entitled Building New Worlds, 1946-1959: The Carnell Era. (Died 1972.)
Born April 8, 1933 — Cele Goldsmith. She was editor of Amazing Stories and Fantastic from 1958 to 1965 during which time Zelazny, Le Guin and Disch had their first published stories appeared in those magazines. She has given a special Hugo at Chicon III for editing Amazing Stories and Fantastic. (Died 2002.)
Born April 8, 1942 — Douglas Trumbull, 78. Let's call him a genius and leave it at that. He contributed to, or was fully responsible for, the special photographic effects of Close Encounters of the Third Kind, 2001: A Space Odyssey, Star Trek: The Motion Picture and Blade Runner, and directed the movies Silent Running and Brainstorm. And Trumbull was executive producer for Starlost. 
Born April 8, 1967 — Cecilia Tan, 53. Editor, writer and founder of Circlet Press, which she says is the first press devoted to erotic genre fiction. It has published well over a hundred digital book to date with such titles as Telepaths Don't Need Safewords and Other Stories from the Erotic Edge of SF/Fantasy (Wouldn't Bester be surprised to learn that. I digress), Sex in the System: Stories of Erotic Futures, Technological Stimulation, and the Sensual Life of Machines and Genderflex: Sexy Stories on the Edge and In-Between. She has two series, Magic University and The Prince's Boy. 
Born April 8, 1974 — Nnedi Okorafor, 46. Who Fears Death won a World Fantasy Award for Best Novel.  Lagoon, an Afrofuturist novel, was followed by her amazing Binti trilogy. Binti won both a Nebula Award and a Hugo Award for best novella. Several of her works have been adapted for video, both in Africa and in North America. 
Born April 8, 1981 — Taylor Kitsch, 39. You'll possibly remember him as the lead in John Carter which I swear was originally titled John Carter of Mars. He also played Gambit in X-Men Origins: Wolverine, and was Lieutenant Commander Alex Hopper in Battleship which was based off the board game.
(10) COMICS SECTION.
Today's Lio comes with a tip of the hat to H.G. Wells.
Nancy's April Fools Day explanation of who (or what) she really is was too good to miss.
(11) IT IS THE END, MY FRIEND. CBR.com knows everybody would rather read a prediction of doom: "Coronavirus Could Be the Beginning of the End for Super Conventions".
…Now, however, with the justifiable closure of these conventions due to the COVID-19 outbreak, it's unclear how much we really need these super conventions. We've already started to see a trend of major studios skipping them. Marvel and Sony opted out of these events for the past couple years, and it's not a stretch to say they might reconsider attending in the future.

As digital media has expanded, the convention model has become more and more antiquated. Today, companies can draw the same amount of hype with an online trailer release and press conference as they used to by premiering a trailer at Comic Con — and the online trailer is a lot less hassle. It also allows studios to control how much gets out about their upcoming releases, lets them limit press access and saves them the embarrassment of a poor fan reaction at a live show.
(12) BITE ME. Eater Los Angeles says this "Rad New LA Pizza Delivery Service Comes With Immersive At-Home Vampire Game".
What's better than getting a pizza delivered at home during the time of the coronavirus pandemic? How about a pizza delivered by an ageless vampire family, complete with mysterious clues and puzzles to solve along with those slices?

That's precisely the idea behind Vampire Pizza, a new at-home interactive food experience in Los Angeles that has been designed specifically for this current COVID-19 quarantine life. The idea is simple: a ghost kitchen pizza company partners with experiential artists and producers who are also stuck at home to create a one-of-a-kind character and clues-based game that gets delivered to a customer's doorstep this weekend. It's basically dinner and a (personal) show.
(13) D'OH! "A Family in Lockdown Recreated The Simpsons Opening and It's Absolutely Joyful" — Io9 points the way.
(14) BORING SCIENCE. The Harvard University Press blog advises about "Responding to Boredom during Self-Isolation".
… To make matters worse, isolation often goes hand in hand with the strain of monotony. The Norwegian-built ship Belgica was the first to overwinter in the Antarctic during its epic 1898 voyage. Despite facing numerous challenges, Frederick Cook, the onboard doctor, was particularly struck by the problem of isolation and monotony. "We are imprisoned in an endless sea of ice, and find our horizon monotonous. We have told all the tales, real and imaginative…time weighs heavily upon us as the darkness slowly advances," was his grim description. Allegedly, one crewmember was so fed up he jumped ship proclaiming that he was going to walk home to Belgium across the ice!
(15) VIDEO OF THE DAY. "Every C3PO Costume Explained By Anthony Daniels" on YouTube is a 50-minute documentary done for WIRED in which Daniels describes every costume he wore in the nine Star Wars films and includes a lot of rare behind-the-scenes footage.
[Thanks to Mike Kennedy, Chip Hitchcock, JJ, Cat Eldridge, Martin Morse Wooster, John King Tarpinian, Michael Toman, Rich Horton, and Andrew Porter for some of these stories. Title credit goes to File 770 contributing editor of the day David Shallcross.]