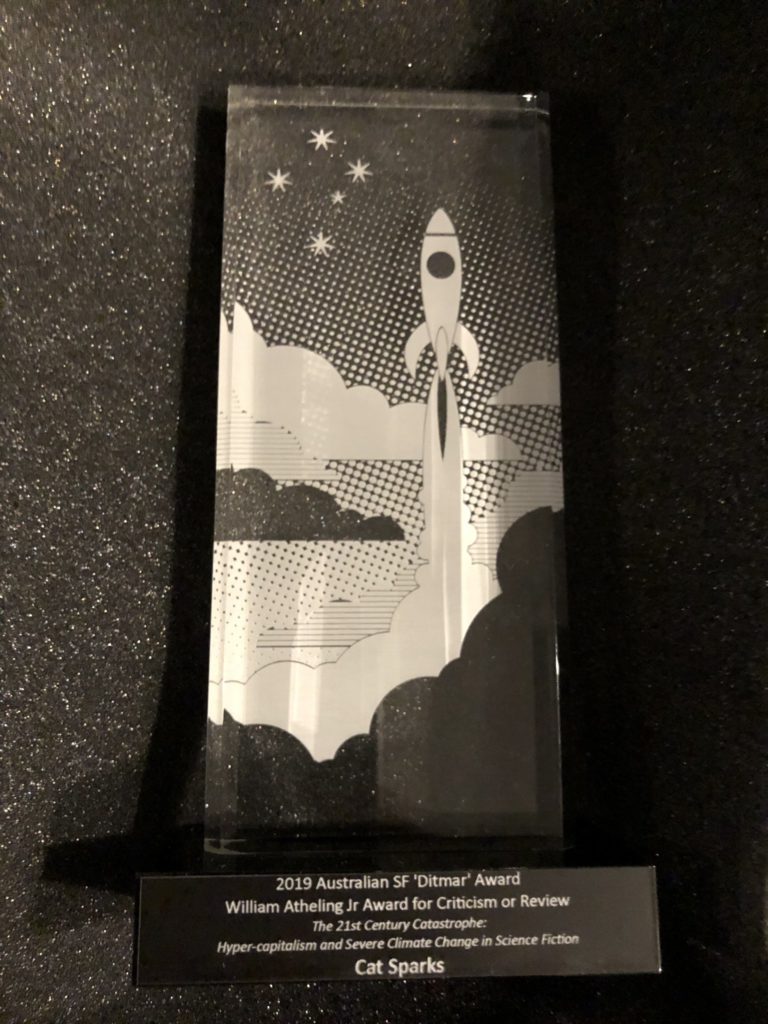 The winners of the Australian SF ("Ditmar") Awards for 2019 were presented at the 2019 Australian National SF Convention, (Continuum 15) in Melbourne on June 8.
Best Novel
City of Lies (Poison Wars 1), Sam Hawke, Tom Doherty Associates.
Best Novella or Novelette
"Cabaret of Monsters", Tansy Rayner Roberts, in Cabaret of Monsters, The Creature Court.
Best Short Story
"The Heart of Owl Abbas", Kathleen Jennings, in Tor.com.
Best Collected Work
Mother of Invention, Rivqa Rafael and Tansy Rayner Roberts, Twelfth Planet Press.
Best Artwork
Cover art, Likhain, for Mother of Invention, Twelfth Planet Press.
Best Fan Publication in Any Medium
Earl Grey Editing, Elizabeth Fitzgerald.
Best Fan Writer
Liz Barr, for writing in squiddishly.
Best New Talent
William Atheling Jr Award for Criticism or Review
Cat Sparks, for "The 21st Century Catastrophe: Hyper-capitalism and Severe Climate Change in Science Fiction" PhD exegesis.
OTHER AWARDS PRESENTED AT CEREMONY
Peter McNamara Achievement Award for Lifetime Achievement and Contribution towards Australian Speculative Fiction
Chandler Award for Outstanding Achievement in Australian Science Fiction