(1) RECESS IS OVER. File 770 was down for approximately 7 hours today, for reasons never fully explained by customer support, except they were "actively working" on a server problem. Well, to quote Sam Gamgee, "I'm back."
(2) WHO WATCHED. The Guardian has the numbers: "Jodie Whittaker's Doctor Who debut is most watched launch for 10 years".
Jodie Whittaker's take on the Time Lord drew Doctor Who's biggest series launch audience in more than a decade on Sunday night.

An average of 8.2m viewers watched Whittaker's first outing as the Doctor, beating the ratings for political thriller sensation Bodyguard, which attracted 6.7m viewers when it debuted in August. With an audience share of 40.1%, Whittaker's performance was the most-watched episode of the science fiction drama since the 2008 series.

The first female doctor bettered Matt Smith and David Tennant's debut viewing figures of 7.7m and 8m respectively. While she drew a smaller audience than Christopher Eccleston's first appearance, which was watched by 9.9m, he had the advantage of appearing in the show's comeback episode in 2005.
(3) WHO LISTENED. But some claim the Doctor Who theme music has been defaced. "Yes," says SF Concatenation's Jonathan Cowie, "thought impossible but some consider true."
The brand new theme for Doctor Who Series 11, composed by Segun Akinola, which premiered tonight during the closing credits of 'The Woman Who Fell to Earth'
(4) IT'S ALREADY BEEN DONE! Alastair Reynolds apparently blazed the trail for Banksy – "Artist shreds unique work of art".
Alastair Reynolds destroys last english copy of his short-story "Pandora's Box" at Finncon'09
(5) A VOLUNTEER FOR PICARD'S CREW. Wil Wheaton told a Baltimore Comic Con audience he'd say yes — "Star Trek: Wil Wheaton Wants to Return in New Picard Series" at Comicbook.
Of course, fans also want to know if he could appear as Wesley Crusher could appear in the new show. Wheaton says he thinks its unlikely he'll be asked, but he'd definitely be up for it if asked.

"I think it is very unlikely they will ask me to participate in it," Wheaton said. "I mean, I think it is just extraordinarily unlikely that will happen. If they did, I would say 'yes,' of course. I think all of us would say 'yes.' I think all of us if we were given the opportunity to put on the spacesuits again and go work together and bring those characters back, as they would be thirty years later, we would all say 'yes.' And I don't think it's because we want the work. I don't think it's because we need the money. I don't think it's because we don't have other things to do. It's because we love each other so much and an opportunity, even for a day, to return emotionally to some of the best times of our lives, I think that we would jump at that opportunity."
(6) LONG LIST ANTHOLOGY. David Steffen's Long List Anthology Volume 4 Kickstarter has fully funded, included the stretch goal — 204 backers pledged $4,754.
(7) BITE CLUB. Ron Charles in the Washington Post discusses how Fangoria, which died last year, has been revived "as a new quarterly journal with photos so high-gloss that the blood looks wet."  But Charles notes many book reviews amid all the gory photos, as well as a short story by Chuck Pahlaniuk — "Fangoria, the fabled horror magazine, has risen from the dead".
…There's also a piece for die-hard fanatics about continuity problems among the various "Halloween" sequels and a true story about a young man in North Carolina who built a replica of the Myers house. "I have to carefully pick what I'm going to invest my time in," he says without any apparent irony.

Handy advice abounds in these pages. Makeup artist Tate Steinsiek explains "how to slit your own throat," and director Corin Hardy walks us through hideous visuals in his new movie "The Nun." "Malignant Growths," a piece about homemade horror films, should come with its own barf bag….
(8) RAH RAH RAH (RAH RAH).  In a piece for Tor.com, James Davis Nicoll says there are "Five Books That Improve Upon Heinlein's Juveniles". (How can that be possible?)
Nothing fills me with dread quite like a middle-aged male writer announcing that he plans to write a YA novel just like the ones Robert Heinlein used to write . I could explain why this is such a harbinger of disappointment…but Charles Stross has already beat me to it. Instead, allow me to offer some non-Heinlein novels that succeed in scratching some of the same itches that the RAH juvies once scratched. For me, that requires the intended audience to include teens, that the genre be science fiction in the narrow sense, that the protagonist be a young adult, and that they get to do something that actually matters in the course of the book .
(9) NYCC COSPLAY. Huffington Post's photo gallery promises "Here Are The Best Costumes From 2018's New York Comic Con".
But aside from stars to see, artists to discover, and unique merchandise to buy, people go to Comic Con to see (and be seen in) costumes. There were probably as many people in costume as not this year, and as always it was a wonderful distraction when walking from one part of the convention center to another.
(10) NYCC PROGRAM VIDEOS. On the Penguin Random House YouTube channel you'll find links to 12 full panels recorded at New York Comic Con. These include a Patrick Rothfuss panel, Pierce Brown's Red Rising Panel, A Night with Author Andy Weir (The Martian), "How Writers Build Authenticity Into Diverse Worlds Panel," Patrick Rothfuss and R.A. Salvatore Discuss Epic Fantasy, "Disney-Lucasfilm Publishing: Stories from a Galaxy Far, Far Away," The World of Lore with Aaron Mahnke Panel, "Disney-Lucasfilm Presents: A Celebration of Female Writers in a Galaxy Far, Far Away."
(11) TODAY'S BIRTHDAYS.
[Compiled by Cat Eldridge and JJ.]
Born October 8, 1916 – George Turner, Writer and Critic from Australia, who was a successful mainstream novelist but turned to writing SF fiction and criticism in his sixties. His novel Drowning Towers (also published as The Sea and Summer) was a near-future story about global warming and economic collapse, which won the Clarke Award and was a finalist for the Nebula, Campbell, and Ditmar Awards. His book In the Heart or In the Head: An Essay in Time Travel, a memoir in which he chronicles his chaotic growing-up in a family for whom fact and fantasy were equally acceptable and often indistinguishable, won the William J. Atheling Jr. Award and was a finalist for the Hugo for Best Nonfiction Book. He wrote a lot on the history of the genre, including John W. Campbell: Writer, Editor, Legend for an Australian symposium on Campbell in 1971. He was given an A. Bertram Chandler Award – Australia SFF fandom's highest honor – and his other works, both SF and genre nonfiction, received many nominations and wins for Ditmar and Atheling Awards, all earned between the age of 60 and his death at age 80. He was to be Author Guest of Honor at Aussiecon 3, the 1999 Worldcon, but died prior to the convention. The interview "Judith Buckrich in Conversation with George Turner" can be found in SF Commentary #76.
Born October 8, 1920 – Frank Herbert, Writer well-known for his Dune series – the first of which won Hugo, Nebula, Seiun, and Locus Awards – which has been translated into more than a dozen languages and adapted to movies and videogames, including the Hugo-nominated version by David Lynch. Songs of Muad'Dib: Poems and Songs from Frank Herbert's Dune was published posthumously, edited by his son Brian Herbert. Other work includes the ConSentiency universe novels, Under Pressure and Hellstrom's Hive (which was awarded the Prix Apollo), and works in his Pandora and Jorj McKie universes. He was nominated for the 1956 Most Promising New Author Hugo, and was Author Guest of Honor at a number of conventions.
Born October 8, 1941 – Penny Frierson, 77, Writer, Editor, Conrunner, and Fan who chaired or co-chaired several conventions and Worldcon bids, and co-chaired the 1986 Worldcon. She was one of the founders of the Birmingham Science Fiction Club. She collaborated with her husband Meade in her fan writing; they were big H.P. Lovecraft fans, and their fanzines included Science Fiction on Radio, HPL, The HPL Tribute, The HPL Supplement, and the fannish play, Shattered Like a Clockwork Orange. She was a member of the APAs Myriad, RAPS, and SFPA, Guest of Honor at Coastcon in 1978, and in 1987 Southern Fandom recognized her with the Rebel Award.
Born October 8, 1943 – David Dvorkin, 75, Writer from England who emigrated to the U.S., and has written more than a dozen of his own speculative fiction novels, but is perhaps best known for three of the earliest novels written in the Star Trek Original Series and Next Generation universes for Pocket Books.
Born October 8, 1943 – R.L. Stine, 75, Writer, Editor, and Producer. Author of more than 300 novels, mostly young adult horror, most famously the Goosebumps series, which, along with some of his other works, has been made in TV series and videogames. He has written novelisations of the genre films Ghostbusters II and Spaceballs. He was recognized with a Stoker Award for Lifetime Achievement in 2013.
Born October 8, 1949 – Sigourney Weaver, 69, Oscar-nominated Screen and Stage Actor and Producer. Her most famous genre roles are in Hugo-winning movies the Alien series and the Star Trek homage Galaxy Quest, in addition to parts in both Hugo-nominated versions of Ghostbusters, Dave (an uncredited version of Robert Heinlein's Double Star), the Hugo finalist Avatar and its upcoming sequels, The Village, Vamps, and Chappie. She has also provided voices for animated films including the Hugo-winning WALL-E, Happily N'Ever After, The Tale of Despereaux, and Finding Dory.
Born October 8, 1949 – Richard Hescox, 69, Artist and Illustrator who, between the years of 1976 and 1993, illustrated over 135 covers for genre books, but now works mostly in the games industry and for private commissions. He is also notable for producing advertising art for such movies as Escape from New York, Time Bandits, Swamp Thing, The Dark Crystal, The Neverending Story, and Conan the Barbarian. Some of his work has been gathered into two collections, The Fantasy Art of Richard Hescox and The Deceiving Eye: The Art of Richard Hescox, with text by Randy Dannenfelser. He has been nominated for a Chesley a half a dozen times, winning in 2003, named Artist Guest of Honor at numerous conventions, and received The Jack Gaughan Award for Best Emerging Artist in 1991.
Born October 8, 1956 – Stephanie Zimbalist, 62, Writer and Actor of Stage and Screen. While she is best known for the lead in the TV series Remington Steele, she has appeared in more than 60 stage plays and as many TV series, with her most notable genre appearances being the films Jericho Fever and a Saturn Award-nominated role in The Awakening, the film version of Bram Stoker's The Jewel of Seven Stars. She appeared in the 2006 documentary Christa McAuliffe: Reach for the Stars, and also portrayed McAuliffe in the play Defying Gravity.
Born October 8, 1970 – Matt Damon, 48, Oscar-winning Writer, Actor, and Producer. His most famous genre roles involve having to be rescued in both the Hugo-winner The Martian and the Hugo finalist Interstellar. After starting his career with a role as an uncredited extra on the Hugo-nominated Field of Dreams, he later had parts in genre films The Adjustment Bureau (based on a Philip K. Dick story), The Brothers Grimm, Contagion, Elysium, The Zero Theorem, Downsizing, and he reprised his Dogma role playing Loki in a cameo in the Hugo-nominated Thor: Ragnarok.
Born October 8, 1979 – Kristanna Loken, 39, Actor and Producer, known to genre fans as the cyborg Terminatrix from Terminator 3: Rise of the Machines. Her other genre appearances include the films Bloodrayne and In the Name of the King, and the TV series Mortal Kombat: Conquest and Painkiller Jane.
(12) HERBERT DAY. Steven H Silver finds a story to celebrate in a 1971 Analog – "Birthday Reviews: Frank Herbert's 'By the Book'" at Black Gate.
Originally published by John W. Campbell, Jr. in the October 1966 issue of Analog Science Fiction Science Fact, "By the Book" was reprinted in 1971 in The Worlds of Frank Herbert and again in The Best of Frank Herbert. It was also included in the Herbert collections Eye and The Collected Stories of Frank Herbert. The story was translated into Croatian in 1978 for inclusion in the Yugoslavian magazine Sirius and into French in 1987 for the Hebert collection Champ Mental.
(13) COMICS SECTION.
(14) LOCAL TALENT. In LA on October 11 — "Dana Gould – A reading of Ed Wood's Plan 9 from Outer Space". Here's some names you don't see all the time anymore.
Dana Gould presents A Live, Stage Reading of EdWood's… Plan 9 from Outer Space

w/ Bobcat Goldthwait, David Koechner, Janet Varney , Laraine Newman, Kevin MacDonald, Dana Gould, Matt Braunger, Rob Zabrecky, Ron Lynch, Nate Mooney, DeborahBaker, Jr., Ken Daly, G CharlesWright, w/ Eban Schletter and other surprises!
(15) DADDY DATA? Variety reports — "TNT Orders Ridley Scott-Produced Sci-Fi Drama 'Raised by Wolves'".
TNT has given a straight-to-series order to a sci-fi drama project that hails from executive producer Ridley Scott.

Titled "Raised by Wolves," the series centers on two androids tasked with raising human children on a mysterious virgin planet. As the burgeoning colony of humans threatens to be torn apart by religious differences, the androids learn that controlling the beliefs of humans is a treacherous and difficult task….
(16) SECOND NOVEL. Adri Joy has been looking forward to the continuation of this series – see "Microreview [Book]: The Phoenix Empress by K. Arsenault Rivera" at Nerds of a Feather.
…The Phoenix Empress pick up almost exactly where its predecessor leaves off, and while the "present" takes up more of the narrative in this volume, there's still a substantial story-within-a-story as Shizuka fills Shefali in on the events that led to her becoming empress, not to mention developing an alcohol addiction and a severe phobia of water. Shefali has returned from her own travels even more changed, following events in that have led to her being contaminated by black blood but not succumbing to the usual progress of the illness, and now expects to die on her next birthday in four months' time. A great deal of the book is therefore based on learning each others' secrets and renewing their relationship, as well as working out what the wider implications of Shefali's return are for the future of Hokkaro and the black- blood plague.

I suspect that the unusual structure of these novels is playing an important trope-subverting role as well as being a narrative choice….
(17) AGE BEFORE BEAUTY. Apparently D.B. Jackson couldn't resist the challenge – at Whatever, "The Big Idea: D.B. Jackson".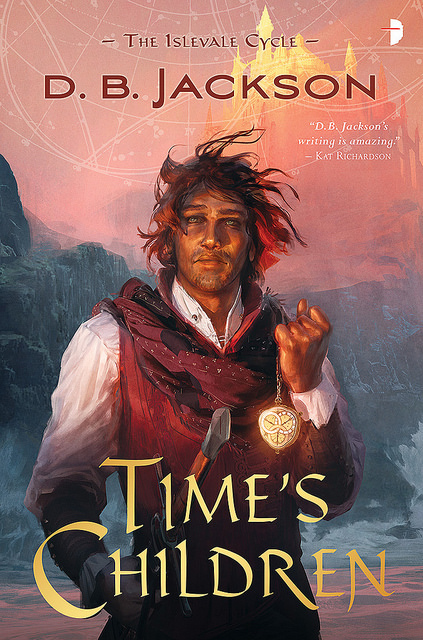 Anyone who has written a time travel novel knows that they can send an author 'round the bend. Time travel is a plotting nightmare. It creates narrative holes big enough to accommodate a truck. It acts as a virtual eraser, a do-over generator, a distributor of endless mulligans. Even the most sound, well-considered plot point can be undermined by the simple question, "Well, why can't one of our characters go back and prevent this?" Hermione Granger's ill-advised flirtation with Time-Turners is just the tip of the iceberg. Time travel will make an author's brain explode.

So, naturally, I have just published the first novel in a new time travel/epic fantasy series.
(18) PALACE INTRIGUE. [Item by Mike Kennedy.] Various sources are reporting that the China Manned Space Engineering Office (CMSEO) has announced an intent to deorbit their Tiangong-2 (Celestial Palace 2) space laboratory during or after July 2019. You may recall that Tiangong-1 deorbited in an uncontrolled manner (though the Chinese claim otherwise) earlier this year. Fortunately,  the bits of Tiangong-1 that didn't burn up on reentry happened to hit an unoccupied part of the Pacific Ocean. The plan for Tiangong-2 is to deliberately aim for such a spot.
Neither of the Celestial Palaces were intended to be permanent space stations, though China is planning a modular space station of a more permanent nature. Mooted dates for launching the various parts of that are currently 2020–2023.
(19) GOTHAM'S FIFTH. The trailer for the last season of Fox's Gotham was played at the New York Comic Con.
(20) THE LAST GYRO. [Item by Mike Kennedy.] NASA has confirmed, via Twitter, that the Hubble Space Telescope has been put into "safe mode" following the failure of one of its gyroscopes (Space.com: "Hubble Space Telescope in 'Safe Mode' After Gyroscope Failure"). This leaves the iconic telescope with only two gyros operating, not enough to "ensure optimal efficiency" per the Hubble website. All six gyroscopes were last replaced during Servicing Mission 4 when Shuttle Atlantis visited in 2009 during mission STS-125. With the Shuttle fleet long retired now, further servicing is not an option.
Dr. Rachel Osten, Hubble Deputy Mission Head, has tweeted that the "[f]irst step is try to bring back the last gyro, which had been off, and is being problematic." If that fails, there was quick speculation that a change in operational mode may emerge, Dr. Grant Tremblay, of the Harvard-Smithsonian Center for Astrophysics, tweeted:
*IF* the third [gyroscope] doesn't spin back up, I wouldn't be surprised if they drop to 1 gyro mode, keeping the second as reserve. @rachelosten might know, but I imagine it's a stressful, difficult decision. Let's just hope the brilliant people at @STScI can recover the third. Stress.
That plan was confirmed shortly after, when Dr Osten replied:
It's not a difficult decision, @astrogrant: the plan has always been to drop to 1-gyro mode when two remain. There isn't much difference between 2- and 1, and it buys lots of extra observing time. Which the Astro community wants desperately.
In fact, the gyroscope that just failed lasted "about six months longer" than had been anticipated. This failure is one more confirmation that the Hubble is nearing the end of it's life, though it is clearly still doing good science.
(21) RED HAT. Mlex says he'd wear one –
Make Orwell Fiction Again https://t.co/RCaXXn7aqb

— mlex ??? (@mlex) October 8, 2018
(22) STYLE POINTS IF YOU STICK THE LANDING. [Item by Mike Kennedy.] There's video of the first Vandenberg landing of a SpaceX Falcon 9 on The Verge ("SpaceX successfully landed its Falcon 9 rocket on the California coast for the first time"). The video includes launch, side-by-side views of the second stage burn and the first stage return to Vandenberg, and more. If you want to skip ahead to the final landing  burn, that starts just after the 29 minute mark of the video when the stage is still over 4 km in altitude. This is a night landing, so the burns are spectacular, but overall visibility is limited. The split screen for the last few moments of the landing has video from the side of the stage (looking down) and from a ground camera viewing from a safe distance.
(23) EPISODE RECAP. Martin Morse Wooster says, "My local public television station is showing the New Zealand series The Brokenwood Mysteries.  Last night they showed an episode which appeared in the show's third season and was broadcast in New Zealand in 2016." —
The premise is that a sleazy tour operator is offering "Lord of the Ringz" tours to the Brokenwood forest for Chinese tourists.  They're shown a crappy matte painting of mountains.  Guys with pointy ears do some swordplay. The climax of the tour is when a giant plush toy spider descends on a woman wrapped up in spider webbing–but the unplanned but is that the woman is dead, and the detectives then find out who killed her.

A German guy complains that he isn't seeing anything from The Lord of the Rings, and is told, "Oh, in New Zealand we spell things creatively."  In another scene, a lawyer explains that as long as the customers aren't told they're seeing things from The Lord of the Rings–and every sign, for some reason, isn't spelled correctly!–then it's legal.  "We could be showing scenes from some direct-to DVD film," he said.

I hope this lawyer never deals with the Tolkien estate…
(24) SHADOW OF VADER. Chuck Wendig will write a five-issue miniseries for Marvel Star Wars:
Chuck Wendig on Darth Vader and his newly-announced series, Shadow of Vader: "Vader is a character with a long shadow, literally and figuratively. His legacy is deep and unpleasant." The world will not be bereft of Darth Vader in their comics for long, as Wendig announced that he will be writing a miniseries called Shadow of Vader, beginning in November. Each issue will feature a different set of characters: Issue #1 is a Friday the 13th homage, with Vader hunting down kids at summer camp; issue #2 stars the one-and-only Willrow Hood; issue #3 centers on a morgue attendant on the Death Star; issue #4 diverges to focus on the Acolytes of the Beyond; issue #5 follows a New Republic pilot — whose parents were killed by Vader — who joins the Resistance only to learn that Leia's father is the Sith Lord.
(25) AMERICAN GODS TRAILER. The second season of American Gods is on the way.
A storm is coming. American Gods returns to STARZ in 2019. Starring Ricky Whittle, Ian McShane, Yetide Badaki, Orlando Jones, Omid Abtahi, Mousa Kraish, and more.
[Thanks to Cat Eldridge, JJ, Mike Kennedy, Chip Hitchcock, Andrew Porter, Carl Slaughter, John King Tarpinian, Bill, and Martin Morse Wooster for some of these stories. Title credit goes to File 770 contributing editor of the day Daniel Dern.]