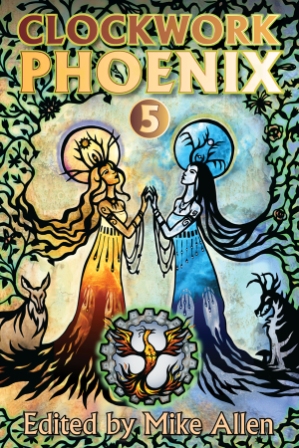 The New York Review of Science Fiction Readings 25th Anniversary Season continues April 5 with a half dozen contributing authors and the editor of Clockwork Phoenix 5. The location is The Commons Café at 388 Atlantic Avenue in Brooklyn. Doors open 6:30 p.m. $7 suggested donation.
Mike Allen is editor of Mythic Delirium magazine and the Clockwork Phoenix anthologies, and author of the short story collections Unseaming and The Spider Tapestries. He is a Nebula Award and Shirley Jackson Award finalist and winner of three Rhysling Awards for poetry. Allen posts about his writing exploits at Descent Into Light.
Rob Cameron is an elementary school teacher and writer living in Brooklyn. When he's not writing stories, organizing events for the Brooklyn Speculative Fiction Writers, or producing the Kaleidocast, BSFW's audio magazine podcast, he is rock climbing, dragon boating, and working on his Buddha-like glow.
C.S.E. Cooney (csecooney.com) is the author of Bone Swans: Stories (Mythic Delirium 2015), the title story of which is a Nebula Award nominee and will feature in Paula Guran's Year's Best Science Fiction and Fantasy Novellas.  She is the author of the Dark Breakers series, Jack o' the Hills, The Witch in the Almond Tree, and a poetry collection called How to Flirt in Faerieland and Other Wild Rhymes, which includes her Rhysling Award-winning poem "The Sea King's Second Bride."
Carlos Hernandez is the author of the short story collection The Assimilated Cuban's Guide to Quantum Santeria.  He's also a college professor and a game designer interested in new media and new narrative forms.
Barbara Krasnoff has sold over 30 pieces of short fiction to a wide variety of publications and is working on a novel.  Barbara is also the author of a YA non-fiction book, Robots: Reel to Real, and is currently Sr. Reviews Editor for Computerworld. She is a member of the NYC writers group Tabula Rasa, and lives in Brooklyn, NY. Her website is BrooklynWriter.com.
Sonya Taaffe's short fiction and award-winning poetry has appeared in multiple venues, including The Humanity of Monsters, Genius Loci, and Dreams from the Witch House.  Her most recent collection is Ghost Signs (Aqueduct Press).  She is currently senior poetry editor for Strange Horizons and once named a Kuiper belt object.
Shveta Thakrar's work can be found in Flash Fiction Online, Interfictions Online, Clockwork Phoenix 5, Mythic Delirium, Uncanny, Faerie, Strange Horizons, Kaleidoscope: Diverse YA Science Fiction and Fantasy Stories, and Steam-Powered 2: More Lesbian Steampunk Stories.
A.C. Wise's fiction has appeared in Clockwork Phoenix 4, Clarkesworld, and Shimmer, among other places. Her debut collection, The Ultra Fabulous Glitter Squadron Saves the World Again, was published by Lethe Press in October 2015. Find her online at acwise.net.
The full press release follows the jump.