(1) VIRTUAL SFF CONFERENCE. The theme of the Virtual International Conference on the Fantastic in the Arts (VICFA), to be held November 5-11, 2023, is "AI, Algorithms, Automata and Art" Organized by new Virtual Conference Coordinator and Afropantheologist Oghenechovwe Ekpeki. Go to the link to register.
Guests of Honor: Martha Wells, Steven Barnes, and Annalee Newitz

Guest Scholar: Alec Nevala-Lee, Wole Talabi, and Jennifer Rhee

This is a time when the fathers of AI have stepped back from their creation and finally acknowledged the catastrophic entity their privileged curiosity has developed. Artists have long warned of the potentials and dangers of artificial intelligence, and those forecasts are now being proven to be true. Current literature defining and redefining our relationship with the artificially intelligent and automated include Martha Well's The Murderbot Diaries, Steven Barnes's "IRL," Annalee Newitz's Autonomous, Ted Chiang's "The Lifecycle of Software Objects," Tade Thompson's Far from the Light of Heaven, James Morrow's "Spinoza's Golem," Dilman Dila's "Red Bati," Tlotlo Tsamaase's "The Thoughtbox," Ernest Cline's Ready Player One, and Anil Menon's "The Man Without Quintessence." Groundbreaking films and games introducing the 21st Century to the AI Age include 2001: A Space Odyssey, Blade Runner, The Matrix, Ex Machina, Ghost in the Machine, and Final Fantasy VII. Organized by new Virtual Conference Coordinator and Afropantheologist Oghenechovwe Ekpeki.
(2) KGB. Fantastic Fiction at KGB reading series hosts Ellen Datlow and Matthew Kressel present Benjamin Percy and Josh Rountree on Wednesday, September 13 beginning 7:00 p.m. Eastern.
Benjamin Percy

Benjamin Percy is the author of seven novels — including The Sky Vault, published this fall by William Morrow — three story collections, and a book of essays. He writes Wolverine, X-Force, and Ghost Rider for Marvel Comics. He is a member of the WGA and has scripts in development at Sony, Paramount Plus, and Paramount Pictures.
Josh Rountree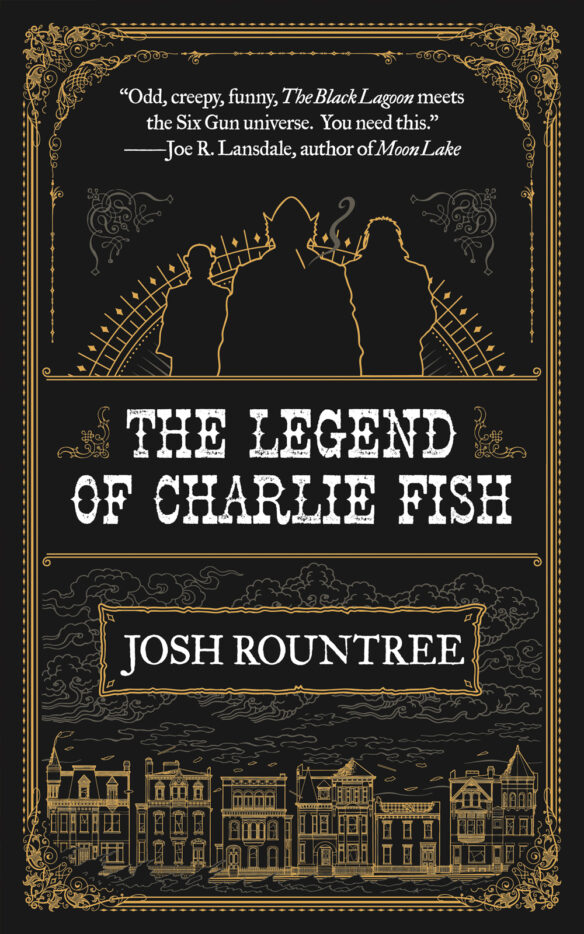 Josh Rountree has published short fiction in a wide variety of magazines and anthologies, including Beneath Ceaseless Skies, The Deadlands, Bourbon Penn, Weird Horror, and Found: An Anthology of Found Footage Horror. His latest short story collection is Fantastic Americana and his novel The Legend of Charlie Fish is available now from Tachyon Publications.
Location: KGB Bar, 85 East 4th Street, New York, NY 10003. (Just off 2nd Ave, upstairs.)
(3) ALL ABOARD. Cass Morris begins her first fine-grained account of the experience on Disney's Star Wars-themed Halcyon Starcruiser in "Day One on the Halcyon, Part 1" at Scribendi.
…The shuttle was so cool. It's the most elaborate elevator anyone has ever been in, designed to very much look like the interior of a shuttle. It has viewscreens at the top where you can see other ships taking off and leaving, and then as you ascend, it goes to blue streaks — although I have some quarrel with the idea that you go through hyperspace to get up to orbit. I get that they wanted to give everyone that classic experience, but canonically, it makes no sense. You don't go to lightspeed within atmosphere.

Another lovely blueshirt, Tara, took us up to our room, chatting a bit along the way about what brought us to the Halcyon, so we started dropping a little backstory. The only real downside to all of this was having to use our real names for check in, a problem that continued with dinner and events and such. If I had any small tweaks to suggest, it would be that they could map character names to overwrite those real names for people who come prepared! We did make it clear, though, that those were just our Earthen aliases — because we wanted it clear from go that we were there to play….

About this time, we also got our first messages from Cruise Director Lenka Mok. She introduces herself, welcomes you to the Halcyon, and then gives four dialogue options geared to start you down one of the narrative paths: Resistance, First Order, Scoundrel, or Jedi. This definitely doens't lock you in, but it kicks things off, especially for people who don't immediately go around the ship looking for trouble. Noah picked the scoundrel answer; I picked Resistance….
(4) MAKING BAYCON. Galactic Journey pops in for a visit at the 1968 Worldcon: "[September 4, 1968] Open your Golden Gate (Baycon: Worldcon 1968)".
…Worldcon exploded in attendance last year, in part thanks to the influence of Star Trek, and it shows no sign of fading. Nearly 1500 people came to the Claremont Hotel in placid, undramatic Berkeley, California for a weekend of fan interaction….
I expect "undramatic" was intended ironically, and yet, The Traveler makes no mention of the whiff of tear gas that reached fans in the Claremont from the demonstrations happening down the hill.
(5) FREE TIME READING DOWN IN UK. "More than half of UK children do not read in their spare time, survey reveals" – the Guardian has the story.
More than half of children and young people do not enjoy reading in their free time, according to a survey from the National Literacy Trust (NLT). The charity said reading enjoyment was lowest among disadvantaged children, and warned that the research should serve as a "wake-up call".

More than 56% of eight to 18-year-olds said that they do not enjoy reading in their spare time, while reading enjoyment has fallen to the lowest level since the charity began the survey in 2005. Of the 64,066 children surveyed, 43% said they enjoyed reading in their free time – down 15 percentage points from a peak of about 58% in 2016.

Reading enjoyment, reading levels at school and overall literacy skills were lowest among children from disadvantaged backgrounds. Of those children who receive free school meals, 60% said they do not enjoy reading in their free time…
(6) BUCK ROGERS SOLAR SCOUTS! "Make sure to paste these into your first editions — or not," urges Andrew Porter.
(7) SIGNS OF THE TIMES. In September's first, free story from Sunday Morning Transport, "Resurrection Highway", A. R Capetta "takes readers on a spectacular road trip beyond anything we could have imagined."
You climb the fence, hit the yard of the body shop at three in the morning—whispered among automancers as the best time—and write sigils on the tires in a thick glop of white paint. You skim the wheels with the specially prepared olive oil, which Rye always called wake-up juice, infused with chilis and lemon peel and much less savory ingredients that you sourced from that guy in the Haight who swore the marrow was fresh….
(8) TODAY'S BIRTHDAYS.
[Compiled by Cat Eldridge.]
Born September 4, 1905 — Mary Renault. Her superb Theseus novels, The King Must Die and The Bull from the Sea, are definitely genre. I also recommend, though very much non-genre, Funeral Games which deals with Alexander's successors. It is a messy tale indeed. (Died 1983.)
Born September 4, 1916 — Robert A. W. Lowndes. He was known best as the editor of Future Science Fiction, Science Fiction, and Science Fiction Quarterly (mostly published late Thirties and early Forties) for Columbia Publications. He was a principal member of the Futurians. A horror writer with a bent towards all things Lovecraftian ever since he was a young fan, he received two letters of encouragement from H. P. Lovecraft. And yes, he's a member of the First Fandom Hall of Fame. (Died 1998.)
Born September 4, 1924 — Joan Aiken. I'd unreservedly say her Wolves Chronicles were her best works. Of the many, many in that series, The Wolves of Willoughby Chase featuring the characters of Bonnie Green, Sylvia Green and Simon is I think the essential work to read; even though The Whispering Mountain is supposed to a prequel to the series, I don't think it's really that good. The Wolves of Willoughby Chase is certainly the one in the series I used to see stocked in my local bookstores before the Pandemic. No Hugos, but she won an Edgar Allan Poe Award for Night Fall. (Died 2004.)
Born September 4, 1924 — Ray Russell. His most famous story is considered by most to be "Sardonicus" which was published first in Playboy magazine, and was then adapted by him into a screenplay for William Castle's Mr. Sardonicus. He wrote three novels, The Case Against Satan, Incubus and Absolute Power. He's got World Fantasy and Stoker Awards for Lifetime Achievement. "Sardonicus" is included in Haunted Castles: The Complete Gothic Stories which is available from the usual suspects. (Died 1999.)
Born September 4, 1941 — Peter Heck, 81. He has written the "On Books" review column in Asimov's Science Fiction for nearly thirty years; he has also provided material to Locus and The New York Review of Science Fiction. He's written both mysteries and genre fiction with Robert Lynn Asprin on four volumes of the Phule's Company series.
Born September 4, 1962 — Karl Schroeder, 61. I first encountered him in his "Deodand" story in the METAtropolis: Cascadia audio work, so I went out and found out what else he'd done. If you've not read him, his Aurora Award winning Permanence is superb as all of the Vigra series. He was one of those nominated for a Long Form Best Dramatic Presentation Hugo for the first METAtropolis at Anticipation.
(9) COMICS SECTION.
Thatababy isn't too young to be into superheroes.
And we bring you a Tom Gauld doubleheader.
(10) INSEPARABLE. The Guardian invites readers to "Meet Catty Bradshaw! The stars who take home pets from sets". "SJP's kitten! Sophie Turner's dire wolf! Viggo Mortensen's entire stable of horses! Some celebs just can't say goodbye to their on-screen animals".
…On Instagram, SJP confirmed that she has adopted the fluffy feline in real-life, too. "His off-camera name is Lotus," she wrote. "Adopted officially by the Parker/Broderick family in April. If he looks familiar, that's because he is."

Parker isn't the first actor who couldn't bear to part with their furry sidekick when filming wrapped. Here are more screen stars who became so attached to their four-legged friends, they went on to adopt them …

Sophie Turner's dire wolf

Turner made her Game of Thrones debut as flame-haired Winterfell princess Sansa Stark aged 14. While filming the fantasy saga's first season, she took a shine to Zunni, the Mahlek Northern Inuit dog who portrayed Lady, Sansa's pet dire wolf. When Lady was killed off (blame Cersei and Joffrey), Turner persuaded her parents to rehome Zunni. Not everyone on the production was sad to see the dog depart. "Zunni was a terrible actor," admitted Turner. "Really bad on-set and wouldn't respond to calls. They were ready to fire her." Don't get her started on those diva dragons….
(11) LISTEN UP. Au audio report from Marketplace: "Video games for all!".
Video games for all!

Students at a video game design program in the Bay Area use the medium to explore cultural history, LGBTQ relationships, emotional wellbeing and more.
(12) VIDEO OF THE DAY. Ryan George warns there are spoilers ahead in the "Blue Beetle Pitch Meeting".
[Thanks to Chris Barkley, Cat Eldridge, Steven French, SF Concatenation's Jonathan Cowie, Oghenechovwe Donald Ekpeki, Kathy Sullivan, Mike Kennedy, Andrew Porter, and John King Tarpinian for some of these stories. Title credit belongs to File 770 contributing editor of the day Thomas the Red.]