(1) SPACE UNICORNS SOUND OFF. You have until February 21 to make your voice heard: "Uncanny Celebrates Reader Favorites of 2022!".
…While we have our personal favorites, we'd like to know which stories YOU loved from Uncanny in 2022.

We've set up a poll for Uncanny readers to vote for their top three favorite original short stories from 2022. (You can find links to all of the stories here.)

The poll will be open from January 31 to February 21, after which we'll announce the results. We're excited for you to share which Uncanny stories made you feel!

A snazzy certificate will be given to the creator whose work comes out on top of the poll!
(2) LOCUS RECOMMENDED READING LIST. The 2022 Locus Recommended Reading List from the magazine's February issue has been posted by Locus Online.
(3) CEMETARY DANCE DROPS MONTELEONE. [Item by rcade.] He was still an active columnist for the magazine, 29 years after the bigoted column. Not any more, though:
(4) A FAREWELL TO HARMS. Priya Sridhar writes "My Goodbye Letter To J.K. Rowling: What To Do When Your Magical World Has Cast You And Your Friends Out With Hate" at Medium in Counter Arts. (Via Cat Rambo.)
… J.K. Rowling has joined the list of these creators that break their pedestals. I've been debating on writing this article for several years, because I did not understand. How could a woman that wrote about fighting tyranny with courage and friendship say such things, to hurt people? Why would she dig herself deeper, going from misappropriating Navajo beliefs to claiming that trans people do not exist?

This recent transphobia has provided the answer. YouTuber Jessie Gender posted a video revealing that JKR found her tweets about Jessie talking about Hogwarts Legacy, and decided to send her own fanbase against one person, labeling her a "trans gamer". Jessie had to spend Christmas in Buffalo, New York, dealing with the fallout. According to the video, JKR apparently earns more money every time she talks about this issue in her hateful way. She didn't care that she would be hurting a vulnerable person if it got the desired reaction.

JKR isn't causing controversy because she is being an idiot. She's harassing marginalized creators and critics to earn more revenue from her books and establish power over those that disagree with her.

Now, doesn't that sound familiar? Oh yes, I know two bigoted characters that did exactly the same thing in the Harry Potter series. Spoiler alert: they were not protagonists, or even heroic side characters….
(5) BLACK HERITAGE IN HORROR. The Horror Writers Association Blog continues its series: "Black Heritage in Horror: Interview with Beatrice Winifred Iker".
What was it about the horror genre that drew you to it?

I grew up in Southern Appalachia with a rich sociocultural history to draw from. The horrors and allure of the South are genuinely neverending, fostering my interest in the genre, specifically in the subgenre of southern gothic.

Aside from that, I'm fascinated with the darker tendencies and desires of the human mind. We spend so much time assimilating and confining ourselves to social norms, but I'm more interested in examining people and histories who choose not to or don't have a choice….
(6) IT'S A FELONY. Them explains why "Some Florida Teachers Are Removing Books from Classrooms Due to New State Law".
Teachers in Florida's Manatee and Duval counties are removing or physically covering up books in their classrooms after the State Board of Education ruled that a law restricting the books a district may possess applies not only to school libraries but to teachers' classroom books as well.

House Bill 1467, which went into effect last July, requires that all schools' books may only be displayed if they've been deemed appropriate by a librarian or "certified media specialist" who has undergone state retraining. Under the guidelines, books must be "free of pornographic material" and "appropriate for the age level and group." New training approved by the State Board of Educators also asks media specialists to avoid books with "unsolicited theories that may lead to student indoctrination."

Breaking the law is a third-degree felony: A teacher could face up to five years in prison and a $5,000 fine for displaying or giving students a banned book.

There's a good chance that these "unsolicited theories" and "student indoctrination" tactics apply to the disproportionately high number of banned books that feature queer and trans characters, as well as other marginalized communities. A report from nonprofit group PEN America released last September found that over 41% of books banned over the past school year were targeted due to LGBTQ+ content…
(7) SCAM REVEALED. At Writer Beware, Victoria Strauss alerts everyone to: "Peak Fake: United Writers Organization and the Perpetual Eagle Awards".
There's a new solicitation doing the rounds. It's from United Writers Organization, which describes itself as a "leading professional organization" for writers and publishers, and it delivers exciting news: you've been nominated for an award! A "complimentary nomination certificate" is yours for the asking–you don't even have to pay! Although of course it would be nice if you became a UWO member, which will cost you a mere $99….

… Of course this is a scam–the out of the blue solicitation is a big clue, as are the language and grammar mistakes and telltale info from UWO's domain registration–just 7 days old as of this writing, somewhat contradicting "Est. 1957" in the UWO logo….
(8) FESTIVAL OF MONSTERS. The Center for Monster Studies has put out a call for papers for the 2023 Festival of Monsters Conference. The conference will be held October 13-15, 2023 at the University of California, Santa Cruz. The deadline to submit abstracts and short bios is March 1.
The Center for Monster Studies at the University of California, Santa Cruz is an interdisciplinary research, arts, and outreach organization focused on the ways monsters and tropes of monstrosity both perpetuate and contravene forms of social and cultural injustice. Each year we host a Festival of Monsters that brings together scholars, artists, students, and members of the general public to consider these issues.

Our 2023 Festival of Monsters (Oct. 13-15 in beautiful Santa Cruz) includes an academic conference, performances, readings, presentations from monster-makers in theatre, film and television, and events in association with an exhibit at the Santa Cruz Museum of Art and History (MAH) entitled Werewolf Hunters, Jungle Queens, and Space Commandos: The Lost Worlds of Women Comics Artists.

We invite proposals for 20-minute papers or presentations on any aspect of monsters or monster studies. We are particularly interested in work that addresses the following topics:

Women creators of monsters

Monsters and misogyny

Monsters in comics

Monsters and sexual politics from any time period

Monsters and queerness

Papers from all disciplines are welcome. Because participants in the Festival include members of the general public as well as people from within the academic community, we ask that proposed papers consider the Festival's mixed audience. We welcome complex theoretical concepts and scholarly interventions, but please make sure the terms and stakes of your paper are articulated as clearly as possible.

Please submit 250-word abstracts and 50-word bios to [email protected] and [email protected] by March 1, 2023.
(9) MEMORY LANE.
1937 — [Compiled by Cat Eldridge.]
Now it is time for my all-time favorite Beginnings. It's the first words of Tolkien's The Hobbit, a novel I've read so many times that I know it by heart at this point. I consider it a perfect novel. 
Now we all know that the hobbit here is named Baggins but that won't know here until the third paragraph of the novel, a nice touch indeed.
In a hole in the ground there lived a hobbit. Not a nasty, dirty, wet hole, filled with the ends of worms and an oozy smell, nor yet a dry, bare, sandy hole with nothing in it to sit down on or to eat: it was a hobbit-hole, and that means comfort.
It had a perfectly round door like a porthole, painted green, with a shiny yellow brass knob in the exact middle. The door opened on to a tube-shaped hall like a tunnel: a very comfortable tunnel without smoke, with panelled walls, and floors tiled and carpeted, provided with polished chairs, and lots and lots of pegs for hats and coats—the hobbit was fond of visitors. The tunnel wound on and on, going fairly but not quite straight into the side of the hill—The Hill, as all the people for many miles round called it—and many little round doors opened out of it, first on one side and then on another. No going upstairs for the hobbit: bedrooms, bathrooms, cellars, pantries (lots of these), wardrobes (he had whole rooms devoted to clothes), kitchens, dining-rooms, all were on the same floor, and indeed on the same floor, and indeed on the same passage. The best rooms were all on the left-hand side (going in), for these were the only ones to have windows, deep-set round windows looking over his garden, and meadows beyond, sloping down to the river.
This hobbit was a very well-to-do hobbit, and his name was Baggins. The Bagginses had lived in the neighbourhood of The Hill for time out of mind, and people considered them very respectable, not only because most of them were rich, but also because they never had any adventures or did anything unexpected: you could tell what a Baggins would say on any question without the bother of asking him. This is a story of how a Baggins had an adventure, and found himself doing and saying things altogether unexpected. He may have lost the neighbours' respect, but he gained—well, you will see whether he gained anything in the end.
(10) TODAY'S BIRTHDAYS.
[Compiled by Cat Eldridge.]
Born February 3, 1925 — John Fiedler. He's solely here as he played the ever so bland bureaucrat who gets possessed by the spirit of Jack the Ripper on the Trek episode "Wolf in the Fold". I'm less interested in him, though it was a stellar episode, than who wrote that screenplay. It was written by Robert Bloch, a master of horror who would write two other Trek episodes, "What Are Little Girls Made Of?" and "Catspaw". (Died 2005.)
Born February 3, 1933 — George Gipe. Screenwriter, The Man with Two Brains. He also wrote Dead Men Don't Wear Plaid but it'd be a stretch to consider that even genre adjacent. He wrote novelizations of Back to the Future, Explorers and Gremlins. And his Nearer to the Dust: Copyright and the Machine is interesting early (mid sixties) look at the potential effects of computers on copyrights. (Died 1986.)
Born February 3, 1938 — Victor Buono. I remember him best in his recurring role of Count Manzeppi in The Wild Wild West. In his very short life, he showed up in a number of other genre roles as well including as a scientist bent on world domination in the Voyage to the Bottom of the Sea in an episode titled "The Cyborg", as Adiposo / Fat man in Beneath the Planet of the Apes, Colonel Hubris in The Man from U.N.C.L.E., Professor William McElroy / King Tut in Batman, Sir Cecil Seabrook in The Girl from U.N.C.L.E. and Mr. Schubert on Man from Atlantis. (Died 1982.)
Born February 3, 1954 — Shawna McCarthy, 69. Editor of Asimov's Science Fiction from 1983 to 1985, and Realms of Fantasy from 1994 to 2011. Sheila Williams in her history of the former said "While remaining a welcoming home for new writers, Shawna's Asimov's acquired an edgier and more literary and experimental tone."
Born February 3, 1963 — Alex Bledsoe, born 1963, aged sixty years. I highly recommend his Tales of The Tufa which can sort of be described as Appalachian Fae though that's stretching it. His Eddie LaCrosse novels remind of Cook's Garrett PI series and that's a high compliment as that's one of my favorite fantasy PI series. Anyone read his Firefly Witch series? And to my surprise, he's stopped writing fiction altogether.
Born February 3, 1970 — Warwick Davis, 53. At least fifty live and voice appearances since first appearing in the Return of the Jedi in in place of Kenny Baker who was going to be a Ewok before he fell ill. Did you know he's in Labyrinth as a member of the Goblin Corps? I certainly didn't. Or that he did a series of humorous horror films centered around him as a Leprechaun? They did well enough that there was six of them. Hell he even shows up in Doctor Who during the Time of the Eleventh Doctor.
Born February 3, 1979 — Ransom Riggs, 44. He's best known for Miss Peregrine's Home for Peculiar Children which I'll confess I know absolutely nothing about, so educate me. I know it was turned into a film by Tim Burton which could a Very Good Thing.
(11) CHEAP IS GOOD, FREE IS BEST. "12 Surprisingly Low-Tech Special Effects Moments In Movies" – these are Ranker's favorites.
Before there was computer-generated imagery (CGI), special effects crews often had to use practical effects to achieve their cinematic vision. Many of these practical effects were surprisingly low-tech genius creations that prove creative thinking often trumps throwing loads of money at a problem.

Practical effects include any special effects created without the use of computer-generated imagery. It's a kitchen-sink term that incorporates everything from prosthetics to pyrotechnics to miniature models. Find out which grotesque movie monster was constructed in part with strawberry jam and creamed corn. How did they create that swirling tornado in The Wizard of Oz, which still looks great even by today's visual effects standards? Some of these films were made more recently when computer effects were readily available. Yet, the filmmakers opted to get creative and go old-school low-tech practical effects that yielded a more authentic-looking result.
First up –
The Tornado In 'The Wizard of Oz' Was Made From A Stocking Wrapped Around Chicken Wire

Back in the 1930s, practical effects were not a stylistic choice, they were a necessity. At the beginning of The Wizard of Oz, a tornado takes Dorothy (Judy Garland) from the barren lands of Kansas to the magically magnificent world of Oz.

The production hired prolific special effects master Arnold Gillespie to figure out how to create the movie's famous twister. The Academy Award winner attempted several different methods before finally getting it right….
(12) RETRO SFF. Michael Dirda reviews The Hopkins Manuscript by R.C. Sherriff in "The moon falls to Earth in a 1939 novel that remains chillingly relevant" at the Washington Post (behind a paywall.)
Late last month, NASA announced that an asteroid would pass exceptionally close to the Earth. As Jennifer Hassan wrote in The Washington Post, "NASA was quick to reassure people that the asteroid, which is estimated at between 11 feet (about 3.5 meters) and 28 feet (8.5 meters) across, would not end life as we know it on our planet." Suppose, though, a much larger celestial object — say, the moon — were actually to crash into Earth. What then?

This is the scenario of R.C. Sherriff's novel "The Hopkins Manuscript" (1939), recently reissued by Scribner. From its opening pages we learn that more than eight centuries have gone by since "the Cataclysm" and that Europe, particularly England, has been left a barren wasteland. For years, however, archaeologists of the Royal Society of Abyssinia have been seeking artifacts to help "reconstruct the lost glory of the 'white man.'" During one expedition to what was once London, a young scientist, out gathering brushwood, unearths a small vacuum flask, inside which is a handwritten account of life in a small village called Beadle during the days leading up to the lunar catastrophe….
(13) IT'S BEING LET GO. "'Never Let Me Go' Series Not Moving Forward at FX" reports Variety.
… The show was originally picked up to series by FX back in October and was meant to air exclusively on Hulu. It had originally been reported as being in development at FX in May 2022. According to an individual with knowledge of the situation, production had not yet begun before the decision to scrap the series was made.

The drama series was inspired by Kazuo Ishiguro's 2005 science fiction novel of the same name, which was previously adapted into a film in 2010. The film was written by Alex Garland, directed by Mark Romanek, and produced by Andrew Macdonald and Allon Reich….
(14) BIG APPETITES. [Item by SF Concatenation's Jonathan Cowie.] Raquel Welch please note… "Neanderthals lived in groups big enough to eat giant elephants" says a Science story.
Meat from the butchered beasts would have fed hundreds.

On the muddy shores of a lake in east-central Germany, Neanderthals gathered some 125,000 years ago to butcher massive elephants. With sharp stone tools, they harvested up to 4 tons of flesh from each animal, according to a study that is casting these ancient human relatives in a new light. The degree of organization required to carry out the butchery—and the sheer quantity of food it provided—suggests Neanderthals could form much larger social groups than previously thought…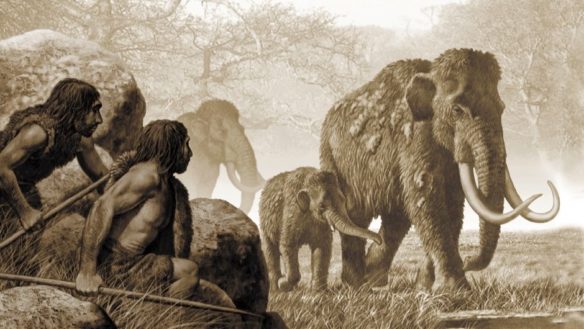 [Thanks to Mike Kennedy, John King Tarpinian, Chris Barkley, James Reynolds, SF Concatenation's Jonathan Cowie, Andrew Porter, Michael Toman, and Cat Eldridge for some of these stories. Title credit belongs to File 770 contributing editor of the day by Jack Lint.]