(1) THE TOP OF THE WORLD. Rachel S. Cordasco is dedicating June to "Nordic SF in Translation" on her SF in Translation site and on FB and Twitter: "SFT From The Nordic Countries" . She's looking for on-topic contributions, too.
Speculative fiction in English translation from the Nordic countries has been available as far back as the turn of the twentieth century. Since the beginning of the twenty-first, though, we've gotten a lot more, especially horror from Sweden and fantasy from Finland.

During the month of June, I'll be spotlighting this little-known (in the Anglosphere) but important and often brilliant speculative fiction. Several stories listed here are available for free online.
(2) HONOURS. SFFANZ gets a head start on a royal story: "Elizabeth Knox & Taika Waititi – Queen's Birthday honours"
Elizabeth Knox has been named a Companion of the New Zealand Order of Merit for services to literature in the Queen's Birthday honours list announced today. We note that she describes her books as "literary non-realism", but if you read them you will recognise science fiction and fantasy when you see it.

Taika Waititi picked up an ONZM in the same awards for services to film. He has been involved in many projects which fit in our genre description, although we note that the Stuff article about the awards fails to mention his role in the creation of what we here at SFFANZ news think is the best of them – Wellington Paranormal.
Stuff fills in Knox's bibliography:
…The first book in the series, Dreamhunter, won the 2006 Esther Glen Award and the 2007 ALA Best Books for Young Adults award, was shortlisted for the 2006 Montana New Zealand Book Awards, and awarded a 'White Raven' by the International Youth Library in 2006.

Her most recent book, published in 2019, The Absolute Book, won the Prime Minister's Award for Literary Achievement.
(3) FELLOWSHIP REUNITED. Josh Gad has posted "One Zoom to Rule Them All | Reunited Apart LORD OF THE RINGS Edition."
It's the Return of the KINGS – Josh gathers the Fellowship and then some, to go on a very important mission…. quest…. thing.

FEATURING: Sean Astin, Elijah Wood, Dominic Monaghan, Billy Boyd, Orlando Bloom, Ian McKellan, and many more!
(4) CHECKING IN. CoNZealand Fan Guest of Honour Rose Mitchell stays in touch —
(5) SOUTH GATE IN '58. Fanac.org is adding folders of photos scanned from the collection of Elinor Busby, including today's packet from the 1958 Worldcon. (Which, incidentally, was held at the Hotel Alexandria, whose marquee was in a helicopter view I saw of Friday night's protests in downtown LA.)
Thanks to the scanning of Linda Deneroff, we're putting up photos from Elinor Busby's collection. Today, we've added the first 16 and these are from the 1958 Solacon, and parties thereafter. Find them at http://fanac.org/Fan_Photo_Album/b03-p00.html . There are more to come. Thanks to Linda for scanning and to Elinor for providing the photos. It's a real treat to see these.
(6) BEST TRANSLATED BOOK. FYI, Dasa Drndic's non-genre book EEG is the 2020 Best Translated Book Award Winner. There's a review in The Guardian.
… The text includes long lists of suicidal chess players, war criminals and notable Latvian celebrities, from Mikhail Baryshnikov to Mark Rothko. There are also accounts of victims of the Nazis, from Ban's uncle's young love, a violinist, to Joseph Roth's mentally ill wife, fatally institutionalised in the euthanasia clinic Schloss Hartheim, "the only killing centre in the second world war from which not a single person emerged alive".
(7) CONTRACTUAL LANDMINES, At the Writer Beware blog, Victoria Strauss gives tips about "Evaluating Publishing Contracts: Six Ways You May Be Sabotaging Yourself". Here's an excerpt.
…These issues are as relevant now as they were years ago, if not more so (see, for instance, the ChiZine scandal, where authors accepted all kinds of abuse, including questionable contract language, because of the publisher's then-stellar reputation). I hear all the time from writers who've been offered seriously problematic contracts and are using various rationalizations to convince themselves (sometimes at the publisher's urging) that bad language or bad terms are not actually so bad, or are unlikely ever to apply.

Here are my suggestions for changing these damaging ways of thinking.

Don't assume that every single word of your contract won't apply to you at some point. You may think "Oh, that will never happen" (for instance, the publisher's right to refuse to publish your manuscript if it thinks that changes in the market may reduce your sales, or its right to terminate the contract if it believes you've violated a non-disparagement clause). Or the publisher may tell you "We never actually do that" (for instance, edit at will without consulting you, or impose a termination fee). But if your contract says it can happen, it may well happen…and if it does happen, can you live with it? That's the question you need to ask yourself when evaluating a contract….  
(8) CONTINUING A MOVEMENT. Ethan Alter, in the Yahoo! Entertainment story "'The Empire Strikes Back' at 40: What the 'Star Wars' sequel's iconic special effects owe to Ray Harryhausen", interviews Dennis Muren, who handled many of the film's special effects and discusses how Harryhausen's stop-motion techniques made Empire stronger.
…Muren's role also expanded with Empire, as he took point on directing the fleet of miniatures that play a major part of the film's iconic opening set-piece on the ice planet, Hoth. With the advent of digital technology still many years away, Muren and his team brought the Rebel's herd of tauntauns and the Empire's squad of AT-AT walkers to life by hand. And through it all, he followed the example established by Harryhausen.
(9) BOOKSELLER OBIT. The New York Times' series of tributes to people who died of coronavirus includes: "Steve Hann, Sidewalk Bookseller With a Brainy Following, Dies at 67".
Even as scores of bookstores came and (mostly) went along the West Side of Manhattan in recent decades, Steve Hann endured.

He could be found through the dead of winter and the muggy heat of summer selling secondhand books on a sidewalk near Columbia University.

He drew a following from Columbia and NASA's nearby Goddard Institute for Space Studies, with his fold-up tables proffering a well-curated array of mysteries, classics, art books and — his specialty — science fiction.

Mr. Hann began selling books and CDs in stores in the Morningside Heights section of Manhattan starting at least in the early 1980s, before settling into his longtime spot on Broadway between 112th and 113th Streets.

To generations of Columbia students, he was part of the streetscape, as much a sidewalk fixture as the parking meter he leaned upon while almost invariably immersed in a sci-fi paperback.

But even when his head was in a galaxy far away, his tennis shoes were planted on New York streets, where life, he would remark, could often be stranger than anything dreamed up by Ray Bradbury or Isaac Asimov….
(10) TRIVIAL TRIVIA.
The name of the soft serve ice cream cart on the space force military base is named Meal Armstrong
(11) TODAY IN HISTORY.
May 31, 1990 — Paul Verhoeven's Total Recall premiered. It starred Arnold Schwarzenegger, Rachel Ticotin, Sharon Stone, Ronny Cox, and Michael Ironside. It's rather loosely based on  Philip K. Dick's "We Can Remember It for You Wholesale" story. Ronald Shusett, Dan O'Bannon and Gary Goldman Wrote the screenplay. It finished second at Chicon V for Best Dramatic Presentation to Edward Scissorhands.  Most critics liked it well-enough though a number of feminist critics thought it excessively violent towards women. It currently holds a 78% rating among audience reviewers at Rotten Tomatoes.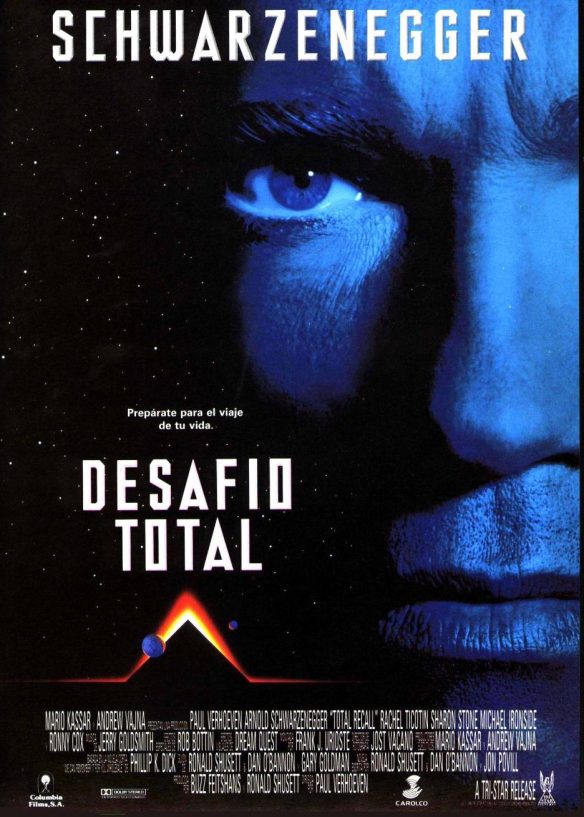 (12) TODAY'S BIRTHDAYS.
[Compiled by Cat Eldridge and John Hertz.]
Born May 31, 1893 – Elizabeth Coatsworth.  Newbery Medal for The Cat Who Went to Heaven (1930).  Four "incredible tales" for adults; four books of poetry; ninety in all; memoir Personal Geography.  (Died 1986) [JH]
Born May 31, 1895 — George R. Stewart. His 1949 novel Earth Abides won the first International Fantasy Award in 1951. That was a British award and the first one was given at Festivention. Other genre works would include Man, An Autobiography and Storm which is at least genre adjacent. (Died 1980.) (CE)
Born May 31, 1910 – Aubrey MacDermott.  Possibly the first fan.  He always said he was.  Unfortunately, the supporting evidence is thin.  He may well have founded the Eastbay Club in the San Francisco Bay area around 1928.  Anyway, he was Fan Guest of Honor at Westercon XXXX (Oakland, 1987).  Here is his Origin Story as of 1990.  (Died 1996) [JH]
Born May 31, 1921 – Arthur Sellings.  Six novels, fifty shorter stories, in Fantastic, Galaxy, Imagination, The Magazine of Fantasy & Science Fiction, Nebula, New Worlds, New Writing, Worlds of Tomorrow; translated into Dutch, French, German, Italian, Russian.  Born in Kent, died in Sussex.  Antiquarian, book & art dealer.  (Died 1968) [JH]
Born May 31, 1930 — Gary Brandner. Best remembered for his werewolf trilogy, The Howling of which the first was very loosely made into a film. He wrote the script for Howling II: Your Sister Is a Werewolf.  The fourth film of the Howling series, Howling IV: The Original Nightmare, is actually almost an accurate adaptation of the first novel. He wrote a lot of other horror and penned the novelisation of Cat People. (Died 2013.) (CE)
Born May 31, 1942 – Brian Burley.  Active fan in Ohio and New York.  In 1966, co-founder of Marcon.  In 1979 he was in FISTFA (Fannish Insurgent Scientifictional Ass'n); here he is (with S.H. Craig and Pat O'Neill) on "Fandom in New York" for the Lunacon XXII Program Book.  Co-founded (with John Boardman and Fred Lerner) the Beaker People Libation Front, which Fancyclopedia III mildly calls "not entirely serious"; see here.  (Died 2006) [JH]
Born May 31, 1950 — Gregory Harrison,70. I'm always surprised to discover a series didn't last as long as I thought It had. He was Logan 5 in Logan's Run which only lasted fourteen episodes. He was also in Dark Skies, twenty episodes before cancellation, as the voice of Old John Loengard, and had one-offs in Dead Man's Gun (cursed object), Touched by an Angel, Outer Limits and Miracles. (CE)
Born May 31, 1961 — Lea Thompson, 59. She's obviously best-known for her role as Lorraine Baines in the Back to the Future trilogy though I remember her first as Beverly Switzler in Howard the Duck as I saw Back to the Future after I saw Howard the Duck. Not sure why that was. Her first genre role was actually as Kelly Ann Bukowski in Jaws 3-D, a film I most decidedly did not see. If you accept the Scorpion series as genre, she's got a recurring role as Veronica Dineen on it. (CE)
Born May 31, 1968 — John Connolly, 52. An Irish writer who is best known for his series of novels starring private detective Charlie Parker. According to ISFDB, these novels are well within the genre as some of the assigned tags are "zombies", "alien invasion", "supernatural thriller" and "dark fantasy". So who has read these? (CE)
Born May 31, 1977 – Cat Hellisen.  Fantasy for adults and children; free-lance editing; also archery, aikidô, figure skating.  Here is a digital-art sketch of a chaffinch; here in ink are some vines and chrysalides.  First novel, When the Sea is Rising Red; four more; a dozen and a half shorter stories. "The Worme Bridge" won the Short Story Day Africa award.  More recently in Fife she likes the forests and the fields and the Forth.  [JH]
Born May 31, 1979 — Sophia McDougall, 41. She has a very well-crafted alternative history series, the Romanitas series, in which Rome didn't fall and rules the world today. She has two SF novel — Mars Evacuees is sort of YA alien invasion novel; Space Hostages reminds of a Heinlein YA novel. (CE)
Born May 31, 1995 – Jeremy Szal.  Two dozen short stories electronically and on paper, e.g. at Tor.comand in Nature.  Fiction editor at StarShipSofa 2014-2020 (Episodes 360-600).  First novel Stormblood scheduled for release in early June.  See his review of Predestination at Strange Horizons here.  [JH]
(13) COMICS SECTION.
(14) GUESS WHO? Scott Edelman invites Filers who haven't already seen this in his Twitter and Facebook feeds to identify the swordsman:
(15) TAKE A RIDE ON THE READING. Amal El-Mohtar's "Otherworldly" column in the New York Times advises: "Visit These Science-Fiction Worlds to Make Sense of Our Own".
…I experienced Tochi Onyebuchi's RIOT BABY (Tor.com, 176 pp., $19.99) as one tightly held breath. Moving from South Central Los Angeles to Harlem to Rikers Island to a speculative near-future in short bursts of fierce feeling, "Riot Baby," Onyebuchi's first novel for adults, is as much the story of Ella and her brother, Kevin, as it is the story of black pain in America, of the extent and lineage of police brutality, racism and injustice in this country, written in prose as searing and precise as hot diamonds.

Ella has a "Thing," a power that manifests variably as telepathy, precognition, telekinesis, but isn't ever described in those terms; she experiences it as overwhelming grief and anger, as explosion and aftermath, and struggles with controlling and deploying it over the course of the book. Kevin, born in 1992 during the Los Angeles riots, grows up in Harlem in the shadow of Ella's furious, repressed power — but when Ella vanishes after watching reports of the murder of Sean Bell on television, she takes her limited protection of him with her. Kevin's adolescence consists of being harassed by the police and consistently steered away from education and prospects, before getting arrested on an attempted armed robbery charge and imprisoned on Rikers….
(16) ABOUT LOVE. Brain Picking's Maria Popova discusses Edward Gorey's illustrated 1969 poem about the secret of true love: "The Osbick Bird: Edward Gorey's Tender and Surprising Vintage Illustrated Allegory About the Meaning of True Love"
…. For great love, as the Nobel-winning Polish poet Wis?awa Szymborska observed in her splendid meditation on its mystery, is "never justified" but is rather "like the little tree that springs up in some inexplicable fashion on the side of a cliff: where are its roots, what does it feed on, what miracle produces those green leaves?"

That improbable and inexplicable miracle is what Edward Gorey (February 22, 1925–April 15, 2000) celebrates with his signature faux-terse tenderness and soulful oddness in the vintage gem The Osbick Bird (public library).
(17) THE FULL LID. Aldasair Stuart tells what to expect in the new issue: "The Full Lid 29th May 2020".
This week in The Full Lid, Streets of Rage 4 teaches me how to crystallize my love for a good action scene. Louie Stowell's wonderful The Dragon in the Library is a big-hearted and witty MG fantasy that has a lot for parents too while Doctor Who audio specialists Big Finish head into new SFnal territory with The Human Frontier. We've also got a look at some of the best indie tabletop RPGs on the market and a massive Signal Boost section, including several Hugo finalists and their voter packet material. If you're a finalist and you have your material hosted online already, please get in touch and I'd be happy to link to that too.
The Full Lid is published every Friday at 5pm BST. You can sign up, and find an archive of the last six months of issues, here.
(18) HELLO, MR. CHIPS. It might not be the cuisine I expect to read about at Food and Wine, but news is where you find it — "Necco Wafers Are Officially Back".
…Back in 2018, Necco—one of America's oldest candy companies—went out of business, leaving a number of well-known but polarizing products in limbo, including Sweethearts Conversation Hearts, Clark Bars, Mary Janes, and the eponymous Necco Wafers. Nearly all of these brands have been snapped up by someone. For instance, Sweethearts are a Valentine's Day classic, so Ohio's Spangler Candy Company has been pushing to get them back into production. The Clark Bar has its roots in Pittsburgh, so Pennsylvania's Boyer Candy Company decided to bring the bar home. Heck, even Mary Jane—those peanut butter chews that made it easy to decide which houses to T.P. on Halloween—found a new producer, according to CandyIndustry.com.

But what about Necco Wafers? The flavored discs are historically significant, first produced over 150 years ago in 1847, but they are also often unfavorably compared to chalk. Plus, with Necco unable to keep the lights on, was the writing on the wall for the company's signature wafers?
(19) EXPANDING HORIZONS. NPR'S Samantha Balaban says "This Bedtime Book Helps Kids Find Their Place In The 'Universe'".
Imagining your place in the universe can make you feel pretty small and insignificant, and in the midst of a global pandemic? Well, even more so.

"I think this moment that we are living through reminds us how fragile our species is, living on this small rock in the vastness of the cosmos," says astrophysicist Ray Jayawardhana. But he doesn't think that the universe should necessarily make you feel alone. It's inspiring, he says, to remember the "intimate and enduring connections that we have with the rest of the cosmos."

Jayawardhana, a professor at Cornell University, has written a bedtime story called Child of the Universe which helps parents talk with their children about some of those connections.

"The universe conspired to make you …" a dad tells his daughter as they look up at a full moon. "The iron in your blood, the calcium in your bones, are made up of stars that lived long ago."

Jayawardhana drew from memories of looking up at the night sky with his father, when he was a child growing up in Sri Lanka. "I remember being awed by constellations of twinkling stars and bright planets like Venus and Jupiter in particular" Jayawardhana says. "One night, my father told me that people had been to the moon. I was just amazed. Suddenly, that bright light up above became a place that one could visit. At that moment, my sense of what's possible expanded dramatically."
(20) VIDEO OF THE DAY. Memories from the National Book Festival Blog: "Best of the National Book Festival: John Scalzi, 2019".
Enormously successful science fiction writer John Scalzi of the Old Man's War series came to the Genre Fiction stage of the 2019 Library of Congress National Book Festival to discuss "The Consuming Fire," book 2 of the Interdependency series. Phoebe Connelly, deputy director of video at The Washington Post, introduces Scalzi, who begins at 1:15 by telling the audience that his friend Joe is in the audience. "I actually killed him not once but twice in my books." Q&A begins at 26:45.
[Thanks to Andrew Porter, Michael Toman, John King Tarpinian, Chip Hitchcock, Martin Morse Wooster, Mike Kennedy, JJ, Lise Andreasen, John Hertz, Scott Edelman, and Cat Eldridge for some of these stories. Title credit goes to File 770 contributing editor of the day Andrew.]