(1) HYBRID READING SERIES FROM SEATTLE. Clarion West is bringing back their Summer of Science Fiction & Fantasy reading series in 2022. The readings will be held both in-person in Seattle and online. They are free and open to the public. Click on the author's name below to learn more and to register for the event. All events will be held on Tuesday nights.
June 21 Susan Palwick
7PM Seattle Public Library
Central Branch
1000 4th Avenue
Supported by the Leslie Howle Instructorship
Susan Palwick (CW '85) has published several novels and short story collections, including The Necessary Beggar, Shelter, and Mending the Moon. She is a recipient of the Crawford Award, Alex Award, and Silver Pen Award, and has been shortlisted for the World Fantasy Award, the Mythopoeic Award, and the Philip K. Dick Award.
June 28 P. Djèlí Clark
7PM Seattle Public Library
Central Branch
1000 4th Avenue
Phenderson Djèlí Clark is the award-winning and Hugo, Nebula, Sturgeon, and World Fantasy-nominated author of the novel A Master of Djinn and the novellas Ring Shout, The Black God's Drums, and The Haunting of Tram Car 015, as well as numerous short stories.

July 5 Fonda Lee
7PM Seattle Public Library
Central Branch
1000 4th Avenue
Supported by the Sally Klages Memorial Instructorship
Fonda Lee is the World Fantasy Award-winning author of the epic urban fantasy Green Bone Saga as well as the acclaimed young adult science fiction novels Zeroboxer, Exo, and Cross Fire. She is a three-time winner of the Aurora Award, and a multiple finalist for the Nebula and Locus Awards.
Register now.

July 12 Tobias Buckell
7:30PM Town Hall Seattle
1119 8th Ave
Supported by the Debbie J. Rose Memorial Instructorship
Tobias S. Buckell is a New York Times Bestselling author and World Fantasy Award winner. His novels and almost one hundred stories have been translated into twenty different languages. His work has been nominated for awards like the Hugo, Nebula, World Fantasy, and the Astounding Award for Best New Science Fiction Author.

July 19 Bill Campbell
7:30PM Town Hall Seattle
1119 8th Ave
Bill Campbell is the author of Sunshine Patriots; My Booty Novel; Pop Culture: Politics, Puns, and "Poohbutt" from a Liberal Stay-at-Home Dad; Koontown Killing Kaper; and Baaaad Muthaz, and he has edited several groundbreaking anthologies. He is the winner of a Glyph Pioneer/Lifetime Achievement Award.

July 26 Annalee Newitz and Charlie Jane Anders
7PM Seattle Public Library
Central Branch
1000 4th Avenue
Supported by the Susan C. Petrey Memorial Fellowship
Annalee Newitz is the author of the book Four Lost Cities: A Secret History of the Urban Age, and the novels The Future of Another Timeline, and Autonomous, which won the Lambda Literary Award. They are also the co-host of the Hugo Award-winning podcast Our Opinions Are Correct.

Charlie Jane Anders is the author of Victories Greater Than Death, as well as Never Say You Can't Survive, and Even Greater Mistakes. Her other books include The City in the Middle of the Night and All the Birds in the Sky. With Annalee Newitz, she co-hosts the podcast Our Opinions Are Correct.
Register now.
(2) FOX ON SFWA. Just learned this made Fox News two days ago: "Sci-Fi Fantasy writers convention boots author for 'racial slur'; target says he was not offended". Their coverage begins:
The Science Fiction and Fantasy Writers of America (SFWA) booted award-winning author Mercedes Lackey from a conference over her use of a "racial slur," even though the Black author to whom she had been referring later said he did not consider the term offensive.

Lackey had allegedly referred to Samuel R. "Chip" Delany, 80, a celebrated author and literary critic (winner of multiple SFWA Nebula awards), as "colored" while praising his work in the "Romancing Sci-Fi & Fantasy" panel at the SFWA Nebula Conference on Saturday, May 21…. 
Fox's article includes Lackey's apology, and the screencap of Delany's Facebook comments.
(3) TALKING ABOUT EVERYTHING. Abigail Nussbaum says it's a challenge to review something really good, such as the movie Everything Everywhere All at Once. Clearly, it's a challenge she is equal to:
…Here is a non-exhaustive list of things I could talk about when talking about Everything Everywhere All at Once. I could discuss the fact that this is the first worthwhile showcase that Hollywood has given Yeoh since she burst onto Western audiences' consciousness twenty-five years ago in Tomorrow Never Dies, and how it shows off not only her skills as an action heroine, but as a dramatic actress and a comedienne. I could mention that matching Yeoh beat for beat is Quan, the former child star who played Short Round in Indiana Jones and the Temple of Doom, who has spent the intervening decades behind the camera as a stunt choreographer, but who returns to the screen now in what should be a star-making turn. I could point out that the film functions as a culmination of two of the early 2020s' favorite tropes—multiverses and generational trauma—while managing to put its own unique spin on them. I could discuss its myriad references, to everything from Pixar movies to art-house Asian cinema….
And there's quite a bit more Nussbaum could say – and does – after that excerpt.
(4) ABOUT BARKLEY. Camestros Felapton starts his series of why-you-should-vote-for each Best Fan Writer finalist with Chris Barkley in "Chris M. Barkley: Hugo 2022 Fanwriter Finalist".
Chris Barkley has been an active voice in fandom for over 40 years. He's been a volunteer at numerous Worldcons, including being the head of media relations at several and more broadly, he's been one of those vital people in fandom who does the work to make a group of people with common interests a community….
(5) BAD BATCH. Disney + continues the weekend's parade of introductory trailers with the Star Wars: The Bad Batch Season 2 Official Trailer.
(6) MEDIA BIRTHDAY.
2009 – [By Cat Eldridge.] So tonight we have an interesting short film. And no, I had no idea it existed until now. 2081 which is based off of the Kurt Vonnegut's "Harrison Bergeron" story premiered on this date thirteen years ago at the Seattle International Film Festival.
The story was first published the October 1961 in the Magazine of Fantasy and Science Fiction, and was in his Welcome to the Monkey House collection seven years later.
The cast is James Cosmo, Julie Hagerty, Patricia Clarkson, and Armie Hammer.
The story is one where a future polity is attempting by any means possible to ensure that everyone is absolutely equal. That's a bit of a SPOLER I know.
So what did the critics think of it. Well I didn't find a lot of them who said anything but I really like what Mike Massie at the Gone with The Twins site said about this half hour film cost that just a hundred thousand to produce: "'What are you thinking about?' 'I don't know.' The basic plot, adapted by Chandler Tuttle (who also directed and edited) from Kurt Vonnegut Jr.'s short story, is sensational, serving as a warning and as pitch-black satire. The notion of equality taken to hyperbolic extremes is certainly worthy of cinematic translation, as are the various manifestations of crushing governmental control. True freedom requires disparity. Here, however, there are some inconsistencies (such as determining how exactly to make a ballerina, encumbered as she might be with weights chained around her body, perfectly equivalent to a musician). But the use of slow-motion, classical music (featuring the Czeck Philharmonic Chamber Orchestra and a cello solo), limited dialogue, and highly contrasting juxtapositions give this brief yet sharply filmed project an admirable level of artistry. The premise is terribly bleak, but Bergeron's plight manages to be momentarily hopeful, funny, and provocative as well."
Audience reviewers at Rotten Tomatoes really liked it giving it a seventy-three percent rating.
You can watch it here.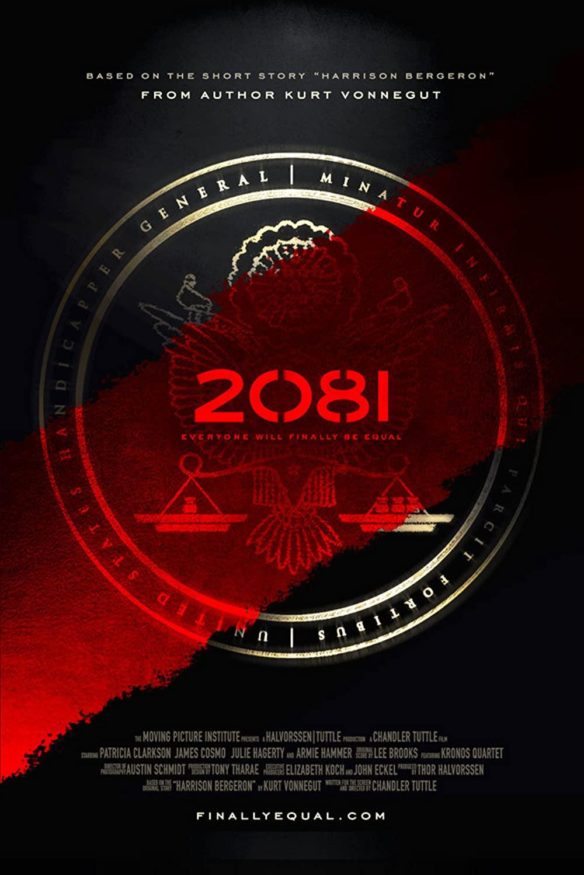 (7) TODAY'S BIRTHDAYS.
[Compiled by Cat Eldridge.]
Born May 29, 1906 — T. H. White. Best known obviously for the wonderful The Once and Future King which I read a long, long time ago but still remember quite fondly. Back in the Thirties, he wrote Earth Stopped and its sequel Gone to Ground, sf novels. Gone to Ground contains several fantasy stories which were later reprinted in The Maharajah and Other Stories. ISFDB also lists Mistress Masham's Repose, The Elephant and the Kangaroo and The Master as the other novels by him, plus the aforementioned story collection. I know that someone here has read them so do tell me about them please. (Died 1964.)
Born May 29, 1909 — Neil R. Jones. It is thought that "The Death's Head Meteor", his first story, which was published in Air Wonder Stories in 1930, could be the first use of "astronaut" in fiction. He also created the use of a future history before either Robert A. Heinlein or Cordwainer Smith did so. They're collected in The Planet of the Double Sun, The Sunless World and a number of other overlapping collections. He's a member of the First Fandom Hall of Fame. (Died 1988.)
Born May 29, 1939 — Alice K Turner. Editor and critic who starting in 1980 served  for twenty years as fiction editor of Playboy. The Playboy Book of Science Fiction which is not available from the usual suspects but which is available at quite reasonable prices in hardcover was edited by her. Snake's Hands: The Fiction of John Crowley is an expansion of her earlier Snake's Hands: A Chapbook About the Fiction of John Crowley.  It is available from sellers like ABE Books. (Died 2015.)
Born May 29, 1942 — Kevin Conway. His first genre role was as Roland Weary in Slaughterhouse-Five with later roles in Lawnmower Man 2: Beyond Cyberspace and Black Knight, neither of which I suspect many of you have seen. You will likely have seen him in The Lathe of Heaven as Dr. William Haber. He played Khalistan on "The Rightful Heir" episode of Next Generation, and had one-offs on Dark Angel, Life on Mars and Person of Interest. (Died 2020.)
Born May 29, 1947 — Julie Cobb, 75. Her first credited role as Yeoman Leslie was in an episode of Trek, "By Any Other Name". She was the only female Redshirt to be killed in that series. She had roles in The Fantastic Journey, Fantasy Island, The Incredible Hulk, a recurring role in Salem's Lot, Brave New World, Tucker's Witch, Starman and The New Adventures of Superman.
Born May 29, 1952 — Louise Cooper. She wrote more than a dozen works of SFF and was best known for her quite excellent Time Master trilogy. Most of her writing was in the YA market including the Sea Horses quartet and the Mirror, Mirror trilogy. She wrote a lot of short fiction, most of it collected in Creatures at Christmas, The Spiral Garden, Short and Scary! and Short and Spooky!. (Died 2009.)
Born May 29, 1987 — Pearl Mackie, 35. Companion to the Twelfth Doctor, the actress was the first openly LGBTQ performer prior to the Fourteenth Doctor and the first LGBTQ companion cast in a regular role in Doctor Who. Mackie, says Moffat, was so chosen as being non-white was not enough. Her other notable genre role was playing Mika Chantry in the audiowork of The Conception of Terror: Tales Inspired by M. R. James.
Born May 29, 1996 — R. F. Kuang, 26. She's an award-winning Chinese-American fantasy writer. The Poppy War series, so- called grimdark fantasy, consists of The Poppy War which won the Compton Crook Award for Best First Novel, and The Dragon Republic and The Burning God. She's won the 2020 Astounding Award for Best New Writer.
(8) COMICS SECTION.
The Far Side introduces us to the ace of aces.
Tom Gauld shared his catoon about authors' pets.
(9) A TOURIST IN TRANSYLVANIA. Slate's Marissa Martinelli says Daily Dracula is "Why Hundreds of Thousands of People Are Reading Dracula Together Right Now".
I keep getting these emails from a guy I've never met, who says he got stuck while traveling abroad for work. At first, he seemed to be having a nice time, but lately he's been describing increasingly weird and disturbing circumstances that make me feel like I should help him out. For once, though, I can rest easy that it's not a spammer trying to scam me out of some money—it's Jonathan Harker, protagonist of Bram Stoker's Dracula.

Dracula Daily is a Substack that emails snippets of the classic horror novel, which takes place over a six-month period, in real time, in the form of the book's journal entries and letters. The venture is the brainchild of Matt Kirkland, whose previous projects include etching inane tweets into cuneiform tablets and exposing the robotic skeletons lurking beneath your stuffed animals. I spoke to Kirkland about our pal Jonathan, how weird it is that Dracula crawls down walls like a lizard, and the part of the book he's most excited for readers to experience in email form….

Do you have a sense of what is causing it to take off on Tumblr in particular?

No, I don't. So much of the posts are about how people are just finding it so funny. We have this dramatic irony of like, "Oh, Jonathan Harker doesn't know that he's in Dracula, so he's not scared enough by going to Dracula's castle."
(10) WHEN PEOPLE TAKE THEIR WORK HOME…FOREVER. "U.S. Book Show: The Pandemic and Publishing: How Has Covid Changed the Industry for Good?" asks Publishers Weekly.
…Odom Media Management founder and literary agent Monica Odom was already working from home, expecting a baby, when the pandemic began. "I sold the most books of any year in 2020—and I'm still waiting for them all to publish," she said. Despite her productivity, she fought "to stay grounded amid the immense collective trauma we were all having, recognizing we were all humans doing this work." As an aside, she commented, "I did miss the editor lunches."

That sounds like a throwaway line, yet social distancing highlighted publishing's reliance on workplace culture. Bogaards suggested the pandemic put "a cap on industry fun," lowering morale among people who thrive on hard work and literary perks. "The social fabric seems to be fraying at the edges," Bogaards lamented.

"We're not having as much fun together, and that does take a toll," agreed Julia Sommerfeld, publisher of Amazon Publishing and founder of Amazon Original Stories. As remote work developed, she noticed the rise of "a strong online chat culture. The team is always pinging each other and trying to capture that casual conversation. We're missing the kind of osmosis that happens when we're all together."…
(11) STICK A CORK IN IT. [Item by Mike Kennedy.] Novelty wines are often not a great idea. For the most part, this Star Trek selection seems to follow that trend, at least according to Ars Technica. "We tasted the expanded collection of Star Trek wines and found them… wanting".
… Picard has now wrapped its second season, with a third currently in production, and the folks behind Star Trek Wines have expanded their collection from two varieties to six. So a second informal wine tasting was clearly in order. And who better to help us in this noble endeavor than Q himself—aka actor John de Lancie—and The Orville writer Andre Bormanis, who launched his career as a science advisor on TNG? They joined a fresh group of tasters (eight people in all) on a cool late spring evening in Los Angeles, where the nibbles were plentiful and the conversation flowed freely. (Wine assessments were anonymous, in keeping with the gathering's super-casual vibe. And the wine was purchased out of pocket, not gifted for promotional purposes.)  

… Alas, the four new varieties in the Star Trek wine collection fall far, far short of their predecessors. We'll start with the merely bland and inoffensive: an Andorian Blue Premium Chardonnay and the United Federation of Planets Special Reserve Sauvignon Blanc.

The Andorian Blue is, indeed, blue in hue, no doubt thanks to the addition of a food dye. ("What is this, a substrate for a COVID test?" one taster quipped.) It's a gimmick that imparts a very slight aftertaste that is all the more noticeable because the wine otherwise barely has any flavor. That's unusual for a chardonnay. I'm not especially fond of white wines, but good chardonnays are generally light to medium body, crisp, and a bit citrus-y. The Andorian Blue is indeed light, but it's missing any distinctive flavor notes—other than that unfortunate hint of blue dye….
(12) FIRE UP THE BOILER. Game Rant feels qualified to recommend "5 Great Underrated Steampunk Sci-Fi Movies". But the second one they name is the Will Smith Wild Wild West, so should we trust them?
… A usual definition of the steampunk genre states that it presents inventions, technologies, or historical events that happened differently in the real world or didn't exist in the first place. For every well-known steampunk movie, there are many underrated ones that flew under the radar and that every fan of the genre should watch….
Their list begins:
5. Invention For Destruction (1958)

Though many steampunk movies are in the English language, some best, most underrated pieces come from non-English-speaking countries. This Czechoslovakian 1958 movie was directed by Karel Zeman and based on Jules Verne's work. It is a classic, but is mostly unknown among the general audiences and has barely over 2,000 ratings on IMDb.

The movie shows that when somebody creates an invention that has the power to destroy the world, it's more than likely that someone evil will try to use it for their own nefarious purposes. The film is visually beautiful — shot on a camera from 1928, it offers the charm of even older movies. What's more, it will keep the viewers guessing throughout, especially if they're not familiar with the original source material.
(13) ON THE MARCH. Northwestern University declares this tiny robotic crab is smallest-ever remote-controlled walking robot.
Northwestern University engineers have developed the smallest-ever remote-controlled walking robot — and it comes in the form of a tiny, adorable peekytoe crab. Just a half-millimeter wide, the tiny crabs can bend, twist, crawl, walk, turn and even jump. The researchers also developed millimeter-sized robots resembling inchworms, crickets and beetles. Although the research is exploratory at this point, the researchers believe their technology might bring the field closer to realizing micro-sized robots that can perform practical tasks inside tightly confined spaces.
(14) SCARY VIDEO. [Item by Martin Morse Wooster.] In "Ghost Dogs" on Vimeo, Joe Capps asks, "If dogs were ghosts, what sort of ghosts would they be?" And "Why would ghost dogs be terrified of Roombas?"
[Thanks to Chris Barkley, Andrew Porter, Michael Toman, Cat Eldridge, Mike Kennedy, Martin Morse Wooster, JJ, and John King Tarpinian for some of these stories. Title credit belongs to File 770 contributing editor of the day Daniel Dern.]