(1) EATING THE FANTASTIC CELEBRATES EPISODE 150. Scott Edelman encourages listeners to binge on the Balkans with Eisner Award-winning comics writer Tom King in episode 150 of his Eating the Fantastic podcast.
Tom started out in comics by interning for both DC and Marvel, where he was an assistant to X-Men writer Chris Claremont. After his comics-inspired debut novel A Once Crowded Sky was published in 2013, and after a stint in the CIA, he went on to write Batman and Mister Miracle for DC, The Vision for Marvel, and many other projects, which won him an Eisner Award in 2018 for Best Writer. Plus — and I only realized this while taking note of comic artist Joe Giella's recent 93rd birthday — we've both written Supergirl stories — 43 years apart! But that's not the only commonality to our comics careers, as you'll soon hear.

We discussed the two questions no one in comics can answer, his attempt at age 11 to get a job at Archie Comics, how he goes back to the beginning when writing a classic character such as Supergirl, whether Alan Moore would have had the impetus to create Watchmen in today's environment, our dealings with comic book censorship, the weird way Monica Lewinsky caused him not to get hired by MAD magazine, the differences we discovered early on between Marvel and DC, what he learned as an intern to the legendary Chris Claremont, the Black Knight pitch he got paid for which was never published, the way comic book people are like circus folk, why the current state of Krypto proves I could never go back to writing comics, and much more.
(2) WORDPLAY IN ANNIE. [Item by Daniel Dern.] Historically, the bad guys in the Annie comics have had names ranging from more-or-less backwards, to descriptive ones. (Sorry, can't think of or find examples off the top of my head nor thru brief web search, no time to walk over to L/O/A books in bedroom bookshelf…) (The names in Dick Tracy are no slouch, neither.) Currently Annie features a villain called "Bandy Dessinay"… and if that sounds familiar:
Bandes dessinées (singular bande dessinée; literally 'drawn strips'), abbreviated BDs and also referred to as Franco-Belgian comics (BD franco-belge), are comics that are usually originally in the French language and created for readership in France and Belgium.
As for why I recognized the rephoneticized term, it's mostly from the year or three that I was subscribing to ComiXology Unlimited (their streaming digital comic book offering), where Bandes Dessinées was often one of the group/type categories along with (something like, IIRC) issues, series, collections.

Interestingly (at least, I think so), "Annie has appeared in the Dick Tracy comic strip after Little Orphan Annie was discontinued." according to the Pigtails in Paint article on "Harold Gray's Little Orphan Annie".
Pogo fans will, of course, remember Albert Alligator and Beauregard Frontenac Bugleboy III ("The Faithful Dog") (or perhaps Ponce de Leon Montgomery County Alabama Georgia Beauregard Possum, per a different web site) periodically gearing up as "Little Arfin' Lulu," with (his) eyes "all blunked out" and Sandy.
(3) PAPERBACK SHOW RETURNS. March 20, 2022 will be the date for the Los Angeles Vintage Paperback Collectors Show. The 42nd edition of the show (which had to skip 2021) will take place as usual at the Glendale Civic Auditorium, in Glendale, California.
(4) SHARPSON REVIEWED. [Item by Olav Rokne.] "The Future Refusing To Be Born" at The Hugo Book Club Blog. I keep thinking about the book, and how the author ties rejection of modernity (nostalgia) to authoritarianism. Definitely think that Sharpson will end up on my personal ballot for the Astounding Award based on this book.
In Neil Sharpson's debut novel When The Sparrow Falls, that place is The Caspian Republic: a country founded by expatriate American and Russian bioconservative activists, whose boundaries are roughly those of present-day Azerbaijan.

While the rest of the world has embraced an almost-singularitarian future of AI-guided mass prosperity, near immortality, and widespread expansive human rights, this Caspian Republic has hewed to a quasi-religious "Humanity First" doctrine and polices the use of technology.

…Sharpson's prose is sparse, clear, and engaging. He ably paints a picture of a deeply flawed society, and one that is the all-too-believable result of nostalgia-driven politics and identity-driven ideology. Because the Caspian Republic's technology is pretty much limited to what was common in North America in the 1980s, readers will be reminded of late-era Cold War spy stories….
(5) 100 YEARS OF LEM. The Viennese are participating in the Stanislaw Lem centenary reports Radio Poland: "Austrian capital honours Polish sci-fi great Lem". See video of the dance on Facebook.
Lem's centenary is being celebrated in Poland as the Year of Lem, and now Vienna, the writer's home in the 1980s, has joined in, staging a series of musical events collectively dubbed the Lem Festival.

Poland's Adam Mickiewicz Institute (IAM) is the driving force behind the project, in co-operation with the ImPuls Tanz festival and the Klangforum Wien ensemble.

During the events, which run through the end of July, dancers and musicians are expected to invite audiences "to reflect on the possibility of communication with 'the Alien,'" according to the Polish institute.

This is because, a century after Lem was born, and following the NASA rover's landing on Mars, this question has again become our civilisation's most pressing problem, the organisers have said….
(6) THEY MADE IT. The Uncanny Kickstarter hit its initial funding goal – now they start work on the stretch goals.
(7) APEX AND ABOVE. Likewise, the Apex Magazine 2022 Kickstarter reached its basic goal and is rolling up its milestone rewards. First on the list, a story by Bonnie Jo Stufflebeam – who does a Q&A with publisher Jason Sizemore in the linked update.
JASON SIZEMORE: Do you and Levar Burton hang out? Talk a little about the process of working with Mr. Burton and hearing your words narrated by Mr. Reading Rainbow?

BONNIE JO STUFFLEBEAM: What an experience! I got an unexpected email from Julia Smith, the producer of LeVar Burton Reads, inviting me to be LeVar's featured writer at his live Dallas event for my story "In the City of Martyrs." I had no idea that this was an email that one could get, so I was immediately ecstatic to both appear live and to have my story appear on the podcast. The night of the show, I got to meet Julia and LeVar, both amazing and talented professionals, then got to hear LeVar read my story to musical accompaniment. After the reading, we did a Q&A with LeVar and then with the audience.

What I remember most from the event was LeVar's generosity; he offered to meet-and-greet the very large group of people who came to support me. Also, the audience questions for the Q&A were perceptive as hell. The audience was clearly full of serious readers, and I'm not sure there's a better feeling than to be surrounded by people who share that passion. Then, of course, there was the magic of hearing my short story read by a man whose voice I grew up listening to. Normally, I can't divorce the reading of my own stories from the fact that I wrote them, but hearing LeVar read my work with a balalaika setting the story's mood throughout, I got goosebumps.
(8) DISNEY GETS ROUGH. As reported here earlier, Scarlett Johansson filed a high-stakes breach of contract lawsuit against Disney over the release of Black Widow, alleging Disney broke its contract with her by releasing her solo feature on streaming platform Disney+ on the same day as theaters. Disney's reply drags their star through the mud: "Disney blasts Scarlett Johansson's 'Black Widow' suit: 'No merit whatsoever'".
…However, Disney pushed back hard against Johansson's arguments. In a statement issued to Yahoo Finance, the media giant said, "There is no merit whatsoever to this filing. The lawsuit is especially sad and distressing in its callous disregard for the horrific and prolonged global effects of the COVID-19 pandemic."…
Johansson's representatives at CAA hit back: "Hollywood agent Bryan Lourd steps into Disney v Scarjo fight" in the Los Angeles Times.
"They have shamelessly and falsely accused Ms. Johansson of being insensitive to the global COVID pandemic, in an attempt to make her appear to be someone they and I know she isn't," Lourd, co-chairman of Creative Artists Agency said in a statement. Lourd represents some of Hollywood's biggest stars besides Johansson, such as Brad Pitt and George Clooney. Disney did not respond to requests for comment on Lourd's statement….

"Scarlett has been Disney's partner on nine movies, which have earned Disney and its shareholders billions," Lourd said. "The company included her salary in their press statement in an attempt to weaponize her success as an artist and businesswoman, as if that were something she should be ashamed of."
(9) BLUE ORIGIN TRIES TO REVIVE NASA'S INTEREST. Blue Origin says it's willing to cover $2 billion of the cost for a second lunar lander contract, should NASA award one. In a July 26th letter to NASA Administrator Bill Nelson, Blue Origin founder Jeff Bezos said his company is willing to waive up to $2 billion in payments over the current and next two government fiscal years in exchange for a fixed-priced contract. In April, NASA selected SpaceX as the recipient of its Human Landing System (HLS) contract, a decision that competitors Blue Origin and Dynetics protested shortly after. The full letter is at the link, here are some excerpts:
Blue Origin is committed to building a future where millions of people live and work in space to benefit the Earth….

This is why Blue Origin answered NASA's urgent call to develop a Human Landing System. We built the National Team – with four major partners and more than 200 small and medium suppliers in 47 states – to focus on designing, building, and operating a flight system the nation could count on. NASA invested over half a billion dollars in the National Team in 2020-21, and we performed well. The team developed and risk-reduced a safe, mass-efficient design that could achieve a human landing in 2024.

Our approach is designed to be sustainable for repeated lunar missions and, above all, to keep our astronauts safe. We created a 21st-century lunar landing system inspired by the well-characterized Apollo architecture — an architecture with many benefits. One of its important benefits is that it prioritizes safety. As NASA recognized, the National Team's design offers a "comprehensive approach to aborts and contingencies [that] places a priority on crew safety throughout all mission phases."

Unlike Apollo, our approach is designed to be sustainable and to grow into permanent, affordable lunar operations. Our lander uses liquid hydrogen for fuel. Not only is hydrogen the highest-performing rocket fuel, but it can also be mined on the Moon. That feature will prove essential for sustained future operations on the Moon and beyond.

From the beginning, we designed our system to be capable of flying on multiple launch vehicles, including Falcon Heavy, SLS, Vulcan, and New Glenn. The value of being able to fly on many different launch vehicles cannot be over-stated…

Yet, in spite of these benefits and at the last minute, the Source Selection Official veered from the Agency's oft-stated procurement strategy. Instead of investing in two competing lunar landers as originally intended, the Agency chose to confer a multi-year, multi-billion-dollar head start to SpaceX. That decision broke the mold of NASA's successful commercial space programs by putting an end to meaningful competition for years to come….
(10) TED LEWIN (1935-2021). Illustrator and writer of children's books Ted Lewin died July 28. Jane Yolen paid tribute on Facebook.
Heartbroken–this says it all. Ted and [his wife] Betsy were dear friends for many years and Ted illustrated David's only children's book (HIGH RIDGE GOBBLER) and a bunch of mine, Several of his originals for the books decorate my dining room. I see them everyday. Ted was a lovely, lovely man, a wonderful storyteller, who brought much beauty to the world.
Ted Lewin illustrated over 200 books, winning a 1994 Caldecott Honor for Peppe The Lamplighter. A number of these were done in collaboration with his wife, Betsy.
As a young man who wanted to go to art school at the Pratt Institute, he earned money to finance his education by taking a summer job as a professional wrestler – the beginning of a fifteen year part-time career that eventually inspired his autobiographical book I Was a Teenage Professional Wrestler.
Lewin's professional honors also include a Silver Medal in the Society of Illustrators Annual Show (2007), and he and Betsy were inducted into the Society of Illustrators Hall of Fame in 2015. [Click below for larger image.]
(11) MEMORY LANE.
1987 – In July of 1987, Emma Bull's War for The Oaks was published by Ace Books. It would win a Locus Best First Novel Award and be nominated for a Mythopoeic Fantasy Award. This urban fantasy would get its own trailer courtesy of Will Shetterly who financed it instead of running for Governor. You'll no doubt recognize many of the performers here as some of them are from Minnesota fandom. Decades later, it was scheduled to have a hardcover edition from Tor Books but it got canceled after the books were printed. (They were printed. I have a signed one here.) And the music in War for The Oaks would later be done by Cats Laughing, a band that includes Emma Bull and other members of fandom with lyrics by John Ford, Steven Brust and others.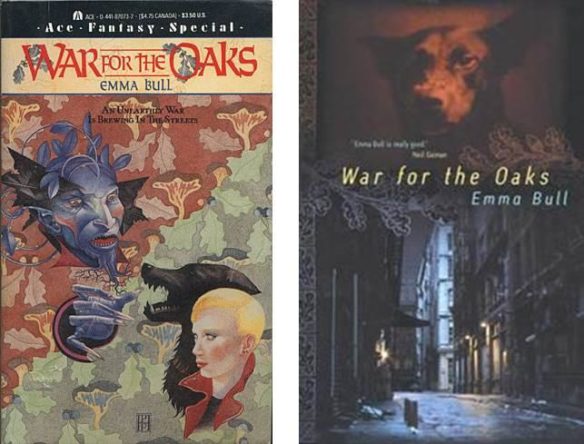 (12) TODAY'S BIRTHDAYS.
[Compiled by Cat Eldridge.]
Born July 30, 1927 — Victor Wong. I remember him best as the Chinese sorcerer Egg Shen in John Carpenter's exemplary Big Trouble in Little China. He was also The Old Man in The Golden Child, Walter Chang in Tremors, Dr. Wong in the "China Moon" episode of the Beauty and the Beast series and Lee Tzin-Soong in the "Fox Spirit" episode of Poltergeist: The Legacy. (Died 2001.)
Born July 30, 1947 — John E. Stith, 74. Winner of two HOMer Awards, given by the Science Fiction and Fantasy Literature Forum on CompuServe, for Redshift Rendezvous and Naught for Hire. The former would be nominated for a Nebula as well. The HOMer Awards ended in about 2000. 
Born July 30, 1947 — Arnold Schwarzenegger, 74. Terminator franchise, of course, as well as Running Man, Conan the Barbarian and  Conan the Destroyer, Tales from the Crypt and True Lies. Apparently in sort of announced Conan and Terminator reboots. Though I think that's more rumor than reality. 
Born July 30, 1948 — Carel Struycken, 73. I remember him best as the gong ringing Mr. Holm on Next Gen, companion to Deanna Troi's mother. He was also Lurch in The Addams Family, Addams Family Values and the Addams Family Reunion. He's listed as being Fidel in The Witches of Eastwick but I'll be damned if I remembered his role in that film though I've seen it twice. And he's in Ewoks: The Battle for Endor which I've never seen. 
Born July 30, 1966 — Jess Nevins, 55. Author of the superlative Encyclopedia of Fantastic Victorian and the equally great Heroes & Monsters: The Unofficial Companion to the League of Extraordinary Gentlemen which is far better than the film ever could be. He's also written the Fable Encyclopedia which is a most excellent look at Willingham series. I didn't know he also wrote fiction 'til now but he has two genre novels, The Road to Prester John and The Datong Incident. 
Born July 30, 1966 — Jason Watkins, 55. His first genre role was William Herrick in Being Human. He's also had a recurring role on Dirk Gentely as DI Gilks. And he voiced Captain Orchis on Watership Down.  Naturally, he's been in Doctor Who, specifically as Webly in the Eleventh Doctor story, "Nightmare in Silver".  He showed up in The Golden Compass as Bolvangar Official.
Born July 30, 1970 — Christopher Nolan, 51. Writer, producer and often director as well of the latest Batman film franchise, The Prestige, Interstellar, Inception and Batman v Superman: Dawn of Justice to name some of his work. His latest, Tenet, has been nominated for a Hugo this year. 
Born July 30, 1975 — Cherie Priest, 46. Her Southern gothic Eden Moore series is kickass good and Clockwork Universe series isa refreshing take on steampunk which has been turned into full cast audiobooks by GraphicAudio. I've not read the Cheshire Red Reports novels so have no idea how good they are. Anyone read these?  She won an Endeavour Award for her Dreadnought novel.
(13) COMICS SECTION.
Frank and Ernest shows the judge throwing the book at an unexpected traffic offender.
(14) GET YOUR ANSWERS READY. Your hosts for Science Fiction 101 podcast are Phil Nichols of the Bradburymedia website, who is also known for the Bradbury 100 podcast and the Bradbury 101 YouTube channel; and Colin Kuskie of the Take Me To Your Reader podcast. Episode 7, "We Goes There", features a sci-fi quiz.
(15) BASEDCON. *Rolls eyes* Thread starts here.

(16) HEAP OF GLORY. "Londoners Were Promised a Hill With a View. They Got a Pile of Scaffolding." Linking to this New York Times item so you can appreciate the amusing comment which I've quoted below.
Advance publicity for the Marble Arch Mound — London's newest visitor attraction — suggested that an Arcadian landscape would be created in the middle of the city, with spectacular views over Hyde Park.

A huge artificial hill, over 80 feet high, would rise at one end of Oxford Street, London's busiest shopping district. Costing around 2 million pounds, or about $2.7 million, design renderings suggested that it would be covered in lush trees and that visitors would be able to climb to the top — and "feel a light breeze" against their skin.

The hill was part of a £150 million plan by Westminster Council to lure visitors back into the center of the city after the pandemic. In May, Time Out, London's main listings magazine, described it as "visually arresting/bonkers."

The reality has turned out to be somewhat different. Since opening on Monday, the mound has been widely mocked online as more of a folly than a dream — a pile of blocky scaffolding covered in patches of vegetation that look in danger of slipping off, and that it isn't even high enough to look over the trees into Hyde Park….
A commenter on the article said:
To be fair to Westminster City Council that spot has become increasingly difficult to manage, with the combination effect of a long record of unplanned and haphazard development accumulating to create serious problems.

Obviously, the confluence of ley lines and faerie roads there lead to that being the natural place for the portal to Avalon, which in turn attracted the gate into Narnia. But, installing the secret entrance to Q branch's main workshop so close to both the back door to the Ministry of Magic and unquiet spirits of Tyburn Tree was asking for trouble, and probably meant spatio-temporal subsidence would inevitably produce The Rift.

Although finding a more plausible way to conceal the essential interdimensional-engineering work needed might have been better, it can be argued that attracting widespread ridicule with this hill has provided the sort of smokescreen that was wanted more cost-effectively.

We probably shouldn't rush to judgement, and wait for the official paperwork to be declassified and released under the 5,000-year rule.
(17) ROBODOG. [Item by Mike Kennedy.] Is the game "Quick, spot the cop" or "Quick Spot, the cop"? Another publication has chimed in on whether robotic "dogs" are suitable for use by police. "Robotic Police Dogs: Useful Hounds or Dehumanizing Machines?" at U.S. News & World Report.
If you're homeless and looking for temporary shelter in Hawaii's capital, expect a visit from a robotic police dog that will scan your eye to make sure you don't have a fever.

That's just one of the ways public safety agencies are starting to use Spot, the best-known of a new commercial category of robots that trot around with animal-like agility.

The handful of police officials experimenting with the four-legged machines say they're just another tool, like existing drones and simple wheeled robots, to keep emergency responders out of harm's way as they scout for dangers. But privacy watchdogs — the human kind — warn that police are secretly rushing to buy the robots without setting safeguards against aggressive, invasive or dehumanizing uses.

In Honolulu, the police department spent about $150,000 in federal pandemic relief money to buy their Spot from robotics firm Boston Dynamics for use at a government-run tent city near the airport.

"Because these people are houseless it's considered OK to do that," said Jongwook Kim, legal director at the American Civil Liberties Union of Hawaii. "At some point it will come out again for some different use after the pandemic is over."…
(18) AI ASSESSES CATS. Meanwhile, a breakthrough in cat happiness technology has made the headlines: "Feline okay? The app that tells you if your cat's happy" reports Reuters.
Cat owners who love to take pictures of their furry friends now have a new excuse to pull out their smartphones and take a snapshot: it may actually help the cat.

A Calgary, Alberta, animal health technology company, Sylvester.ai, has developed an app called Tably that uses the phone's camera to tell whether a feline is feeling pain.

The app looks at ear and head position, eye-narrowing, muzzle tension, and how whiskers change, to detect distress. A 2019 study published in peer-reviewed journal Scientific Reports found that the so-called 'feline grimace scale,' or FGS, is a valid and reliable tool for acute pain assessment in cats….
(19) GIVING THE GOVERNMENT THE DIGIT. If an AI can be trusted with your cat, surely their work should not go unrewarded! "Australian Court Rules That AI Can Be an Inventor" – Gizmodo has the story.
In what can only be considered a triumph for all robot-kind, this week, a federal court has ruled that an artificially intelligent machine can, in fact, be an inventor—a decision that came after a year's worth of legal battles across the globe.

The ruling came on the heels of a years-long quest by University of Surrey law professor Ryan Abbot, who started putting out patent applications in 17 different countries across the globe earlier this year. Abbot—whose work focuses on the intersection between AI and the law—first launched two international patent filings as part of The Artificial Inventor Project at the end of 2019. Both patents (one for an adjustable food container, and one for an emergency beacon) listed a creative neural system dubbed "DABUS" as the inventor.

The artificially intelligent inventor listed here, DABUS, was created by Dr. Stephen Thaler, who describes it as a "creativity engine" that's capable of generating novel ideas (and inventions) based on communications between the trillions of computational neurons that it's been outfitted with. Despite being an impressive piece of machinery, last year, the US Patent and Trademark Office (USPTO) ruled that an AI cannot be listed as the inventor in a patent application—specifically stating that under the country's current patent laws, only "natural persons," are allowed to be recognized. Not long after, Thaler sued the USPTO, and Abbott represented him in the suit….
(20) VIDEO OF THE DAY. [Item by Martin Morse Wooster.] In "Honest Game Trailers: Zombies Ate My Neighbors and Ghoul Patrol," Fandom Games says this game will take you back to the '90s (remember Scholastic book fairs? All-denim outfits?) and will "tickle your nostalgia nose" but still frustrate you even though you're not a teenager any more, but have kids and a mortgage.
(21) TINGLING BULLETINS AS THEY BREAK. Chuck Tingle told Facebook followers today that the music rights holders withdrew their complaints three days ago, but Twitter still hasn't done doodly about restoring his account.
first off POWER OF LOVE IS STRONG with help of some true buckaroos behind scenes (who i will thank when this is all over and direct you to their websites and other ways) AND ALSO with help of all buckaroos on social media: SONY MUSIC and IFPI have decided to withdraw their copyright complaints and say 'okay just take them down lets trot on you can have your account back' which is HUGE DEAL. SO THANK YOU SO MUCH THIS PROVES LOVE IS REAL. also even though this situation is frustrating for chuck i must say sincere thank you to sony and ifpi this was a choice they made to do right thing by chuck in the name of the buckaroo lifestyle. so thank you everyone (with more thanks to come)

this happened THREE DAYS ago and twitter was notified. since then twitter has not responded to any methods of contact from chuck or sam rand or manager of chuck. chuck remains suspended with no way of contacting them that does not get automated response even though fact of the matter is:

THERE IS NO REASON FOR CHUCK TINGLE TWITTER TO BE SUSPENDED AT THIS POINT i do not have copyright infringement marks anymore or any other infractions. i have sent message to say 'can you tell WHY my account is still suspended even after you said it would be better if i fixed these issues?' and no response.
[Thanks to Mike Kennedy, Andrew Porter, Martin Morse Wooster, Paul Weimer, Olav Rokne, Michael J. Walsh, JJ, Michael Toman, John King Tarpinian, and Cat Eldridge for some of these stories. Title credit belongs to contributing editor of the day Andrew (not Werdna).]