(1) DROPPING THE PILOT. The Horror Writers Association said goodbye to HWA Admistrator Brad C. Hodson today.
Message from the HWA Board of Trustees

The HWA and its administrator, Brad C. Hodson, have officially parted ways. Brad has served the HWA for many years and, in addition to performing his numerous administrative duties, he has helped to shepherd some wonderful initiatives, such as Horror University and health insurance for our members. We appreciate his hard work and dedication, and we wish him nothing but the best in his future endeavors.

As President John Edward Lawson stated at the General Meeting at StokerCon 2023, we are terminating the administrator position and instituting a new role: Executive Director. Our Treasurer, Max Gold, will be the interim Executive Director. We are grateful he has accepted this responsibility and are looking forward to working with him in this capacity.

We will begin to phase out the [email protected] email address, but Max will still be receiving emails through it. You can also email him at [email protected].
(2) HEADS ARE ROLLING. "The Flash' Flopped. Is Turner Classic Movies Paying the Price?" asks Vanity Fair.
When Warner Bros. Discovery CEO David Zaslav anointed the newly-merged company with its slogan "the stuff that dreams are made of," he paid homage to the classic film noir, The Maltese Falcon. Since then, he's often touted his appreciation for cinema—rescuing Jack L. Warner's old desk from storage so he could work from it, moving into Robert Evans's former Beverly Hills home, and declaring Turner Classic Movies "the history of our country" at the network's film festival in April.

As TCM general manager Pola Changnon told IndieWire earlier this year, Zaslav's assistant ensured that "he had TCM on in his office all the time." On Tuesday, after 25 years with the company, Changnon parted ways with TCM—the first in a string of top brass exits that now include TCM's senior vice president of programming and content strategy Charles Tabesh, vice president of studio production Anne Wilson, vice president of marketing and creative Dexter Fedor, and TCM Enterprises vice president Genevieve McGillicuddy, a TCM representative confirmed to Vanity Fair. Michael Ouweleen, president of Adult Swim, Cartoon Network, Discovery Family, and Boomerang, and TCM alum, will take charge, per a company memo. According to the outlet's sources, layoffs in TCM's public relations department are expected to follow.

The gutting of TCM's top creatives comes in the days after a major flop for Warner Bros. The Flash, a superhero blockbuster meant to link Zack Snyder's regime at DC Studios with James Gunn's new era, made just $55 million at the North American box office over the weekend. That's after both the studio poured hundreds of millions into production and advertising and Zaslav himself labeled it the best superhero movie he's ever seen.
There's no definitive correlation between the flattening of TCM and the failure of The Flash, but it's hard not to see it as one of a brand's entities paying for the sins of another….
(3) HEAR FROM MANON STEFFAN ROS. [Item by SF Concatenation's Jonathan Cowie.] Yesterday's B. Beeb Ceeb Radio 4 arts programme Front Row had an interview with yesterday's winner of the Yoto Carnegie Medal for Writing, Manon Steffan Ros, author and translator of The Blue Book of Nebo, which is juvenile SF and rather good. It first came out in 2018 in Welsh as Llyfr Glas Nebo but then was republished in English last year hence eligible for this year's Carnegie.
It concerns the notes of a young woman who looks after her son who was only six when the world ended…
I note that McCormac, who recently passed, most famous post-apocalyptic, The Road, concerned a father looking after his son and this year's The Last of Us TV series had a boy being looked after in a post-apocalyptic setting (gosh, I enjoy the end of the world as long as it is firmly in SF). So it's good to see a mum come to the fore.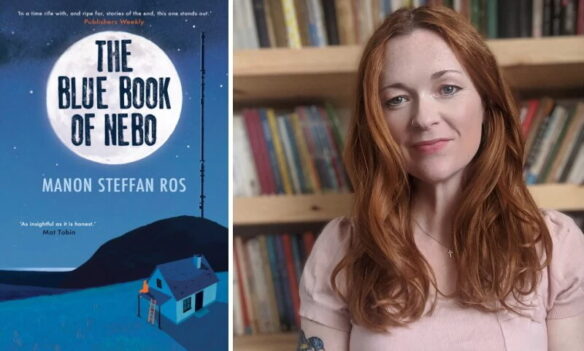 (4) ABOUT SFWA SELLING T-SHIRTS… [Item by Bruce D. Arthurs.] In the File 770 comment section a few days ago, I mentioned there might have been a SFWA t-shirt long before the current offerings on the SFWA merch page.
Was able to find mine way at the back of a drawer today, so here's a photo. I misremembered it as being based on a SFWA Bulletin cover; the original illustration was for SFWA FORUM, the members-only pub where writers clashed heads and competed to see who had the ugliest letterhead. (Members's letters were xeroxed and pasted up for the Forum letter pages back then, including the letterheads.) I think the t-shirt dates from the late 1990s or early 2000s.
(5) FULL HOUSE. James Davis Nicoll points us to "Five Novels Featuring Political Scandals and Skulduggery" at Tor.com. One of them is —
A Thunder of Stars by Dan Morgan and John Kippax (1970)

The first volume in the Venturer 12 series begins as all interstellar patrol series should, with extensive Commissioning Board hearings to determine the best candidate for the position of captain of the Venturer. Commander Tom Bruce is clearly that man. However, certain elements want someone else and will cheerfully accept any pretext for rejecting Bruce.

When Bruce orders the destruction of an out-of-control spacecraft, Bruce's opponents seem to have the ammunition they need. True, the ship was headed for Earth and Bruce saved millions by having it destroyed. However, this is not the first time Bruce has ordered the deaths of innocents. Now his enemies have pretext for getting the Minos IV incident on record.

This is the sort of narrative universe in which tough men are often forced to make hard decisions, so it should be no surprise Bruce had a good reason to kill the Minos IV colonists. What should raise eyebrows but doesn't is that Bruce's executive officer is an ex-lover who plans to use her position to police which crewmembers sleep with Bruce. I can see no way in which that could go horribly wrong.
(6) FUNDRAISER. Michael A. Banks died June 19 (see item #10 in the June 20 Scroll). His daughter, Susan, has launched a GoFundMe to cover end-of-life expenses in "Funeral for Mike Banks".
Hi, my name is Susan and I'm trying to raise enough to cover basic expenses related to the death of my dad, Mike Banks. My dad was a lot of things, he was a talented writer, a raconteur, and a storyteller. He loved sci fi , history, and Hawaiian shirts. He loved dogs. While he was great at using words to bring people like Ruth Lyons and Powell Crosley to life on the page, like a lot of writers, he lived a freelance life and wasn't great at planning for the future or what would happen after he was gone.

At the end of February, Dad was diagnosed with end stage cancer that had started in his lungs and spread to his bones, liver, and spine. Within a few weeks, we learned it had also spread to his brain.

He remained upbeat and positive, even as his cognition declined. His dogged determination to soldier on to make one last trip to Kroger or the hardware store led to a fall, a broken hip, and then a series of falls that kept him in the hospital and too weak to receive radiation and chemotherapy. His decline accelerated and he passed on June 19th, less than four months from his diagnosis.

His positivity was so enduring and infectious, we were unable to get him to make a will or to do a lot of things people do for end of life.

My goal is to give him the send off he deserves and to be able to settle his estate without having to incur a large amount of debt.
(7) MEMORY LANE.
1975 – [Written by Cat Eldridge from a choice by Mike Glyer.]
Now let's talk about Katherine MacLean. Short fiction was her strength which is perhaps why her only Hugo nomination was at Detention for her "Second Game" novelette. She wrote some fifty short pieces of genre fiction but only five such novels.
Our beginning comes from one of them, Missing Man, which was published by Berkley/Putnam in 1975. The novel is a fix-up of MacLean's three Rescue Squad stories including the Nebula Award winning novella of the same name. It would also be a Nebula-nominated novella.
The novel is a Meredith Moment at the usual suspects.
Now go read our Beginning….
I was heading uptown to the employment office. The sidewalk was soft and green and dappled with tree shadows; the wind was warm.
I stopped by a snack machine, looked at the pictures of breakfast, and watched a man put in his credit card and get out a cup of coffee. He was a young guy, a little older than me. I could smell the coffee. I'd had hot water for lunch and dinner yesterday and hot water for breakfast. It felt good in my stomach but my legs felt weak.
The vibes of morning are always good. People walked by, giving out a kind of cheerfulness. I was blotting up that feeling until suddenly it seemed right that the snack machine should give out some free food just to be friendly.
I shoved my credit card into the slot and pushed levers for a cup of coffee with two creams and two sugars and some hot buttered scrambled eggs. My hands started shaking. My mouth watered. I could smell from people's windows the perfume of bacon and toasted plankton and hot butter on hot toast.
The machine blinked a red sign, "000.00 balance," and my credit card rolled out of the slot. I reached for it and dropped it. The man drinking coffee looked at my shaking.
The machine blinked a red sign, "000.00 balance," and my credit card rolled out of the slot. I reached for it and dropped it.
The man drinking coffee looked at my shaking hands and then at my face. Hunger doesn't show on the outside. I'd lost a hundred pounds already and I wasn't even skinny yet. He couldn't feel my vibes. I have a kind of round, cheerful face, like a kid, but I'm big.
I picked up the card and grinned at him. He grinned back.
"Hard night?" he asked sympathetically, meaning had I spent a night with a girlfriend?
I made an "okay" sign with one hand and he whistled and went away grinning, giving out happy vibes of remembering great long sex nights when he'd had the shakes in the morning.
I tried two more snack machines in the next three blocks. No food. The best food machines in lower New York City are in the artists' and sculptors' commune.
Artists don't like to cook when they're working on something.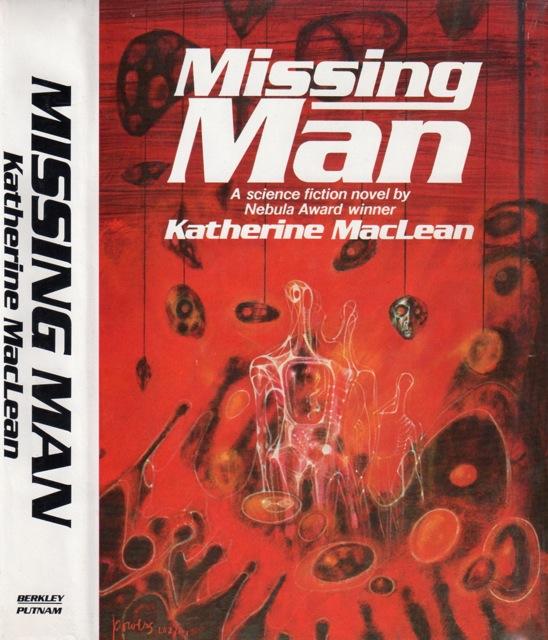 (8) TODAY'S BIRTHDAYS.
[Compiled by Cat Eldridge.]
Born June 22, 1894 — George Fielding Eliot. ISFDB has scant listings from him and Wiki is not much better but shows "The Copper Bowl" in Weird Tales in the December 1928 issue and notes that thirty years later he had "The Peacemakers" in the Fantastic Universe in January 1960 edition. Stitching this together using the EofSF, I'll note he wrote Purple Legion: A G-Man Thriller, a really pulpish affair. As Robert Wallace, he wrote "The Death Skull Murders", one of the Phantom Detective stories, a series that came out after The Shadow and ran for a generation. (Died 1971.)
Born June 22, 1947 — Octavia E. Butler. Let's note that she's a multiple recipient of both the Hugo and Nebula awards, and she became in 1995 the first genre writer to receive a MacArthur Fellowship. As regards her fiction, I'd suggest the Xenogenesis series shows her at her very best but anything by her is both good and challenging. I'm pleased to note that iBooks and Kindle have everything of hers available. (Died 2006.)
Born June 22, 1949 — Edward M Lerner, 74. I'm here today to praise the Ringworld prequels that he co-wrote with Niven, collectively known as Fleet of Worlds which ran to five volumes. Unlike the Ringworld sequels which were terribly uneven, these were well written and great to read. I've not read anything else by him
Born June 22, 1949 — Meryl Streep, 74. She'd make the Birthday list just for being Madeline Ashton in Death Becomes Her and her epic battle there with Goldie Hawn. She's the voice of Blue Ameche in A.I. Artificial Intelligence, and a very real Aunt Josephine in Lemony Snicket's A Series of Unfortunate Events. She's the voice of Felicity Fox in Fantastic Mr. Fox, based off the on Dahl's 1970 children's novel. She voices Jennie in a short that bring Maurice Sendak's dog to life, Higglety Pigglety Pop! or There Must Be More to Life. She's The Witch in Into The Woods. I think that is it.
Born June 22, 1953 — Cyndi Lauper, 70. Ok I'm officially old as I'm thinking of her as always young. Genre-wise, she played a psychic, Avalon Harmonia, on the Bones series. She also has one-offs in series as diverse as The Super Mario Bros. Super Show!, Shelley Duvall's Mother Goose Rock 'n' Rhyme and Happily Ever After: Fairy Tales for Every Child. She also has a dramatic acting credit, Jenny (Ginny Jenny/Low-Dive Jenny) in Bertolt Brecht's The Threepenny Opera.
Born June 22, 1958 — Bruce Campbell, 65. Where to start? Well let's note that Kage loved him so I've linked to her review of Jack of All Trades. I personally like just as much The Adventures of Brisco County, Jr. and think it's well worth checking out. I think his work as Ash Williams in the Evil Dead franchise can be both brilliant and godawful, often in the same film. The series spawned off of it is rather good. Oh and for popcorn reading, check out If Chins Could Kill: Confessions of a B Movie Actor, his autobiography.
Born June 22, 1973 — Ian Tregillis, 50. He is the author of the Milkweed Triptych trilogy which is frelling brilliant. He's contributed three stories to Max Gladstone's The Witch Who Came in From the Cold, a rather good serial fiction narrative (if that's the proper term), and he's got another series, The Alchemy Wars, I haven't checked out. He's also a contributor to George R. R. Martin's Wild Cards series which I'm beginning to suspect everyone has been involved in.
(9) OCTOTHORPE. Episode 86 of the Octothorpe podcast is "The Joy of Hemispheres".
John Coxon can do one, Alison Scott don't like cricket, and Liz Batty will never get to bed. We discuss Chengdu and the Hugo Awards, new COVID ventilation advice, Seattle in 2025, Pemmi-Con, Glasgow 2024, the Clarke Award, the UK Games Expo, Ben Aaronovitch and cricket. Phew!
(10) HEY, IT COULD HAPPEN. "Star Trek: Strange New Worlds Season 2 Theory: Is Pelia Actually Simka from Taxi?" wonders Slashfilm. Danielle Ryan presents the evidence. Beware spoilers.
The U.S.S. Enterprise has a new face in "Star Trek: Strange New Worlds" season 2, but the actor who plays her is pretty familiar to film and TV fans. Carol Kane has starred in everything from "The Princess Bride" to "The Unbreakable Kimmy Schmidt," but one of her earliest roles seems to have found its way into the DNA of her "Star Trek" character, Chief Engineer Pelia.

…At the end of the first season, Chief Engineer Hemmer (Bruce Horak) died heroically while fighting the Gorn, and now Pelia is going to step into his shoes. The mysterious Pelia is a Lanthanite, a member of an alien species new to "Star Trek" lore that seems to bear some similarities with the El-Aurians. (The most well-known El-Aurian is Guinan (Whoopi Goldberg) from "Star Trek: The Next Generation.") Both appear to look just like humans and are extremely long-lived, though whether or not the Lanthanites have psychic abilities is yet to be seen. If Pelia's actions in the premiere are any indication, they just might be. She's either psychic or incredibly observant, because she's on the ball. In the season 2 premiere of "Star Trek: Strange New Worlds," we get to learn a little bit about her, and she reminds me of Simka Dahblitz-Gravas, Kane's character from the 1980's sitcom series, "Taxi."…
(11) BRADBURY RARITY OFFERED. A Bradbury first edition autographed to oldtime LASFS member R.A.Hoffman. On eBay: "Dark Carnival – Signed Presentation Copy From Ray Bradbury In 1947 First Edition".
BRADBURY, RAY. Dark Carnival. Sauk City, WI: Arkham House, 1947. First Edition of the Author's First Book. Signed and inscribed by Ray Bradbury. The inscription reads (in upper case): "For Bob Hoffman, With fond remembrances of many pleasant evenings of Prokofieff, Gliere, Rozsa and others – and the old days of record making – With all my best from your friend, Ray Bradbury May 29, 1947." The book is in near fine condition with the barest hint of edge wear, a trace of rubbing to the gilt stamping at the spine with all letters legible and present, and with faint dusting at page edges in a very good bright dust jacket some light soiling to rear panel, thin lines of foxing to the tops and folds of the flaps, and the usual light wear to the edges as this jacket was too large for the book, and some minor wear to the top and bottom edges of the spine. Enclosed in a custom black clamshell box. Presentation copies contemporary with publication and to personal friends are very rare. R.A. Hoffman was the "Art editor" and one of the founders of the magazine – 'The Acolyte'. He was a member of the Clifton's Cafe where the LASFAS group would gather (Ray Bradbury, Ray Harryhausen, Roy Squires, Robert Heinlein, and 'the other RAH as Rah liked to quip). Although not scarce signed, a true presentation copy [at the time of publication] is indeed scarce! William F. Nolan – author of 'The Bradbury Companion' has noted that the book was released "October, 1947." Perhaps to the general public it was; this copy is one of the earliest known inscriptions dated by the author, "May 29, 1947." An attractive copy.
(12) DCEU IMMURED? [Item by Mike Kennedy.] The Hollywood Reporter has what seems to be a scathing story about the DC Extended Universe movies in its latest digital issue. The article is firmly entrenched behind a paywall, though you can read a small excerpt at the link. It's unclear, of course, if the story itself is as negative as the headline, but said headline is pretty darn negative
(13) THAT'S DISTURBING. Gizmodo says, "Soon You Can, but Really Shouldn't, Pre-Order This Flame-Throwing Robodog".
…When Boston Dynamics finally started selling Spot, it's four-legged robot, it came with one stipulation: users couldn't use it to harm people. But while the creators of the Thermonator aren't actively promoting it as a weapon, you don't want to be within 30 feet of a flamethrower strapped to the back of a robodog….
(14) MIXED UNBLESSING. [Item by SF Concatenation's Jonathan Cowie.] God, I simply enjoy the end of the world… but only if it is firmly SF. As an environmental scientist, I've seen the writing on the wall for over half a century…  So this week's Nature editorial is something of a curate's egg.
The world's plan to make humanity sustainable is failing. Science can do more to save it

There is no planet B, and the UN's Sustainable Development Goals are heading for the rocks. Researchers around the world must do their bit to change that….
The key, bottom line message is…
Implicit — and to a degree explicit — in all this is changing how science itself is done. The report [from UN science advisors] argues that the actions that steer the world towards a sustainable path must be rooted in science that is multidisciplinary, equitable and inclusive, openly shared and widely trusted, and "socially robust" — in short, responsive to social context and social needs. As the authors acknowledge, for that to happen, global science needs to evolve. Knowledge needs to be more accessible than it is at present, and the production of that knowledge needs to be more open, too, recognizing, for example, the value of Indigenous and local knowledge to sustainable innovation.
Hard to argue with that… but with war-mongering and partisan political leaders wanting to put their country first, good science may not be enough. (Just saying.)
[Thanks to Andrew Porter, John King Tarpinian, Chris Barkley, Bruce D. Arthurs, John Coxon, Michael Toman, Cat Eldridge, SF Concatenation's Jonathan Cowie, and Mike Kennedy for some of these stories. Title credit belongs to File 770 contributing editor of the day Jake.]