(1) KINDRED CANCELED. Can the news get any worse? The Hollywood Reporter tells us "'Kindred' Canceled at FX". The drama was based on Octavia E. Butler's 1979 novel about a young Black woman who is pulled back and forth in time.
Sources tell The Hollywood Reporter that the Disney-backed basic-cable network has canceled the drama based on Octavia E. Butler's 1979 novel about a young Black woman who is pulled back and forth in time. Showrunner Branden Jacobs-Jenkins (Watchmen) is expected to shop the drama from FX Productions as he envisioned a multiple-season run for the series.

Reps for FX declined to comment.

Kindred debuted Dec. 13, launching all eight episodes of the drama that starred Mallori Johnson as an L.A. woman who is pulled back in time to the 19th century South.

…The drama, which streamed exclusively on Hulu, currently has a 70 percent score among critics on Rotten Tomatoes and a 51 percent rating among viewers. In his review, THR chief TV critic Daniel Fienberg said Kindred was "often effective, but key choices aren't clicking." (Hulu does not release traditional viewership data.)…
(2) FUTURE TENSE. The January 2023 entry in the Future Tense Fiction series, "Bigfeet" by Torie Bosch, is a story on "de-extincting a creature that (probably) never existed" — about a rogue effort to genetically engineer Bigfoot.
It was published along with a response essay, "De-extinction and conservation: When introducing a new species goes wrong" by conservation researcher Challie Facemire.
… This fictional scenario has many real-world counterparts: In the 1920s, sport hunters released a dozen mountain goats on the Olympic Peninsula in western Washington state—the same region where some of the story's Bigfeet are set loose. Like the Bigfeet, the mountain goat population grew out of control quickly. The goats have caused problems since, from eating sparse alpine plants to trying to lick salt off hikers' clothes and gear—salt deposits don't occur naturally in the peninsula, but the goats need it in their diet. As a result, federal and state land managers were forced to carefully devise a multiyear plan to relocate or extirpate the goats (including lifting some by helicopter to more suitable habitats)….
(3) KGB. Fantastic Fiction at KGB reading series hosts Ellen Datlow and Matthew Kressel present Jeffrey Ford and Marie Vibbert in person at the KGB Bar on Feburary 8, beginning at 7:00 Eastern.
Jeffrey Ford
Jeffrey Ford is a New York Times Notable author for his novel The Physiognomy. In addition, his eleven novels and eight collections of stories have garnered multiple genre awards. His short stories have appeared in a myriad of venues within the SFF/H genres and beyond, He has new stories coming out this year from Tor.com, Asimov's, and a couple of anthologies. He is recently retired from 40 plus years teaching literature and writing. He lives somewhere out in Ohio in a hundred-and twenty-year-old farmhouse with his wife and seven cats, four dogs, and a turtle.
Marie Vibbert
Marie Vibbert is the Hugo-longlisted author of over 80 short stories, translated into four languages, as well as three novels, some poems, comics, and video games. Her first novel, Galactic Hellcats, was longlisted for the BSFA in 2021. Her latest novel is The Gods Awoke.
Where: KGB Bar, 85 East 4th Street, New York, NY 10003 (Just off 2nd Ave, upstairs). When: February 8th, 2023, 7:00 p.m. Eastern.
(4) MONTELEONE INTERVIEW RESURFACES. Hatchet Mouth Episode 158 "Facebook has AIDS w/ Tom Monteleone" seems to have reappeared if you haven't heard enough toxicity yet today. It includes the insulting anecdotes referenced in yesterday's Scroll.
(5) HARPERCOLLINS STRIKE. Literary Hub shares "Why I'm Still on Strike: Portraits from the HarperCollins Picket Line".
…As the only union in the Big 5, we are in the unique position to push the needle forward for all publishing, not just HarperCollins—a weight and opportunity that isn't lost on any of us. You can feel it in our picket line chants, in our weekly membership meetings, in our Slack conversations. It's palpable—the outcome of this strike will determine if hundreds of brilliant workers will leave publishing forever, or if people will finally be able to see a future for themselves in an industry desperately in need of change.

We're on Day 58 of the strike, with no idea of how much longer this will stretch on. I admit it: I'm terrified and exhausted. I also have never believed in our mission more….
(6) HAUNTED HOUSES IN SPACE. [Item by Ben Bird Person.] YouTuber Romancing the Gothic posted this video exploring "Haunted Houses in Space" through the films Solaris, Alien, and Event Horizon.
(7) JEOPARDY! Andrew Porter was pleased to see tonight's episode of Jeopardy! had an entire category, "Sci-Fi and Fantasy". Some of the entries were too tough for the contestants.
Answer: This Joe Haldeman classic tells of William Mandella, who fights the interstellar Taurans for a really long time.

No one could ask, "What is 'The Forever War'?"

Answer: A "Star Trek" homage, this colorful John Scalzi title refers to clothing soon-to-die crew members wear.

Wrong question: "What is a red shirt?"

Right question: "What are the red shirts?"
Rich Lynch, who also was watching, adds that "One of the clues was a head shot of GRRM."
(8) MEMORY LANE.
1948 — [Compiled by Cat Eldridge.]
In tonight's Scroll, we debut a new essay series which is First Paragraphs. To start this off, we have the beginning of the Lensmen series by E.E. " Doc" Smith which was chosen by Mike Glyer who says, "First paragraphs — it's actually the first line of E. E. 'Doc' Smith's Triplanetary: A Tale of Cosmic Adventure that I love the most. It really sets the tone for what he turned into a six-book saga."
The magazine version of Triplanetary appeared in 1934 and only later was turned into a fix-up novel, a prequel that begins the series. Four of the Lensmen series as this would known as would be nominated for Retro Hugos though this was not one of them.
The entire series is available for free from the usual suspects. And, I kid you not at all, there are eleven different audio recordings of Triplanetary.
Two thousand million or so years ago two galaxies were colliding; or, rather, were passing through each other. A couple of hundreds of millions of years either way do not matter, since at least that much time was required for the inter-passage. At about that same time—within the same plus-or-minus ten percent margin of error, it is believed—practically all of the suns of both those galaxies became possessed of planets.
(9) TODAY'S BIRTHDAYS.
[Compiled by Cat Eldridge.]
Born January 31, 1923 — Norman Mailer. I never knew he wrote in the genre but he did. Ancient Evenings certainly has the elements of fantasy and The Castle in the Forest is interesting retelling of Adolf Hitler and his last days. (Died 2007.)
Born January 31, 1937 — Philip Glass, 86. 1000 Airplanes on the Roof: A Science Fiction Music-Drama, Einstein on the Beach, The Making of the Representative for Planet 8 (with a libretto by Doris Lessing based on her novel of the same name), The marriages between zones three, four, and five (1997, libretto by Doris Lessing, after her second novel from Canopus in Argos), The Witches of Venice and The Juniper Tree would be a fragmentary listing of his works that have a genre bias.
Born January 31, 1947 — Jonathan Banks, 76. First genre role was as Deputy Brent in Gremlins, a film I adore. In the same year, he's a Lizardo Hospital Guard in another film I adore, The Adventures of Buckaroo Banzai Across the 8th Dimension. Ahhh, a good year indeed. Next I see him playing Michelette in Freejack, another better than merely good sf film. The last thing I see him doing film wise is voicing Rick Dicker in the fairly recent Incredibles 2. Series wise and these are just my highlights, I've got him on Star Trek: Deep Space Nine as Shel-la in the "Battle Lines" episode, in Highlander: The Series as Mako in the "Under Colour of Authority" episode and as Kommander Nuveen Kroll in short lived Otherworld series. In SeaQuest 2032 also had for two episodes as Maximillian Scully.
Born January 31, 1960 — Grant Morrison, 63. If you can find it, their early stuff on such U.K. publishers as Galaxy Media and Harrier Comics is worth searching out. Not your hero in tights materials at all. For their work in that venue, I'd recommend his run on The Resurrection of Ra's al Ghul, all of his Doom Patrol work (and the HBO series is based on their work and is quite spectacular), Seven Soldiers and The Multiversity which is spectacularly weird.
Born January 31, 1962 — Will McIntosh, 61. Best known for the dozens of short stories he's written that have been published in magazines including Asimov's, Interzone, Lightspeed and Strange Horizons. He won a Hugo for his short story "Bridesicle" at Aussiecon 4.
Born January 31, 1973 — Portia de Rossi, 50. She first shows up as Giddy in Sirens which would I'd stretching things to even include as genre adjacent but which is definitely worth watching. For SFF roles, she was in Catholic Church tinged horror film Stigmata, musical Zombie comedy Dead & Breakfast and werewolf horror Cursed. She was Lily Munster in the delightfully weird Mockingbird Lane pilot that never went to series.
Born January 31, 1977 — Kerry Washington, 46. Alicia Masters in Fantastic Four and Fantastic Four: Rise of the Silver Surfer. Also played Medical Officer Marissa Brau in 30,000 Leagues Under the Sea. She voices Natalie Certain in Care 3. She also voices Princess Shuri in a short run Black Panther series.
(10) COMICS SECTION.
(11) WORD POWER. The Hugo Book Club Blog reviews R. F. Kuang's Babel in "All Words In All Languages Are Metaphors".
…This is a novel that uses the form of Regency-era historical fantasy to tackle themes of social justice that are at the forefront of today's cultural vanguard in science fiction and fantasy. In short, it uses the cultural precepts of England at the peak of its colonial power to disclose and critique the social impacts of those systems.

It's worth noting that although many American authors have attempted to mimic the style of period British prose, the vast majority have failed, often sounding affected, or pompous, or leaden. But instead of clumsy pastiche, Babel feels like a fantasy that William Makepeace Thackeray might have written. Kuang evokes era-appropriate ambiance and regionally-believable prose and dialogue so skillfully that we double-checked to see if she was born and raised in Hertfordshire or Dorset. (We strongly encourage everyone to read the "Author's Note on Her Representations of Historical England, and of the University of Oxford in Particular," which precedes the text of the novel.) It is especially gratifying that a book that is deeply concerned with language as a concept uses it so skillfully….
(12) MARVEL'S THIRD ANNUAL X-MEN ELECTION STARTS TODAY. Make your mutant voice heard! For the third consecutive year, Marvel is putting the fate of the X-Men in the hands of fans The 2023 X-Men election will run from Tuesday, January 31 until Friday, February 3. Participants can vote now at marvel.com/xmenvote. The results, along with the full new X-Men team, will be unveiled during the Hellfire Gala in Marvel comics this July.
For three years, the X-Men election has given True Believers everywhere the opportunity to determine the newest protector of Krakoa. In 2021, Polaris won the first-ever election and was featured in Gerry Duggan and Pepe Larraz's X-MEN. And in 2022, fan-favorite Firestar was chosen to become the newest member of the X-Men, where she then took on a starring role in Duggan's second year of X-MEN, with artists C.F. Villa and Joshua Cassara.

Once again, several nominations have been accepted to determine the final member of the new X-team. Only one vote is allowed per person, so read about the nominees below and choose wisely!

2023 X-Men Ballot Nominations:

CANNONBALL: One of the original "New Mutants," the second class of students in the Xavier School, Sam Guthrie has come a long way. His ability to transform into a human cannonball, propelling himself with great force at high speeds while making himself "nigh invulnerable" has taken him from an awkward lanky teen to a married father who is both a former X-Man and Avenger! Why not rocket him to the front lines again?

DAZZLER: Dazzler first made it to the scene as a pop star, using her secret mutant power to transform sound into light as part of her stage show. Becoming a hero and joining the X-Men never dimmed her star-power, even as she learned to use her ability to dazzle as an offensive weapon. Since then, she's been a S.H.I.E.L.D. agent, a freedom fighter, mother to a time paradox, and a vampire hunter. Isn't it time for Alison Blaire to reclaim center stage?

FRENZY: Superhuman strength, speed, stamina, agility, reflexes and durability have made Joanna Cargill a formidable opponent to any who crosses her. From her early days opposed to the X-Men as a member of Apocalypse's Alliance of Evil, her time as one of Magneto's Acolytes, and Mister Sinister's Marauders, to her time on the side of good with the Jean Grey School, and eventually as an intergalactic ambassador with S.W.O.R.D., Frenzy has what it takes to tackle anything!

JUBILEE: Having joined the X-Men as a teenaged runaway, Jubilation Lee had been shooting explosive fireworks out of her hands into the face of evil for many years when she lost her powers in M-Day. Even so, that didn't stop her from fighting for what's right—first as a New Warrior using a power suit, and later as a vampire, going against every monstrous urge that came with that transformation. Cured of that curse and with her mutant powers returned, Jubilee deserves to reclaim her spot on the X-team!

JUGGERNAUT: The non-mutant stepbrother of Professor X, Cain Marko long ago claimed the gem of the ancient "god" Cyttorak, transforming him into the unstoppable brute known as Juggernaut. For many years he was a thorn in the X-Men's side, frequently rampaging through their lives leaving wreckage behind. More recently, however, Cain has shaken off the evil influence of his dark master, claiming the power of Juggernaut under his own terms and making amends for his past deeds.

PRODIGY: Prodigy possesses the power of psychomimetry—a form of telepathy that grants him the skills and knowledge of those in his proximity. This allows him equal mastery of any skill—mental or physical—as those around him. His ability to retain knowledge from those sources makes him an even more formidable mutant – one who is brilliant at biology, computers, martial arts, and strategic planning. David Alleyne may borrow from others, but he is one of a kind.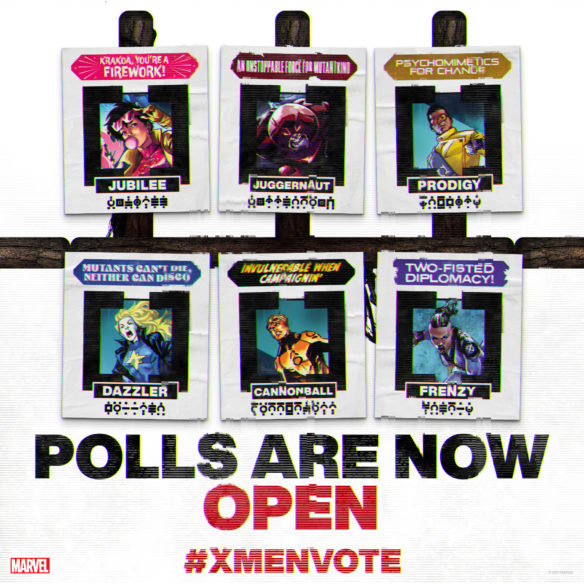 (13) PLEISTOCENE PARK. [Item by Mike Kennedy.] A Dallas-based company believes it's well on its way to resurrecting the woolly mammoth. They've targeting 2027 to re-introduce this "cold-resistant elephant" in Siberia. Or, well, maybe somewhere else given the current political situation. "Woolly Mammoth Coming Back to Life by 2027: De-Extinction Details".
…The woolly mammoth's DNA is a 99.6 percent match of the Asian elephant, which leads Colossal to believe it's well on its way toward achieving its goal. "In the minds of many, this creature is gone forever," the company says. "But not in the minds of our scientists, nor the labs of our company. We're already in the process of the de-extinction of the Woolly Mammoth. Our teams have collected viable DNA samples and are editing the genes that will allow this wonderful megafauna to once again thunder through the Arctic."

Through gene editing, Colossal scientists will eventually create an embryo of a woolly mammoth. They will place the embryo in an African elephant to take advantage of its size and allow it to give birth to the new woolly mammoth. The eventual goal is to then repopulate parts of the Arctic with the new woolly mammoth and strengthen local plant life with the migration patterns and dietary habits of the beast….
(14) STEAM THEME. "New Universal Citywalk LA Restaurant Goes Full Steampunk Willy Wonka" reports Eater – LA.
Fresh off the buzz from the Super Mario Brothers-themed Toadstool Cafe, Universal CityWalk opens a new and immersive dining restaurant called Toothsome Chocolate Emporium & Savory Feast Kitchen on Friday, January 27. This new spot took over the former Hard Rock Cafe and feels very much like a merger of steampunk industrialism cobbled together with the Cheesecake Factory — and sprinkled with plenty of Willy Wonka vibes to boot.

This isn't a new concept for Toothsome Chocolate Emporium, since there are locations in both Orlando and Beijing, but it is new for Los Angeles. The entire full-service space, complete with a bar area and multi-level dining room, runs with its bigger-than-life theme to extremes and even offers an extensive backstory involving two live dolled-up characters named Penelope and Jacques that'll rove throughout the eatery to interact with the guests….
(15) ON THE WAY FROM DC. In this video James Gunn shares his vision for the future of the DC Universe and the upcoming slate from DC Studios. "Chapter 1 – Gods and Monsters".
[Thanks to Andrew Porter, Michael Toman, Cat Eldridge, N., Rich Lynch, Olav Rokne, Ben Bird Person, Mike Kennedy, John King Tarpinian, and Chris Barkley for some of these stories. Title credit belongs to File 770 contributing editor of the day Daniel Dern.]