Today I drove to Ventura to play Risk with my brother, one of his sons, and his grandson. (The son won, I finished third.) There are Scrolls that have been published even later than this one, if you can believe that!
(1) DON'T CALL IT QUIDDITCH ANYMORE. [Item by Martin Morse Wooster.] Jo Yurcaba, in the NBC News story "Quidditch Changes Its Name To Distance Itself From Harry Potter Author J.K. Rowling" says that the International Quidditch Association is officially changing its name to "quadball" because they don't like J.K. Rowling and because of IP issues with Warner Bros. over the name "quidditch."
(2) TONOPAH WESTERCON MAKES THE NEWS. [Item by Kevin Standlee.] Westercon 74 got a nice write-up that will appear in this week's edition of the Tonopah Times-Bonanza & Goldfield News, the town's weekly newspaper: "How tiny Tonopah beat out Phoenix to host the Westercon sci-fi convention". I had a nice conversation with a stringer for the newspaper during Westercon 74 and I showed her around the convention and explained what our convention was about and how we ended up holding it in such an unlikely place as Tonopah. It appears that "punching above our weight" and being selected over a more traditional bid and site like Phoenix impressed them.
The initial version published online had some misspellings and misidentified where next year's Westercon will be, but we wrote to them pointing them out, and the editor made the corrections online right away and told us that the print edition going out tomorrow will have the correct version.
(3) RECORDED ON AN EARLIER THRONE. House of the Dragon's official trailer dropped today. It's based on George R.R. Martin's book Fire & Blood,
(4) MEDIEVAL FANTASY. The Getty Museum in Los Angeles invites you to acquire a book that will let you "Take a Journey Through Imaginary Medieval Worlds with Fantasy of the Middle Ages". It's being published to accompany an exhibit that is running through September 11.
This abundantly illustrated book is an illuminating exploration of the impact of medieval imagery on three hundred years of visual culture. From the soaring castles of Sleeping Beauty to the bloody battles of Game of Thrones, from Middle-earth in The Lord of the Rings to mythical beasts in Dungeons & Dragons, and from Medieval Times to the Renaissance Faire, the Middle Ages have inspired artists, playwrights, filmmakers, gamers, and writers for centuries. Indeed, no other historical era has captured the imaginations of so many creators. This volume aims to uncover the many reasons why the Middle Ages have proven so applicable to a variety of modern moments from the eighteenth through the twenty-first century. These "medieval" worlds are often the perfect ground for exploring contemporary cultural concerns and anxieties, saying much more about the time and place in which they were created than they do about the actual conditions of the medieval period. With over 140 color illustrations, from sources ranging from thirteenth-century illuminated manuscripts to contemporary films and video games, and a preface by Game of Thrones costume designer Michele Clapton, The Fantasy of the Middle Ages will surprise and delight both enthusiasts and scholars. This title is published to accompany an exhibition on view at the J. Paul Getty Museum at the Getty Center from June 21 to September 11, 2022.
(5) PIECES OF EIGHT. Octothorpe episode 62 is available to listeners: "Do You Want to Talk About Lesbians?"
John has superpowers, Alison is an alien in a human suit, and Liz likes cats. We've read all six Hugo Award finalists for Best Novel, and we chat about each of them before we discuss our consensus picks. Art by Sue Mason. Listen here!
(6) MEMORY LANE.
1992 – [By Cat Eldridge.] No, it didn't premiere on this day, this is just a fan letter to one of my favorite series. Nightmare Cafe, all six episodes of it, ran from January to April 1992. I caught it on NBC and loved the premise of waterfront cafe that gives its staff missions. The premise is Frank Nolan and Fay Peronivic find themselves in an all-night diner following a brush with death which was actually fatal and have been brought back to life by the diner. Frank and Fay are given the opportunity to fix what went wrong the first time, and after that works, they will stay on as the diner's new staff.
So have the mysterious proprietor Blackie played by Robert Englund which we all know from Freddy Krueger in the Nightmare on Elm Street film franchise. Is Blackie generated by the Cafe? Possibly.
The other two characters are as Frank Nolan as played by Jack Coleman and Fay Peronivic as played by Lindsay Frost. They weren't really as well fleshed out as Blackie, but that's not surprising.
The setting is great as it's a diner on the waterfront. The cafe is sentient and has a sense of humor, at one point locking Blackie out until he apologies to the Cafe. And the Cafe picks their missions as I noted above.
I thought it looked like a real diner and indeed it was built with a ceiling, unusual for television at the time where filming often was done from above, and each of the booths was given an authentic feel with its own table jukebox which had been rented from a private collector.
It only lasted six wonderful episodes. The network claims it was cancelled because of poor ratings but really is six episodes enough to say how any series is going to do? I think not.
Nightmare Cafe is not available for streaming, nor is it available for purchase.
Usual caveat: please don't link to online copies of the episodes as they are pirated. We will just remove your post. Really we will.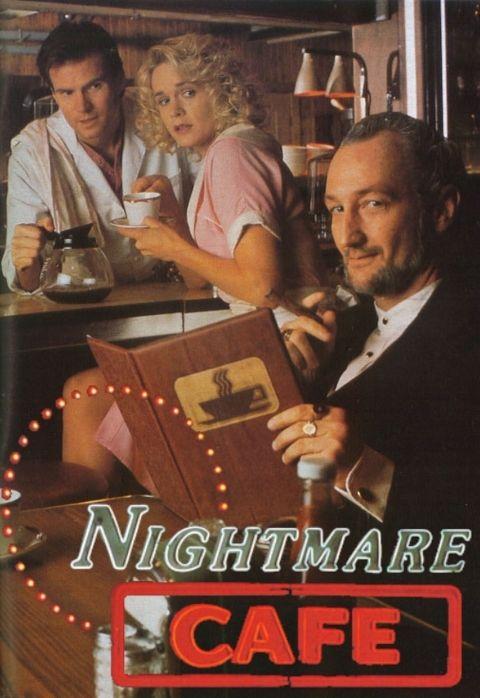 (7) TODAY'S BIRTHDAYS.
[Compiled by Cat Eldridge.]
Born July 20, 1924 — Lola Albright. Though she's best remembered best known for playing the sultry singer Edie Hart, the girlfriend of private eye Peter Gunn, she did do some genre performances. She's Cathy Barrett, one of the leads in the Fifties film The Monolith Monsters, and television was her home in the Fifties and Sixties. She was on Tales of Tomorrow as Carol Williams in the "The Miraculous Serum" episode, Nancy Metcalfe on Rocket Squad in "The System" episode, repeated appearances on the various Alfred Hitchcock series, and even on The Man from U.N.C.L.E. in the episodes released as the feature length film The Helicopter Spies. She was Azalea. (Died 2017.)
Born July 20, 1930 — Sally Ann Howes. Best remembered as being Truly Scrumptious on Chitty Chitty Bang Bang. She was nominated for the Tony Award for Best Lead Actress in a Musical for her performance in Brigadoon. And I'll note her playing Anna Leonowens In The King & I as Ricardo Montalbán played the lead role as that's genre as well. (Died 2021.)
Born July 20, 1931 — Donald Moffitt. Author under the pseudonym of Paul Kenyon of the Baroness thriller series with such pulp titles as Sonic Slave, somewhat akin to Bond and Blaise. Great popcorn literature. Some SF, two in his Mechanical Skyseries, Crescent in the Sky and A Gathering of Stars, another two in his Genesis Quest series, Genesis Quest and Second Genesis, plus several one-offs. The usual suspects have pretty much have everything he did. (Died 2014.)
Born July 20, 1938 — Diana Rigg, née Dame Enid Diana Elizabeth Rigg. Emma Peel of course in The Avengers beside Patrick Macnee as John Steed. Best pairing ever. Played Sonya Winter in The Assassination Bureau followed by being Contessa Teresa "Tracy" Draco di Vicenzo Bond on On Her Majesty's Secret Service. By the Eighties, she's doing lighter fare such as being Lady Holiday in The Great Muppet Caper and Miss Hardbroom in The Worst Witch, not to mention The Evil Queen, Snow White's evil stepmother in Snow White. Next she would get a meaty role in Game of Thrones when she was Olenna Tyrell. Oh, and she showed up in Dr. Who during the Era of the Eleventh Doctor as as Mrs. Winifred Gillyflower in the "The Crimson Horror" episode. (Died 2020.)
Born July 20, 1949 — Guy H. Lillian III, 73. Fanzine publisher notable for having been twice nominated for a Hugo Award as best fan writer and having been nominated twelve straight times without winning for the Hugo for best fanzine for his Challenger zine. As a well-known fan of Green Lantern, Lillian's name was tuckerized for the title's 1968 debut character Guy Gardner.
Born July 20, 1959 — Martha Soukup, 63. The 1994 short film Override, directed by Danny Glover, was based on her short story "Over the Long Haul". It was his directorial debut. She has two collections, Collections Rosemary's Brain: And Other Tales of Wonder and The Arbitrary Placement of Walls, both published in the Nineties. She won a Nebula Award for Best Short Story for "A Defense of the Social Contracts". "The Story So Far" by her is available as the download sample at the usual suspects in Schimel's Things Invisible to See anthology if you'd liked to see how she is as a writer.
Born July 20, 1977 — Penny Vital, 45. Uncredited role as Old Town Girl in Sin City, Sox in Zombie Strippers (which also stars Robert Englund and Jenna Jameson), Astrid in the very short lived Star Chicks series, Sabula in Monarch of the Moon and Annette DeFour in the Dreamkiller shooterwhich I think is genre.
(8) COMICS SECTION.
Six Chix brings radical monster diet news.
(9) MARVEL'S SHADY MATH. [Item by Olav Rokne.] If you ever wondered if the Marvel Cinematic Universe is a faithful adaptation of the source material, they're even going so far as to copy some of the comic book company's shady underpayment of comic book creators. As documented in the Hollywood Reporter, they're using disingenuous logic and weird math to weasel out of contracts just like iconic Marvel editor Stan Lee was famous for doing. "Marvel Movie Math: Comic Creators Claim It's 'Bait and Switch'" in The Hollywood Reporter.
In July 2021, Scarlett Johansson stunned Hollywood with a lawsuit accusing Disney of breach of contract for sending Black Widow day-and-date to Disney+, a move her lawyers said diminished its box office (and the star's backend compensation). As that legal battle stretched into the summer, two other Black Widow stakeholders were quietly seeking what they believed they were owed. The comic book creators behind Yelena Belova, the character played by Florence Pugh, spent months in a back-and-forth with Marvel to receive payment for her appearance in the film.

Writer Devin Grayson and artist J.G. Jones believed they would take home $25,000 each for her appearance in Black Widow thanks to paperwork they signed outlining how much they would receive for films, TV shows, video games and action figures featuring Yelena. But when Grayson and Jones, who created Yelena in 1999, eventually received payment in November, that $25,000 dwindled to about $5,000 without explanation.
(10) GENTLEMEN, BE SEATED. David Grigg and Perry Middlemiss, in episode 77 of Two Chairs Talking, wander through "A Forest Of Hugo Awards".
David and Perry complete their review of all of the fiction nominated for this year's Hugo Awards by discussing the Best Novel category. Then Perry and Lucy Sussex investigate the controversy around the novel which was withdrawn from this year's Miles Franklin Award.
(11) THE GRAVEYARD BOOK. "Disney is set to rescue another Neil Gaiman project from development hell" reports MSN.com.
Released in the autumn of 2008, The Graveyard Book has been a huge success for Gaiman. It won both the British Carnegie Medal and the American Newbery Medal – both of which recognized the year's best children's books – as well as the annual Hugo Award for Best Novel from the World Science Fiction Convention….
(12) PUPPETS BEHAVING BADLY? Puppet Up! – Uncensored will be doing shows in LA in August. More videos at this link.
Puppet Up! – Uncensored is a night of outrageous, off-the-cuff comedy…

…featuring 80 of the Miskreant puppets brought to life by a cast of world-class comedian puppeteers from The Jim Henson Company. Created by legendary puppeteer and award-winning director Brian Henson and directed by Patrick Bristow (Ellen, Seinfeld, Curb Your Enthusiasm, Whose Line Is It Anyway?), Puppet Up! – Uncensored is never the same show twice.

Based on suggestions from the audience, Patrick and his team of expert puppeteers create a hilarious two-shows-in-one: the improvised puppet action projected live on screens above the stage, with the puppeteers racing around below in full view of the audience. The show also features recreations of classic pieces originally created by Jim and Jane Henson, and Frank Oz that haven't been seen by live audiences in decades.
(13) VIDEO OF THE DAY. [Item by Martin Morse Wooster.] Adam Savage's Tested sends a reporter (not Adam Savage) to San Francisco's Bricks By The Bay convention to interview someone who has made an Airbus A380 (the world's largest airplane) out of Legos.)
[Thanks to Mike Kennedy, Martin Morse Wooster, JJ, Daniel Dern, Kevin Standlee, John King Tarpinian, Andrew Porter, Chris Barkley, Michael Toman, and Cat Eldridge for some of these stories. Title credit belongs to File 770 contributing editor of the day Daniel Dern.]