(1) CLARION WEST OCTOBER CLASSES. Clarion West is offering three more months of classes. See the full schedule here. Below are the October offerings — click the links for tuition cost and to register.
This class will discuss the history and traditions of the genre, give tips on how to update those traditions in your writing while maintaining a timeless tone, and provide suggestions on creating a modern Southern Gothic atmosphere in your writing. Students will gain a clearer understanding of the genre and its archetypes, as well as be given tools to more readily generate ideas on how to incorporate recognizable traditions of the genre into modern work.

This class is geared toward writers of long and short speculative fiction. As this is a course focusing on genre, it can be relevant to beginning, intermediate, or advanced writers unfamiliar with Southern Gothic and/or desirous of learning how to bring this genre up to date.
The Afro-Surreal is a storytelling approach allowing creators to examine Black contemporary life much more concisely than a traditional literary narrative by permitting that which is physically impossible or defies explanation. Despite Black-centered horror going mainstream, we have yet to see Afro-Surrealism incorporated widely to amplify aspects of psychological horror, weird fiction, traditional supernatural narratives, or splatterpunk. This workshop will define what constitutes Afro-Surrealism, which horror works have successfully employed it, and how to incorporate Afro-Surrealism in your writing while maintaining your own voice. Key aspects of plot, characterization, and action will be discussed, including: the overlap between the Afro-Surreal and the supernatural, dialogue and the disconnect between how marginalized and privileged people experience an interaction, the unreality of action since facts are frequently suppressed or denied when it comes to the Black experience.

Beginning, intermediate, and advanced authors can use this workshop to refine existing drafts or craft new material for future projects. Students will come away from the workshop equipped to adapt techniques developed by surrealists of the African diaspora for communicating bizarre, unreal experiences in their own horror-centric work.
Voice, Dialogue, and Characterization

Many non-Native writers are reticent to develop Native characters, but leaving out Indigenous characters is not an option, especially when writing science fiction, because it makes assumptions about the future. In the book Writing the Other, Nisi Shawl and Cynthia Ward give practical advice for how to write characters whose backgrounds differ from one's own. One of their most pertinent pieces of advice is to build relationships with people from those backgrounds. A good start to building a relationship with Indigenous folks is to study their texts.

In this three-hour class, we will discuss several Indigenous futurist texts with Indigenous characters in order to learn how to diversify our science fiction (or otherwise-genred) story in a good way.

Attendees will be provided with readings for class. Writing exercises and prompts will also be provided.

This class is geared toward beginning writers.
Creatives, writers especially, are entirely too familiar with burnout, even before 2020. Trying to get your work published, let alone make a living as an author, requires a volume of effort that can be crushing. 

In this workshop, we'll focus on regaining a sense of joy and delight in your writing, and generating ideas, characters, and settings that keep your joy front and center as you continue your journey.
How can we make the familiar scary? The aesthetics of a contemporary urban city doesn't quite have the spine-chilling factor of an ancient village shrouded in fog, but that doesn't mean there can't be plenty of scares in everyday life.

In this class, attendees explore how to design new tools to build horror written in contemporary settings that take us beyond expected traditional tropes. Five excerpts from five works of horror fiction, period and contemporary, ranging from Bulgakov's The Master and Margarita to N.K. Jemisin's The City We Became, will be analyzed and discussed, with the ultimate goal of understanding how these examples have gone against the grain in horror to create an original approach to a classic field. Based on these examples, students will propose their own premises and approaches to a non-traditional horror story or novel. In the second session, we will workshop those ideas, flesh them out, and exchange suggestions for improvement. Then students will write excerpts of their own premises. In the third session, we all evaluate how effective each excerpt is and how it can be improved.
How many words does it take to create true fear? There are many genres of horror that can exist in little spaces. In this workshop, attendees will learn how to create short and scary stories within the confines of micro and flash fiction (100-1,000 words). We'll study the similarities between comedy and horror in terms of timing, expectation, and subversion. We'll learn about wildcard characters, invented worlds, and pacing strategies to set up suspense. Throughout the workshop, we'll stay close to character and keep an eye on how turning points and climaxes are related to the specificity of voice, desire, and fear. By the end of this workshop, participants will have the beginnings of several new horror flash pieces based on in-class writing prompts, a worksheet for outlining a short horror piece, and resources and recommendations for further reading. 
If you've ever wanted to include the Tarot in your novel or short story without looking like a Fool, this class will teach you how to avoid common divinatory pitfalls. Learn why an all-Majors spread is statistically unlikely (and laughably overused), the basics behind each suit's themes, and why the Eight of Swords can be scarier than Death itself!

Alternatively, if you just want to use the Tarot to help you get unblocked in your own writing, this class can provide tips and tricks for that too. Tarot can also be used as a tool to help clarify plot arcs and themes in your writing. Iori and Vida will discuss finding (and breaking in!) the right deck, interpretation tips, and useful spreads and layouts. 
(2) INSPIRED MUSIC. And on October 9, the Bushwick Book Club Seattle presents original music inspired by Nnedi Okorafor's Akata Witch. This will be a hybrid in-person and livestreamed event. Get tickets here.
An evening of musicians and artists premiering new, original works inspired by the written word.

Story: For Sunny, twelve years old and albino, her arrival in Nigeria from America was shocking enough—until she discovers herself smack in the middle of a world of indescribable magic.
Themes: Self-discovery, friendship, tradition
Heads-up: Killer on the loose, racism (more at Book Trigger Warnings / Trigger Warning database)
(3) RITE GUD. Raquel S. Benedict's Rite Gud podcast discusses "Tragedy of the Creative Commons: Superheroes and Modern Mythology" in a new installment that dropped today.
Whenever a critic complains about the ubiquity or the creative emptiness of superhero narratives in contemporary pop culture, fans argue back that mass entertainment is just the modern incarnation of our rich cultural heritage: superheroes are mythology, and fandom is folklore. Is this true, or is this a way to flatten the complexities of traditional art while giving commercial media a spiritual significance it does not deserve?

Karlo Yeager Rodríguez joins us.
(4) LEFT BANK LOGROLLING. The New York Times covers a French literary kerfuffle: "In Paris, It's Literary Scandal Season Again".
The sidewalks of Paris were already strewn with fallen chestnuts by the time the literary season's first scandal finally broke.

Most Septembers, as French publishers release their most promising books and start jockeying for prizes, the world of letters is engulfed in the Left Bank's version of the Ultimate Fighting Championship.

This season had been unfolding smoothly — unnaturally, impossibly so, some literary observers quipped — until trouble hit the one big French literary prize known for its probity: the Goncourt, the 118-year-old standard-bearer of the French novel, whose laureates include Marcel Proust, Simone de Beauvoir and Marguerite Duras.

Things started when the Goncourt's 10 jurors gathered this month, over a lunch of roast duckling with cherries and bottles of Château Maucaillou 2015, to come up with their long list of contenders. The author of one book up for consideration happened to be the romantic partner of one of the jurors, Camille Laurens, a novelist and book reviewer at Le Monde. In fact, the book was dedicated to a certain "C.L."
Other French prizes are also known for their jurors' conflicts of interest.
…At the Renaudot and other big prizes, jurors openly lobby for books in which they have a personal or professional stake. Some judges are also editors at big publishing houses and advocate titles by their employers — or books they have themselves edited.

Before the changes at the Goncourt, it, too, was referred to by some critics as "the Goncourt mafia," recalled the jury's current president, Didier Decoin, who has been a juror since 1995.
(5) WRITING PROMO COPY. At Dream Foundry, Catherine Lundoff advises about "Words that Sell: Writing Marketing Copy for Your Novel".
…Some day, when we can have book tables at conventions again, it's very helpful to watch people when they pick up your books and read the back. That reaction can be magical or disappointing, but either way, it tells you when your copy grabs someone's attention. In the meantime, look at your reviews, particularly the ones from readers. If they are consistently "expecting something else," that may be a sign to review your marketing copy and ask writer friends to help you vet it.…
(6) THEY TURNED DOWN THE VOLUMES. The Pew Research Center can tell you "Who doesn't read books in America?"
Roughly a quarter of American adults (23%) say they haven't read a book in whole or in part in the past year, whether in print, electronic or audio form, according to a Pew Research Center survey of U.S. adults conducted Jan. 25-Feb. 8, 2021. Who are these non-book readers?

Several demographic traits are linked with not reading books, according to the survey. For instance, adults with a high school diploma or less are far more likely than those with a bachelor's or advanced degree to report not reading books in any format in the past year (39% vs. 11%). Adults with lower levels of educational attainment are also among the least likely to own smartphones, an increasingly common way for adults to read e-books….
More statistical cross-sections at the link.
(7) TOMMY KIRK (1941-2021). Best known as a young Disney star, actor Tommy Kirk died September 28 at the age of 79. His first venture for Disney was in the Mickey Mouse Club's genre-adjacent serial The Hardy Boys: The Mystery of the Applegate Treasure, and the studio later cast him in numerous sort-of-genre productions like The Shaggy Dog, Son of Flubber, The Absent Minded Professor, Babes in Toyland, Moon Pilot, The Misadventures of Merlin Jones and The Monkey's Uncle. He was also in several Sixties beach party movies, a couple of them sf-tinged — playing a Martian in the 1964 feature film Pajama Party, and in The Ghost in the Invisible Bikini. His other sff roles included the campy Village of the Giants, and Mars Needs Women. Late in his career he appeared in Attack of the 60 Foot Centerfold (1995), Billy Frankenstein (1998) and The Education of a Vampire (2001).
(8) MEDIA BIRTHDAY.
1988 – Thirty-three years ago on this date, Elvira, Mistress of the Dark premiered. It was directed by James Signorelli from a script by Sam Egan, John Paragon, and of course Cassandra Peterson who is as you know the person behind the impressive facade of Elvira, Mistress of the Dark. She's really the only cast that matters here as this is Her Vehicle. Critics liked it with one saying that it was "Campy, witty and always eager to push the bawdy limits of a PG-13 rating".
Unfortunately for Elvira, Mistress of the Dark at the box office the distributor went dramatically out of business without warning the day before it came out, so it would only ever appear on five hundred screens instead of the twenty-five hundred that was intended, so it ended up losing a lot of money despite only costing seven-and-a-half million to produce. (Her costume might be the most expensive thing in the film.) Audience reviewers at Rotten Tomatoes give it an excellent sixty-five percent rating.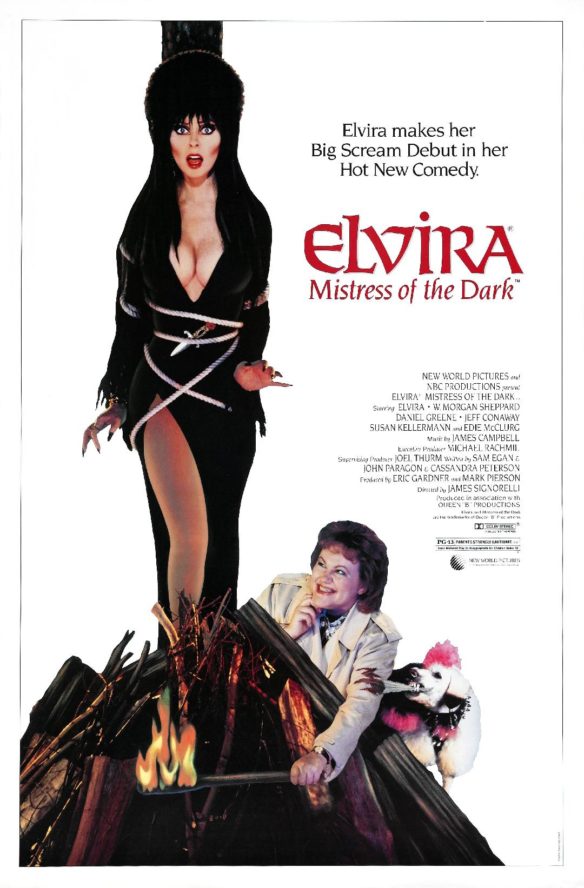 (9) TODAY'S BIRTHDAYS.
[Compiled by Cat Eldridge.]
Born September 30, 1932 — Antoinette Bower, 89. I'll start off with her being Sylvia in the classic Trek episode of "Catspaw" written by Robert Bloch. She had a previous genre appearance in a Twilight Zone story, "Probe 7, Over and Out" in which she was Eva Nord. It's a shaggy God story as so termed by Brian Aldiss. She also had one-offs in The Man from U.N.C.L.E., The Wild Wild West, Mission: Impossible, Get Smart and The Six Million Dollar Man.
Born September 30, 1946 — Dan O'Bannon. Screenwriter, director, visual effects supervisor, and  actor. He wrote the Alien script, directed The Return of the Living Dead, provided special computer effects on Star Wars, was writer of two segments of Heavy Metal, Soft Landing and B-17, co-writer with Ronald Shusett and  Gary Goldman of the first Total Recall. That's not complete listing by any stretch! (Died 2009.)
Born September 30, 1950 — Laura Esquivel, 71. Mexican author of Como agua para chocolate, Like Water for Chocolate in English. Magical realism and cooking with more than a small soupçon of eroticism. Seriously the film is amazing as is the book. ISFDB says she's also written La ley del amor (The Law of Love) which I've not read. 
Born September 30, 1951 — Simon Hawke, 70. Author of the quite superb Wizard of 4th Street series as Well as the TimeWars series.He has written Battlestar Galactica, Trek, Friday the 13th, Predator and Dungeons & Dragons novels as well as the genre adjacent Shakespeare & Smythe mysteries which bear titles such as Much Ado About Murder. 
Born September 30, 1959 — Debrah Farentino, 62. She's was in the cast of Earth 2 (never saw it — how was it?) and the recurring character of Dr. Beverly Barlowe on Eureka (superb, her character and the series). She was also in Son of the Pink Panther, Baker Street: Sherlock Holmes Returns, and the "Mind Over Matter" episode of Outer Limits. 
Born September 30, 1960 — Nicola Griffith, 61. Editor with Stephen Pagel of the genre gender anthologies, Bending the Landscape: Science Fiction and Bending the Landscape: Fantasy (World Fantasy Award and Lambda winner) and Bending the Landscape: Horror. Ammonite won both the Lambda and Otherwise Awards. She also garnered a Lambda and a Nebula for the most excellent Slow River. All of her novels are available from the usual digital suspects. 
Born September 30, 1972 — Sheree Renée Thomas, 49. Writer, Shotgun Lullabies: Stories & Poems and Sleeping Under the Tree of Life; Editor, Dark Matter: A Century of Speculative Fiction from the African Diaspora which won a World Fantasy Award, and Dark Matter: Reading the Bones which also won a World Fantasy Award. She's also written a variety of poems and essays including "Dear Octavia, Octavia E. Butler, Ms. Butler, Mother of Changes". In 2020, Thomas was named editor of The Magazine of Fantasy & Science Fiction.
(10) COMICS SECTION.
Half Full proves no matter where you go there's no escaping the spam.
(11) GUESSING WHO. Radio Times speculates about "Who will be the next Doctor Who after Jodie Whittaker?".
At the moment there's not much to go on, and the BBC have only said the decision will be revealed "in due course" – but, based on a few of the names swirling about, our own theories about how the next Doctor would be chosen and recommendations from RadioTimes.com staff, here are a few of our picks for the Fourteenth Doctor.

Spoiler alert: we are almost certainly wrong. But if we're right, well, you heard (or read) it here first….
Meanwhile, "Billie Piper hints at possible Doctor Who return".
The I Hate Suzie star, who played the Ninth and Tenth Doctor's companion Rose Tyler from 2005 until 2008, said in a recent Cameo video that she would consider reprising the iconic role if the moment was right.

"Would I ever go back? I think if the circumstances and the story were right," she said. "I feel like I've had enough time away from it to really, really want back in on it.

"I feel like my kids are are at a good age and may appreciate that too, which is often my incentive to do anything."…
And Radio Times' Paul Kirkley adds his own evidence-free guesses about "What to expect from Russell T Davies' return".
…Will it be easy, this gear shift? Not for a second. Firstly, anyone who thinks this is going to mean a return to regular Saturday night audiences of eight million (faithful) viewers is probably deluding themselves; that world no longer exists. Sure, the likes of Line of Duty and Vigil may have proved that reports of linear TV's death continue to be exaggerated, but Doctor Who relies on continually refreshing its audience with a new generation of younger viewers. And, as Ofcom has warned, the traditional broadcasters are currently staring down the barrel of a "lost generation" who, lured away by sexy young buzz brands like Netflix, Disney Plus and YouTube, increasingly view the BBC as that funny old thing your nan watches in the afternoons. (BBC One's average viewing age, lest we forget, is 61.)

… If, as hinted, Russell does want to expand the Doctor Who "empire", what sort of expanded portfolio might we reasonably expect? The short answer: haven't got a Scooby. But has that stopped you starting to build your own fantasy Doctor Who Cinematic Universe in your head? Of course it hasn't.

So what's on your bingo card? How about an anthology series featuring one-shot appearances from former – possibly unseen – Doctors? (Hugh Grant as a pre-Hartnell Doctor, anyone?) A stylish period spy-fi drama about the early years of UNIT? Jo Martin's Fugitive Doctor versus The Division? A Dalek cartoon for the kids? The Humker and Tandrell Adventures…?
Will Russell be dusting off his proposal for Rose Tyler: Earth Defender? Is Torchwood coming back? (Er, probably not.) And will they please, for the love of the mighty Jagrafess of the Holy Hadrojassic Maxarodenfoe, just give us something – anything – with Paul McGann in?
(12) PRODUCT PLACEMENT IN PRATCHETT. [Item by Meredith.] This is old (a 2011 post) but it's so incredible I thought it might still deserve a spot in the Scroll: Terry Pratchett changes his German publisher because they inserted a soup advert into the text of one of his novels. "Terry Pratchett and the Maggi Soup Adverts" at Stuffed Crocodile.
…Fans of course got used to it, if it gave them access to the books, why not? But it became more and more grating the more genre literature was accepted into mainstream.

And then you actually had a bestseller author like Pratchett jump ship and go to the direct contender (Goldmann), just because one of these stupid stunts. I wonder how that actually was taken by the Heyne CEOs. Back then Pratchett was at the verge of becoming a star in Germany as well, so they lost him just when he was getting big….
There's a scan of an ad in the post, too.
Diane Duane also wrote a post (with scans) on her blog in 2015: "What's the Rihannsu for 'soup'?" at Out of Ambit.
If the above (and below) images look a little bizarre, well, they should. They're from long-ago German editions of My Enemy, My Ally and The Romulan Way into which the publisher inserted soup ads.
(13) NANO BUNDLE. StoryBundle is offering a 2021 NaNoWriMo Writing Tools Bundle, curated by Kevin J. Anderson.
Each year, as countless determined writers, both aspiring and professional, look at November as National Novel Writing Month, or NaNoWriMo, we put together a grab back of helpful books that cover all aspects of writing, from craft, to business, to indie publishing, to marketing. This year is no exception.

Presenting a world-class StoryBundle of 16 books that will help you up your game as a writer. Plus, if you meet the bonus price, you can also get discount coupon codes for the ebook editing apps Jutoh 3 and Jutoh 3 Plus!
(14) IT'S A THEORY. Did social media clamoring for actress Lucy Lawless to be cast backfire? "Lucy Lawless Says 'Mandalorian' Fan Campaign to Replace Gina Carano Hurt Chances of 'Star Wars' Gig" at Yahoo!.
…Lawless revealed to Metro that she was actually circling a different "Star Wars"-adjacent role at the time of Carano's firing, and she said the fans urging for her "Mandalorian" casting might've cost her a trip to a galaxy far, far away.

"Well to be honest with you, I was already in discussions about something on — it wasn't 'The Mandalorian' — something Star Wars-affiliated,' Lawless said. "[The fan campaign] might have hurt me in some way, because then [Lucasfilm] couldn't hire me because it would seem to be pandering to…I'm just guessing here, I don't know anything, but in some ways, it can be unhelpful, because if they pander to this fan group, then how are you going to pander to every other fan group, do you know what I mean?"…
(15) OCTOTHORPE. The Octothorpe podcast team, John Coxon, Alison Scott, and Liz Batty, say about episode 41: "We recorded this before Fantasycon, but that didn't stop us talking about it a whole bunch. We also talk about Novacon's COVID policy, discuss the Ignyte Awards and do picks." "Leaves the Beans In".
(16) ICE CUBE ROOTER. The New York Times knows "Where NASA Will Send Its First Robotic Moon Rover to Search for Ice".
NASA has been planning for years to send a robotic rover to the moon's polar regions. Water ice trapped at the bottoms of craters there could be a boon to future visiting astronauts, providing water to drink, air to breathe and rocket fuel to propel them back to Earth or even farther out into the solar system.

Now, NASA has identified the crater that the rover — the Volatiles Investigating Polar Exploration Rover, or VIPER — will spend about 100 days exploring when it arrives in a couple of years.

VIPER will land near the moon's south pole, at the western edge of the 45-mile-wide Nobile crater, which formed when something hit the moon. Near the poles, the sun is low on the horizon and the bottoms of craters, lying in permanent shadows, are among the coldest places in the solar system….
(17) BEYOND GOOSEBUMPS. SYFY Wire promotes the trailer for a new series based on R.L. Stine's YA comic: "Just Beyond on Disney+ drops first spooky trailer for R.L. Stine series".
…Just Beyond. Based on the BOOM! Studios YA comic of the same name (written by Goosebumps and Fear Street creator, R.L. Stine), the eight-episode anthology heads for Disney+ in October. 

The official press release teases a collection of "astonishing and thought-provoking stories" about witches, aliens, ghosts, parallel dimensions, and more. Each episode will feature an entirely new cast of characters "who must go on a surprising journey of self-discovery in a supernatural world." 

Seth Grahame-Smith (author of Abraham Lincoln: Vampire Hunter and one of the writers behind HBO Max's upcoming Green Lantern series) serves as writer, executive producer, and showrunner….
(18) VIDEO OF THE DAY. [Item by Martin Morse Wooster.] In "Honest Game Trailers: WarioWare: Get It together!" Fandom Games says this new extension of the Warioware franchise features snappy little games with characters named 5-Volt, 9-Volt, and 12-Volt and in the next edition they'll  "eliminate the middleman," and is a snack-size alternative to watching TikTok videos of men punching themselves over and over.
[Thanks to Andrew Porter, John King Tarpinian, Michael Toman, Meredith, R.S. Benedict, Mike Kennedy, Martin Morse Wooster, JJ, and Cat Eldridge for some of these stories. Title credit goes to File 770 contributing editor of the day Jayn.]