(1) EXPECT HUGO BALLOT IN "EARLY JUNE". The Chengdu Worldcon committee today told Facebook readers when to look for the 2023 Hugo ballot:
The 2023 Chengdu Worldcon Hugo Awards nomination was officially closed on April 30th, and the shortlist will be out early June. Big thank you to all members who spent your valuable time to make the nominations.
(2) TAKE TWO. Cass Morris was very sorry to hear that Disney is closing the Galactic Starcruiser. And not for any abstract reasons – she was planning to go next year. However, the attraction's inability to stay in business prompted Morris to embark on a vast thought experiment about the kind of Disney Star Wars immersive hotel experience which could work, and her results are quite entertaining. "Galactic Travels" at Scribendi.
…Unfortunately, while this news is terribly sad, it's also not wholly unexpected. The Starcruiser has had trouble ever since it opened. The high price point, unusual conceit, and level of fannish commitment required for full enjoyment seem to have kept it operating at low capacity.

So, last night as I was nursing my sadness about probably never getting to go, I started thinking…

If I were going to design a Star Wars hotel for Disney World, one that might stand a better chance of succeeding… what would I do?…
(3) MINDFULNESS ABOUT VIRTUAL GOHS. Oghenechovwe Donald Ekpeki has an idea for using virtual cons in a progressive way – involving international, disabled, and otherwise nontraveling creators — which he has shared with Facebook readers:
…Something I learnt along the way, from my first con I participated in, was that virtual cons are important. Having people of diverse backgrounds & voices be able to attend, contribute to the general pool of knowledge & discussions. I believe diversity, multiple viewpoints and experiences taking into account, people working together, will solve many world problems, including the recent AI scourge of the arts. twitter.com/Penprince_/sta…

Sure, running virtual components isnt always possible. Funding, the tech issues, etc. It's understandable when cons can't have them. But when they do have them, it's imperative, almost compulsory they have both virtual attendees and guests of honour like CanConSF & ICFA did. It gives a platform to allow people with the experience and expertise to contribute on a larger scale to genre development and history, the change to. As ICFA guest of honour, the first ever African born, Black writer to be, I created the genre #Afropantheology, which I believe hope, & plan will contribute and richly influence genre & storytelling generally. The GoH platform was very helpful in that. …
(4) IT'S BIG. Max Gladstone tells how his vacation was interrupted by word about the apotheosis of his writing career in "Big Bigolas Energy" at The Third Place.
…It unfolded for me in fits and starts, and almost out of order, as one would expect of a book about time travel.

While we were in transit, a friend who often texts us about Time War sitings in the wilds of social media sent my partner a screenshot of The Bigolas Tweet, which at that time had 12,000 likes.

I thought, how wonderful! Nice note to start the vacation. And also: what a great screen name. My brain was in vacation mode already, so I didn't think about the numbers too much. As I've been told many times, Twitter Doesn't Sell Books.

Later that evening, Amal (that's my New York Times Bestselling co-author Amal El-Mohtar, to be clear, though at this point we were neither of us New York Times Bestselling co-authors) sent me a screenshot of the same tweet; the numbers were much bigger (Bigolas-er?). I thought: wow! It's really taking off. But still: Twitter Doesn't Sell Books.

As they say: lol….
(5) INNOCENT BYSTANDER. Google Bard, another of these AI language models, has somehow managed to pull Nnedi Okorafor into the latest row about BasedCon.
(6) EATING THE FANTASTIC. Scott Edelman invites listeners to munch on mahi mahi with L. Marie Wood in Episode 198 of the Eating the Fantastic podcast.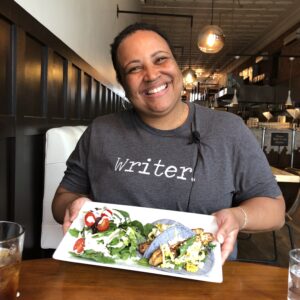 I knew L. Marie Wood for a decade or more before I learned at the last in-person Balticon before the pandemic that we're basically neighbors, but never knew it. So after an earlier lunch during which we tried to figure out how we've somehow managed to avoid each other all these years, we got together at Brix 27 in downtown Martinsburg, West Virginia so I could learn more about who she is and how she came to be.

L. Marie Wood is a writer of psychological horror, supernatural suspense, and dark fiction of all kinds who's been a professionally published writer for 20 years, ever since her first novel Crescendo and first short story "The Dance" were published in 2003. Her novels since then include The Promise Keeper, Cacophony, Accursed, and others, plus multiple short story collections, including Anathema and Phantasma. She's also a screenwriter who's a three-time winner of Best Horror Screenplay at the NOVA International Film Festival, Best Psychological Horror Short Script at Hollywood Horrorfest, and on and on. Her most recent publications are the novel The Open Book, accompanied by the related short story collection The Tales of Time, which contains the short stories being read by — and feared by — the characters in that first book.

We discussed the way she began her writing career selling poetry in parking lots, our differing experiences with hand selling our own books, the fears which keep horror writers up at night, the many misconceptions she had about the writing life back when he began, the uncomfortable novella she wrote when she was five, what our parents made of our horrific scribblings, the ever-present problem of dealing with rejection, our mutual love of pantsing, what should become of our papers, and much more.
(7) WHEN THEY WERE THE FUTURE. Fanac.org has posted video of a panel from this year's Eastercon: "Conversation 2023 – The Third Row w/ John Coxon, Niall Harrison, Emily January & Abigail Nussbaum".
At the 2023 Eastercon (Conversation), Guest of Honor Niall Harrison, and fellow "Third Row" fans John Coxon, Emily January and Abigail Nussbaum sat down for a discussion on the future of fandom (circa 2004).

Moderated by Meg MacDonald, the panel hilariously tells the story of Third Row Fandom, named and brought into being accidentally by Greg Pickersgill during a "Future of Fandom" panel at the 2004 Eastercon.

Themselves dubbed "the future of fandom" by Greg, the fans seated in the third row at that panel have made good on the title, pulling others into their orbit and having an outsized influence on science fiction and science fiction fandom over the last 20 years.

Illustrated with powerpoint slides to map out their impact, this fascinating panel tells the story of a cohort of young fans maturing into movers and shakers in the field, as writers, reviewers, editors, award judges and convention organizers.

Many thanks to Conversation 2023 for providing this recording, and particularly to Alison Scott for her assistance.
(8) WORRA Q&A. The Horror Writers Association blog continues its series: "Asian Heritage in Horror: Interview with Bryan Thao Worra".
What inspired you to start writing?

These days I think a poet has a thousand beginnings. Sometimes I trace it back to an old encyclopedia with gorgons and dinosaurs, another, a 3rd-grade role-playing game almost no one remembers. Others it feels like an unrequited crush on a classmate, a fortune teller's prediction about me shared to my grandmother, a ghost in an attic, or just the absence of seeing stories like my own in the news, in movies and novels, and especially poetry. Each moment was liberating in its own way….
(9) KNOW YOUR CONTRACT. "Editing Clauses in Publishing Contracts: What to Watch For" — Victoria Strauss issues warnings at Writer Beware.
Editing Clauses of Concern

Here's an example of an editing clause that should be a dealbreaker (this and other clauses quoted below are taken from actual contracts in my possession):

"Publisher shall have the right to edit and revise the Work for any and all uses contemplated under this Agreement."

What's missing here? Any obligation on the publisher's part to seek your approval before making the edits and revisions–or even allow you to see them before publication. A clause like this enables the publisher to edit at will without consulting or even informing you, and, if you do have the opportunity to see the edits, to unilaterally reject your concerns. If you sign a contract with this kind of language, you are at the mercy of the publisher and its editors. You shouldn't be surprised if the publisher takes advantage of it.
(10) SPFBO 9. Right now Mark Lawrence's Self-Published Fantasy Blog-Off judges are picking their favorite covers from among the 300 entrants. See them here: "SPFBO 9 – The Cover Contest!"
(11) MEMORY LANE.
1996 – [Compiled by Cat Eldridge.]
Mary Doria Russell's The Sparrow is one of those novels that treats the Catholic Church with respect and is also a true SF novel at the same time, a very neat trick indeed.
It was published by Villard twenty seven years ago, and was honored with an Arthur C. Clarke Award, the Otherwise Award, and a BSFA Award. It has a sequel, Children of God, published two years afterwards.
The Sparrow has one of the most perfect Beginnings I've ever read which you can see below if by any slim chance you've not read it yet.
It was predictable, in hindsight. Everything about the history of the Society of Jesus bespoke deft and efficient action, exploration and research. During what Europeans were pleased to call the Age of Discovery, Jesuit priests were never more than a year or two behind the men who made initial contact with previously unknown peoples; indeed, Jesuits were often the vanguard of exploration.
The United Nations required years to come to a decision that the Society of Jesus reached in ten days. In New York, diplomats debated long and hard, with many recesses and tablings of the issue, whether and why human resources should be expended in an attempt to contact the world that would become known as Rakhat when there were so many pressing needs on Earth. In Rome, the questions were not whether or why but how soon the mission could be attempted and whom to send.
The Society asked leave of no temporal government. It acted on its own principles, with its own assets, on Papal authority. The mission to Rakhat was undertaken not so much secretly as privately—a fine distinction but one that the Society felt no compulsion to explain or justify when the news broke several years later.
The Jesuit scientists went to learn, not to proselytize. They went so that they might come to know and love God's other children. They went for the reason Jesuits have always gone to the farthest frontiers of human exploration. They went ad majorem Dei gloriam: for the greater glory of God.
They meant no harm.
(12) TODAY'S BIRTHDAYS.
[Compiled by Cat Eldridge.]
Born May 19, 1937 — Pat Roach. He was cast in the first three Indy Jones films as a decided Bad Person though he never had a name. His first genre appearance was in A Clockwork Orange as a Milkbar bouncer but his first named role was being Hephaestus in Clash of Titans. He was of an unusually stocky nature, so he got cast as a Man Ape in Conan the Destroyer, and as Bretagne the Barbarian in Red Sonja. And of course he had such a role as Zulcki in Kull the Desttoyer. Oh, and he played a very large and mostly naked Executioner in the George MacDonald Fraser scripted The Return of The Musketeers. (Died 2004.)
Born May 19, 1944 — Peter Mayhew. Chewbacca from the beginning to The Force Awakens before his retirement from the role. The same year he first did Chewy, he had an uncredited role as the Minotaur in Sinbad and the Eye of the Tiger. He also shows in the Dark Towers series as The Tall Knight. Can we say he earned a Hugo at IguanaCon II? I know I'm stretching it there. (Died 2019.)
Born May 19, 1946 — Andre the Giant. Fezzik in The Princess Bride, one of my all-time favorite films. Also, an uncredited role as Dagoth in Conan the Destroyer. He's actually did a number of genre roles such as The Greatest American Hero with his American acting debut playing a Bigfoot in a two-part episode aired in 1976 on The Six Million Dollar Man titled "The Secret of Bigfoot". He died of cardiac arrest, not at all surprising given his size and weight of over five hundred pounds. (Died 1993.)
Born May 19, 1948 — Grace Jones, 75. First genre appearance was as Stryx in Rumstryx, an Italian TV series. Her next was Zulu in Conan the Destroyer followed by being May Day in A View to Kill and Katrina in Vamp. She was Masako Yokohama in Cyber Bandits which also starred Adam Ant. Her last several genre roles to date were Christoph/Christine in Wolf Girl, and Death aka The Devil in Gutterdammerung, a film that also featured Henry Rollins, Slash and Iggy Pop!
Born May 19, 1966 — Jodi Picoult, 57. Her Wonder Women work is exemplary (collected in Wonder Women, Volume 3 and Wonder Woman: Love and Murder). She also has a most excellent two-volume YA series called the Between the Lines Universe which she wrote with Samantha van Leer. ISFDB lists her Second Glance novel as genre but I'd say it's genre adjacent at best. Her latest work though marketed as a mainstream novel, Between the Lines Musical, is actually genre.
Born May 19, 1966 — Polly Walker, 57. She appeared in Syfy's Caprica, Sanctuary and Warehouse 13, as well as performing voice work in John Carter.
Born May 19, 1996 — Sarah Grey, 27. Before DC Universe cast the present Stargirl in Brec Bassinger for that series, Legends of Tomorrow cast their Stargirl as this actress for a run of three episodes. The episodes ("Out of Time", "Justice Society of America" and "Camelot 3000") are superb. I've not seen her as Alyssa Drake in The Order but I've heard Good Things about that series.
(13) COMICS SECTION.
Speed Bump shows even the ultimate Creator needs prompts.
The Far Side, on the other hand, shares an idea about Hell.
The Far Side also imagined how this Star Trek personality would spend his time in Hell.
(14) KAIJU IN TRANSLATION. Never before available in English it says here. Now's your chance to read the original Godzilla stories: "Godzilla and Godzilla Raids Again" coming from the University of Minnesota Press in October 2023.
The first English translations of the original novellas about the iconic kaijū Godzilla

Although the Godzilla films have been analyzed in detail by cultural historians, film scholars, and generations of fans, Shigeru Kayama's two Godzilla novellas—both classics of Japanese young-adult science fiction—have never been available in English. This book finally provides English-speaking fans and critics the original texts with these first-ever English-language translations of Godzilla and Godzilla Raids Again. As human activity continues to cause mass extinctions and rapid climatic change, Godzilla provides a fable for the Anthropocene, powerfully reminding us that nature will fight back against humanity's onslaught in unpredictable and devastating ways.
(15) IMAGINARY PAPERS. ASU's Center for Science and the Imagination has published Imaginary Papers, Issue 14, their latest quarterly newsletter on science fiction worldbuilding, futures thinking, and imagination.
In this issue, medievalist and SF writer Erin K. Wagner writes about C. S. Lewis' science fiction novel That Hideous Strength, communication studies scholar and SF writer Jenna N. Hanchey considers the Africanfuturist film Neptune Frost, and we offer a brief reflection on the new essay collection Ex Marginalia, edited by Chinelo Onwualu.
(16) WHERE THE SKELETONS ARE. Ranker takes up "The Story of Theodore Rex, The Bizarre Whoopi Goldberg Dinosaur Film".
Theodore Rex, the weirdest of weird '90s movies, is a $33 million direct-to-video buddy cop movie starring Whoopi Goldberg and a wisecracking dinosaur. (Take as much time as you need to wrap your brain around that sentence. We understand.)

Theodore Rex wasn't an attempt to tie into the dino-fever that swept the nation's youth in the early '90s; it was a genuine attempt at making a gritty sci-fi film about a detective and her dinosaur partner. That's right. Legendary EGOT-winner Whoopi Goldberg and a Talking Man-Sized Dinosaur teamed up for a cop film and they demanded to be taken seriously. (The 90s were a very strange time.)

Even though the film is a complete nightmare, things behind the scenes of Theodore Rex were much worse. As weird as it sounds, we can't stress this enough: nobody had fun on this Whoopi Goldberg/Dinosaur joint.
Ranker's first little-known fact is –
Whoopi Goldberg Was Forced By Law To Be In This Movie

Whoopi Goldberg did, at one time, want to be in Theodore Rex and agreed to play the lead for $5 million and a share of the profits, but she quickly changed her mind and tried to back out (good instincts, Whoopi!). Goldberg had to learn the hard way that it's just not that easy to simply walk away from expensive movies starring talking dinosaurs (a lesson we all could learn from). Because she had agreed to do the movie, the producers sued her for $20 million when she tried to back out. After an answering machine recording of Goldberg surfaced where she said she was "100% committed" to the project, she was forced to choose between appearing in the film or paying out the nose for a dinosaur detective movie that she agreed to appear in. There's a famous saying in Hollywood: "The only thing worse than appearing in a terrible dinosaur movie is paying $20 million NOT to appear in a terrible dinosaur movie," so Whoopi opted to appear in the terrible dinosaur movie.
(17) CASE SOLVED? "Who Stole Dorothy's Ruby Slippers? A Minnesota Man Is Charged." reports the New York Times.
A Minnesota man has been indicted on charges that he stole a pair of the famed ruby slippers worn by Judy Garland in "The Wizard of Oz" from the Judy Garland Museum in Grand Rapids, Minn., the actress's hometown, nearly 18 years ago.

The red-sequined pumps were recovered in a sting operation that ended in Minneapolis in 2018, but the authorities said at the time that their investigation was continuing and they did not name any suspects.

On Tuesday, a federal indictment in U.S. District Court for the District of Minnesota charged Terry Jon Martin of Minnesota with stealing an authentic pair of the slippers, which officials estimated have a market value of $3.5 million, from the museum sometime between Aug. 27 and Aug. 28 of 2005. Mr. Martin was indicted on one count of theft of a major artwork….
Interesting – I recently corresponded with someone from this museum. They're always looking for things related to cousin Judy, and I'm told some of my other cousins may be making donations. (I have nothing, myself, and never met her.)
(18) AU REVOIR. Deadline has posted a list of what's being pulled: "Disney To Remove Dozens Of Series, Including 'Big Shot', 'Willow', 'Y' & 'Dollface'".
Big Shot [Disney+]
Turner & Hooch [Disney+]
The Mysterious Benedict Society [Disney+]
The Mighty Ducks: Game Changers [Disney+]
Willow [Disney+]
The Making Of Willow [Disney+]
Diary of a Future President [Disney+]
Just Beyond [Disney+]
The World According to Jeff Goldblum [Disney+]
Marvel's Project Hero [Disney+]
Marvel's MPower [Disney+]
Marvel's Voices Rising: The Music of Wakanda Forever [Disney+]
Cheaper by the Dozen remake [Disney+]
The One and Only Ivan [Disney+]
Stargirl [Disney+]
Artemis Fowl [Disney+]
The Princess [Disney+]
Encore! [Disney+]
A Spark Story [Disney+]
Black Beauty [Disney+]
Clouds [Disney+]
America the Beautiful [Disney+]
Better Nate Than Ever [Disney+]
Weird but True! [Disney+]
Timmy Failure [Disney+]
Be Our Chef [Disney+]
Magic Camp [Disney+]
Howard [Disney+]
Earth to Ned [Disney+]
Foodtastic [Disney+]
Stuntman [Disney+]
Disney Fairy Tale Weddings [Disney+]
Wolfgang [Disney+]
It's a Dog's Life with Bill Farmer [Disney+]
The Real Right Stuff [Disney+]
The Big Fib [Disney+]
Rogue Trip [Disney+]
More Than Robots [Disney+]
Shop Class [Disney+]
Pick the Litter [Disney+]
Own the Room [Disney+]
Among the Stars [Disney+]
Harmonious Live! [Disney+]
Pentatonix: Around the World for the Holidays [Disney+]
Y: The Last Man [FX/Hulu]
Pistol [FX/Hulu]
Little Demon [FX/Hulu]
Maggie [Hulu]
Dollface [Hulu]
The Hot Zone [Nat Geo/Hulu]
The Premise [Hulu]
Love in the Time of Corona [Hulu]
Everything's Trash [Hulu]
Best in Snow [Hulu]
Best in Dough [Hulu]
Darby and the Dead [Hulu]
The Quest [Hulu]
Rosaline [Hulu]
(19) DISORIENTING. Steven Heller interviews Hungarian artist István Orosz in "Illusions From a Visual Magician" at Print Magazine. Includes a gallery of images like the one below.
What you see is never what you really see. It is neither real nor surreal, it is art—the result of precision drafting and intricate mathematical logic. Hungarian illustrator, animated film director and poster artist István Orosz basks in the mystique of his ambitious visual contortions, implausible objects and incredible optical illusions. He is a visual punster on the highest plane who is happiest when making confounding images and anamorphoses relying on forced perspective that echo, not coincidentally, his famous mathematics teacher (and inventor of the Rubik's cube) Ernő Rubif….
[Thanks to John King Tarpinian, Chris Barkley, Michael Toman, Joey Eschrich, Cat Eldridge, Mike Kennedy, and Andrew Porter for some of these stories. Title credit belongs to File 770 contributing editor of the day Andrew (not Werdna).]