(1) BLACK STARS. There are six short tales of speculative fiction in the Black Stars series of Amazon Original Stories which will be released on August 31.
"2043…(A Merman I Should Turn to Be)" by Nisi Shawl
"The Black Pages" by Nnedi Okorafor
"The Visit" by Chimamanda Ngozi Adichie
"These Alien Skies" by C. T. Rwizi
"Clap Back" by Nalo Hopkinson
"We Travel the Spaceways" by Victor LaValle
(2) NICHELLE NICHOLS CONSERVATORSHIP NEWS. The article excerpted here the other day when it was behind an LA Times paywall is now available in full online at AL.com: "Nichelle Nichols, Star Trek's Lt. Uhura, faces heartbreaking conservatorship fight".
… Questions around the fate of Nichols' home — who lives in it and what happens to it — have been central to an ongoing, years-long legal battle over the finances and care of the beloved TV star, who friends and family say is financially drained and struggling with dementia.

A three-way fight over Nichols' fate involves her only child, Kyle Johnson, who is also her conservator; her former manager Gilbert Bell; and a concerned friend, Angelique Fawcette….
(3) WEST SCHOOL HO! Deadline reports a Seanan McGuire series is being developed by Paramount: "'Wayward Children' Movie Franchise In Works After Paramount Lands Rights".
After aggressively pursuing rights, Paramount Pictures has preemptively acquired the Wayward Children fantasy book series by Seanan McGuire. With six books already published and a seventh installment coming in early 2022, the studio plans to build a franchise around this universe of characters and stories.

Sources say Paramount's Motion Picture Group president Emma Watts has had her eye on the series for some time and was hands on in making sure the studio landed the rights. Insiders say the studio views the series as a possible franchise given the huge fanbase that is behind it, and add it has already drawn interest from top talent to be a part of it.

The series adaptations will be produced by Pouya Shahbazian. The series takes place in Eleanor West's School for Wayward Children, a boarding school for people who have returned home from magical fantasy worlds and have trouble readjusting to their old lives. For as long as time, children have always found doorways into different worlds, whether down rabbit holes and wishing wells or through wardrobes and magic mirrors, but this series explores what happens to the ones who come back — and want nothing more than to return to those other worlds.

This surreal and subversive take on portal fantasy stories is centered around a culturally diverse group of teenagers across the LGBTQIA+ spectrum, as they work to make sense of the fantastical realms they came from and the shared world they find themselves back in….
(4) MAKERS AND SHAKERS. "From Mary Shelley to Carmen Maria Machado, women have profoundly shaped horror" in the Guardian.
You probably know the story of Lord Byron's house party at Villa Diodati – the one in which he challenged his guests to see who could write the scariest ghost story. Teenage Mary Shelley won his challenge on infamy, if not technicality, when she wrote Frankenstein. Thus the horror genre was invented by a disenfranchised teenage girl.

While it might be more precise to say that Shelley invented science fiction in this moment, her story, a non-religious creationist myth, would upend the rules of literature. Frankenstein has become such an influential examination of the distortion of nature and hubris of man, that it looms larger in the gothic horror genre than any other work of literature.

If you want to acknowledge just how much women have contributed to the horror genre, and how much the genre continues to reflect women and women's realities back to themselves, Frankenstein is also a useful place to start.

Horror is one of the only genres that allows for a constantly evolving interplay of the factual and fantastical. "When you enter into horror, you're entering into your own mind, your own anxiety, your own fear, your own darkest spaces," said American author Carmen Maria Machado, speaking to the Paris Review in 2017. Having won the Shirley Jackson award for her short story collection Her Body and Other Parties, Machado went on to use a horror framework to tell her personal story of queer domestic violence in her 2019 memoir, In the Dream House. With gothic tropes and style, Machado replayed physical and emotional abuse within the walls of her mind and the memories of the old house she shared with her partner – now haunted by the past and their relationship. "Horror is an intimate, eerie, terrifying thing, and when it's done well it can unmake you, the viewer, the reader," she said….
(5) ANDERS AND YU. A Room of One's Own in Madison, WI will host A Virtual Conversation With Charlie Jane Anders, author of Never Say You Can't Survive, and Charles Yu on August 18 at 6:00 p.m. Central
Full of memoir, personal anecdote, and insight about how to flourish during the present emergency, Never Say You Can't Survive is the perfect manual for creativity in unprecedented times. Things are scary right now. We're all being swept along by a tidal wave of history, and it's easy to feel helpless. But we're not helpless: we have minds, and imaginations, and the ability to visualize other worlds and valiant struggles. And writing can be an act of resistance that reminds us that other futures and other ways of living are possible.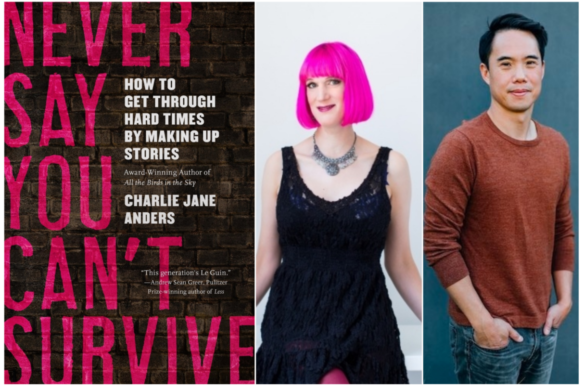 (6) BE ON THE LOOKOUT FOR THESE. Lisa Tuttle's latest Guardian column is up: "The best recent fantasy, horror and science fiction – review roundup". Includes —
…P Djèlí Clark's debut novel A Master of Djinn (Orbit, £8.99) is set in an alternative-history version of Egypt. In 1912, half a century after the mystic al-Jahiz made an opening into the realm of spirits, Cairo is a modern, multicultural city running on a combination of magical, alchemical and steam-powered technology. Muslims and Copts co-exist with devotees of Hathor; djinn and humans work together; even women have won the right to vote, and are employed in jobs formerly given only to men. Fatma el-Sha'arawi of the Ministry of Alchemy, Enchantments and Supernatural Entities has already saved the universe from destruction once and is sure she can handle the little problem of an imposter in a gold mask, claiming to be al-Jahiz and stirring unrest in the rougher neighbourhoods. This fantasy is refreshingly different; a well-plotted mystery filled with engaging characters, presented with a lightly humorous touch….
(7) CLI-FI. Future Tense, a partnership of Arizona State University, Slate, and New America presents the first public event connected with their Climate Imagination Fellowship.
"Unlocking Our Climate Imagination" is on August 31 at 12 p.m. Eastern. Speakers include Kim Stanley Robinson, the three Climate Imagination Fellows, Vandana Singh, Hannah Onoguwe, and Libia Brenda, plus Nigel Topping, the UN High-Level Climate Champion for the UK, and Bina Venkataraman, Boston Globe editorial page editor and former White House climate advisor.
The event is free and open to everyone. Register here.
(8) MEMORY LANE.
1967 – Fifty-four year ago at NyCon 3 where Harlan Ellison was Toastmaster, Robert Heinlein would win the Hugo for Best Novel for The Moon is a Harsh Mistress. It had been serialized in If the previous year and published by Putnam that year. Other nominated works were Samuel R. Delany's Babel-17, Randall Garrett's Too Many Magicians, Daniel Keyes' Flowers for Algernon, James H. Schmitz's The Witches of Karres and Thomas Burnett Swann's Day of the Minotaur. It would also be nominated for a Nebula and it would be inducted into the Prometheus Hall of Fame.
(9) TODAY'S BIRTHDAYS.
[Compiled by Cat Eldridge.]
Born August 16, 1884 — Hugo Gernsback. Publisher of the first SF magazine, Amazing Stories in 1926. He also helped create fandom through the Science Fiction League. Pittcon voted him a Hugo titled Father of Magazine Science Fiction, and he was voted the First Fandom Hall of Fame Award. He's the writer of the Ralph 124C 41+ novel which most critics think is utterly dreadful but Westfahl considers an "essential text for all studies of science fiction." There's at least nine versions of it available at the usual suspects which is sort of odd. (Died 1967.)
Born August 16, 1930 — Robert Culp. He'd make the Birthday Honors solely for being the lead in Outer Limits' "Demon with a Glass Hand" which Ellison wrote specifically with him in mind. He would do two more appearances on the show, "Corpus Earthling" and "The Architects of Fear". Around this time, he makes one-offs on Get Smart! and The Man from U.N.C.L.E. before being Special FBI Agent Bill Maxwell in The Greatest American Hero. Did you know there was a Conan the Adventurer series in the Nineties in which he was King Vog in one episode? I've not seen it. Do we consider I Spy genre? (Died 2010.)
Born August 16, 1933 — Julie Newmar, 88. Catwoman in Batman. Her recent voice work includes the animated Batman: Return of the Caped Crusaders and Batman vs. Two-Face, both done in the style of the Sixties show. They feature the last voice work by Adam West. Shatner btw plays Harvey Dent aka Two Face.  She was on the original Trek in the "Friday's Child" episode as Eleen. She also has one-offs on Get Smart!, Twilight Zone, Fantasy Island, Bionic Woman, Buck Rogers in the 25th Century, Bewitched and Monster Squad. 
Born August 16, 1934 — Andrew J. Offutt. I know him through his work in the Thieves' World anthologies though I also enjoyed the Swords Against Darkness anthologies that he edited. I don't think I've read any of his novels. And I'm not Robert E. Howard fan so I've not read any of his Cormac mac Art or Conan novels but his short fiction is superb. His only award was a Phoenix Award which is lifetime achievement award for a science fiction professional who had done a great deal for Southern Fandom. (Died 2013.)
Born August 16, 1934 — Diana Wynne Jones. If there's essential reading for her, it'd be The Tough Guide to Fantasyland with a playful look at the genre. Then I'd toss in Deep Secret for its setting, and Fire and Hemlock for her artful merging of the Scottish ballads Tam Lin and Thomas the Rhymer. Now what's the name of the exemplary short story collection she did late in life? Ahhh it was Unexpected Magic: Collected Stories with the great cover by artist Dan Craig. (Died 2011.)
Born August 16, 1954 — James Cameron, 67. Let's see… Terminator… Aliens… Terminator 2… True Lies… Strange Days… And The Abyss as well. Did you know he was interested in doing a Spider-man film? It never happened but the Dark Angel series with Jessica Alba did. And then there's his Avatar franchise.
Born August 16, 1958 — Rachael Talalay, 63. She made her directorial debut with Freddy's Dead: The Final Nightmare, and she also worked on the first four of the Nightmare on Elm Street films. Moving from horror to SF, she directed Tank Girl next. A long time Who fan, she directed all three of Twelfth Doctor's series finales: series 8's "Dark Water" and "Death in Heaven," along with series 9's "Heaven Sent" and "Hell Bent" before directing series 10's "World Enough and Time" and "The Doctor Falls." She capped who Who work with "Twice Upon a Time", the last Twelfth Doctor story. Her latest genre undertaking is A Babysitter's Guide to Monster Hunting.
Born August 16, 1960 — Timothy Hutton, 61. Best known of late as Nathan Ford  on the Leverage series which is almost genre. His first genre was in Iceman as Dr. Stanley Shephard, and he was in The Dark Half in the dual roles of Beaumont and George Stark. He's David Wildee in The Last Mizo, based off "Mimsy Were the Borogoves" by Lewis Padgett (husband-and-wife team Henry Kuttner and C. L. Moore). He was Hugh Crain in The Haunting of Hill House series. I'm going to finish off this Birthday note by singling out his role as Archie Goodwin on the Nero Wolfe series. 
(10) COMICS SECTION.
Bizarro shows what happens when Uber goes Unter.
(11) AVENGERS 750. When Marvel Comics presents the 750th issue of Avengers in November, it will include Christopher Ruocchio making his Marvel Comics debut alongside artist Steve McNiven in a bonus story starring Thor.
"I'm honored to play a small part in this moment of Avengers history and thrilled to get to work with Steve McNiven to bring you all a little classic Thor," Ruocchio said. "It's a bit surreal to get to work with a character I grew up with, and I hope I've told a tale worthy of the God of Thunder."
The rest of the supersized issue will include the introduction of The Multiversal Masters Of Evil, the deadly new group of villains fans met in this year's Free Comic Book Day: Avengers/Hulk #1. Fans will also witness the conclusion of "World War She-Hulk", finally learn the true purpose of the prehistoric Avengers, uncover the secret of the Iron Inquisitor, watch the Avengers recruit some surprising new members, and follow the Ghost Rider on a quest for vengeance across the Multiverse that will spark an all-new era in Avengers history.
(12) UK REVIEWERS NEEDED. Jonathan Cowie sends a head's-up to UK based Filers: "SF2 Concatenation is on the hunt for SF/F book reviewers (especially fantasy and especially female reviewers to more even our gender balance). Sadly UK reviewers only as we have to snail-mail post books." Full details here: "SF & Fantasy book reviewers wanted"
(13) SHINY. James Davis Nicoll knows the addresses of "Five Fictional Space Colonies From the Post-Disco Era", and they're definitely not orbiting mirror balls.
As previously discussed, Gerard K. O'Neill's vision of space colonies was particularly comforting to 1970s anxieties. Soaring population? The asteroid belt has enough material to build habitats promising many times the surface area of Earth! Energy crisis? Have said habitats pay for themselves by building solar power arrays IN SPAAACE! Indigenous populations weirdly ungrateful for genocidal displacement by Europeans? Colonization do-over in space where there are no natives to displace or complain!…

A Plague of Angels by Toren Smith and Adam Warren (1990–1991)

When member worlds are overwhelmed by crisis, the United Galactica's World Welfare Work Association dispatches field agents to resolve the problem. A very unlucky minority of worlds find themselves being assisted by Trouble Consultants Kei and Yuri, who are as inadvertently destructive as they are inexplicably scantily-clad. Code-named "the Lovely Angels," the apocalyptic pair are infamous as the Dirty Pair.

Habitats are by their nature fragile. Kei and Yuri are harbingers of doom. Logic would dictate sending someone else—anyone else—to Kalevala O'Neill Colony. The 3WA sends the Dirty Pair. Kalevala is struggling to deal with smugglers. Soon, smugglers will be the least of Kalevala's problems.
(14) PLANETARY EXPLORATION. CBS Sunday Morning did a segment on Planet Word: "Word play: A visit to D.C.'s Planet Word". (Martin Morse Wooster recently wrote about his own visit here.)
(15) TINY WORLDS. Jeffrey Smith sent the link with a comment: "These are amazing! Not really skiffy, but what an imagination!" — "Japanese Artist Creates Amazing Miniature Dioramas Every Day For 10 Years" at Digital Synopsis. (The entire collection by Japanese artist Tatsuya Tanaka is at Miniature Calendar.) I think this first one actually does reference a well-known genre movie. The second is more typical of Tanaka's series of inventive scenes.
[Thanks to JJ, Michael Toman, John King Tarpinian, Chris Barkley, SF Concatenation's Jonathan Cowie, Jeffrey Smith, Joey Eschrich, Cat Eldridge, Mike Kennedy, Andrew Porter, and Martin Morse Wooster for some of these stories. Title credit belongs to contributing editor of the day Jon Meltzer.]