(1) YOU DO KNOW JACK. "John Barrowman on his shock Doctor Who TV return – 'It's about time'" — RadioTimes interviews the actor about his surprise appearance.
In an appropriately shocking character resurrection, fan-favourite Doctor Who character Captain Jack Harkness has made a surprise return to the BBC sci-fi series, with John Barrowman's immortal Time Agent popping up in the latest episode to deliver a message to Jodie Whittaker's Doctor.

…Kept secret through a mass of codenames, disguises and carefully-planted lies, Jack's return is sure to make a splash with fans – just last year, RadioTimes.com readers voted him the character they'd most like to see return to the series – and ahead of the episode's airing, Barrowman said he was prepared for a big reaction.
(2) VIEW FROM THE BOTTOM RUNG. Saturday Night Live suited up guest host Adam Driver to parody his Star Wars character.
Undercover Boss checks in with one of its more notorious bosses, Kylo Ren (Adam Driver), to see if he kept his promise to change his company.
(3) IMAGINARY PAPERS LAUNCHES. Imaginary Papers is a new quarterly (free) newsletter from the Center for Science and the Imagination. Edited by Joey Eschrich, it features analysis and commentary on science fiction worldbuilding, futures thinking, and the imagination. The first issue is available here.
…Each issue will feature brief, incisive pieces of writing from a diverse array of contributors, from scholars and journalists to cultural critics, designers, technologists, poets, and more.

We hope you'll join us in thinking carefully and whimsically about the tangled relationships between how we envision the future and how we see ourselves and our world today.
(4) BRADBURY CENTENNIAL EXHIBIT AT BOOK FAIR. The 53rd California International Antiquarian Book Fair, which takes place in Pasadena from February 7-9, will include two special exhibits —
Votes for Women. The Book Fair celebrates the 100th anniversary of Women's Suffrage with a special exhibit documenting women's effort to secure political equality. Materials will be on display from the special collection libraries of The Claremont Colleges, University of Southern California, University of California, Los Angeles, California State University, Dominguez Hills and the Los Angeles Public Library.
Something Wonderful This Way Came: 100 Years of Ray Bradbury. The Book Fair marks the centennial of the beloved science fiction and fantasy writer. This special exhibit features Bradbury works and related cultural treasures from the Polk Library at California State University including the manuscripts for Fahrenheit 451 and the short story "The Fireman," from which the classic novel originated.
The Book Fair takes place at the Pasadena Convention Center at 300 East Green Street, Pasadena, CA. Tickets on Friday, February 7 are $25 for three-day admission.
(5) FIFTIES PAPERBACK COVERS APPRAISED. Last night on PBS' Antique Roadshow: "Appraisal: Ric Binkley Science Fiction Illustrations".
Watch Kathleen Guzman's appraisal of Ric Binkley science fiction illustrations ca. 1950, in Winterthur Museum, Hour 3.
(6) THE COLORS OUT OF SPACE. "NASA's Spitzer Telescope Revealed Colors Unseeable By The Human Eye. It Retires Next Week" – LAist assembled a retirement party photo gallery.
Next week, the last of four NASA space-based observatories will retire. The Spitzer Space Telescope brought the universe into a new light (literally), revealing images of planets, solar systems, stars and more in infrared — renderings that human eyes aren't able to see otherwise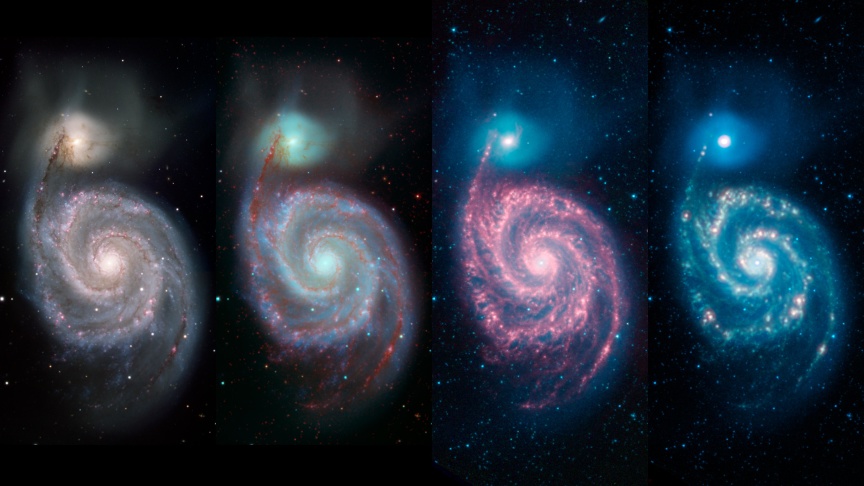 (7) GEEZERBUSTERS. Yahoo! Entertainment reveals "It's Official! Bill Murray Returns to His Ghostbusters Role in Upcoming Sequel".
30 years after last appearing as squad leader Peter Venkman in 1989's Ghostbusters 2, Bill Murray is set to reprise his beloved role in the upcoming sequel Ghostbusters: Afterlife. The new movie stars Paul Rudd as a science teacher whose students find themselves in the middle of a ghostbusting mystery.

Though Murray, 69, made a cameo in the 2016 all-women Ghostbusters, he will be back as his parapsychologist character in the new movie directed by Jason Reitman, the son of original director Ivan Reitman.
Vanity Fair visited the set — "Exclusive: Hanging With Bill Murray on the Set of Ghostbusters: Afterlife".
… The production uses lightweight, less detailed packs for stunts and distant shots, but I was saddled with the 30-pound heavy-duty version used for close-ups, which is loaded with batteries and rumble motors to make the blasters shudder and jolt in the hands of the user.
…Later, [Ivan] Reitman said he hopes the film will help fans feel the excitement of suiting up themselves: "I wanted to make a movie about finding a proton pack in an old barn and the thrill of actually putting it on for the first time. I've had friends come to the set and hoist on the packs, and it always turns grown-ups into children."

Murray just stood by nodding and smiling. "You'll see what it feels like," he said.

"The first 30 seconds are okay," I told him.

The actor snorted. "It's that last 30," he said, shaking his head. "And the dismount."
(8) SLURP THE FANTASTIC. BBC Sounds finds the connections between "Fantasy, fiction and food". Mary Robinette Kowal and others are interviewed.
What do Harry Potter and the Philosopher's Stone and Lady and the Tramp have in common? Both use food in subtle ways to immerse us in their stories and help us make sense of fictitious worlds – from jumping chocolate frogs to kissing over spaghetti. The same is true for many novels, where food can be an integral part of building characters, plots, even entire worlds. Graihagh Jackson speaks to three world-acclaimed writers – two authors and one Nollywood script writer and film director – to find out how and why they employ food in their work. How do you create make-believe foods for a science fiction world, yet still imbue them with meanings that real world listeners will understand? When you're trying to appeal to multiple audiences and cultures, how do you stop your food references getting lost in translation? And can food be used to highlight or send subtle messages about subjects that are traditionally seen as taboo?
(9) TODAY IN HISTORY.
January 26, 1995 — Screamers premiered. This Canadian horror starred Peter Weller, Roy Dupuis and Jennifer Rubi. It was directed by Christian Duguay. The screenplay was written by Dan O'Bannon, with an extensive rewrite by Miguel Tejada-Flores, is based on Philip K. Dick's "Second Variety" novelette first published in Space Science Fiction magazine, in May 1953. It earned almost unanimously negative reviews from critics and has a 45% rating on Rotten Tomatoes. It has since developed a cult following.
(10) TODAY'S BIRTHDAYS.
[Compiled by Cat Eldridge.]
Born January 26, 1915 — William Hopper. I'm reasonably sure his first genre first was the Thirties The Return of Doctor X. Twenty years later, he's Dr. George Fenton in Conquest of Space, and just a few years later he'll be Col. Bob Calder in 20 Million Miles to Earth. Unless we count Myra Breckinridge as genre or genre adjacent, he was Judge Frederic D. Cannon on it, that's it for him as none as his series acting was genre related. (Died 1970.)
Born January 26, 1923 — Anne Jeffreys. Her first role in our end of things was as a young woman in the early Forties film Tarzan's New York Adventure. She's Jean Le Danse (note the name) around the same time in the comedy Zombies on Broadway (film geeks here — is this the earliest zombie film?). And no, I've not forgotten she had the lead role as Marion Kerby in the Topper series. She also had one-offs in The Man from U.N.C.L.E., Fantasy Island and Battlestar Galactica. (Died 2017.)
Born January 26, 1927 — William Redfield. He was in two SF films of note. He was Ray Cooper in Conquest of Space, a Fifties film, and later on he was Captain Owens in Fantastic Voyage. In addition, Wiki lists him in the cast of the Fifties X Minus One radio anthology series, and Jerry Haendiges Vintage Radio Logs site confirms he was in nine of the plays. His series one-offs included Great Ghost Tales (a new one for me), Bewitched, Alfred Hitchcock Presents and Tales of Tomorrow. (Died 1976.)
Born January 26, 1928 — Roger Vadim. Director, Barbarbella. That alone gets a Birthday Honor. But he was one of three directors of Spirits of the Dead, a horror anthology film. (Louis Malle and Federico Fellini were the others.) And not to stop there, he directed another horror film, Blood and Roses (Et mourir de plaisir) and even was involved in The Hitchhiker horror anthology series. And Don Juan, or If Don Juan Were a Woman is at least genre adjacent… (Died 2000.)
Born January 26, 1918 — Philip José Farmer. I know I've read at least the first three Riverworld novels (To Your Scattered Bodies Go, The Fabulous Riverboat and The Dark Design) but I'll be damned if I recognize the latter ones. Great novels those first three are. And I'll admit that I'm not familiar at all with the World of Tiers or Dayworld series. I'm sure someone here read here them.  I do remember his Doc Savage novel Escape from Loki as being a highly entertaining read, and I see he's done a number of Tarzan novels as well. (Died 2009.)
Born January 26, 1929 — Jules Feiffer, 91. On the Birthday list as he's the illustrator of The Phantom Tollbooth. Well, and that he's also illustrated Eisner's Spirit which helped get him into the Comic Book Hall of Fame. Let's not overlook that he wrote The Great Comic Book Heroes in the Sixties which made it the first history of the superheroes of the late Thirties and Forties and their creators. 
Born January 26, 1957 — Mal Young, 63. Executive Producer of Doctor Who for the Ninth Doctor. A great season and Doctor indeed. As all have been in the New Who. He was the Assistant Producer thirty years ago of a series called Science Fiction hosted by none other than the Fourth Doctor Himself. Anyone watch this? 
Born January 26, 1960 — Stephen Cox, 60. Pop culture writer who has written a number of books on genre subjects including The Munchkins Remember: The Wizard of Oz and Beyond, The Addams Chronicles: Everything You Ever Wanted to Know about the Addams Family, Dreaming of Jeannie: TV's Primetime in a Bottle and The Munsters: A Trip Down Mockingbird Lane. I'll admit to being puzzled by his Cooking in Oz that he did with Elaine Willingham as I don't remember that much for food in the Oz books…
(11) NANO NANO. The Harvard Gazette interviews a scientist about "Disinfecting your hands with 'magic'".
DEMOKRITOU: We have the tools to make these engineered nanomaterials and, in this particular case, we can take water and turn it into an engineered water nanoparticle, which carries its deadly payload, primarily nontoxic, nature-inspired antimicrobials, and kills microorganisms on surfaces and in the air.

It is fairly simple, you need 12 volts DC, and we combine that with electrospray and ionization to turn water into a nanoaerosol, in which these engineered nanostructures are suspended in the air. These water nanoparticles have unique properties because of their small size and also contain reactive oxygen species. These are hydroxyl radicals, peroxides, and are similar to what nature uses in cells to kill pathogens. These nanoparticles, by design, also carry an electric charge, which increases surface energy and reduces evaporation. That means these engineered nanostructures can remain suspended in air for hours. When the charge dissipates, they become water vapor and disappear.

Very recently, we started using these structures as a carrier, and we can now incorporate nature-inspired antimicrobials into their chemical structure. These are not super toxic to humans. For instance, my grandmother in Greece used to disinfect her surfaces with lemon juice — citric acid. Or, in milk — and also found in tears — is another highly potent antimicrobial called lysozyme. Nisin is another nature-inspired antimicrobial that bacteria release when they're competing with other bacteria. Nature provides us with a ton of nontoxic antimicrobials that, if we can find a way to deliver them in a targeted, precise manner, can do the job. No need to invent new and potentially toxic chemicals. Let's go to nature's pharmacy and shop.
(12) BIGFOOTIN'. Forbes' Ollie Barder reports "A Walking Life-Size Gundam Will Be Unveiled In Japan This October".
While we knew that this was a project that had been underway for a while, it's now actually going to be a real thing. In that, this October a walking Gundam will be unveiled in Yokohama, Japan.

The plans to make a Gundam walk were announced back in 2015 and at the time the idea was to have it finished by 2019.

So while this has been delayed a bit, it does look like we will have a Gundam that can walk later this year.

Well, when I say "walk" it looks like this is not some free-roaming Gundam but will be attached to a support mechanism at the waist, to avoid it from falling over.

It doesn't look like you will be able to pilot it either, as this walking Gundam will be remote controlled.

To be honest, I was expecting limitations like this. Simply because the engineering requirements to make an 18-meter-tall mecha walk are not exactly trivial.
(13) AT WORK. "Astronauts Finish Spacewalk For Final Fix Of International Space Station Device" – NPR has details on what real construction work in space is like.
Two astronauts aboard the International Space Station conducted their fourth and final spacewalk Saturday to finish a series of repairs aimed at extending the functioning of a cosmic ray detector attached to the spacecraft.

The six-hour, 16-minute foray outside the space capsule began shortly after 7:00 a.m. ET and ended at 1:20 p.m.

NASA flight engineer Andrew Morgan and the commander of the space station's Expedition 61, Luca Parmitano of the European Space Agency, completed leak checks on their installation of a new cooling system meant to extend the lifespan of the externally attached Alpha Magnetic Spectrometer dark matter and antimatter detector.

They were assisted by two other Expedition 61 crew members, NASA flight engineers Jessica Meir and Christina Koch, who operated a Canadarm2 robotic arm capable of fine-tuned maneuvers.

The AMS, as the cosmic ray detector is known, was installed about nine years ago on the spacecraft and was designed to function for only three years. It was not meant to be serviced in flight.

But the scientific data collected by the AMS — to date, it has recorded more than 140 billion particles passing through its detectors, 9 million of which have been identified as the electrons or positrons that compose antimatter — have proven so valuable that NASA scientists now aim to keep it operating for the full 11 years of a complete solar cycle in order to better understand the possible impact of solar radiation variation on astronauts traveling to Mars.
(14) CAT SUITS. The Guardian shows how cats can be more divisive than Brexit: "Claws out! Why cats are causing chaos and controversy across Britain". Tagline: "Whether it is local 'cat-seducers', out-and-out thievery or marauding toms, our feline friends are prompting furious rows and rivalries between neighbours."
…It's a sad case," says the Halls' barrister, Tom Weisselberg QC. "If she'd seen sense, everyone's time and money would have been saved." He worked pro bono on the case, because the Halls are friends. There are few legal options for someone wanting to stop their neighbour stealing their cat. Technically, it's theft, but generally the police won't get involved. "You have to show that they intend to deprive you permanently of possession," Weisselberg says. "That's a high threshold to satisfy."

When he was a junior barrister, Weisselberg worked on a legal dispute between Kuwait Airways and Iraqi Airways. The Kuwaitis argued, successfully, that the Iraqis had in effect stolen some Kuwaiti planes, because they had painted their own colours on them, thereby converting them. "I said: 'Look, if the Kuwaitis can say the Iraqis converted their aircraft by putting different colours on the planes, why can't you say the defendant has converted your cat by changing its collar?'" Weisselberg planned to use this precedent in court but, at the courthouse door, Lesbirel agreed to a number of restrictions on contact with Ozzy.
[Thanks to Chip Hitchcock, Cat Eldridge, Mike Kennedy, Martin Morse Wooster, JJ, John King Tarpinian, Cliff Ramshaw, and Andrew Porter for some of these stories. Title credit goes to File 770 contributing editor of the day Jon Meltzer.]