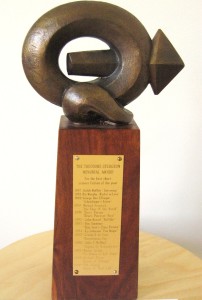 The Gunn Center for the Study of Science Fiction has announced the finalists for the 2015 Theodore Sturgeon A. Memorial Award for the best short science fiction story.
The Sturgeon is a juried award. The finalists were selected by Elizabeth Bear, Andy Duncan, James Gunn, Kij Johnson, and Nöel Sturgeon, Trustee of the Theodore Sturgeon Literary Estate.
The award is given during the Campbell Conference which, this year, will be part of MidAmeriCon II, the 74th World Science Fiction Convention, in Kansas City. The awards ceremony will be held the evening of Thursday, August 18.
2015 finalists for the Theodore A. Sturgeon Memorial Award are:
The World Science Fiction Convention often offers academic programming, and this year's WorldCon officials asked Christopher McKitterick, CSSF director, to organize an academic track that will include papers and discussions.
"Rather than host a separate Campbell Conference with WorldCon just a month later in neighboring Kansas City, thus forcing out-of-town guests to choose one or the other," McKitterick said, "we decided to combine the two."
MidAmeriCon II will be Aug. 17-21 at the Kansas City Convention Center.
[Thanks to JJ for the story. Based on a press release.]