(1) TODAY'S THING TO WORRY ABOUT. "Stranger Things is being edited retroactively by Netflix. Is this the beginning of a dangerous TV trend?" asks British GQ. It's not a long article and these tweets have the gist of it.
(2) VIDEO GAME NEWS. [Item by Martin Morse Wooster.] In Financial Times behind a paywall, Tom Faber reviews The Quarry, a new game from Supermassive that stars Ted Raimi, David Arquette, and Grace Zabriskie.
While much horror cinema has taken a turn for the intellectual over the past decade, this is a straight-up lesson in the schlock doctrine, a love letter to campy teen slashers such as Friday The 13th. You'll find every trope in the book here, from full moons to mysterious trapdoors to flimsy metaphors for intergenerational trauma. The set-up is simple: it's the end of summer camp and your group of teenage counsellors are planning to stay one last night to have a party in the woods. The forest inevitably harbours a dreadful, murderous secret, but it will take a lot to faze these kids–theyre horny, wisecracking and ready to make some truly terrible decisions…

…For most of this ten-hour adventure, watching is all you'll do. Rather than playing, you're mostly observing scripted sequences and influencing the story by making choices, These might be fluffy character beats (who do you want to flirt with?) or grim decisions (do you want to pull the knife out of your stomach, risking blood loss?)You'll also be faced with that horror ur-choice: run, or hide? There's no right or wrong; characters can die and the story will keep going. Each choice leads you towards one of the game's 186 possible endings.
(3) REMEMBER WHAT THE DORMOUSE SAID. [Item by Martin Morse Wooster.] The Royal Society concludes that playing video games will not rot your brain. "Time spent playing video games is unlikely to impact well-being".
Abstract

Video games are a massively popular form of entertainment, socializing, cooperation and competition. Games' ubiquity fuels fears that they cause poor mental health, and major health bodies and national governments have made far-reaching policy decisions to address games' potential risks, despite lacking adequate supporting data. The concern–evidence mismatch underscores that we know too little about games' impacts on well-being. We addressed this disconnect by linking six weeks of 38 935 players' objective game-behaviour data, provided by seven global game publishers, with three waves of their self-reported well-being that we collected. We found little to no evidence for a causal connection between game play and well-being. However, results suggested that motivations play a role in players' well-being. For good or ill, the average effects of time spent playing video games on players' well-being are probably very small, and further industry data are required to determine potential risks and supportive factors to health….
(4) INSIDE BABYLON 5. As J. Michael Straczynski's Babylon 5 new commentaries get uploaded to his Patreon page, older ones get a public release. The latest posted to YouTube is: "Babylon 5: Message From Earth commentary by J. Michael Straczynski".
A full-length, sync-up commentary by creator Straczynski about Messages From Earth, the first installment of a trilogy that would forever alter the course of the series.
(5) OKORAFOR PROFILED. "Africanfuturista! The fantastical adventures of Nnedi Okorafor" at Geek Afrique.
Spaceships, terrorist aliens, water spirits, soldiers, Boko Haram, and wet piles of meat. These aren't part of a kind of dark poetry, but mainstays of some of the best work of writer Nnedi Okorafor. Her work in her genre of choice Africanfuturism (one word, no space), her speculative fiction and fantasy work, are among the most unique today. Africanfuturism, which Okorafor coined, is an exciting subgenre that welds science fiction and technology to African mythologies, weaving black people —or blackness, really— into fertile worlds rife with story possibilities….
(6) OBAMA'S BOOK RECS. [Item by Martin Morse Wooster.] Barack Obama put books by Emily St. John Mandel and Silvia Moreno-Garcia on his Summer 2022 reading list.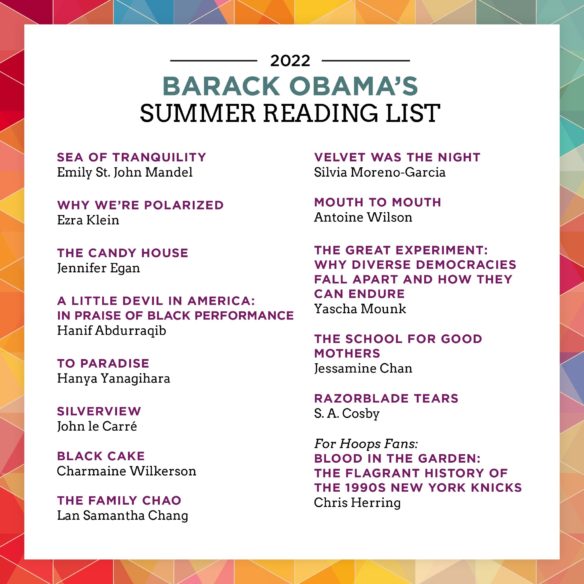 He also put S.A. Cosby's novel on there. In "Noir at the Bar", a piece I wrote for File 770 in 2019 about going to hear crime writers read short stories, I said that Cosby was clearly the best writer in the room…
(7) CREEPY CRAWLIES. "Giant spiders, creeping tentacles all in a day's work for this Ypsilanti artist" – Michigan Live profiles Anna Miklosovic. (Her website is here.)
…Miklosovic currently has two art series depicting the unusual. The first shows a paranormal side of Ypsilanti and features work with giant spiders crawling up the side of the iconic Ypsilanti water tower and a giant tentacle in the Peninsula Paper Company Dam. The 12-part series was turned into a calendar, Miklosovic said.

Her second series focuses on Ann Arbor through the lens of the apocalypse, showing abandoned versions of well-known city locations….
(8) NOT JUST ANY USED CLOTHING. The prices didn't quite go to infinity and beyond, but close: "Buzz Aldrin's Space Memorabilia Sells for More Than $8 Million" reports the New York Times.
A white, Teflon-coated jacket worn by the astronaut Buzz Aldrin during the Apollo 11 mission to the moon in 1969 sold for $2.7 million at a Sotheby's auction on Tuesday, fetching the highest price among dozens of pieces of rare memorabilia tracing his career in space exploration.

Mr. Aldrin, now 92, has a storied career as an astronaut, joining NASA in 1963 after flying for the Air Force. Within three years, he had walked in space on the Gemini 12 mission. Then, on July 20, 1969, millions of people watched on television as he became the second man to walk on the moon, about 20 minutes after Neil Armstrong, who declared it "one giant leap for mankind."

The custom-fitted jacket Mr. Aldrin wore on that mission sold after fierce bidding lasting nine minutes, with the auctioneer calling it "the most valuable American space-flown artifact ever sold at auction." (The garments worn by the two other Apollo 11 astronauts from that mission are owned by the Smithsonian.)

In all, 68 of 69 lots of Mr. Aldrin's belongings were sold for a combined $8 million on Tuesday by Sotheby's in Manhattan at an auction that lasted more than two hours….
(9) MEMORY LANE.
2008 – [By Cat Eldridge.] Your essay tonight is brought to you courtesy of two of my loves — Agatha Christie and Doctor Who. Doctor Who's "The Unicorn and The Wasp" involved both and had the added advantage of being a David Tennant story — bliss!
This episode aired first aired by BBC One on May 17, 2008. As I said it's a Tennant Doctor and the Companion was Donna Noble as played delightfully by Catherine Tate. I didn't care for her at first by she grew on me nicely.
SPOLIERS ABOUND. GO AWAY NOW!
The two arrive at British manor of Lady Clemency Eddison, (Manor house mysteries are another fascination of mine), where Christie is staying. The episode is a murder-mystery where a shapeshifting giant wasp, in disguise as one of the party guests, murders the other guests using methods similar to those in the novels of Christie. The Doctor and Christie, wonderfully played by Fenella Woolgar, collaborate rather deliciously in uncovering what is going on.
Doctor Who does CGI really well and the wasp here comes off nicely even though it could've come as damn silly given how big it is. It didn't. I mean a giant wasp in the British countryside? Seriously?
More than a few Christie novels get mentioned. Actually a lot acoording to the writer and Russell T Davies. Titles that were noted were: The Murder of Roger Ackroyd; Why Didn't They Ask Evans; The Body in the Library; The Secret Adversary; N or M?; Nemesis; Cat Among the Pigeons; Dead Man's Folly; They Do It With Mirrors; Appointment with Death; Cards on the Table; Sparkling Cyanide; Endless Night; Crooked House; Death in the Clouds; The Moving Finger; Taken at the Flood; Death Comes as the End; Murder on the Orient Express and The Murder at the Vicarage.
And there's a neat riff at the end where the Doctor pulled a copy of a Christie novel out of a locker on the TARDIS from five billion years in the future refuting Christie's belief that she would be remembered.
They tie the story into the real life mystery of Christie disappearing for nearly eleven days. Mind you, their explanation is fantastical in the extreme.
So we get The Doctor playing effectively Holmes in a manor house mystery with the assistance of Christie.
It's worth noting Christopher Benjamin who is Colonel Hugh Curbishley here played Henry Gordon Jago in The Talons of Weng-Chiang, another favorite episode of mine.
END SPOILERS. REALLY.
It's a delightedly written episode that was penned by Gareth Roberts, who previously wrote the another episode that played off history, "The Shakespeare Code". I've watched it least half dozen times and enjoyed it every times. It's streaming on HBO Max.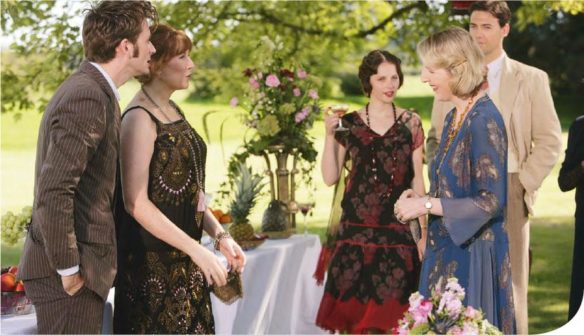 (10) TODAY'S BIRTHDAYS.
[Compiled by Cat Eldridge.]
Born July 27, 1938 — Gary Gygax. Game designer and author best known for co-creating Dungeons & Dragons with Dave Arneson. In addition to the almost beyond counting gaming modules he wrote, he wrote the Greyhawk Adventure series and the Dangerous Journeys novels, none of which is currently in print. I'll admit that I've not read any of the many novels listed at ISFDB, so I've no idea how he is as a genre writer. Opinions, oh intelligent masses? (Died 2008.)
Born July 27, 1949 — Maury Chaykin. Though best remembered as portraying Nero Wolfe staring with The Golden Spiders: A Nero Wolfe Mystery on A&E, a role that lasted twenty-seven episodes, he did have some appearances in genre work. He was in WarGames as Jim Sting, he showed up in The Twilight Zone's "A Game of Pool" as James L. "Fats" Brown, the Millennium film as Richard Keane, on Andromeda in "Pieces of Eight" as Citizen Eight and so forth. (Died 2010.)
Born July 27, 1949 — Robert Rankin, 73. Writer of what I'd call serious comic genre fiction. Best book by him? I'd single out The Hollow Chocolate Bunnies of the Apocalypse as the best work he ever did bar none. Hell even the name is absolutely frelling great.
Born July 27, 1968 — Farah Mendlesohn, 54. She's an historian and prolific writer on genre literature, and an active fan. Best works by her? I really like her newest work on Heinlein, The Pleasant Profession of Robert A. Heinlein which won a BSFA and was a 2020 Hugo finalist. Her Diana Wynne Jones: Children's Literature and the Fantastic Tradition is also a fascinating read. And I highly recommend her Rhetorics of Fantasy as we don't get many good theoretical looks at fantasy. Her only Hugo to date was at Interaction for The Cambridge Companion to Science Fiction though she won a lot of other Awards including BSFAs for the introduction to "Reading Science Fiction", Rhetorics of Fantasy and The Pleasant Profession of Robert A. Heinlein. She's also garnered a BFA for Children's Fantasy Literature: An Introduction (shared with co-writer Michael Levy) which also got a Mythopoeic Scholarship Award for Myth and Fantasy, and she's also won the Karl Edward Wagner Award as well.
Born July 27, 1969 — Bryan Fuller, 53. Let's see…There's credits as either Executive Producer, Producer or Writer for Voyager and DS9, American Gods, Mockingbird Lane, the last being a reboot of The Munsters which lasted one episode and was, err, strange, Pushing Daisies, a Carrie reboot, Heroes and Dead Like Me. And animated adaptation of a quirky Mike Mignola graphic novel entitled The Amazing Screw-On Head. Go see it. It's quite amazing.
Born July 27, 1970 — Nikolaj Coster-Waldau, 52. Jaime Lannister in Game Of Thrones and Game of Thrones: Conquest & Rebellion: An Animated History of the Seven Kingdoms; as the lead in the short lived New Amsterdam series which is not based on the series by the same name by Elizabeth Bear; also genre roles in the Oblivion and My Name Is Modesty: A Modesty Blaise Adventure films.
Born July 27, 1977 — Jonathan Rhys Meyers, 45. Dracula in the 2013 – 2014 Dracula series, other genre roles includes being in The Mortal Instruments: City of Bones, the Gormenghast series and Killer Tongue, a film with poodles transformed into drag queens. Would I kind you about the latter? It's genre.
(11) HULK ALUM RETURNS. Peter David, known for his legendary and impactful run on Incredible Hulk, is proving his acclaimed work on the Hulk mythos is far from over. Having just finished an epic trilogy of limited series that told the grand saga of Hulk villain Maestro, David will now turn his attention to another iconic creation of his—Joe Fixit! The fan-favorite Hulk persona that muscled his way through Las Vegas as a hedonistic bodyguard will star in his very own limited series set during David's original time on the Incredible Hulk. Joining David in this Sin City adventure will be artist Yildiray Cinar (The Marvels).
"When I created Joe Fixit decades ago, it was merely as a means to shake up the standard formula," David explained. "Typically Bruce would have set up some sort of situation and he would be worried that the Hulk would inevitably show up and screw things up. The storyline with Joe flipped the formula on its head, and set up the Hulk with his great situation in Vegas and he was worried that Bruce would show up to screw things up. I had no idea that the character would have this much staying power, and that so much would eventually be done with him in the pages of the Immortal Hulk. I'm thrilled that Marvel has given me this opportunity to revisit with an old friend."
(12) 2023 EASTERCON. Chair Caroline Mullan announced that Conversation, the 2023 Eastercon, will be at the Hilton Birmingham Metropole at the NEC, from April 7-10, 2023.
…Expect to see more information from us soon about booking hotel rooms, booking for the dealers' room and fan tables, and the timing and details of our initial rise in membership rates.

This has been a difficult year for site negotiations. We are very grateful to Vanessa May and the Persistence committee for providing the continuity with this site that has given us this outcome….
(13) THESE ARE THE DAYS OF OUR UNDEAD LIVES. Rest of World purports to take you "Inside the global gig economy of werewolf erotica on platforms like Dreame, GoodNovel and Amazon Kindle Vella".
…The central characters of many of Dreame's most beloved werewolf novels often inhabit Americanized settings, but the authors don't typically live in the U.S. Rather, they come from countries like Mexico, the Philippines, Nigeria, and China – and often write novels in their second or third language. One student in Bangladesh, who writes under the pen name Anamika, spends five hours a day, seven days per week writing romance novels. She ends each chapter with a cliffhanger to keep readers hooked. Each book earns her up to $300, along with adoring messages from Western fans. "They are very sweet," she said. "Their comments are my encouragement."

The emerging web novel industry spans the globe, taking a business model from Asia, assembling a global supply chain of authors in lower-income countries, and paying them to churn out thousands of words a day for English-speaking readers in the West. Rest of World spoke to four current and former employees at these platforms, who described how the art of novel writing is broken down into a formula to be followed: take a popular theme like werewolves, sprinkle it with certain tropes like a forbidden romance, and write as many chapters as you can. Some novels have hundreds of chapters, most ending on a cliffhanger to keep readers engaged and eager to read on.

The platforms, some backed by Tencent or TikTok's parent ByteDance, thrived during the pandemic amid a surge in demand for online content – jobs that can be done from home. Dreame, GoodNovel, Webnovel, and Fizzo consistently rank among the most-downloaded reading apps in the U.S., the U.K., the Philippines, and Indonesia, and together rake in millions of dollars in revenues every month. The model has proven so successful that, in 2021, Amazon launched Kindle Vella, featuring similar episodic titles and plotlines. Kindle Vella even mimics a key mechanic of the other platforms: readers earn coins by spending more time engaged in the apps, which they can then spend to unlock more chapters….
(14) REBRANDING MURDER HORNETS? Like you need little branding irons for branding ants? MSN.com reports "Invasive 'murder hornet' is getting a rebrand. Here's why."
… The Asian giant hornet, commonly known as the murder hornet, has a new name as its former moniker could stoke anti-Asian sentiment.

The Entomological Society of America (ESA) chose to rebrand the invasive species as the northern giant hornet, with the ESA concluding the political climate contributed to the need to change the name….
(15) A BAD DAY FOR STURGEON. "Two of the Largest Freshwater Fish in the World Declared Extinct". MSN.com has details.
The Yangtze sturgeon lived in its namesake river for 140 million years. Now it doesn't. Nor does another behemoth it shared China's longest waterway with for ages, the Chinese paddlefish. Updating its Red List of Threatened Species on Thursday for the first time in 13 years, the International Union for Conservation of Nature declared the two species, known as "the last giants of the Yangtze," extinct.

Once the largest freshwater fish in the world, the Yangtze sturgeon, Acipenser dabryanus, could reach 26 feet in length and weigh 1,500 pounds. Its historic range extended throughout Asia, including Japan, Korea, and the Yellow River in China. Dubbed a "living fossil," it sported a rounded snout, large pectoral fins, and rows of elevated ridges on its spine and flanks. Though there are still captive fish in breeding programs, authorities, despite many efforts, have failed to successfully reintroduce the fish to the river system, and now it considered extinct in the wild.
(16) VIDEO OF THE DAY. [Item by Martin Morse Wooster.] Matthew Van Ness duplicates himself dozens of times as he sings "Hedwig's Theme" from the Harry Potter movies: "I sing the ENTIRE orchestra in Hedwig's Theme".
[Thanks to Michael Toman, Cat Eldridge, Mike Kennedy, Tom Becker, Martin Morse Wooster, JJ, John King Tarpinian, Andrew Porter, and Chris Barkley for some of these stories. Title credit belongs to File 770 contributing editor of the day Kaboobie.]