(1) UP ALL NIGHT. Sarah Gailey hosts an "Exclusive Interview with Victor Manibo" about his novel, The Sleepless.
…One aspect of The Sleepless that fascinates me is the way society in the book reacts to what some call a superpower, and what could also be framed as a hypercapitalist disability. Sleeplessness offers a fundamental change to human form and function as it's typically understood, but it's a change that allows people to engage more with capitalist productivity culture, consumption, and work. What made you want to explore this particular tension?

This story grew out of a what-if question I asked myself during a particularly busy time in my life. What if I didn't need to sleep? Would I get more stuff done? How would such a change impact me, personally? The thought experiment was hard to contain to the individual level, and when I expanded the what-if to the world at large, it really raised some interesting questions. That's when I felt like I needed to write it all out.

We're living in an interesting time where more and more people are taking more control regarding their place in our capitalistic society. People are "quiet quitting"; it's the age of "The Great Resignation"; there's an increasing frequency of success stories in labor organizing, and there's a record number of socialists in Congress. I wanted this story to be in conversation with what's going on in the world, to interrogate why and how we participate in capitalism….
(2) A LITTLE SURPRISE. Google Double Asteroid Redirection Test, then wait a moment. [Via Tom Galloway.]
(3) HE'S GOT NOTHING. BUT SOMEBODY ELSE HAS SOMETHING. This teaser for Deadpool 3 dropped today. Ryan Reynolds apologizes for missing D23. Oh, and there's a little casting surprised revealed at the end. "Deadpool Update".
Or if you want to skip the video and go straight to the surprise, read this article in The Hollywood Reporter.
(4) MAKING CONTACT. Vulture has assembled an oral history of the movie Contact. "'No Aliens, No Spaceships, No Invasion of Earth'".
Ahead of Contact's 25th anniversary, we spoke to nearly two dozen people involved in its making, including Zemeckis, Foster, McConaughey, Druyan, Sasha Sagan, and veteran producer Lynda Obst. They disagreed on several aspects of Contact's development saga, but settled on some consensus: Contact was a lightning-in-a-bottle project, the kind of thing big movie studios barely made before and would probably never make again — intellectually challenging, emotionally messy, heavy with metaphor, wherein nobody shoots an alien in the face in front of an American flag. "We used to do that," said Foster. "We used to make movies that were resonant and were entertaining."…

Ann Druyan: This is 1978. Carl and I are still working on Cosmos. At the time, it was popular to say things like, "Well, if men are as smart as women, then how come there are no female Leonardos? No female Einsteins?" This made both of us furious. I had just co-written the part of Cosmos about the Great Library of Alexandria and the fact that Hypatia, who was the leader of the library, was a mathematician focusing on the Diophantine equations that Newton would later become interested in. Her reward for being the great intellectual light of the library in 415 AD was to be ripped from her chariot that she was driving herself and carved to bits with abalone shells.

People were throwing everything at Carl then. He was such a phenomenon in the culture, and everybody wanted to do something with him. So we knew we could get a book and a movie contract. We agreed one night, sitting in the pool at our little rented house in West Hollywood, that we were going to tell a story in which not only would a woman be the intellectual hero but, in the great tradition of Gilgamesh, she was going to go on the voyage and the guys would stay home.
(5) UNIONIZING PUBLISHING. UAW Local 2110 (2110uaw.org) – HarperCollins is the only unionized Big 4 publisher. HarperCollins workers are pushing for better compensation, diversity protections, and union security.
(6) KSR TO SPEAK IN MARYLAND. At the 2022 F. Scott Fitzgerald Festival, with the theme "Stories and the More-Than-Human", will be held over several dates. The main date events are on October 15, 2022 at the Unitarian Universalist Congregation of Rockville, MD. The keynote speaker Kim Stanley Robinson will participate in the "Tribute to Richard Powers" at the Writer's Center on Friday evening, October 14, and will engage with Richard Powers in a "Conversation about the Art of Fiction" and introduce Richard Powers for the Fitzgerald Award on Saturday, October 15. Festival registration is here.
(7) CRAFTING WITCHES. Leanna Renee Hieber and Andrea Janes admire "The Unstoppable, Fearsome, Delicious Allure of the Witch" at CrimeReads.
Witches are powerful women. Like all powerful women, they have been maligned, persecuted, hated, desired, feared. They are eternal, mythical subjects, a source of endless fascination. In American history, they occupy a unique place where folklore blurs the lines of reality; we remember the "witches" of Salem, Massachusetts, who were not actually witches. They have become totemic figures in television, movies, books, and pop culture, and their appeal shows no signs of waning: as of this writing, the Peabody Essex Museum in Salem is devoting a full-scale exhibit to the power and imagery of the witch…
(8) INVESTING TIME. Camestros Felapton is inspired to think about "Time travel and energy" after reading Sheila Jenne's "Theories of time travel". (His post was published on September 28, which is only appropriate, too…)
I was reading this neat summary of time travel rules in fiction and thinking about a couple of things basically angles and effort. The idea that a small change at one point leads to a big change in the future (aka two different kinds of things both known as a butterfly effect) predates modern science fiction. The proverb of consequences that typically starts with "for want of a nail" dates back to at least the 13th century and describes a causal chain of circumstances where a small issue (the nail in a horseshoe) leads to a major outcome.

Put another way: a small amount of effort in the past can lead to a result that would require a huge amount of effort if you were to attempt the same outcome in the present. I think that gives a neat rationale for fiction where you want time travel that allows changes to the future but where you don't want an oops-I-stepped-on-a-butterfly-now-Donald-Trump-is-president situation….
(9) HOLDING HANDS WITH DEATH. "Terry Pratchett: A Life With Footnotes by Rob Wilkins review – anecdotes, elephants and 'an embuggerance'" – the Guardian's Frank Cottrell-Boyce comes away wondering why Pratchett was "so underestimated".
…Caring for someone who has dementia is an overwhelmingly vivid experience, full of pain and comedy. There are heartbreaking and funny stories in A Life With Footnotes – started by Pratchett himself but written and completed by his longtime assistant Rob Wilkins – about the things that Pratchett's shrinking brain made him do. He once accidentally donated £50,000 to Bath Postal Museum, for instance. Moments like that can supplant your memories of what a person was like before; here, Wilkins, who started working for the author in 2000, attempts to recover Pratchett pre-dementia. His closeness to the subject means that the book is sometimes joyfully, sometimes painfully, intimate. The description of the day Pratchett's daughter, Rhianna, was born, for example, is so animated by love, it's as if this treasured moment was a jewel that Pratchett placed in Wilkins's care, to ensure it would not be stolen away by the embuggerance….
(10) CHAN DAVIS (1926-2022). Author Chandler Davis died September 24 reports Olav Rokne, who tweeted an extensive tribute that begins here.
SIDE NOTE: (I became aware of Chandler Davis as a science fiction author only a couple of years ago because of @gautambhatia88. But by an odd coincidence it turns out I met him several times in the 1980s as he worked on some math papers with my godfather Dr. Peter Lancaster)
(11) MEDIA BIRTHDAY.
1968 – [By Cat Eldridge.] This, I believe, was truly one of the the classic episodes of the original Star Trek series. Airing fifty-four years ago on NBC, it scripted by D.C. Fontana, one of eleven episodes that she would write including "Catspaw" that I dearly love, and directed by John Meredyth Lucas as the second episode of the final season.
If you've forgotten, the story is Kirk violated the neutral zone. The Romulans have a new bit of technology called a "cloaking device" (just go with the idea please). Kirk pretends to be crazy, then pretends to be a Romulan to get to it. Meanwhile, Spock pretends to be in love. But is he pretending? Who knows.
D. C. Fontana says she based her script very loosely upon the Pueblo incident but I'll be damned I can see this. It's a Cold War espionage thriller at heart and most excellently played out. You did note the Romulnan commander never gets named? Later novels including Vulcan's Heart by Josepha Sherman and Susan Shwartz gave her the name of Liviana Charvanek.
Speaking of Vulcans, Fontana deliberately kept the romance between her and Spock low key to the finger games they did. And then there's Roddenberry's idea, never done, Spock "raining kisses" on the bare shoulders of the Romulan commander. Oh awful.
Season three had no budget, I repeat, no budget for frills, so this episode suffered several times from that. Kirk was supposed to have surgery done on him after dying but that got deep sixed, and McCoy was supposed to accompany him back to the Romulan ship but my, oh my ears are expensive, aren't they?
Fontana would co-write with Derek Chester a sequel: Star Trek: Year Four—The Enterprise Experiment, a graphic novel published by IDW Publishing in 2008.
Critics then and now love it.
It's airing on Paramount + as is everything else in the Trek universe.
(12) TODAY'S BIRTHDAYS.
[Compiled by Cat Eldridge.]
Born September 27, 1927 — Roberta Gellis. Though she wrote nearly a dozen novels of her own, you most likely know her writing within the Elves on the Road Universe created by Mercedes Lackey. She co-wrote Serrated Edge Prequels with Lackey, two of which were full novels — Ill Met by Moonlight and And Less Than Kind. (Died 2016.)
Born September 27, 1932 — Roger Charles Carmel. The original Harcourt Fenton "Harry" Mudd who appeared in two episodes of the original Star Trek, "Mudd's Women" and "I, Mudd"" and one episode of the animated series as well, "Mudd's Passion". I say original because Discovery has decided that they have a Harry Mudd. He also had one-offs on I-Spy, Munsters, The Man from U.N.C.L.E., Voyage to the Bottom of the Sea and Batman. It is rumored but at all not confirmed he was going to reprise his role as Harry Mudd in a first-season episode of Next Gen but died before filming could start. (Died 1986.)
Born September 27, 1934 — Wilford Brimley. His first genre role was as Dr. Blair in John Carpenter's The Thing. He's Benjamin 'Ben' Luckett in the Cacoon films, and Agency Director Harold Smith in Remo Williams: The Adventure Begins. He made a rather splendid President Grover Cleveland in The Wild Wild West Revisted. And finally I note that he was Noa in Ewoks: The Battle for Endor. (Died 2020.)
Born September 27, 1947 — Meat Loaf. He has a tasty role as Eddie in The Rocky Horror Picture Show. And I'd argue some of his music videos are genre stories in their own right including "I'd Do Anything for Love (But I Won't Do That)". He also has film roles in Wishcraft (horror), Stage Fright (horror) and Urban Decay (yes, more horror). He's also in BloodRayne which is yes, horror. He's had one-offs on Tales from the Crypt, The Outer Limits, Monsters, Masters of Horror and was Doug Rennie, a main cast member of Ghost Wars. (Died 2022.)
Born September 27, 1950 — Cary-Hiroyuki Tagawa, 72. He'd be on the Birthday Honors list if he'd only been Zylyn in Space Rangers which lasted just six episodes. Damn. But he's also shown up on Babylon 5, the premier of Star Trek: The Next Generation, Superboy, Alien Nation, the Australian version of Mission: Impossible, Sabrina the Teenage Witch, Stargate SG-1, Poltergeist: The Legacy, The Librarians, voicing characters on Teenage Mutant Ninja Turtles and Star Wars Rebels. More recently he played Nobusuke Tagomi in The Man in The High Castle (2015-2018), and Hiroki Watanabe in Lost in Space 2018-2021). 
Born September 27, 1956 — Sheila Williams, 66. Editor, Asimov's Science Fiction the last fifteen years. She won the Hugo Award for Best Short Form Editor at Renovation and Chicon 7. With the late Gardner Dozois, she co-edited a bonnie bunch of anthologies such as Isaac Asimov's Robots, Isaac Asimov's Christmas and Isaac Asimov's Cyberdreams. She was also responsible for the Isaac Asimov Award for Undergraduate Excellence in Science Fiction and Fantasy writing being renamed the Dell Magazines Award for Undergraduate Excellence in Science Fiction and Fantasy Writing. 
Born September 27, 1972 — Gwyneth Paltrow, 50. Yes, she is Pepper Potts in the Marvel Universe film franchise but her first genre role was as a young Wendy Darling in Hook. And she shows up in Sky Captain and the World of Tomorrow as Polly Perkins, a reporter for The Chronicle. And let's not forget she was in Shakespeare in Love as Viola de Lesseps. Yes, it's most decidedly and deliciously genre, isn't it? 
Born September 27, 1972 — Andy Briggs, 50. He started out as an uncredited writer working on story developer on the Highlander Series. I'm going to single out his writing of The Tarzan Trilogy which consists of Tarzan: The Greystoke Legacy, Tarzan the Jungle Warrior and Tarzan: The Savage Lands. Most excellent pulp. He's written eleven scripts including a remake of The Philadelphia Experiment. 
(13) COMICS SECTION.
Lio is rejected for UFO abduction – find out why.
(14) MEANWHILE, BACK AT THE RANCH. The Penelopiad by Margaret Atwood will be staged at City Garage Theatre in Santa Monica, CA from November 11 – December 18, 2022. Get tickets here.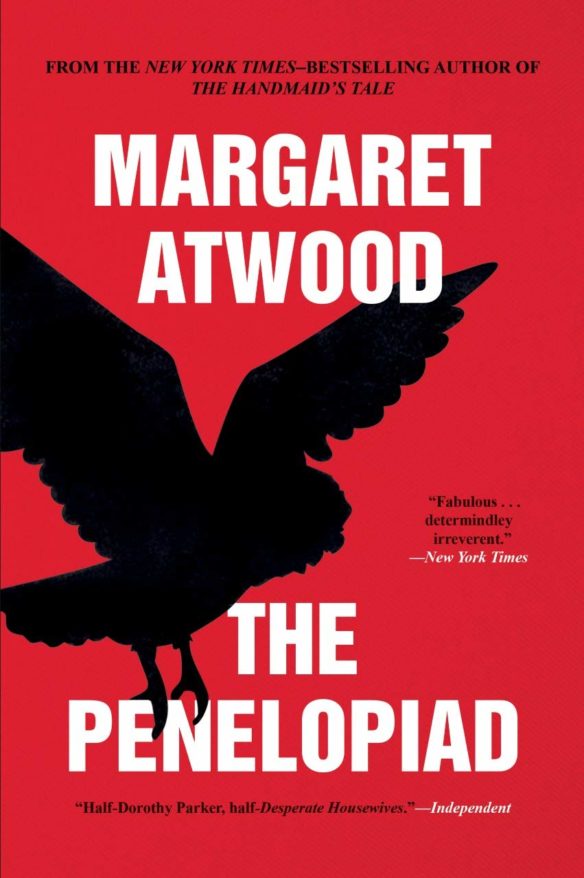 City Garage presents the "The Penelopiad" by feminist icon Margaret Atwood, author of "The Handmaid's Tale." In this remarkable retelling of "The Odyssey," Atwood transforms both the power and the politics of the classic tale by shifting the point of view to Penelope, Odysseus's wife, and of her twelve faithful maids unjustly hanged by the returning "hero." It takes place in Hades, where these thirteen spirits are trapped for all eternity, telling and retelling their story like angry furies, unable to find redress for what they suffered at male hands.

While her husband Odysseus is off fighting pointless wars—for the sake of her beautiful, shameless, aggravating cousin Helen—dallying with nymphs and sirens, and playing the hero, Penelope is holding the kingdom together. All alone, with nothing but her wits, toughness, and strength to rely on, she has to raise her rebellious son, face down dangerous rumors, and keep more than a hundred lustful, brutal suitors at bay. When twenty years later the "hero" finally returns there is indeed hell to pay—but it is Penelope and her twelve faithful maids who pay the tragic price.

Atwood gives Penelope a modern voice, witty, pragmatic, yet still filled with pain as she gets to tell her own story at last, and set the record straight. 
(15) I NEVER DRINK…WELL, ON SECOND THOUGHT. Vampire Vineyards in Ventura, CA has all kinds of amusing marketing ideas. How about wine bottles with Dracula capes? Or Vampire Gummies?
(16) LAURIE STRODE RIDES AGAIN. "Jamie Lee Curtis in 'Halloween Ends' final trailer" – SYFY Wire cues it up:
…Universal Pictures dropped the final trailer for Halloween Ends Tuesday, giving us one last look at the concluding chapter of this legacy sequel saga ahead of its October 14 premiere, and the stakes of the film are now clearer than ever. It's been four years since the events of Halloween Kills, which left the town of Haddonfield deeply scarred and left Laurie's own daughter (Judy Greer) dead at Michael's hands. After that night, Michael Myers vanished, but of course Laurie's not convinced he's gone for good. The boogeyman is coming back for one last night of terror, and this time, Laurie thinks she finally knows how to kill him. The catch, of course, is that she might have to die too…. 
(17) RED GULCH. "China's Mars rover finds new evidence of an ancient waterway on the Red Planet" Inverse covers a study published in Nature.
CHINA landed its first rover on the surface of Mars, called Zhurong, on May 15, 2021. Just ten days later, it began a series of observations that ancient flows of water on the Red Planet could explain.

A new study published Monday in the journal Nature details how Zhurong collected data on Mars' subterranean sediments with an instrument called the Rover Penetrating Radar (RoPeR). Chinese scientists looked at the radar results Zhurong obtained as it traveled across more than 1,100 meters of flat landscape in a place called Utopia Planitia from May 25 to September 6, 2021. That's about 102 Mars days, or sols. In the new work, Chinese researchers announced that Mars' subsurface sediments were organized in a way that could be explained by ancient water flow on Mars….
(18) VIDEO OF THE DAY. [Item by Martin Morse Wooster.] In "Honest Trailers: The Sandman," the Screen Junkies say that Neil Gaiman may "look like a hobbit," but The Sandman was "one of the greatest comics ever" and the high quality of this $160 million production shows the merits of "creators owning the rights to their creations." The show is about the power of dreams, "but the concrete linear kind, not the ones where you're mowing the lawn with your naked dad." And does Patton Oswalt's casting mean he "sounds like a talking bird?"
[Thanks to JJ, John King Tarpinian, Andrew Porter, Chris Barkley, Justin E. A. Busch, Rich Lynch, Michael Toman, Cat Eldridge, Mike Kennedy, and Martin Morse Wooster for some of these stories. Title credit belongs to File 770 contributing editor of the day Jake.]