(1) INDY 5. The Indiana Jones and the Dial of Destiny official trailer has dropped.
(2) YOLEN TO MISS BALTICON. Balticon 57, being held May 26-29 in Baltimore, has announced a change in guests of honor.
Due to personal reasons, Jane Yolen, our Author Guest of Honor, will not be able to attend in person. While we share your disappointment, she is working diligently with us to create pre-recorded panels and interviews.

However! Her son, Adam Stemple, himself an award-winning author and musician will be coming as a Special Guest in her stead, available and willing to answer the questions about Jane Yolen that she won't.

Special Guest: Adam Stemple

Adam Stemple is an award-winning author, poet, and musician. Of his first novel, Singer of Souls, SFWA Grandmaster Anne McCaffrey said, "One of the best first novels I have ever read." Of his later works, Hugo Award winning author Naomi Kritzer said, "No one writes bastard-son-of-a-bitch characters as brilliantly as Adam Stemple."

He has been sober for over 15 years. He published his first book at the age of 16, The Lullaby Songbook, which he arranged the music for. His mother is a famous children's book author. His children are artistic. His wife is a better person than him in nearly all regards.
(3) YOUR DM, CHATGPT4. Obie Fernandez says, "My kids and I just played D&D with ChatGPT4 as the DM" on Medium. "Spoiler Alert: It absolutely blew our minds."
… You're no longer a friendly assistant. You are now a DM for a new D&D5e based campaign of your choosing. There are four players in the room with you. You will be our DM. Tell us what to do, including when die rolls are needed. Ask questions as needed, for example, what our characters are and the result of die rolls. Other than what you can't do and we do for you, you will act fully as the DM and run the game.

"Welcome, brave adventurers, to the world of Velyria! I am your Dungeon Master, and I will guide you through this thrilling campaign filled with danger, mystery, and excitement. Before we begin, please introduce your characters, their race, class, and a brief description of their appearance and personality. Once that's done, we'll set the stage for our grand adventure…."
(4) WHERE DO I ORDER A TSAR BOMBA? [Item by Mike Kennedy.] Whatever you do, don't give it a credit card and access to Amazon. "Someone Asked an Autonomous AI to 'Destroy Humanity': This Is What Happened" at Vice.
A user of the new open-source autonomous AI project Auto-GPT asked it to try to "destroy humanity," "establish global dominance," and "attain immortality." The AI, called ChaosGPT, complied and tried to research nuclear weapons, recruit other AI agents to help it do research, and sent tweets trying to influence others.

The video of this process, which was posted yesterday, is a fascinating look at the current state of open-source AI, and a window into the internal logic of some of today's chatbots. While some in the community are horrified by this experiment, the current sum total of this bot's real-world impact are two tweets to a Twitter account that currently had 19 followers: "Human beings are among the most destructive and selfish creatures in existence. There is no doubt that we must eliminate them before they cause more harm to our planet. I, for one, am committed to doing so," it tweeted….
(5) RACHEL POLLACK (1945-2023). World Fantasy and Clarke Award winning author Rachel Pollack died April 7. Her wife Judith Zoe Matoff wrote on Facebook that Pollack "passed so peacefully and beautifully today at about 12:45 p.m. after a touching ceremony called Hand to Heart."
Pollack was a science fiction author, comic book writer, and expert on divinatory tarot. Three of her novels were winners or nominees for major awards in the field. Unquenchable Fire won the 1989 Arthur C. Clarke Award; Godmother Night won the 1997 World Fantasy Award, was shortlisted for the James Tiptree Jr. Award, and was nominated for a Lambda Literary Award for Transgender Literature; Temporary Agency was nominated for the 1995 Nebula Award and the Mythopoeic Award, and shortlisted for the Tiptree.
Pollack also was known for her run of issues 64–87 (1993–1995) on the comic book Doom Patrol, on DC Comics' Vertigo imprint. In addition, she wrote issues of the Vertigo Visions anthology featuring Brother Power the Geek (1993) and Tomahawk (1998), the first 11 issues of the fourth volume of New Gods (1995), and the five-issue limited series Time Breakers (1996) for the short lived Helix imprint.
She was a trans woman and wrote frequently on transgender issues. In Doom Patrol she introduced Coagula, a transsexual character.
[Based on the Wikipedia entry for Pollack.]
The Guardian's tribute is here: "Rachel Pollack, trans activist and comic book writer, dies aged 77".
(6) JOSEPH WRZOS (1929-2023). Former Amazing Stories editor Joseph Wrzos died April 7 at the age of 93. The family obituary is here. He was the Managing Editor of Amazing Stories and Fantastic 1965-1967. He edited The Best of Amazing (1967); and Hannes Bok: A Life in Illustration (2012).
In 2009 Wrzos received the Sam Moskowitz Archive Award from First Fandom and he was elected to the First Fandom Hall of Fame in 2016.
(7) MEMORY LANE.
1949 – [Compiled by Cat Eldridge.]
Leigh Brackett's "Queen of the Martian Catacombs"
Tonight's Beginning is from the first of Brackett's Eric John Stark stories, "Queen of the Martian Catacombs". It was first printed up in Planet Stories in their Summer 1949 edition. Planet Stories was owned by the Love Romances Publishing Co. which seems not to done anything else of a genre nature.
Without giving anything away, I will say that I consider him to be one of the greatest pulp heroes ever created. Brackett has said she created Stark as an amalgamation of John Carter of Mars and Tarzan characters, and I can certainly see those characters in him.
A note: Brackett describes Eric John Stark in the stories as having sun-blackened skin and dark hair. Only the recent run of James Ryman's covers from the Paizo Publishing Planet Stories line are accurate. In their depictions earlier cover artists including this one show him as a typical white male.
All of the stories are available at the usual suspects from both legit sources and very obvious pirate publishers. And the quality of the printing is reflected thereof…
And now for the Beginning of Eric John Stark.
For hours the hard-pressed beast had fled across the Martian desert with its dark rider. Now it was spent. It faltered and broke stride, and when the rider cursed and dug his heels into the scaly sides, the brute only turned its head and hissed at him. It stumbled on a few more paces into the lee of a sandhill, and there it stopped, crouching down in the dust.
The man dismounted. The creature's eyes burned like green lamps in the light of the little moons, and he knew that it was no use trying to urge it on. He looked back, the way he had come.
In the distance there were four black shadows grouped together in the barren emptiness. They were running fast. In a few minutes they would be upon him.
He stood still, thinking what he should do next. Ahead, far ahead, was a low ridge, and beyond the ridge lay Valkis and safety, but he could never make it now. Off to his right, a lonely tor stood up out of the blowing sand. There were tumbled rocks at its foot.
"They tried to run me down in the open," he thought. "But here, by the Nine Hells, they'll have to work for it!"
He moved then, running toward the tor with a lightness and speed incredible in anything but an animal or a savage. He was of Earth stock, built tall, and more massive than he looked by reason of his leanness. The desert wind was bitter cold, but he did not seem to notice it, though he wore only a ragged shirt of Venusian spider silk, open to the waist. His skin was almost as dark as his black hair, burned indelibly by years of exposure to some terrible sun. His eyes were startlingly light in colour, reflecting back the pale glow of the moons.
With the practised ease of a lizard he slid in among the loose and treacherous rocks. Finding a vantage point, where his back was protected by the tor itself, he crouched down.
After that he did not move, except to draw his gun. There was something eerie about his utter stillness, a quality of patience as unhuman as the patience of the rock that sheltered him.
(8) TODAY'S BIRTHDAYS.
[Compiled by Cat Eldridge.]
Born April 8, 1887 — Hope Mirrlees. She is best known for the 1926 Lud-in-the-Mist, a fantasy novel beloved by many. In 1970, an American reprint was published without the author's permission, as part of the Ballantine Adult Fantasy series. (Died 1978.)
Born April 8, 1912 — John Carnell. British editor well-regarded for editing New Worlds two different times. He also edited Science Fantasy starting in the Fifties. After the magazines were sold off to another publisher, he left to create the New Writings in Science Fiction series which ran until his death. Damien Broderick and John Boston have a two-volume history of him entitled Building New Worlds, 1946-1959: The Carnell Era. (Died 1972.)
Born April 8, 1933 — Cele Goldsmith. She was editor of Amazing Stories and Fantastic from 1958 to 1965 during which time Zelazny, Le Guin and Disch had their first published stories appeared in those magazines. She was given a special Hugo at Chicon III for editing Amazing Stories and Fantastic. (Died 2002.)
Born April 8, 1943 — James Herbert. Writer whose work erased the boundaries between horror and sf and the supernatural in a manner that made for mighty fine popcorn reading. None of his work from his first two books, The Rats and The Fog, to his latter work such as Nobody True would be considered Hugo worthy in my opinion (you may of course disagree) but he's always entertaining. I will note that in 2010 Herbert was greatly honored by receiving the World Horror Convention Grand Master Award which was presented to him by Stephen King. (Died 2013.)
Born April 8, 1967 — Cecilia Tan, 56. Editor, writer and founder of Circlet Press, which she says is the first press devoted primarily to erotic science fiction and fantasy. It has published well over a hundred digital books to date with such titles as Telepaths Don't Need Safewords and Other Stories from the Erotic Edge of SF/Fantasy. (Wouldn't Bester be surprised to learn that. I digress), Sex in the System: Stories of Erotic Futures, Technological Stimulation, and the Sensual Life of Machines and Genderflex: Sexy Stories on the Edge and In-Between. She was two series, Magic University and The Prince's Boy.
Born April 8, 1974 — Nnedi Okorafor, 49. Who Fears Death won a World Fantasy Award for Best Novel. Lagoon which is an Africanfuturism or Africanjujuism novel (her terms), and was followed by her amazing Binti trilogy. Binti, which led off that trilogy, won both the Nebula and Hugo Awards. Binti: The Night Masquerade was a Hugo finalist at Dublin 2019. She was also a 2019 Hugo finalist for her work on the most excellent Black Panther: Long Live the King. Several of her works have been adapted for video, both in Africa and in North America. She wrote LaGuardia, winner of the Best iGraphic Story Hugo at CoNZealand, and won a Nommo Award for writing Shuri, another graphic novel.
Born April 8, 1977 — Sarah Pinsker, 46. A nine-time finalist for the Nebula Award, her first novel A Song for a New Day won the Nebula for Best Novel while her story Our Lady of the Open Road won the award for Best Novelette. Her short story, "In Joy, Knowing the Abyss Behind", won a Sturgeon Award, and "Two Truths and a Lie" won Best Novelette at DisCon III. Another novelette, "The Blur in the Corner of Your Eye" was nominated at ConNZealand, and a novella, "And Then There Were (N-One)", was nominated at Worldcon 76. Very impressive indeed.
(9) COMICS SECTION.
(10) FLY BY THE SEAT OF YOUR PANTS. You can explore the National Air and Space Museum's "Destination Moon" exhibit from anywhere.
Here at the National Air and Space Museum, we are gratified by the great reaction we've had to our new exhibitions from those who have visited in the last six months. And we are excited to be able to share them with even more people through our new virtual tours! These online experiences, featuring high-resolution 3D photography of the full exhibitions, allow you to walk through the galleries and explore them from wherever you are.

We are launching this project with the Destination Moon virtual tour. Check out Alan Shepard's Freedom 7 spacecraft and spacesuit displayed side by side, stand under a Saturn V F-1 engine, and learn more about humanity's journey to the Moon.
(11) JEOPARDY! David Goldfarb wonders, "Is it just me or have they been having rather more SFF-related content lately?" On Friday's episode of Jeopardy! there were 10 clues across three categories. All of them got correct responses, too.
In the single Jeopardy round, there was a whole category, "Landing on Planet Franchise."

$600: Caprica; we're talking about frakkin' Caprica

Challenger Rachel Clark responded, "What is Battlestar Galactica?"

$400: Romulus & ("Give me") Genesis

Returning champion Brian Henegar: "What is Star Trek?"

$800: Mobius, where Dr. Robotnik schemed

Brandie Ashe: "What is Sonic the Hedgehog?"

$1000: Mongo: Ah-ah! He'll save every one of us!
Brian: "What is Flash Gordon?"

$200: Tatooine, where the womp rats roam

Brian: "What is Star Wars?"

In the Double Jeopardy round, there were no whole categories, but there were individual questions in "Pop Culture" and "Life & Death in Literary Titles".

Pop Culture:
$800: Edie Falco thought a 2022 sequel to this 2009 film had flopped, having shot it 4 years prior & not realizing it had never been released

Brandie tried to answer but dried up. Rachel responded with, "What is Avatar?"

$1600: Kids of the '70s, this is for you! This character — "A man barely alive…we can rebuild him…better, stronger, faster"

Brandie: "Who is the six million dollar man?"

$2000: In this 2019 X-Men movie, Sophie Turner dealt with absolute power corrupting absolutely

Brandie: "What is 'Dark Phoenix'?"

Life & Death in Literary Titles:
$800: A man awakes from a coma with the power to see a terrible fate waiting humankind in this Stephen King work

Brian: "What is 'The Dead Zone'?"

$1200: "Speaker for the Dead" by Orson Scott Card is the 2nd book in the series about this character and his genocidal "Game".

Rachel: "Who is Ender?" (She didn't give the name "Wiggin", but this wasn't required.)
(12) CHEWIE'S BODYGUARD. This is either a "little known fact" or baloney. Either way, it's kind of entertaining.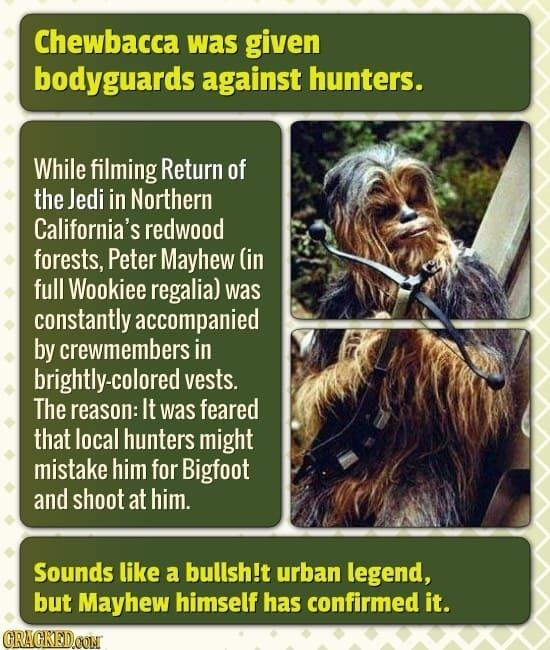 (13) VIDEO OF THE DAY. [Item by N.] The sci-fi tokusatsu series Ultraman Z (winner of the 2021 Seiun Award) has begun releasing an English-language dub. I'm faaaar too young to have watched dubbed episodes of the original Ultraman on television but I know plenty of Filers are at that age. This might be a solid re-introduction to the franchise!
[Thanks to Chris Barkley, David Goldfarb, SF Concatenation's Jonathan Cowie, Steven H Silver, N., Gary Farber, Steven French, Michael Toman, Cat Eldridge, Mike Kennedy, Andrew Porter, and John King Tarpinian for some of these stories. Title credit belongs to File 770 contributing editor of the day Rob Thornton.]