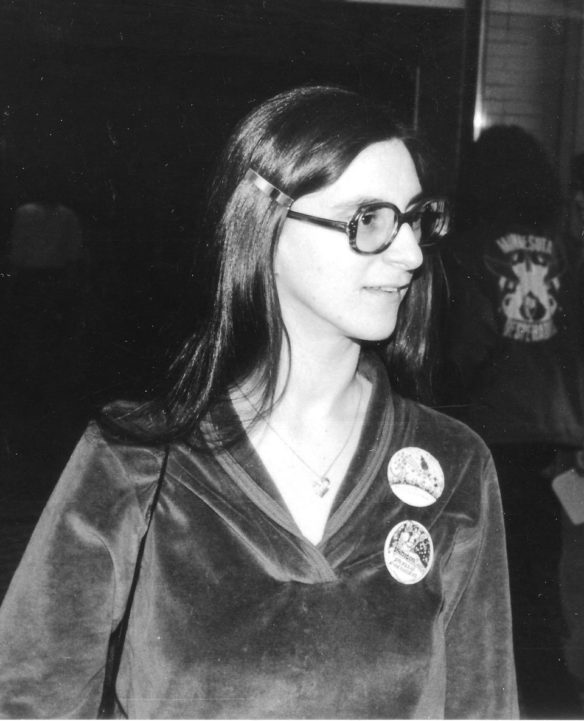 Nebula and Hugo nominated author Phyllis Eisenstein died December 7 at the age of 74 after a year-long struggle with serious neurological problems. The family obituary, which will appear in the Chicago Tribune, is here.
Eisenstein was born in Chicago in 1946, grew up there, and for awhile attended the University of Chicago. She met her future husband Alex at the weekly gathering of Chicago science fiction fandom. They married in 1966.
Her first published sf story was "The Trouble with the Past", written in collaboration with Alex, in New Dimensions 1 (1971) edited by Robert Silverberg. An acclaimed writer with six published novels and 50 short stories, she was twice nominated for the Hugo Award, for her novella "In the Western Tradition" (1982, also a Nebula nominee), and the novelette "Nightlife." Two additional works were Nebula nominees, the short story "Attachment" (1976) and novelette "The Island in the Lake" (2000). Her short story "Subworld" was a Seiun Award nominee (1997). Eisenstein's novels Born to Exile won a Balrog Award (1980) and Sorcerer's Son was a British Fantasy Awards finalist (1980).
Her 1978 short story "Lost and Found" was adapted for television by George R.R. Martin and aired in 1986 on The New Twilight Zone.
She also wrote a nonfiction book, Overcoming the Pain of Inflammatory Arthritis, which she said "is about the use of pantothenic acid (vitamin B5) for arthritis, a disease I've had all of my adult life."
After establishing herself as a professional writer, she returned to college and finished her education, earning a 1981 B.A. in anthropology from the University of Illinois.
For fifteen years she was the Managing Copy-editor at Leo Burnett Agency, and worked at the Publicis Agency for several years prior to joining Burnett.
Eisenstein was also a gifted teacher, beginning by assisting Roger Zelazny at the Indiana University Writers Conference in 1977, then teaching sff writing at the Clarion Science Fiction Writers Workshop, Oakton Community College, and the Writers Digest School. Ultimately she taught fiction writing for nearly twenty years at Columbia College Chicago where she received the Excellence in Teaching award.
One recommendation she made to improve a writer's work even showed up as a Jeopardy! game show answer in 2016 —
In A Storm of Swords, he acknowledged "Phyllis, who made me put the dragons in it."
The correct question was "Who is George R.R. Martin?"
Martin dedicated the third book in his A Song of Ice and Fire series to her for reasons he explained on a panel at Chicon 7 in 2012:
"The dragons were one aspect that I did consider not including. Very early in the process, I was debating, should I do this just as like historical fiction about fake history, and have no actually overt magic or magical elements, but — my friend Phyllis Eisenstein, a wonderful fantasy writer who lives here in Chicago, I happened to be talking to her at very early stage in the process. Phyllis has written some great fantasies herself. She said, "Nah, you have to have dragons. It's a fantasy, you know!" And I dedicated A Storm of Swords to Phyllis, who made me put the dragons in, and I think that was the right thing to do."
She was an icon of Chicago sf fandom. At the Chicon 2000 Worldcon, the Fan Lounge was laid out as the reconstructed living room of a Chicago fan of the '80s. The space was furnished with an ill-assorted bunch of old couches, lamps and end tables. One couch was occupied by two crash-test dummies, the first dressed as Neil Rest in sandals, jeans and a Windycon 7 t-shirt, and the other as Phyllis Eisenstein, attired completely in black, a "goth" ahead of her time.
Also at Chicon 2000, and other conventions over the years, Alex and Phyllis Eisenstein shared their astonishing collection of sff artworks. There were over 200 covers from prozines and paperbacks and interior illustrations by Ed Emshwiller, Frank Kelly Freas, Edd Cartier, John Schoenherr, Ed Valigursky, Richard M. Powers, Mel Hunter, Wallace Wood, H. R. van Dongen, and others of note. The display included one of my all-time favorites, Kelly Freas' 1954 Astounding cover for That Sweet Little Old Lady. Alex and Phyllis labored for 17 hours to put up the exhibit and 5 hours to take it down. The show was covered under a special $1 million insurance policy obtained by Chicon.
In recent years, Eisenstein's writing career, which began so successfully, endured some unfortunate setbacks. The last volume of her "Book of Elementals" fantasy trilogy was left unpublished when Meisha Merlin Publishing suddenly ceased operations in 2007 and it remains unpublished.
Then, although she completed the first novel in a new science-fantasy series called "The Masks of Power," she held it back purposely, working to complete the entire trilogy before its publication. At the time of her death, the "Masks of Power" series remained unfinished.
She is survived by her husband Alex. The family obituary closes with these thoughts:
Phyllis was a talented, resourceful, very creative person, with a kind and generous spirit, who will be deeply missed by her family and her friends…and especially by her thousands of devoted readers, who have enjoyed her literate, intelligent, believable stories, which ever have explored a wide range of speculative, futuristic, and fabulous worlds.