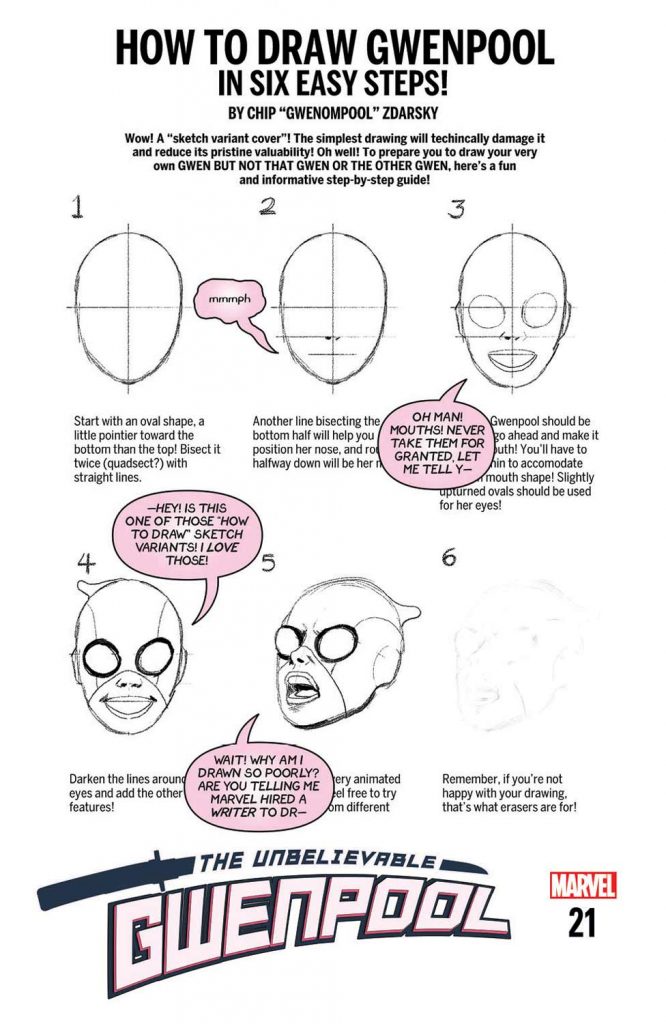 Have you ever wanted the great power and responsibility of drawing Spider-Man? Do you look at the pages of Black Panther and wish you could draw a Wakandan king? How often have you been tempted to break the fourth wall and draw Gwenpool?
Now fans can learn how to draw like a super hero with How To Draw Variant Covers by Chip Zdarsky (Peter Parker: The Spectacular Spider-Man, Howard The Duck, Star-Lord.) First appearing on the back of a blank variant cover on Peter Parker: The Spectacular Spider-Man #1, HOW TO DRAW VARIANTS will debut on the covers of select Marvel comics this fall. Each custom cover features a step-by-step process for drawing one of Marvel's iconic characters – along with some helpful "Zdarsky Advice" for good measure.
"I don't really know how to draw so this whole thing feels quite irresponsible," said Chip Zdarsky, who must know how to draw. Right?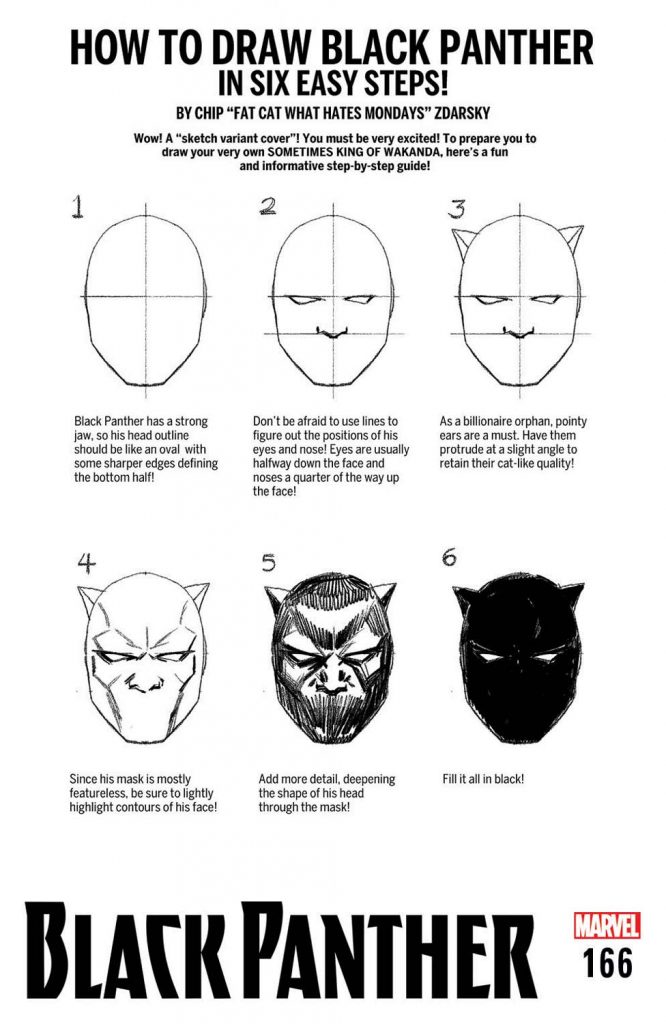 "I don't know about everybody out there in Mighty Marveldom, but when I first started collecting comics, one of my hobbies was trying to draw my favorite Marvel heroes and villains," said editor Devin Lewis. "Carrying on the grand tradition of the classic HOW TO DRAW COMICS THE MARVEL is this series of HOW-TO Variants by Chip Zdarsky, one of the most… unique?… voices in comics today. In addition to giving REALLY ACCURATE instructions about how to draw each of these characters, Chip's bringing his brand of humor to each and every piece, and we can promise that whether you're a Marvel fan old or new, at least ONE of these 'em will give you a chuckle!"
Marvel will publish HOW TO DRAW VARIANTS for these titles this fall —
ALL-NEW GUARDIANS OF THE GALAXY #11
ALL NEW WOLVERINE #25
BLACK PANTHER #166
CABLE #150
CAPTAIN MARVEL #125
CHAMPIONS #13
DAREDEVIL #27
DEFENDERS #6
FALCON #1
GWENPOOL, THE UNBELIEVABLE #21
HAWKEYE #11
INCIVIBLE IRON MAN #593
MIGHTY THOR #700
PUNISHER: THE PLATOON #1
ROYALS #9
SPIDER-GWEN #25
SPIRITS OF VENGEANCE #1
THE UNBEATABLE SQUIRREL GIRL #25
VENOM #155
X-MEN: GOLD #13