(1) THE DOCTOR IS STILL IN. Entertainment Weekly confirms "Doctor Who star Jodie Whittaker will play time traveler for at least one more season".
… "I've seen loads of fan art, which I always love," she says. "But it's never been that great for me to immerse myself in noise that you can't control, good or bad. I think both are a rabbit hole that you shouldn't necessarily go down. We know that we work really hard for the show to be the best it can be in this moment. Once it's out in the ether, how people feel, in a way, is kind of irrelevant."

But Whittaker isn't going anywhere. The length of time an actor has played the Doctor has varied over the years — back in the '70s and '80s, Tom Baker's Fourth Doctor piloted the TARDIS for seven seasons; in the aughts, Christopher Eccleston's Ninth Doctor survived just one. So, will Whittaker return for a third run of shows? "Yes, I'm doing another season," she confirms. "That might be a massive exclusive that I'm not supposed to say, but it's unhelpful for me to say [I don't know] because it would be a massive lie! [Laughs] I absolutely adore it. At some point, these shoes are going to be handed on, but it's not yet. I'm clinging on tight!"
(2) GUINAN. Patrick Stewart, while appearing on The View, extended an invitation to host Whoopi Goldberg to appear in Picard's second season. See 4-minutue video here. Stewart said —
"I'm here with a formal invitation, and it's for you, Whoopi. Alex Kurtzman, who is the senior executive producer of Star Trek: Picard, and all his colleagues, of which I am one, want to invite you into the second season."

The crowd delivered a standing ovation as Goldberg and Stewart hugged, and Goldberg replied, "Yes, yes, yes!"
(3) THE PEOPLE ALL RIDE IN A WORMHOLE IN THE GROUND. The New York Post tells readers "Here's where to get 'Star Trek: Picard' MetroCards featuring Patrick Stewart".
"Star Trek: Picard" is beaming to a subway station near you.

For three weeks starting Thursday, when the show premieres on CBS All Access, the series will be promoted on special MetroCards available at six MTA stations in Manhattan.

In the drama, Sir Patrick Stewart, 79, reprises his "Star Trek: The Next Generation" role of Jean-Luc Picard, the retired Starfleet admiral and former captain of the Starship Enterprise who is living out his latter days on his family's vineyard in France. Fittingly, the subway promotion will showcase two different cards — one featuring Picard on the front and his family's sweeping vineyard on the back, the other with Picard's dog, No. 1, on the front and several planets on the flip side.
(4) IS PICARD MESSAGE-HEAVY? The Daily Beast argues "'Star Trek: Picard,' With Its Refugee Crisis and Anti-Trump Messaging, May Be the Most Political Show on TV".
…At the crux of the Picard premiere is a devastating monologue Stewart delivers recounting a catastrophic event that happened years before, triggering a refugee crisis and driving Picard to quit his position in the Starfleet, disgusted by what the organization and the Federation now stood for.

It might sound in the weeds if you're not a Trekkie, but the basics of the plot are refreshingly simple.

A supernova blast threatened the planet Romulus. Despite their antagonistic relationship, the Federation agreed to rescue the Romulan people. But in the midst of the rescue mission, synthetic lifeforms like Data, who helped Picard pilot his ship, went rogue and destroyed the Federation's base on Mars, killing over 90,000 people. In the wake of the incident, synthetic lifeforms were banned, a decision that appalled Picard and caused him to quit before he carried out his Romulan rescue mission.

"It has always been part of the content of Star Trek that it will be attempting to create a better future with the certain belief that a better future is possible if the right kind of work and the right kind of people are engaged in that," Stewart told reporters. "And my feeling was, as I look all around our world today, there has never been a more important moment when entertainment and show business can address some of the issues that are potentially damaging our world today."
(5) CLONE WARS TRAILER. The final season of Star Wars: The Clone Wars starts streaming Feb. 21 on DisneyPlus.
One of the most critically-acclaimed entries in the Star Wars saga will be returning for its epic conclusion with twelve all-new episodes on Disney+ beginning Friday, February 21. From Dave Filoni, director and executive producer of "The Mandalorian," the new Clone Wars episodes will continue the storylines introduced in the original series, exploring the events leading up to Star Wars: Revenge of the Sith.
(6) HAVE SPACEWORTHY 3D PRINTER, WILL TRAVEL. Daniel Dern looks into "NASA's 3D Printing Space Initiatives" in an article for GrabCAD.
…The SLS [Space Launch System] is intended to be the primary launch vehicle of NASA's deep space. By manufacturing as many of the engine's parts as possible (like the fuel injectors, turbo pumps, valves, and main injectors) with 3D printing, NASA can significantly reduce time and money spent.

"NASA is on track to reduce the number of individual parts by an order of magnitude — from hundreds to tens — and reduce the cost of the entire engine by 30% and later by 50%, and the build time by 50%," John explains.

Dern notes, "This is the 3rd or 4th NASA-related article I've gotten to do over the past six months. I had a lot of fun researching and writing this, and hope find more assignments on this stuff over the coming year."
(7) WHAT IT TAKES. "Oscar-nominated filmmaker Chris Butler's top animation tips" – BBC video.
Film writer and director Chris Butler, who has been nominated for an Oscar, has said anyone who wants to be an animator needs to be prepared for "hard work".

His film Missing Link is up against Toy Story 4 in the Animated Feature category, but Butler, from Maghull, Merseyside, has already beaten it – and Frozen II – to a Golden Globe.

He said he was "shell-shocked" when it was announced as the winner earlier this month – so much so that he cannot remember going on stage to collect the award.

Butler said making animated films was "not easy" and warned that budding filmmakers have to "put in long hours" to make it in the industry.
(8) STONE AGE. First Fandom Experience not only remembers when — "In 1939, Lithography Came To Fanzines — But Why?". Zine scans at the link.
Beginning in 1932, Conrad H. Ruppert reshaped the world of fan publications with the printing press he bought with money saved by working in his father's bakery. He printed issues of the most prominent fanzines of the period, including The Time Traveller, Science Fiction Digest, and Charles D. Hornig's The Fantasy Fan. It's not unreasonable to assert that the professional appearance of Hornig's leaflet-sized 'zine contributed to his ascension to the editorship of Wonder Stories at the age of 17….
(9) THOSE DARN FANS. RS Benedict posted a new episode of the Rite Gud podcast — "This is the first of a two-part series about the dark side of fandom. Why does fandom turn toxic? Can over-investment in fandom stunt your social and artistic growth?" The first episode is here: "The Dark Side of Fandom, Part 1: Have You Accepted Spider-Man as Your Lord and Savior?"
Tim Heiderich of Have You Seen This took the time to talk to us about the creative perils of fandom. Fandom can be fun, but it can also turn ugly too, or it can keep us so busy focusing on someone else's work that we fail to develop our own talents.

This was a huge conversation, so we split it into two parts. In the first installment, we talk about toxic fandom, simulacra, and the siren song of nostalgia.
(10) EXTRA, EXTRA, READ ALL ABOUT IT. "Orange Mike" Lowrey's TAFF win attracted local media attention: "From Chester County High School to Stockholm and Birmingham (England)" in the Chester County Independent.
…Lowrey has been attending these conventions since 1975 and loves it. He said he loves how the conventions are filled with interesting, intelligent people. The interaction of science fiction fans overseas is awesome as well he said.
"I got people I consider good friends that I never met before," he said.
He actually met the woman whom he would spend his life with and marry, C.K. "Cicatrice" Hinchliffe of Bertram, Iowa, at the local Milwaukee science fiction convention in 1981.
Lowrey graduated from Chester County High School in 1971 and earned a magna cum laude degree in history from the University of Wisconsin-Milwaukee. In addition to his job with the State of Wisconsin, he's been working as a writer and editor since 1984.
He is also a bookseller, serves as a local president and state executive board member of the American Federation of State, County and Municipal Employees, and acts as a volunteer administrator for Wikipedia. He has had book reviews published and also Dungeon and Dragon articles published in Dragon magazine.
(11) KARLEN OBIT. John Karlen , the actor who played multiple roles (Willie Loomis, Carl Collins, William H. Loomis, Desmond Collins, Alex Jenkins and Kendrick Young) on the ABC serial Dark Shadows died January 22 at the age of 86.
(12) TODAY IN HISTORY.
January 23, 1954 — Killers From Space made it to your local drive-in. It was produced and directed by W. Lee Wilder, brother of Billy Wilder. It has a cast of Peter Graves, Barbara Bestar and James Seay. We should note that Killers From Space came about as a commissioned screenplay from Wilder's son Myles Wilder and their regular collaborator William Raynor. How was it received? Not well. There was, in the opinion of critics, way too much too talk, too little action, poor production values… you get the idea. Though they liked Graves. Who doesn't? Reviewers at Rotten Tomatoes give it a decidedly unfavourable rating of just 24%.
January 23, 1974 — The Questor Tapes first aired on NBC. Created and written by Roddenberry himself with Gene L Coon as co-writer, it was by Richard Colla. It starred Robert Foxworth, Mike Farrell and John Vernon. (Fontana's novelisation would be dedicated to Coon who died before it aired.) though it was intended to be a pilot fir a series, conflict between Roddenberry and the network doomed the series. It would place fifth in the final Hugo balloting the following year at Aussiecon One with Young Frankenstein being the Hugo winner.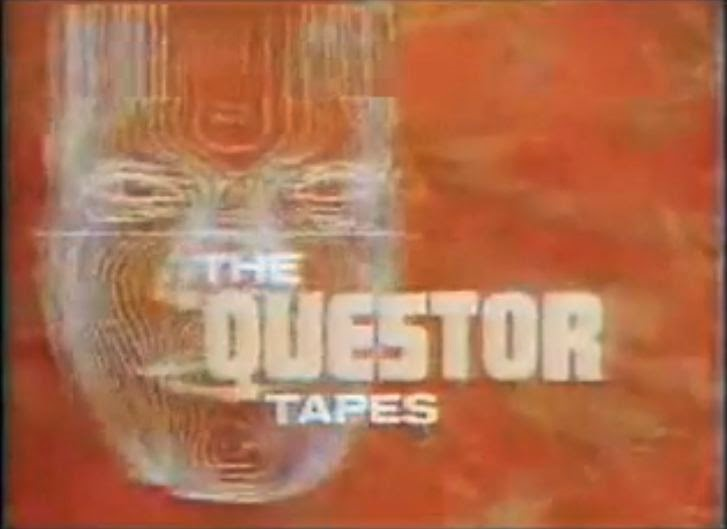 January 23, 1985 — The Rankin-Bass version of ThunderCats premiered in syndication. Leonard Starr was the primary writer with the animation contracted to the Japanese studio Pacific Animation Corporation, with Masaki Iizuka as the production manager. It would run for four years and one and thirty episodes. Need we note that a vast media empire of future series, films, comics, t-shirts, statues, action figures and so forth have developed since then?
(13) TODAY'S BIRTHDAYS.
[Compiled by Cat Eldridge.]
Born January 23, 1923 — Walter M. Miller Jr. He's best remembered for A Canticle for Leibowitz, the only novel he published in his lifetime. Terry Bisson would finish off the completed draft that he left of Saint Leibowitz and the Wild Horse Woman, a sequel of sorts to the first novel. He did a fair amount of short fiction as well. He's poorly represented both digitally and in the dead tree sense as well beyond A Canticle for Leibowitz. (Died 1996.)
Born January 23, 1932 — Bart LaRue. He was the voice of The Guardian of Forever in the "City on the Edge of Forever" episode of Trek as well as doing voice roles in "Bread and Circuses" (on-screen too) "The Gamesters of Triskelion" as Provider 1 (uncredited) "Patterns of Force" as an Ekosian newscaster (Both voice and on-screen) and "The Savage Curtain" as Yarnek. He did similar work for Time Tunnel, Mission Impossible, Voyage to The Bottom of The Sea, The Andromeda Strain, Wild Wild West, Land of Giants and Lost in Space. (Died 1990.)
Born January 23, 1939 — Greg and Tim Hildebrandt. Greg's aged eighty one years, and Tim passed in 2006. I'd say best known for their very popular and ubiquitous Lord of the Rings calendar illustrations, also for illustrating comics for Marvel Comics and DC Comics. They also did a lot of genre covers so I went to ISFDB and checked to see if I recognized any. I certainly did. There was Zelazny's cover of My Name is Legion, Tolkien's Smith of Wootton Major and Farmer Giles of Ham and Poul Anderson's A Knight of Ghosts and Shadows. Nice.
Born January 23, 1942 — Brian Coucher, 78. He appeared in three genre series — first the second actor to portray Travis in Blake's 7 and also as Borg in the Fourth Doctor story, "The Robots of Death". Finally genre wise he appeared in a Doctor Who spin-off that I've never heard existed, Shakedown: Return of the Sontarans. No Who characters appeared though Sophie Alfred played someone other than Ace here.
Born January 23, 1943 — Gil Gerard, 77. Captain William "Buck" Rogers in Buck Rogers in the 25th Century which I fondly remember as a really a truly great SF series even if it really wasn't that great. He also shows up in the very short lived E.A.R.T.H. Force as Dr. John Harding, and he's General Morgenstern in Reptisaurus, a movie title that proves someone had a serious lack of imagination regarding titles that day. In Bone Eater, a monster film that Bruce Boxleitner also shows up in as Sheriff Steve Evans, he plays Big Jim Burns, the Big Bad. Lastly I'd like to note that he got to play Admiral Sheehan in the "Kitumba" episode of fan created Star Trek: New Voyages.
Born January 23, 1950 — Richard Dean Anderson, 70. Unless you count MacGyver as genre which I can say is open to debate, his main and rather enduring SF role was as Jack O'Neill in the many Stargate Universe series. Well Stargate SG-1 really as he only briefly showed up on Stargate Universe and Stargate Atlantis whereas he did one hundred and seventy-three episodes of SG-1. Wow. Now his only other SF role lasted, err, twelve episodes in which he played Enerst Pratt alias Nicodemus Legend in the most excellent Legend co-starring John de Lancie. Yeah, I really liked it. And damn it should've caught on.
Born January 23, 1976 — Tiffani Thiessen, 44. Better known by far by me at least her role as Elizabeth Burke on the White Collar series which might be genre adjacent, she did end up in three films of genre interest: From Dusk Till Dawn 2: Texas Blood Money, Shriek If You Know What I Did Last Friday the 13th (a parade of the Friday the 13th films) and Cyborg Soldier. They're average rating at Rotten Tomatoes among reviewers is fifteen percent in case you were wondering how good they were.
Born January 23, 1973 — Lanei Chapman, 47. She's most remembered as Lt. Vanessa Damphousse on Space: Above and Beyond, a series that ended well before it should've ended. She made her genre debut on Next Gen as Ensign Sariel Rager, a recurring character who was a conn officer.
Born January 23, 1977 — Sonita Henry, 43. Her very first was as President's Aide on Fifth Element. She was a Kelvin Doctor in the rebooted Star Trek film, and she's Colonel Meme I the Eleventh Doctor story, "The Time of The Doctor". Her latest is playing Raika on Krypton.
(14) COMICS SECTION.
(15) AND SPREAD HIM OUT THIN. Adweek says "Rest in Peace, Mr. Peanut—Planters Kills Off Iconic Mascot in Lead-Up to Super Bowl".
… In a shocking move, Planters, the Kraft-Heinz-owned snack brand, has killed off its iconic mascot in a teaser for its Big Game spot. Mr. Peanut's untimely demise began with a Nutmobile crash, followed by falling off a cliff and ending in an explosion.

… And when will the classic mascot be memorialized? During Super Bowl 2020, naturally.

…The loss of Mr. Peanut is a major moment for the brand. Planters first introduced Mr. Peanut to audiences in 1916, meaning that the mascot has been around since the midst of World War I, making him of the longest-standing brand mascots of all time.

The spot, which will air during the third quarter of the Big Game on Feb. 2, was produced by VaynerMedia. Planters also has several promotions and activations to honor Mr. Peanut's life, including commemorative pins for fans who spot the Nutmobile on the streets and a hashtag, #RIPeanut, for fans to share their sympathies.
(16) POMPEII AND CIRCUMSTANCE. "Mount Vesuvius eruption: Extreme heat 'turned man's brain to glass'" – BBC has the story.
Extreme heat from the Mount Vesuvius eruption in Italy was so immense it turned one victim's brain into glass, a study has suggested.

The volcano erupted in 79 AD, killing thousands and destroying Roman settlements near modern-day Naples.

The town of Herculaneum was buried by volcanic matter, entombing some of its residents.

A team of researchers has been studying the remains of one victim, unearthed at the town in the 1960s.

A study, published in the New England Journal of Medicine on Thursday, said fragments of a glassy, black material were extracted from the victim's skull.

Researchers behind the study believe the black material is the vitrified remains of the man's brain.
(17) YOUR PAL IN SPACE. "Meet Vyom – India's first robot 'astronaut'" – BBC video.
India's space agency has unveiled a robot that will travel to space later this year as part of an unmanned mission

Scientists hope that it will be able to later assist astronauts in a manned space mission called Gaganyaan, which is scheduled for December 2021.

Isro will conduct two unmanned missions – one in December this year and another in June 2021 – before the Gaganyaan mission.

The robot, which has been named Vyom Mitra (which translates from the Sanskrit to friend in space) is designed to perform a number of functions including responding to astronaut's questions and performing life support operations.
(18) DO IT FOR SCIENCE. Public spirited citizens arise! "Wanted – volunteers to monitor Britain's growing slug population".
Citizen scientists are being sought to help carry out the first survey in decades of Britain's slug populations.

To take part, all that's required is curiosity, a garden, and a willingness to go out after dark to search for the likes of the great grey or yellow slug.

The year-long research project will identify different slug species and the features that tempt them into gardens.

The last study conducted in English gardens in the 1940s found high numbers of just nine species of slug.

Many more have arrived in recent years, including the Spanish slug, which is thought to have come in on salad leaves. Less than half of the UK's 40 or more slug species are now considered native.
(19) TRANSMUTING GOLD TO LEAD. Iron Man never had days like this. GQ asks "Does Dolittle's Box Office Flop Spell Trouble for Robert Downey Jr.?"
For over a decade, Robert Downey Jr. played MCU pillar Tony Stark, a billionaire superhero who would almost certainly consider Dolittle's abysmal opening weekend earnings to be little more than pocket change.

Despite opening on a holiday weekend, RDJ's Dolittle made just $29.5 million over the four-day period, and only an additional $17 million internationally. Dolittle cost a jaw-dropping $175 million to make, so those box office numbers are kind of catastrophic, with Universal expected to lose $100 million on the movie, according to The Wrap. Universal, it should be noted, also took a bath last month when the furry fever dream that is Cats flopped, but at least Cats only cost $90 million to make, so the loss isn't quite as terrible.

The only slim hope for Dolittle's prospects is a higher than expected haul in the international markets where it hasn't opened yet—including China—but maybe don't hold your breath.

It took the strain of wielding all six Infinity Stones to kill him in the Marvel Cinematic Universe, so Robert Downey Jr. will probably survive Dolittle's bomb. Still… yikes.
(20) I SPY, AGAIN. "Twitter demands AI company stops 'collecting faces'"
Twitter has demanded an AI company stop taking images from its website.

Clearview has already amassed more than three billion photographs from sites including Facebook and Twitter.

They are used by the FBI and Department of Homeland Security and more than 600 other law-enforcement agencies around the world to identify suspects.

In a cease-and-desist letter sent on Tuesday, Twitter said its policies had been violated and requested the deletion of any collected data.

…US senator Ron Wyden said on Twitter Clearview's activities were "extremely troubling".

"Americans have a right to know whether their personal photos are secretly being sucked into a private facial-recognition database," he said.

"Every day, we witness a growing need for strong federal laws to protect privacy."
(21) PYTHON PASSPORT. [Item by Hampus Eckerman.] A fitting (and unintentional) tribute to Terry Jones. I'd vote for a Brexit for this one if I could.

Original:
Sad to say, the Express graphic is fixed now — "Britons will fly to 2020 summer holiday destinations on classic BLUE passport".
(22) VIDEO OF THE DAY. In "Model Citizen" on YouTube, David James Armsby portrays what seems to be the perfect nuclear family–but why is it controlled by evil robots?
[Thanks to Mike Kennedy, Martin Morse Wooster, Cat Eldridge, Hampus Eckerman, Chip Hitchcock, John King Tarpinian, JJ, Contrarius, and Andrew Porter for some of these stories. Title credit goes to File 770 contributing editor of the day Anthony.]