(1) BSFS MAKES GRANT TO 2020 WORLD FANTASY CON. The membership of the Baltimore Science Fiction Society has granted $1000 to the 2020 World Fantasy Convention, Salt Lake City, Utah, which will be held virtually this year.
The grant may be used to defray any of the considerable fixed expenses that are required to hold the annual event, which awards the prestigious World Fantasy Awards to the best Fantasy or Dark Fantasy works published in the previous year.

The 2020 World Fantasy Convention will be held virtually, October 19 – November 1.

More information about the Baltimore Science Fiction Society (BSFS) can be found here.
(2) HORROR IN EVERYDAY LIFE. Shiv Ramdas livetweeted a family crisis he was following by phone. Thread starts here. (Since it already had 69K retweets and almost 300K likes by the time I saw it, you've probably already read it!)
(3) INCONCEIVABLE. Rolling Stone reports "'The Princess Bride' Cast to Reunite for Virtual Table Read" as a political fundraiser.
The cast of the beloved comedy The Princess Bride will reunite for a one-night-only virtual table read to raise money for the Democratic Party of Wisconsin.

"A Virtual Princess Bride Reunion" will features original cast members Cary Elwes, Robin Wright, Chris Sarandon, Mandy Patinkin, Wallace Shawn, Carol Kane, the film's director Rob Reiner and "special guests." In addition to the table read, the reunited cast will partake in a virtual Q&A moderated by Patton Oswalt.

The virtual table read will livestream only once, on September 13th at 6 p.m. CST. Fans of the film can RSVP at Act Blue to watch the livestream. "Anything you donate will be used to ensure that Trump loses Wisconsin, and thereby the White House," organizers promise; both Elwes and Reiner have been vocal in their criticism of Donald Trump on social media.
(4) CANON FIRE. Chris Nuttall, in "Some Thoughts On The SF Canons" at Amazing Stories, offers his own outlook on genre history.
…Second, the average writer in the early era worked under a set of very harsh restrictions. There were lots of issues that were taboo, from sex and mating to race and racism; there were morality clauses in contracts that could and would be enforced if the writer stepped too far out of line. Heinlein, for example, wrote coloured characters … but he had to give himself plausible deniability He did this so well in one book – Tunnel in the Sky – that he managed to raise suspicions of miscegenation instead. By modern standards, this is insane as well as stupid. But we're talking about an era that was worried about Mr. Spock's ears!

Third, the average writer did not know where technology was going. They made a lot of guesses and got some things right, but they also got a lot of things wrong. Heinlein's predictions regarding computer development, for example, were absurd. He assumed a lot of easy things would be very hard, if not impossible, and vice versa. Asimov's predictions were even worse, to the point he has wood-burning stoves co-existing with atomic power plants and FTL drives.

Fourth, the average writer lived in a far more limited world. There was both relatively little awareness of other cultures and a certain sense that the Anglo-American way was the best. It isn't until fairly recently, thanks to the internet, that we have really become aware of alternatives. They drew on their awareness of the world to shape their future worlds, hence the number of very traditional societies in fantastic worlds….
However, it seems unclear why 20th Century sff writers would be unaware of alternatives that Wilberforce, Lincoln, and Susan B. Anthony already knew about in the 19th Century. In fact, they probably weren't unaware of them. It's hard not to simply enjoy the status quo when it works in your favor.
(5) THE RETURN OF HYPER COMICS. A book-length collection of Steve Stiles' Hyper Comics, in the works when he died earlier this year, was released in August. One of the places it can be ordered is Barnes and Noble.
The last project of legendary underground cartoonist and Hugo Award-winner Steve Stiles, who passed away in 2020, is a September release from Thintwhistle Books, a company formed by Steve's widow, Elaine Stiles.

Packed with more than 150 pages of Steve's classic work from Hyper Comics, Heavy Metal, Stardate, and a host of other publications, it's an essential part of any cartoon collector's library !

Krupp Comic Works founder Denis Kitchen called Steve "one of the funniest and cleverest goddamn cartoonists on the planet." Mark Schultz said of Steve's back-up stories in Xenozoic Tales, "It was a joy to collaborate with him – if he made any adjustments to my scripts they were invariably improvements." Heavy Metal editor Ted White called Steve's contributions to the magazine "Phil-Dickian in their SF surrealism, wicked in their observations, and Firesign Theatre-like in their mocking details."

In The Return of Hyper Comics, you'll thrill to the adventures of Jim Baxter, Marijuana Detective. You'll share Steve's nightmares as he meets Nixon and Trump. You'll smile along with Mr. Smile when he accidentally kills a girl he is trying to save. "If only I could stop smiling," he says. You'll get an advance look at next month's QAnon conspiracy when Steve reveals, "Joe Stalin Tells Me What to Draw!" And you'll barf as Steve's first orgy ends with tainted oysters and a group emergency room visit.

Steve had a particular genius for chronicling life's humiliating moments, and fortunately for his fans, Steve had enough humiliating moments in his life to fill volumes. He stands up to fellow students after one of them writes a racist insult on the blackboard, and in revenge they finger him as the culprit. A dealer spikes Steve's coffee with LSD, leaving him on a bicycle in Queens in rush hour. But through it all, Steve faces life's traumas with self-mocking humor and a core of optimism that nothing manages to quite extinguish.

The Return of Hyper Comics is 150 pages of wicked social satire, bizarre sex, science fiction, violence, drugs, and personal humiliation, all with brilliant art by a master cartoonist. Thintwhistle Books disclaims responsibility for damage resulting from excessive laughter.
(6) RADIO REENACTMENT. "Daniel Dae Kim to Lead All-Star Recreation of 'The Adventures of Superman' 1940s Radio Serial" – Yahoo! Entertainment has the story.
Daniel Dae Kim will lead an all-star cast in a recreation of the original "The Adventures of Superman" radio serial during the second installment of DC FanDome, Warner Bros. announced Friday.

Kim is one of three actors who will voice Superman in the one-hour production, which is being produced using original scripts recently found in Warner Bros. archives. The event is being held in support of The Creative Coalition, a Hollywood nonprofit that aims to address entertainment industry issues as well as urgent social issues.

Joining Kim as Superman in the production is Wilson Cruz ("Star Trek: Discovery") and current Creative Coalition president Tim Daly ("Madam Secretary')….

The performance of "The Adventures of Superman" will be available beginning on demand for 24 hours beginning Sept. 12 at 10:00 AM as part of DC FanDome: Explore the Multiverse, the second installment of the successful virtual Comic-Con alternative, which debuted in August. The event can be accessed at DCFanDome.com.
(7) NICHOLS MACIOROWSKI DIES. Influential animation visual development and story artist Sue Nichols Maciorowski died on September 1 at the age of 55 reports Animation Magazine.
The family obituary notes:
Sue graduated from California Institute of Arts with a visual animation degree in 1987. There she was part of a team that won an Emmy for work on The Muppet Babies. After graduation, Sue worked for Jim Henson on The Muppet Babies, Marvel production, and taught classes at CalArts. She then started her long career with Disney Studios working on animation films where she was best known for her expertise in character development. A few of her favorite works that she contributed to were Hercules, Beauty and the Beast, and the Princess and the Frog. More information on her career may be found on her website, Mothernichols.com.
Disney tweeted its own tribute. Thread starts here.
(8) MEDIA BIRTHDAY.
September 5, 1952 — Tales of Tomorrow's "Seeing-Eye Surgeon" –
Does Doctor Xenon really exist? I don't know. For that matter, do we three standing in this room really exist? Who knows? The real and the unreal. Where does one stop and the other begin. Maybe we're just a figment or product of someone else's fevered imagination. Someone from another world perhaps. — Doctor Bob Tyrell
On this day in 1952, Tales of Tomorrow first aired "Seeing-Eye Surgeon" which is the only SF credits for co-writers Michael Blair and Ed Dooley. The cast was Bruce Cabot as surgeon Bob Tyrell, Constance Towers as Martha Larson, Edwin Jerome as Doctor Foyle and Joseph Holland as the possibly mythical Doctor Xenon. Towers would later be in episodes of The Outer Limits, The 4400 and Deep Space Nine. You can see it here.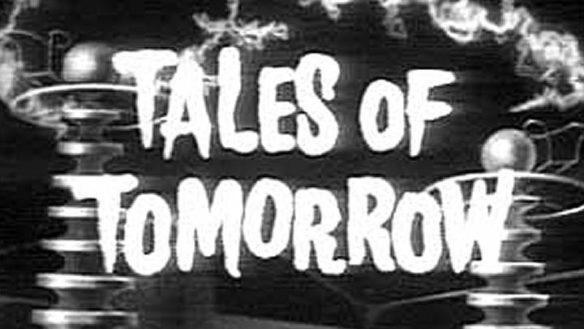 (9) TODAY'S BIRTHDAYS.
[Compiled by Cat Eldridge and John Hertz.]
Born September 5, 1774 – Caspar Friedrich. Leading Romantic painter; known for great landscapes with human presence small. Here is a Frankenstein using CF's Wanderer Above the Sea of Fog; here is another using The Sea of Ice; here is another using Cromlech in the Snow. Here is a Dracula using Man and Woman Contemplating the Moon. (Died 1840) [JH]
Born September 5, 1913 – Sheilah Beckett. Illustrated seventy fairy-tale titles for Little Golden Books. First woman illustrator at the Charles E. Cooper studio, N.Y. Commercial work e.g. Necco Wafers, Whitman's Chocolates, but preferred children's books and Christmas cards. Lived to be 100. Here is a cover for Rapunzel. Here is an interior for Sleeping Beauty. Here is Jane Werner's retelling of The Twelve Dancing Princesses. Here is an interior from John Fowles' retelling of Cinderella. Here is a book of Beauty and the Beast stickers. Here is Lowell Baird's translation of Candide. (Died 2013) [JH]
Born September 5, 1921 — Paul L. Payne. He edited both Jungle Stories (three years in the Forties) and the better known Planet Stories (five years in the same period) but there's very little on him on the web. ISFDB notes that he wrote one novel for us, The Cructars Are Coming, which is available in an Armchair Fiction print edition along with Frank Belknap Long's Made to Order novel. (Died 1993.) (CE)
Born September 5, 1936 — Rhae Andrece and Alyce Andrece. They played a series of androids in I, Mudd, a classic Trek episode. Both appeared as police women in "Nora Clavicle and the Ladies' Crime Club" on Batman. That's their only genre other appearance. They only acted for three years and every appearance but one was with the other. (Died 2009 and 2005, respectively.) (CE)
Born September 5, 1936 —Joseph A. Smith, 84. Two dozen covers, half a dozen interiors for us; many others. Here is Hercules in his lion's skin. Here is The Adventures of King Midas (look at the rock!). Here is Stopping for a Spell and here is Year of the Griffin. Here is Witches. Here is Gregor Mendel. Here is Circus Train. [JH]
Born September 5, 1939 — George Lazenby, 81. He is best remembered for being James Bond in On Her Majesty's Secret Service which I'm sure I've seen if I've completely forgotten it now. His turn as Bond was the shortest among the actors in the film franchise and he is the only Bond actor not to appear beyond a single film. Genre wise, he also played Jor-El on Superboy and was also a Bond like character named JB in the Return of the Man from U.N.C.L.E. film. (CE)
Born September 5, 1940 — Raquel Welch, 80. Fantastic Voyage was her first genre film though she made One Million Years B.C. thatwith her leather bikini got her more notice. She was charming in The Three Musketeers and The Four Musketeers. She has one-offs in Bewitched, Sabrina the Teenage Witch, The Muppet Show, Lois & Clark: The New Adventures of Superman, Happily Ever After: Fairy Tales for Every Child and Mork & Mindy. (CE)
Born September 5, 1953 – Paul Stinson, 67. Seventy covers, a few interiors, for us; more for commercial clients. Here is Jesus on Mars. Here is Gunn's Road to SF vol. 2. Here is the first issue of Beyond. Here is Ice Hunt. Here is Pillars of Salt. [JH]
Born September 5, 1959 — Carolyne Larrington, 61. Norse history and culture academic who's the author of The Land of the Green Man: A Journey Through the Supernatural Landscapes of the British Isles and Winter is Coming: The Medieval World of Game of Thrones. She also wrote "Norse gods make a comeback thanks to Neil Gaiman – here's why their appeal endures" for The Conversation. (CE)
Born September 5, 1964 — Stephen Greenhorn, 56. Scriptwriter who written two episodes for Doctor Who: "The Lazarus Experiment" and "The Doctor's Daughter", both Tenth Doctor stories. He also wrote Marchlands, a supernatural series whichJodie Whittaker and Alex Kingston appeared in. He also wrote the Mind Shadows strip which was featured on the Who website. (CE)
Born September 5, 1964 – Olga Dugina, 56. Teacher, illustrator (sometimes with Andrej Dugin). Here is an image from The Three Oranges; here is another. Here is Dragon Feathers. Here is an interior from The Adventures of Abdi (Brazilian ed'n; text shown is in Portuguese). Here is one from The Brave Little Tailor. [JH]
Born September 5, 1981 – Dina Djabieva, 39. Three images in Star*Line vol. 36 no. 2, cover for vol. 36 no. 3. Here is "Pan". Here is "Warrior Monk". Here is "Elysium". Here is "The Maiden". She says, "I find myself living between two worlds, the dreaming and the waking. Too often I am not able to distinguish between the two." [JH]
(10) COMICS SECTION.
Tom Gauld on the possibilities of sci-fi (in The Guardian).
Another Tom Gauld sff cartoon —
(11) INSIDE COMICS. The Numlock News' Walt Hickey interviews a comics industry expert: "Numlock Sunday: John Jackson Miller on the comic book shutdown".
You alluded to this a little bit, but one thing that's so interesting about this particular industry is there are two very large well-capitalized companies and then several other smaller companies producing the core product. Then there's one middleman. And then there's zillions of tiny little mom and pops. And as a result, the one middleman was able to functionally shut everything down.

Most responsible retailers in the business saw that this needed to happen because we could not have stuff being shipped that couldn't be sold. The bills would keep mounting up. The problem simply is that this is a system where it expects that there's cashflow coming in constantly. Diamond was in a situation where they needed to try to pay off their suppliers for the books that they had already sold, and they knew that there was not going to be any more money coming in at the same time. Diamond did get a credit line with Chase, Steve Geppi has said this is not going to be a problem going forward.

But there are many different kinds of comic shops. There are many that focus on graphic novels, and they're much more insulated against these problems, because the graphic novels have continued shipping from other other distributors outside the comics industry like Random House. There are stores that have games or toys or something else like that they're also doing.

Then, of course, let's say you're a pure comic shop, that means you probably also have a back issue section and many have a mail order, online stores or eBay stores, and there's over 10 billion comic books already in existence so not having the new ones for a few weeks, you know, that's not that big a deal.

But there are some shops, they're suburban in nature, they tend to be more superhero-centric stores and those are the people that are more concerned about a disruption to the habitual nature of comics reading. My response to that would be, "yeah, but is the comics habit going to break any faster than the professional basketball watching habit will break, or the movie-going habit will break?" I think when you have every alternative also shutting down, you're less likely to have people respond to this as, "the comics, they've left me, they've abandoned me." No, it's that the comet has struck, and we're all going to just catch our breath here for a while, and we're going to try to figure out how to restart this thing.

I've used the metaphor of Apollo 13 that they have to bring these systems up one at a time, systems that were never designed to shut down.
(12) NE$$IE. And now that you've finished that business survey, InsideHook hopes you want to know "How Much Does the Loch Ness Monster Boost Scotland's Economy?"
When the effect of tourist attractions on local economies comes to mind, what are some of the first places one can think of? Historical sites, perhaps, or cultural events. But what happens when the thing that helps drive a local economy might not exist at all?

This isn't a brain-teaser or a deep dive into epistemological thinking; instead, it's a precursor to the way the Loch Ness Monster hosted the Scottish economy. Which, it turns out, is by a lot. A new article by Michele Debczak at Mental Floss delves into the way one of the world's most famous cryptids has helped shape the local economy in Scotland. Nessie might not be real, but its impact certainly is.

How much of an impact is there on Scotland's economy? According to a study commissioned by accountant and Loch Ness Monster fan club founder Gary Campbell, the economic boost of Nessie tourism heads into the 8 figures.
(13) RADIO FREE DRACULA. The University of Delaware's Resident Ensemble Players will be doing a five-part radio play adaptation of Dracula. Hear a member of the company speak about "Dracula: About the Project" at Soudcloud.
A free audio presentation by the Resident Ensemble Players, in partnership with WVUD 91.3 FM.

Much more than just a gothic horror story, DRACULA is a love story, a mystery, and a globe-trotting adventure tale. The REP partners with radio station WVUD for a free, five-episode audio drama of this classic to be presented every Friday night in October.

Beginning in the forbidding mountains of Transylvania, a mysterious night-stalking beast entraps and seduces his way to England in search of new blood. A group of colleagues and companions unearth the horrible secrets of this life-sucking creature as they launch a heart-pounding chase across Europe, only to find themselves in the fight for their lives to save both themselves and the ones they love.
WVUD will broadcast/stream DRACULA in October on Friday nights at 7:00 PM:
Oct. 2, 7:00 PM — Episode 1: Listen, What Sweet Music
Oct. 9, 7:00 PM — Episode 2: The Coming Storm
Oct. 16, 7:00 PM — Episode 3: Of Nature and Supernature
Oct. 23, 7:00 PM — Episode 4: Master and Servant
Oct. 30, 7:00 PM — Episode 5: Chasing Nightfall
Listeners can tune into WVUD's Friday night broadcasts on 91.3 FM on radio or stream from computer or digital devices at http://www.wvud.org/
(14) NO DEPOSIT, NO RETURN OF THE KING. GameSpot recommends you use your Labor Day Weekend free time studying this extra-long list: "Lord Of The Rings Rewind: 49 Things You Didn't Know About The Return Of The King". Lots of things I didn't know here.
11. This elf is an in-joke

The elf who tells Arwen that she "cannot delay" her journey to the Undying Lands was played by Bret McKenzie, who subsequently became famous as half of musical comedy duo Flight of the Conchords, alongside Jemaine Clement. McKenzie very briefly appeared in Fellowship of the Ring, and his character became known as Figwit among admiring fans–an acronym for "Frodo is great… who is THAT?" Jackson decided to put him in Return of the Ring and give him some dialogue "just for fun for the fans."
(15) MEDIA TIE-IN. Who knew there was Forbidden Planet merch out there? A buddy of John King Tarpinian's stopped off at the Walmart in Bakersfield for supplies on his way to the Sequoias found this on the shelves —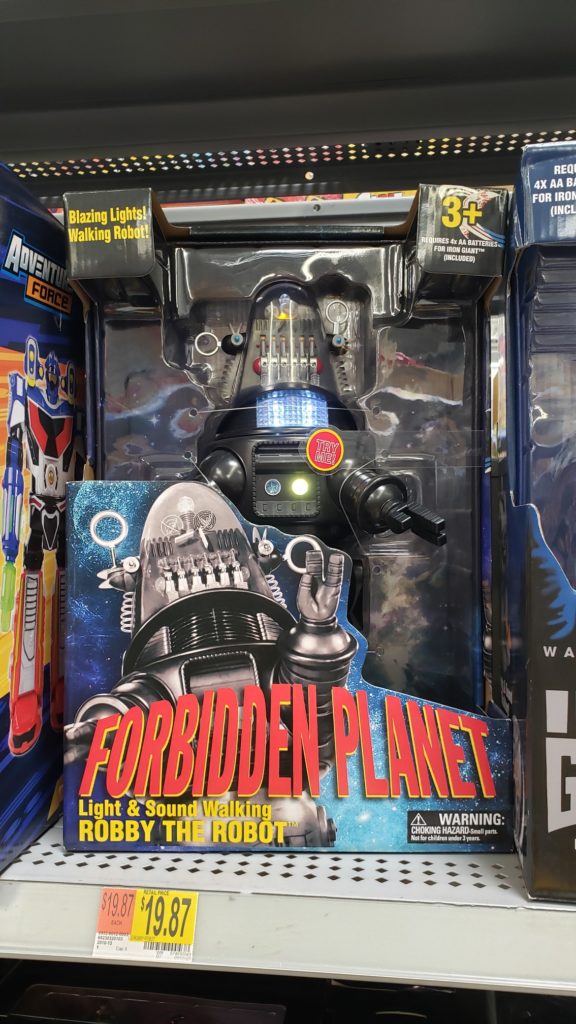 (16) VIDEO OF THE DAY. "Double King" on YouTube is a 2017 film by Australian animator Felix Colgrave about a murderous monarch that has been viewed 42 million times but has never shown up on File 770! (Although I don't think there's a rule that it has to.)
[Thanks to Bill, Jeff Smith, John Hertz, Martin Morse Wooster, JJ, Mike Kennedy, Andrew Porte, Cat Eldridge, Michael Toman, and John King Tarpinian for some of these stories. Title credit goes to File 770 contributing editor of the day MaineYooper.]