(1) GAME OF TINGLES. Zoe Quinn has posted a new trailer for Tingle, her dating simulator game based on the works of Chuck Tingle. Dual Shockers has the story — "Tingle Gets a New Pre-Alpha Trailer Featuring a Ton of Actors and Personalities". May not be safe for work. Unless your boss is a unicorn.
The dating simulator looks incredibly strange. The trailer features a moving butt plaque, horse masks, terribly drawn male genitalia, puzzles, mini-games, and lots more. You can check it out down below. While the game could definitely be considered not safe for work, Quinn is including options that'll make Tingle less raunchy.

(2) PRATCHETT ON DISPLAY. This is the event publicized by running over Pratchett's hard drive with a steam roller… The "Terry Pratchett: HisWorld" exhibit at the Salisbury Museum (in Salisbury, England) runs from September 15 until January 13.
This is an exclusive major exhibition based on the extraordinary life of Sir Terry Pratchett, the creative genius behind the Discworld series. Follow his journey to becoming one of our best known and best loved writers. This unique exhibition will include artwork by the man himself and treasured items owned by Sir Terry which have never previously been on public display. Also featured will be over forty original illustrations by Paul Kidby, Sir Terry's artist of choice.?
(3) HEAR SF IN PHILLY. When the new SFWA-sponsored Galactic Philadelphia reading series begins October 24 the readers will be –
Gardner Dozois was the editor of Asimov's Science Fiction magazine for almost twenty years, and also edits the annual anthology series The Year's Best Science Fiction, which has won the Locus Award for Best Anthology more than any other anthology series in history, and which is now up to its href="http://amzn.to/2xLXXFN">Thirty-Fourth Annual Collection. He's won the Hugo Award fifteen times as the year's Best Editor, won the Locus Award thirty-one times, including an unprecedented sixteen times in a row as Best Editor, and has won the Nebula Award twice, as well as a Sidewise Award, for his own short fiction, which has been most recently collected in When the Great Days Come. He is the author or editor of more than a hundred books, including a novel written in collaboration with George R.R. Martin and Daniel Abraham, Hunter's Run, and, in addition to many solo anthologies, the anthologies, Songs of the Dying Earth, Warriors, Dangerous Women, and Rogues, all co-edited with George R.R. Martin, the last two of which were New York Times bestsellers. Coming up is a major solo fantasy anthology, The Book of Swords. He has been inducted into the Science Fiction Hall of Fame, and won the Skylark Award for Lifetime Achievement in Science Fiction. Born in Salem, Massachusettes, he now lives in Philadelphia, Pennsylvania.

Lara Elena Donnelly is the author of the glam spy thriller Amberlough, and its upcoming sequels Armistice and Amnesty. Her short fiction and poetry has appeared in or is forthcoming from Strange Horizons, Escape Pod, Mythic Delirium, Nightmare, and Uncanny. She is a graduate of the Alpha and Clarion workshops, and a past winner of the Dell Magazine Award. In the summer, Lara is onsite staff at the Alpha SF/F/H Workshop for Young Writers. She lives in Harlem, but exists virtually on most social media platforms as @larazontally, and on her website at laradonnelly.com
The venue will be the Irish Pub, located at 2007 Walnut Street, Philadelphia 19103, a block west of Rittenhouse Square, and start at 7:30 p.m. [H/T to SF Site News.]
(4) THE END OF CINEMATIC HISTORY. In Washington, D.C., people are invited to watch "My Favorite Movie with Francis Fukuyama: Children of Men".
Join Francis Fukuyama for a screening and discussion of Children of Men, the haunting 2006 adaptation of PD James' dystopian novel (directed by Alfonso Cuarón) set in 2027, when all women have become infertile and humanity is facing extinction.

This is the latest installment of our "My Favorite Movie" series featuring thought leaders hosting their favorite movies, and short conversations about them. Professor Fukuyama is a senior fellow at Stanford's Freeman Spogli Institute and the author of The Origins of Political Order and The End of History and the Last Man.

The screening of Children of Men will take place at 6:30 p.m. on Monday, September 19th at Washington, D.C.'s Landmark E Street Cinema at 555 11th Street NW. If you would like to attend, please RSVP to [email protected] with your name, email address, and any affiliation you'd like to share. You may RSVP for yourself and up to one guest. Please include your guest's name in your response. Seating is limited.
(5) FILER ON PODCASTLE. Congratulations to Heather Rose Jones, who has a brand new original short story out from Podcastle.org today, "Hyddwen." Check it out.
Morvyth, the daughter of Rys, had no desire for a husband because of the passion and the love she had for Elin, the Lady of Madrunion. And after what we spoke of above–sending the gull as love-messenger to her, and the trick with the sack at the wedding feast, and sending the Irishman away empty-handed–Morvyth came to live at Llyswen. And there they spent three years in happiness and joy.
(6) ANN LECKIE, CHEESE EVANGELIST. There's an uptick in interviews with Ann Leckie's next book coming out this month: "Hugo Award–winner Ann Leckie talks new book, sci-fi politics, and Provel cheese" in St. Louis Magazine. Lots in here about the Imperial Radch series, and women winning all the Hugos this year – but no tea recommendations! Firm opinions about cheese, though….
St. Louis is home to a not-small number of award-winning creators—and BookFest St. Louis plans to gather them, along with writers from around the nation, in September.

Not least among those authors is space opera writer Ann Leckie, whose Ancillary Justice is the first novel to win the "triple crown" of the Hugo, Nebula, and Arthur C. Clarke science fiction awards. The book's Imperial Radch trilogy went on to grab additional Locus awards and prestigious nominations. Leckie will speak at a science fiction panel with fellow writers Charlie Jane Anders, Annalee Newitz, and Mark Tiedemann.

The September 23 event precedes the following Tuesday's release of her fourth novel, Provenance, a standalone that's set several years after the Imperial Radch trilogy and will feature new characters and star systems….

Is there anything around here that you're a big fan of?

…I find myself often, when I'm travelling and talking to other writers from other places, telling them that they absolutely have to try St. Louis–style pizza. I don't know what's wrong with the people who are like, "That's not even pizza!" Well it is; it's just not the pizza that you're used to, right? So I've been trying to spread the word about St. Louis–style pizza.

Spread the Provel gospel.

Yes. It's made in Wisconsin only for the St. Louis pizza market. That's what Wikipedia said. It's only—there's no other use for Provel cheese except us. It's made almost exclusively for the St. Louis pizza market.

Writer's note: NPR confirms Wikipedia's story.

Nowhere else?

Nobody else knows what Provel is. Isn't that kind of amazing? Which is I think part of why when people encounter that, and it doesn't act like the cheese that they're used to—not only is it not the cheese they're used to on pizza; it's a completely foreign cheese. So it's like… [She pulls a face.] But they're just wrong. It's wonderful.

I thought you're one of few who have that opinion. But a decent enough number, apparently.

I mean, it's our pizza. You have to take it on its own terms. You can't say, "This isn't New York style, this isn't Chicago style," because it's not. It is what it is.
(7) ROBBY ON THE BLOCK. William Malone has announced he's selling Robby the Robot.
ROBBY GOES OFF to COLLEGE. I'm sure this will come as a shock to some of you. I just wanted to let all my friends know that after much thought and consideration, I have decided to put the Original Robby the Robot and his Car up for auction. This is not a hasty decision by any means. It's actually something I've been thinking about for some time. I've had Robby for over 37 years and have enjoyed seeing him everyday and having coffee with him every morning (though he always preferred an STP Daiquiri to espresso). While I've tried to make Robby available to be seen and enjoyed as much as possible, I've come to realize his proper place is in a museum. I'm hoping this is where he'll wind up. Robby is an icon and a star and just a plain good guy (err robot). Over the years, I've always tried to look after his best interests and he certainly has been good to me. I feel like I've never really owned Robby, I'm just his caretaker. It's time for the next part of his journey. He will outlive us all.
Robby will be on sale at the New York Bonhams/TCM auction in November.
(8) SMOKE YOU CAN SEE FOR LIGHTYEARS. TV Line warns "The Orville Review: Seth MacFarlane's Somber Sci-Fi Dud Crashes and Burns".
Consider this a red alert to TV fans everywhere: Are you expecting Seth MacFarlane's new Fox series The Orville to be a fun Star Trek parody packed with wall-to-wall jokes? Two words of advice: Abandon ship.

Despite what Fox's official site claims, The Orville — premiering this Sunday at 8/7c — is not a "hilarious comedy." It's not even a comedy. Yes, there are a few Family Guy-esque punchlines scattered throughout, but as bafflingly as this sounds, The Orville is mostly a straightforward drama… and not a very good one, at that. Riddled with sci-fi clichés and paralyzed by a grim self-importance, MacFarlane's shiny new vessel ends up being a colossal dud that not only fails to take flight, it short-circuits before it even gets out of the docking bay.
(9) HISTORY FROM ANOTHER PLANET. Star Wars: Episode IX director Colin Trevorrow has been cut loose:
Lucasfilm and Colin Trevorrow have mutually chosen to part ways on Star Wars: Episode IX. Colin has been a wonderful collaborator throughout the development process but we have all come to the conclusion that our visions for the project differ. We wish Colin the best and will be sharing more information about the film soon.
The Hollywood Reporter heard this from unnamed sources:
Sources tell The Hollywood Reporter that script issues have continued to be a sore spot throughout Episode IX's development, with Trevorrow having repeated stabs at multiple drafts. In August, Jack Thorne, the British scribe who wrote the upcoming Julia Roberts-Jacob Tremblay movie Wonder, was tapped to work on the script.

Sources say that the working relationship between Trevorrow and Lucasfilm head Kathleen Kennedy became unmanageable. Kennedy, who had already been through one director firing/replacement on the Han Solo spinoff movie, was not eager for a sequel and tried to avoid this decision.
(10) COMICS SECTION.
There is a school of thought that if you need to use a bookmark, you don't have a first-rate mind. Today's Drabble shows the down side of that. Thanks to John King Tarpinian for the laugh.
He also recommends today's installment of Brevity, a terrible pun which made me laugh (don't they all?)
(11) WATCHING STINKERS. List Challenges says these are "100 of the Worst Movies Ever" and gives you a chance to add up how many you've seen. Apparently I've done a pretty good job of sparing my eyeballs, having seen only 15 out of 100. (Was Down Periscope really that awful? I wouldn't tell you to hurry and see it, but I know I didn't throw my popcorn box at the screen either.)
(12) HARASSMENT SURVEY. Jess Nevins has published the results of his "Sexual Harassment in the Science Fiction & Fantasy Communities Survey".
The science fiction and fantasy community has a problem: sexual harassment and sexual predation by men.

I put up a survey recently on the subject. The results, while not surprising, were nonetheless sobering. Of 802 respondents:

24% had been sexually harassed at a convention.
35% had witnessed sexual harassment at a convention.
40% had a family member, friend, or colleague who had been sexually harassed at a convention.
In addition to overall numbers, he collected anecdotal information.
… Some of the victims of harassment refuse to go to specific conventions any more, whether because of that convention's weak anti-harassment policies, the weak response by the convention's staff to complaints about harassment, or because a harasser is a regular participant of that convention. Some of the victims refuse to go to any conventions now, because of their negative experiences. Some of the victims are no longer comfortable at conventions unless they are in the presence of a male partner or friend or group of friends. Some of the victims have developed PTSD as a result of being harassed.
(13) MULTITUDES ATTEND DRAGON AWARDS. They may be blurry photos taken with a phone, but they are clear enough to show the number of fans present for the Dragon Awards.
(14) CLOSEUP OF THE EUGIE AWARD. This is a much better picture than I was able to find the other day.
It looked different than the Dragon Awards last year too! 🙂 pic.twitter.com/SIhuhiIBoo

— Addy (@TangledEarthArt) September 6, 2017
(15) WHO CROSSES THE POND. Hold it, that sounds like an episode plot, not geography. The news story is: ATB Publishing has started shipping copies of Red, White and Who: The Story of Doctor Who in America by Steven Warren Hill, Jennifer Adams Kelley, Nicholas Seidler, Robert Warnock, Janine Fennick and John Lavalie.
In this book you'll find the rich history of everything DOCTOR WHO in the USA—from American TV Guide listings of Canadian broadcasts in 1965, through the Dalek movies, the early struggles of the Public Broadcasting System, the BBC sales attempts, the official debut on American television in 1972, the explosion in popularity among US viewers in 1979, the twentieth anniversary celebration in 1983, the conventions, the books, the merchandise, the fan clubs, the video releases, the games, the USA Tour, and every imaginable fan activity including cosplay, fan films and audios, PBS pledge drive volunteering, websites, podcasts, and much more, to the new heights of success, popularity, and fandom participation in the 21st century. It's an enlightening and entertaining journey for everyone who admires DOCTOR WHO…and not just for American fans, but devotees around the globe.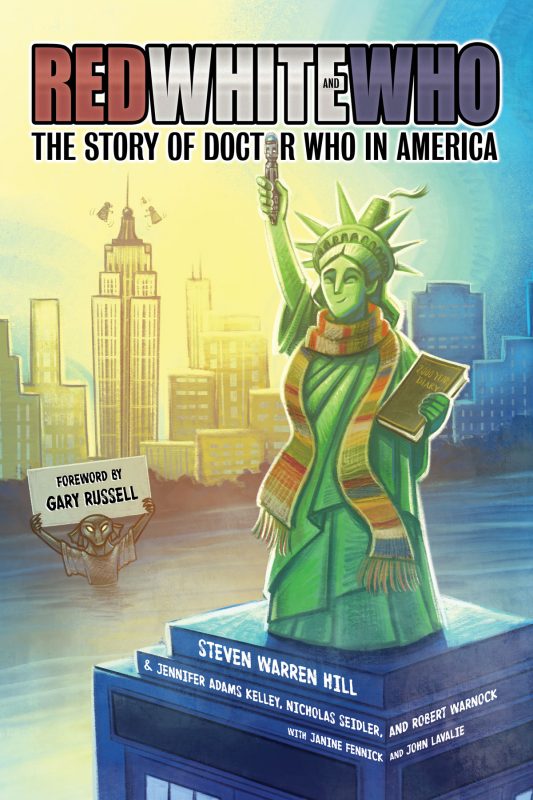 (16) THEY KEPT WATCHING THE SKIES. Now they know which star they were looking at: "Scientists recover nova first spotted 600 years ago by Korean astrologers".
On a cold March night in Seoul almost 600 years ago, Korean astrologers spotted a bright new star in the tail of the constellation Scorpius. It was seen for just 14 days before fading from view. From these ancient records, modern astronomers determined that what the Royal Imperial Astrologers saw was a nova explosion, but they had been unable to find the binary star system that caused it—until now. A new study published today by the journal Nature pinpoints the location of the old nova, which now undergoes smaller-scale "dwarf nova" eruptions. The work supports that idea that novae go through a very long-term life cycle after erupting, fading to obscurity for thousands of years, and then building back up to become full-fledged novae once more.

"This is the first nova that's ever been recovered with certainty based on the Chinese, Korean, and Japanese records of almost 2,500 years," said the study's lead author Michael Shara, a curator in the American Museum of Natural History's Department of Astrophysics.
(17) FANTASTIC FICTION AT KGB. Ellen Datlow and Matthew Kressel will present Katherine Vaz and Chris Sharp at the next gathering of Fantastic Fiction at KGB on September 20.
Katherine Vaz

Katherine Vaz is best known for her fictional chronicling of the stories of the Portuguese in America, often with a magical-realism twist. Her novels include Saudade, a Barnes & Noble Discover Great New Writers selection, and Mariana, selected by the Library of Congress as one of the Top Thirty International Books of 1998. Her collections Fado & Other Stories and Our Lady of the Artichokes & Other Portuguese-American Stories have won, respectively, a Drue Heinz Literature Award and a Prairie Schooner Book Prize. She's taught fiction as a Briggs-Copeland Fellow at Harvard and was a Fellow of the Radcliffe Institute for Advanced Study. She's a frequent contributor to the anthologies of Ellen Datlow (and Terri Windling), plus a story in the upcoming Mad Hatters and March Hares.

Chris Sharp

Chris Sharp is the author of Cold Counsel, a human-free, post-Ragnarok, dark fantasy romp and The Elementalists, a YA epic about dragons and climate change—with new installments coming soon to both series. His articles have appeared in Tor.com, and he also writes extensively for feature films and episodic television. Prior to moving to MA and committing full time to writing, he worked as an independent film/commercial producer in NYC. His photography has appeared in New York Times Magazine, his drawing in the Corcoran Gallery of Art, and some of the films he produced have won awards at festivals around the world.
The readings begin 7 p.m. on Wednesday, September 20th, 7pm at KGB Bar (85 East 4th Street (just off 2nd Ave, upstairs.) in New York.
(18) SEASONAL BREW. It's the right time of year for New Belgium Brewing to send its Voodoo Ranger Atomic Pumpkin Ale to market.
Enough with the run-of-the-mill pumpkin beers. I'm not interested in an ale that takes cues from a frozen coffee drink, and neither are you. That's why I made Atomic Pumpkin. Does it really feature Habanero peppers? Yep! What about Saigon Cinnamon? Ding! I round it all out with a hearty malt bill that makes for a spicy brew that puts the "Fun" back in Pumpkin. (Spelling was never my strength). — Voodoo Ranger
[Thanks to John King Tarpinian, JJ, DMS, Carl Slaughter, Mark-kitteh, Rebecca Hill, Craig Glassner, Michael J. Walsh, and Andrew Porter for some of these stories. Title credit goes to File 770 contributing editor of the day Kip W.]</a<>