(1) CHALLENGER COIN. On January 28, the 35th anniversary of the Challenger shuttle disaster, the U.S. Mint will release the Christa McAuliffe 2021 Proof Silver Dollar and Christa McAuliffe 2021 Uncirculated Silver Dollar. [H/t to Guy Lillian III.]
In 2021, the United States Mint will mint silver dollars with proof and uncirculated finishes to commemorate the life of Christa McAuliffe, a social studies teacher selected in 1985 to be the first participant in NASA's Teacher in Space Program. On January 28, 1986, McAuliffe and six astronauts were tragically killed during the Space Shuttle Challenger disaster. Her memory and dedication live on.

Surcharges in the amount of $10 for each silver dollar sold are authorized to be paid to the FIRST® (For Inspiration and Recognition of Science and Technology) robotics program to engage and inspire young people—through mentor-based programs—to become leaders in the fields of science, technology, engineering, and mathematics.

FIRST is dedicated to carrying on the legacy of Christa McAuliffe by inspiring students and creating a new generation of dreamers and innovators.

Obverse
Features a portrait of Christa McAuliffe with a hopeful gaze. Inscriptions are "CHRISTA McAULIFFE," "2021," "LIBERTY," and "IN GOD WE TRUST."

Reverse
Depicts Christa McAuliffe as a teacher, smiling as she points forward and upward—symbolizing the future. Three high school-age students look on with wonder. The seven stars above them pay tribute to those who perished in the Challenger tragedy.
(2) I COULD OF BEEN A CONTENDER. In Radio Times, former Doctor Who showrunner "Russell T Davies pitches MCU-style Doctor Who universe".
…"I was in the middle of running an empire," Davies said of his time on Doctor Who. "And my god I did that 10 years too soon, didn't I?"

The screenwriter is referencing the point at which his run on the show included spin-offs Torchwood and The Sarah Jane Adventures, which ran alongside – and occasionally crossed over with – the main series.

Notably, this was before Marvel Studios enjoyed its meteoric surge in popularity, normalising the concept of shared universes in film and television.

Davies continued: "There should be a Doctor Who channel now. You look at those Disney announcements, of all those new Star Wars and Marvel shows, you think, we should be sitting here announcing The Nyssa Adventures or The Return of Donna Noble, and you should have the Tenth and Eleventh Doctors together in a 10-part series. Genuinely."

The most recent Doctor Who spin-offs are 2016's Class, which was cancelled after one season, and the recent YouTube series Daleks!, consisting of five episodes between 10-15 minutes long.
(3) THE YEAR IN MANGA. ICV2 posted the sales leaders from 2020: "Full Year 2020 NPD BookScan – Top 20 Adult Graphic Novels". They say COVID-19 lockdown led to more people reading whole manga series, of which My Hero Academia is the popular favorite. Watchmen sneaked onto the list, too.
We can get the long view of the past year from the list of the top 20 adult graphic novels in the book channel, based on NPD BookScan data for 2020 (1/5/20-1/2/21) provided to ICv2.

The top selling title is Volume 1 of My Hero Academia, which isn't surprising as it has been leading the monthly charts lately. Nine of the top 20 slots are volumes of this series, and the fact that the first five and the last four volumes are the ones that are selling best indicate two things: New readers continue to come to the series, and they are sticking with it. It's not unusual to see the first volume or two of a series sell well enough to make the chart, but these nine volumes suggest this is a series people are sticking with.

The remaining manga are all first volumes (or in the cast of Demon Slayer: Kimetsu no Yaiba, the first two).
(4) MONSTER MASH. The Godzilla vs. Kong Official Trailer has dropped. In theaters and streaming exclusively on HBOMax on March 26. SYFY Wire sets the stage.
Directed by Adam Wingard (Death Note), the film sees the return of Godzilla: King of the Monsters stars Millie Bobby Brown and Kyle Chandler, along with franchise newcomers Alexander Skarsgard, Brain Tyree Henry, Rebecca Hall, and Demian Bichir, among others. And from what we can gather, they're in for a seismic shakeup: The story focuses on a young girl named Jia (Kaylee Hottle), who it seems can communicate with Kong. The girl's gifts may prove essential to a team of experts, led by Skarsgard, who seek the hulking beast. "We need Kong," Skarsgard's character, Nathan Lind, implores. "The world needs him, to stop what's coming."
(5) ZOOMING WITH TED WHITE. Fanac.org's Joe Siclari says their Fan History Zoom series featuring a Ted White interview by John D. Berry "was very successful with over 50 people signed up for the Zoom. The session was planned for about an hour and went over two hours. And people clamored for more."
And in fact they're getting more. Siclari says they have scheduled a continuation session for Saturday February 6 at 4 p.m. Please RSVP at [email protected]
In the first session Ted told about his fannish Origins and about his early career as a jazz music critic. He covered things like fanzine design and theory, working with 1950s fanzine editors, starting a Worldcon in New York City and other interesting topics. Part one of the first session is now on our YouTube Fan History Channel.
(6) BERNSTEIN OBIT. The New York Times reports "Walter Bernstein, Celebrated Screenwriter, Is Dead at 101". He died January 23. His movies included Fail Safe, and The Front, based on his own experience of being blacklisted.
…Mr. Bernstein was considered untouchable both in Hollywood and in the fledgling television industry in New York once his name appeared in "Red Channels," an anti-Communist tract published in 1950 by the right-wing journal Counterattack.

"I was listed right after Lenny Bernstein," Mr. Bernstein recalled. "There were about eight listings for me, and they were all true." He had indeed written for the leftist New Masses, been a member of the Communist Party and supported Soviet relief, the Loyalists in the Spanish Civil War and civil rights.

Mr. Bernstein and other blacklisted writers were forced to work under assumed names for sympathetic filmmakers like Sidney Lumet, who used Mr. Bernstein, now back in New York, throughout the '50s on "You Are There," the CBS program hosted by Walter Cronkite that re-enacted great moments in history.

It was during this period that Mr. Bernstein and his colleagues, notably the writers Abraham Polonsky and Arnold Manoff, began the ruse of protecting their anonymity by sending stand-ins to represent them at meetings with producers, a ploy later dramatized in "The Front." (In addition to Mr. Allen, the movie starred Zero Mostel, who, like the film's director, Mr. Ritt, had also been blacklisted.)

"Suddenly, the blacklist had achieved for the writer what he had previously only aspired to," Mr. Bernstein joked in "Inside Out." "He was considered necessary."…
(7) MEDIA BIRTHDAY.
January 24, 1969 — Trek's "That Which Survives" first aired on NBC.
"What is it, Jim?"

"A planet that even Spock can't explain."

– McCoy and Kirk, on the Kalandan outpost
This episode has the Enterprise crew members stranded on a ghost planet and terrorized by Losira, the image of a beautiful woman. (Former Miss America Lee Meriwether plays her.) It was the seventh episode of the final season. It was directed by Herb Wallerstein. It was written by John Meredyth Lucas as based on a story by D.C. Fontana under the pseudonym Michael Richards. In her original "Survival" story, Losira is much more brutal, and actively encourages the crew to turn on each other and fight.
(8) TODAY'S BIRTHDAYS.
[Compiled by Cat Eldridge and John Hertz.]
Born January 24, 1776 – E.T.A. Hoffmann.  Author of words, music, graphics; jurist; theater manager; critic; three novels, fifty shorter stories for us; source of Offenbach's opera Tales of Hoffmann, Tchaikovsky's ballet The Nutcracker, Delibes' ballet Coppélia; as A.J. Budrys said in the Jul 68 Galaxy, "a gifted music critic and competent composer…. this man, who was real and who thought some very interesting thoughts, [laid] down the groundwork for some of our most enduring themes," recommending particularly "The Golden Flower Pot," "Automata," and "The Sand-Man" in Bleiler ed. 1968, The Best Tales of Hoffmann, whose cover illustration is by H.  (Died 1822) [JH]
Born January 24, 1862 – Edith Wharton.  Two dozen short stories for us (alas, "A Bottle of Evian" was republished as "A Bottle of Perrier", but tastes vary), well known otherwise e.g. for The Age of Innocence (with which she was the first woman to win the Pulitzer Prize for Literature).  Fluent in French, German, Italian.  Active supporter of French World War I efforts; Legion of Honor.  Honorary doctorate from Yale.  Fifteen novels, ninety shorter stories, poetry, design, travel, criticism, memoir A Backward Glance.  (Died 1937) [JH]
Born January 24, 1911 —  C. L. Moore. Author and wife of Henry Kuttner until his death in 1958. Their work was written collaboratively resulting in such delightful stories as "Mimsy Were the Borogoves" and "Vintage Season", both of which were turned into films which weren't as good as the stories. She had a strong writing career prior to her marriage as well with such fiction as "Shambleau" which involves her most famous character Northwest Smith. I'd also single out "Nymph of Darkness" which she wrote with Forrest J Ackerman. I'll not overlook her Jirel of Joiry, one of the first female sword and sorcery characters, and the "Black God's Kiss" story is the first tale she wrote of her adventures. She retired from writing genre fiction after he died, writing only scripts for writing episodes of Sugarfoot, Maverick, The Alaskans and 77 Sunset Strip, in the late fifties and early sixties. Checking iBooks, Deversion Books offers a nearly eleven hundred page collection of their fiction for a mere three bucks. Is their works in the public domain now? (Died 1987.) (CE) 
Born January 24, 1917 — Ernest Borgnine. I think his first genre role was Al Martin in Willard but if y'all know of something earlier I'm sure you'll tell me. He's Harry Booth in The Black Hole, a film whose charms still escape me entirely. Next up for him is the cabbie in the superb Escape from New York. In the same year, he's nominated for a Razzie Award for Worst Supporting Actor as Isaiah Schmidt in the horror film Deadly Blessing. A few years later, he's The Lion in a version of Alice in Wonderland. Merlin's Shop of Mystical Wonders is horror and his Grandfather isn't that kindly. He voices Kip Killigan in Small Soldiers which I liked, and I think his last role was voicing Command in Enemy Mind (2010). Series wise let's see…  it's possible that his first SF role was as Nargola on Captain Video and His Video Rangers way back in 1951. After that he shows up in, and I'll just list the series for the sake of brevity, Get Smart, Future Cop, The Ghost of Flight 401, Airwolf where of course he's regular cast, Treasure Island in Outer Space and Touched by an Angel. (Died 2012.) (CE) 
Born January 24, 1930 – John Romita, age 91.  Worked for Atlas, DC, eventually transforming Marvel's Spider-Man from the drawing of Steve Ditko (although "People laugh when I say this, but…. I wanted to stay on Daredevil"), among much else designing Mary Jane Watson, the Rhino, the Kingpin.  Marvel's Art Director.  Inkpot Award.  Eisner Hall of Fame.  Sinnott Hall of Fame.  [JH]
Born January 24, 1936 – Douglas Chaffee.  Fifty covers, forty interiors for us; Dungeons & Dragons; Magic, the Gathering.  Head of IBM's Art Department.  NASA, the Navy, National Geographic (illustrating Carl Sagan on Mars, I mean about Mars), Bible schools.  Artist Guest of Honor at DeepSouthCon 29, Archon 19, EerieCon 3.  Phoenix Award.  Frank Paul Award.  Here is the Apr 67 Galaxy.  Here is the Dec 72 Fantastic.  Here is the Program Book for ConFederation the 44th Worldcon.  More archived here.  (Died 2011) [JH]
Born January 24, 1942 — Gary K. Wolf, 78. He is best known as the author of Who Censored Roger Rabbit? which was adapted into Who Framed Roger Rabbit. It bears very little resemblance to the film. Who P-P-P-Plugged Roger Rabbit? which was written later hews much closer to the characters and realties of the film.  (CE)
Born January 24, 1944 — David Gerrold, 77. Let's see… He of course scripted "The Trouble With Tribbles" which I absolutely love, wrote the amazing patch-up novel When HARLIE Was One, has his ongoing War Against the Chtorr series, and wrote, with Robert Sawyer, Boarding the Enterprise: Transporters, Tribbles, and the Vulcan Death Grip in Gene Roddenberry's Star Trek. Setting his work as a novel writer, he's been a screenwriter for Star Trek, Star Trek: The Animated Series, Land of the Lost, Logan's Run (the series), Superboy, Babylon 5, Star Trek: Deep Space Nine, Sliders, Star Trek New Voyages: Phase II, and Axanar. Very, very impressive. (CE) 
Born January 24, 1947 – Michio Kaku, Ph.D., age 74.  (Personal name first, U.S. style.)  Physicist and, as it has been called, physics outreach specialist, e.g. Hyperspace, Physics of the Impossible, Physics of the Future, radio, television, film.  Summa cum laude at Harvard (and indeed won the Hertz Engineering Scholarship, but I ain't talkin').  Professor of theoretical physics at City College NY.  String-theory pioneer.  Interviewed in Lightspeed.  [JH]
Born January 24, 1949 —  John Belushi. No, he was no in a single SFF series or film that I can mention here though he did voice work on one such undertaking early in his career that I'll not mention here as it's clearly pornographic in nature. No, he's here for his brilliant parody of Shatner as Captain Kirk which he did on Saturday Night Live which you can watch here. (Died 1982) (CE)
Born January 24, 1967 — Phil LaMarr, 54. Best known I think for his voice work which, and this is a partial list, includes Young Justice (Aquaman among others), the lead role on Static Shock, John Stewart aka Green Lantern on Justice League Unlimited, Robbie Robertson on The Spectacular Spider-Man, various roles on Star Wars: The Clone Wars and T'Shan on Black Panther. Live roles include playing a Jazz singer in the  "Shoot Up the Charts" episode of Get Smart, a doctor on The Muppets in their "Generally Inhospitable" segment, a lawyer in the "Weaponizer" episode of Lucifer and the voice of Rag Doll in the "All Rag Doll'd Up" episode of The Flash. (CE)
Born January 24, 1986 – Aimée Carter, age 35.  Nine novels, half a dozen shorter stories for us; eight other novels.  Tae kwon do first-degree black belt.  Her Univ. Michigan degree in Screen Arts & Cultures is "a fancy way of saying [I] watched a lot of old movies and wrote a lot of bad screenplays".  [JH]
(9) ROY V. HUNT ART BOOK. First Fandom Experience's retrospective of the fan, artist and illustrator Roy V. Hunt is available for pre-order.
This 144-page volume offers an extensive collection that covers the full span of Hunt's career. It includes many exceptionally scarce fanzine illustrations, amazing wood block prints created for the WPA in the 1940s and his professional work for pulps and FPCI. Hunt's work is put in perspective in a foreword by Martin Mahoney, Director of Operations and Collections at the Norman Rockwell Museum. As you'd expect from FFE, we include lots of historical context and a full index of works.

…Roy Vernon Hunt lived and worked in Denver, Colorado from 1914 until his passing in 1986. His first published art appeared in the fanzine The Alchemist in February 1940. Hunt was a founding member of the Colorado Fantasy Society, a group formed to organize the 1941 World Science Fiction Convention in Denver.

Hunt is obscure, even among ardent science fiction historians. Our interest was first sparked by a remarkable artifact: an illustration included in the Spring 1941 issue of the fanzine Starlight. The image struck us as perhaps the best ever rendering of H.P. Lovecraft's iconic Elder God, Cthulhu….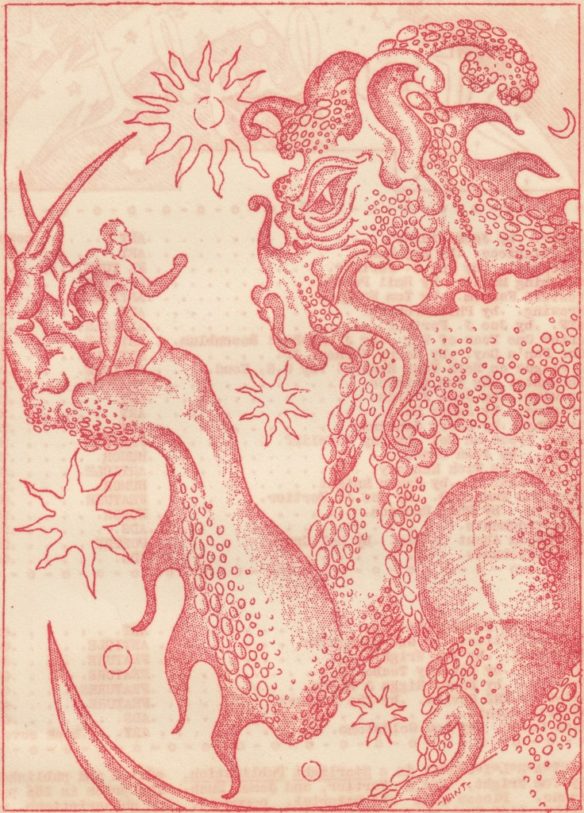 (10) IWERKS, THE NEXT GENERATION. [Item by Martin Morse Wooster.] I heard a podcast Leonard and Jessie Maltin did with Leslie Iwerks, Iwerks comes from Disney royalty. Her grandfather, Ub Iwerks, collaborated with Disney on very early cartoons, when he could personally produce 700 drawings a day. He then was poached by another studio for a few years and returned to Disney as chief technical officer and the first "imagineer," Iwerks' father, Don Iwerks, is, at 91, one of the few people who knew Walt Disney well enough to tell Disney stories.
Iwerks heads Iwerks & Co., and half of her films are environmental (including one on residents of a garbage dump in Guatemala that was Oscar nominated) that and half are genre-related, She's done two films about Pixar and one on the League of Legends video game. Her most recent achievement is "The Imagineering Story," a six-part documentary about the technical side of Disney that is the most streamed show on Disney Plus after The Mandalorian. It took her five years to produce and has a lot of rare archival footage.
Her website is iwerksandco.com. Here is the trailer for "The Imagineering Story."
(11) YOUNGARTS. In the WASHINGTON POST, Kelsey Ables reports on a program of the National YoungArts program where 19 artists were commissioned to make portraits of birds and the paintings are being turned into a four-minute animated film by Igor + Valentine which will be posted on the YoungArts website tomorrow night.  YoungArts will then sell 1,500 stills from the film for $175 each with proceeds to be split between the foundation and the artists who supplied the paintings. "National YoungArts Foundation releases animated short with work by KAWS and Shepard Fairey".
… Set to debut on the YoungArts website on Monday at 8 p.m., "Together" features work by 18 artists, who were each commissioned to create a bird. The works — polymer clay, embroidery on canvas, paintings — have been animated by Igor + Valentine. The final product, a four-minute-long short, is a collage of moving images set to meditative music by YoungArts alumna Nora Kroll Rosenbaum.

"Together" boasts contributions from big-name artists like art-market star KAWS and Shepard Fairey — of Barack Obama "Hope" poster fame — both supporters of YoungArts.Fairey's contribution, a brown thrasher rendered in red ink, has his signature street-inspired wheatpaste look, and KAWS's bird is immediately recognizable for its X-ed out eyes. But with an eclectic array of contributions — there is a cartoony, triangular bird by Isabela Dos Santos and a more abstract creation from Sheree Hovsepian — the video is less about individual artists standing out than it is about mixing disparate artistic styles. Bringing artists together that you would be unlikely to see congregated in a single gallery — let alone on the same canvas — the video is born of experimentation necessitated by a covid-19 world. YoungArts says it is meant as a message of solidarity and interconnectedness. And at an arts-starved moment, it's a visual treat….
(12) CYBERDUD. Bloomberg does a deep dive into "Cyberpunk 2077: What Caused the Video Game's Disastrous Rollout".
… Interviews with more than 20 current and former CD Projekt staff, most of whom requested anonymity so as not to risk their careers, depict a development process marred by unchecked ambition, poor planning and technical shortcomings.

… Adrian Jakubiak, a former audio programmer for CD Projekt, said one of his colleagues asked during a meeting how the company thought it would be able to pull off a technically more challenging project in the same timeframe as The Witcher. "Someone answered: 'We'll figure it out along the way,'" he said.

For years, CD Projekt had thrived on that mentality. But this time, the company wasn't able to pull it off. "I knew it wasn't going to go well," said Jakubiak. "I just didn't know how disastrous it would be."

Part of the fans' disappointment is proportional to the amount of time they spent waiting for the game. Although Cyberpunk was announced in 2012, the company was then still mainly focused on its last title and full development didn't start until late 2016, employees said. That was when CD Projekt essentially hit the reset button, according to people familiar with the project.

Studio head Adam Badowski took over as director, demanding overhauls to Cyberpunk's gameplay and story. For the next year, everything was changing, including fundamental elements like the game-play perspective. Top staff who had worked on The Witcher 3 had strong opinions on how Cyberpunk should be made, which clashed with Badowski and lead to the eventual departure of several top developers….
(13) ROCK 'N ROLL. How'd you like that staring back at you from a geode?
[Thanks to John King Tarpinian, Martin Morse Wooster, Mike Kennedy, Michael Toman, John Hertz, Cat Eldridge, JJ, and Andrew Porter for some of these stories. Title credit belongs to File 770 contributing editor of the day Danny Sichel.]