(1) EVADING DUTIES. Richard Garriott's announcement that he secretly hid some of James Doohan's ashes on the ISS inspired Steven H Silver's post "A Brief History of Space Smuggling" for Amazing Stories.
…The first mission to orbit the moon was the Apollo 8 mission on December 24 and 25, 1968. Knowing that the crew would be in orbit around the Moon on Christmas, NASA wanted to make sure that they had an appropriate Christmas dinner and provided dehydrated versions of the appropriate foods. Deke Slayton went a step further, and despite an official no-alcohol policy, he slipped in three mini bottles of Coronet Brandy for the crew to enjoy. William Borman, however, confiscated the bottles explaining that if there was any subsequent problem with the space craft, it would be blamed on the men drinking the brandy. In a 2019 article, space writer Jeffrey Kluger claimed that all three men (it is the only Apollo crew with all its members still alive) still have their unopened bottle of brandy….
(2) JP: COLLECT 'EM ALL. [Item by James Bacon.] Journey Planet: Collector's Edition is all about collectors, collections, and collecting! Our contributors share their treasure troves, which range from Prince records to nerdy paintings to Leia merchandise. What makes their collections special to them? Why did they start collecting them in the first place? Where do they keep all that stuff?
There's also a very special interview with Seanan McGuire, My Little Pony collector extraordinaire! Take a tour of her "Pony Room", meet her favorite Ponies, and hear why collecting them brings her so much joy. We hope that reading her story and the others breathes new life into your enjoyment of your own collection, whatever that may be."
Co-edited by Sarah Gulde the issue can be found free to download here.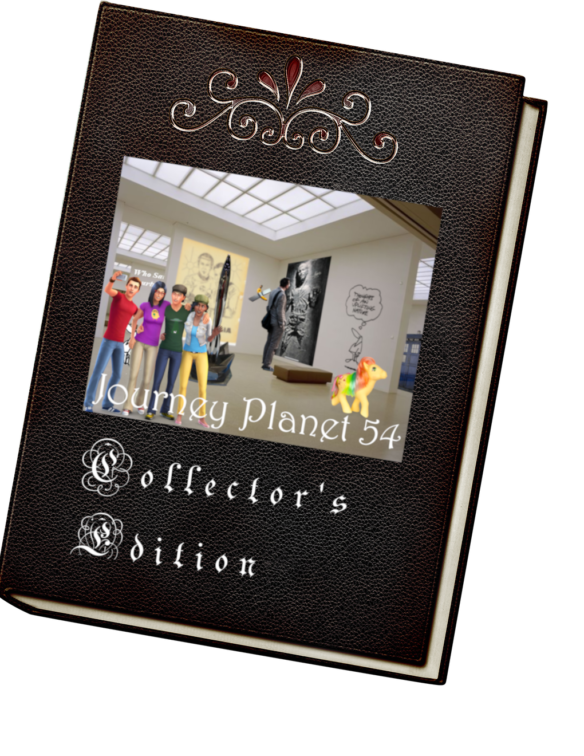 (3) THE NIGHT HAS A THOUSAND BOOKS. "Library of 1000 Believes You've Read Less Than 10 of These Books". The Library may have a thousand, but there are only 150 titles in this challenge. Cliff submitted the link along with a confession: "I scored two. I could maybe give myself half a point for Raymond Feist's Magician, but it was so terrible I couldn't bring myself to finish it." Whereas I scored 5 — big whoopee!
(4) WW BUT WHAT YEAR? "'Wonder Woman 3′ in the Works With Director Patty Jenkins" SAYS Variety. It would be a wonder if it wasn't, right?
(5) ACROSS THE POND. The UK bookstore chain Waterstones has listed its favorite science fiction and fantasy books of 2020: "The Best Books of 2020: Science Fiction & Fantasy".
The Science Fiction universe saw the return of two seminal modern series this year, as Ernest Cline finally followed up his pop-culture packed cult favourite Ready Player One and Suzanne Collins took us all back to Panem and the backstory of the future President Snow in her prequel to The Hunger Games trilogy. Meanwhile, the realms of Fantasy saw the contemporary fiction debuts of Young Adult titans, Sarah J. Maas and Veronica Roth. Elsewhere, we defended a future New York with N.K. Jemisin, traded our souls for immortality with V.E. Schwab and learned to live side by side with bunnies thanks to Jasper Fforde. Where will we boldly go in 2021?
(6) ROADS LESS TRAVELLED. Book Riot's Margaret Kingsbury writes interesting takes about her picks in "10 of the Best 2020 Under the Radar SFF Books".
PHOENIX EXTRAVAGANT BY YOON HA LEE

This unique standalone is set in a fantasy world reminiscent of Korea during the Japanese occupation of the early 1900s. The Ministry of Armour hires nonbinary artist Jebi to paint magic sigils onto masks for the government's automata. Their sister hates the conquering government, but Jebi, who doesn't consider themself political, needs the cash and doesn't see another way of acquiring it. Jebi is oblivious to anything that isn't art. At the armory, Jebi befriends a pacifist dragon automata, and their political reluctance slowly begins to shift. As their friendship strengthens and Jebi sees more of the inner workings of The Ministry of Armour, they decide they'll do whatever it takes to keep the dragon from becoming a weapon. I loved the way queerness is normalized in the social structure of the world Yoon Ha Lee builds, as well as the focus on art and pacifism, and Jebi's slow character arc. Phoenix Extravagant is a fantastic standalone.
(7) MEDIA BIRTHDAY.
December 27, 1904 —  J. M. Barrie's Peter Pan ; or, the Boy Who Wouldn't Grow Up premiered at the Duke of York's Theatre, London. Nina Boucicault, daughter of playwright Dion Boucicault, was the title role. Barrie continued to revise the play for years after its debut until publication of the play script in 1928.
(8) TODAY'S BIRTHDAYS.
[Compiled by Cat Eldridge and John Hertz.]
Born December 27, 1888 — Thea von Harbou. She penned the novel Metropolis based upon her uncredited screenplay for husband Fritz Lang on that film.  She also collaborated with him on other projects, none of which save her Phantom and Dr. Mabuse the Gambler screenplays appear to be genre. (Died 1954.) (CE)
Born December 27, 1917 – Ken Slater.  Fan and bookseller.  Ran Operation Fantast, then eventually Fantast (Medway) Ltd.  "Something to Read" six years in Nebula.  Founding member of BSFA (British SF Ass'n).  Fan Guest of Honour at Eastercon 10; with wife Joyce, at Conspiracy '87 the 45th Worldcon.  Co-founded OMPA; in FAPA too.  When Forry Ackerman won the "No. 1 Fan Personality" Hugo – the only time we've given it – he left it onstage saying it should have gone to KS.  Doc Weir Award (U.K., service), Big Heart (our highest service award).  Note by Our Gracious Host here.  (Died 2008) [JH]
Born December 27, 1931 – Perdita Boardman.  Long-time hostess of the Lunarians (New York); ran the Hospitality Suite at their annual Lunacon; Fan Guest of Honor with husband John Boardman at Lunacon 41.  Made a WSFS banner (but not this one).  Earlier married to Ray Nelson inspiring poetry, hello Ray.  (Died 2017) [JH]
Born December 27, 1943 – Diane Stanley, age 77.  A dozen novels, three covers for us; sixty books all told; particularly applauded for children's biographies, many illustrated by herself, e.g. Cleopatra; Charles Dickens, the Man Who Had Great Expectations (CD wrote Great Expectations and was a social reformer); Joan of Arc; Mozart the Wonder Child, a Puppet Play in Three Acts; Saladin, Noble Prince of Islam; Shaka, King of the Zulus.  With an M.A. in medical illustration she has done that too; graphic designer for Dell; art director for Putnam's.  Shaka was a NY Times Best Illustrated Book.  Orbis Pictus Award.  Boston Globe – Hornbook Award and Golden Kite Award, twice each.  Washington Post – Children's Book Guild Award for body of work.  Here is her cover for the May 88 Cricket.  Here is Lost Magic.  Here is The Silver Bowl.  Here is an interior for Cleopatra.  [JH]
Born December 27, 1945 – Fred Lerner, Ph.D., age 75.  Doctorate in library science, Modern SF and the American Literary Community based on his dissertation.  Co-founded the Beaker People Libation Front.  NESFA (New England SF Ass'n) Press published A Bookman's Fantasy, essays; put his "Silverlock" Companion in its ed'n of Silverlock; also for NESFA Press he edited Jack Speer's memoir Fancestral Voices.  Special Guest at Boskone 32 (which has no Fan Guest of Honor).  His Lofgeornost (last word of Beowulf, "desirous of fame or renown") for FAPA circulates widely, won a FAAn (Fan Activity Achievement) Award last year.  [JH]
Born December 27, 1951 — Charles Band, 69. Exploitation film maker whose here because some of his source material is SFF in origin. Arena was scripted off the Fredric Brown "Arena" short story which first ran in the June 1944 Astounding, and From Beyond which was based on H P Lovecraft's short story of the same name which was first published in June 1934 issue of The Fantasy Fan. (CE) 
Born December 27, 1960 — Maryam d'Abo, 60. She's best known as Kara Milovy in The Living Daylights. Her first genre role was her screen debut in the very low-budget SF horror film Xtro, an Alien rip-off. She was Ta'Ra in Something Is Out There, a miniseries that was well received and but got piss poor ratings. Did you know there was a live Mowgli: The New Adventures of the Jungle Book? I didn't. She was Elaine Bendel, a recurring role in it. (CE)
Born December 27, 1969 — Sarah Jane Vowell, 51. She's a author, journalist, essayist, historian, podcaster,  social commentator and actress. Impressive, isn't she? Ahhh but she gets Birthday Honors for being the voice of Violet Parr in the Incredibles franchise. I say franchise as I've no doubt that a third film is already bring scripted given how successful the first two were.  (CE) 
Born December 27, 1972 – Igor Posavec, age 48.  Covers for Perry Rhodan 2436-39: here is The Immaterial City (in German); here is People for Stardust (in German).  Note that P Rhodan, co-created by our own Walter Ernsting, has appeared weekly since 1961; its first billion of worldwide sales came in 1986.  More recently IP has been doing digitals; here is Do Machines Dream of Electric Sheep? (with Sven Sauer; I haven't seen the untranslated title so don't know if this is a deliberate variation on P.K. Dick's Do Androids…).  Website.  [JH]
Born December 27, 1977 — Sinead Keenan, 42. She's in the Eleventh Doctor story, "The End of Time" as Addams but her full face make-up guarantees that you won't recognize her. If you want to see her, she's a Who fan in The Five(ish) Doctors Reboot. Her final Who work is a Big Finish audio drama, Iterations of I, a Fifth Doctor story. And she played Nina Pickering, a werewolf, in Being Human for quite a long time. (CE) 
Born December 27, 1986 – Mirelle Ortega, age 34.  As she says, "Illustrator for kidlit and animation".  Animation! prize at Ideatoon.  Three covers for Linda Chapman's Mermaids Rock stories; here is The Ice Giant.  Here is A Dash of Trouble from Love Sugar Magic.  MO's Website is full of swell images; someone better with Electronicland than I may be able to tell which have been used and which merely proposed.  [JH]
Born December 27, 1987 — Lily Cole, 33. Been awhile since I found a Who performer and so let's have another one now. She played The Siren in the Eleventh Doctor story, "The Curse of The Black Spot". She's also in some obscure film called Star Wars: The Last Jedi as a character named Lovey. And she shows up in the important role of Valentina in The Imaginarium of Doctor Parnassus. Not mention she's in Snow White and The Huntsman as Greta, a great film indeed. (CE)
(9) FEAST FOR THE EYES. Artnet News says "A New Book Makes the Case That Fantasy Art Is America's Least Understood Fine-Art Form—See the Wild Images Here" See sixteen great and vividly-colored examples from Masterpieces of Fantasy Art at the link.
Dragons, sexy maidens, and epic sword fights are getting the fine-art treatment in Masterpieces of Fantasy Art, Taschen's new 532-page illustrated tome celebrating the genre.

Lest you think fantasy art is nothing more than a lightweight endeavor, the massive volume weighs a hefty 16 pounds. Tracing the evolution of the genre from 1400 to the present, it showcases the works of Old Masters Jan Van Eyck and Hieronymus Bosch as well as contemporary heavy-hitters like H.R. Giger, Frank Frazetta, and Boris Vallejo.

"Since fantasy art is largely created as work for hire, no matter how talented the artist," author Dian Hanson writes, "it has always been accessible, displayed prominently on the newsstand, to its advantage and curse." The genre's predilection for provocative, sexualized scenes has also hurt its credibility among the art-world cognoscenti—not to mention that the mass-produced fantasy books were literally printed on cheap pulp paper in the 20th century.

Hanson amassed more than 100 superlative examples of this oft-misunderstood form for the book. The compilation speaks to the genre's considerable appeal—which has also translated into impressive art-market success. Original Frazetta oil paintings have sold for as much as $5.4 million. The book's cover image, Frazetta's Princess of Mars (197), fetched $1.2 million at Dallas's Heritage Auctions in September….
(10) MEME MUTATION. Forget about stainless steel — "Ephemeral edible: gingerbread monolith appears on San Francisco hilltop, then collapses" – photos in The Guardian.
Like the other monoliths that have mysteriously appeared across America and the world in the waning weeks of 2020, the one that popped up on a California hilltop on Christmas Day seemed to come out of nowhere.

Also like the others, it was tall, three-sided and it rapidly attracted crowds of curious visitors before an untimely destruction.

Unlike the others, this monolith was made of … gingerbread.
(11) 2020 ENVISIONED. NASA's video shows that in space the year was not wasted – "NASA Discoveries, R&D, Moon to Mars Exploration Persevere in 2020".
In 2020, NASA made significant progress on America's Moon to Mars exploration strategy, met mission objectives for the Artemis program, achieved significant scientific advancements to benefit humanity, and returned human spaceflight capabilities to the United States, all while agency teams acted quickly to assist the national COVID-19 response.
(12) SKY'S THE LIMIT. Leonard Maltin reviewed George Clooney's sf film The Midnight Sky. He didn't like it. "The Midnight Sky: Been There, Done That".
George Clooney stars in this space parable that starts out well, then goes adrift. Set in the stereotypically bleak near-future, the story focuses on a defeated scientist who chooses to stay behind in the Antarctic, knowing his days are numbered, while his colleagues get the hell out of there. But when he discovers that he has company—a silent 7-year-old girl—his priorities shift completely…
(13) HUSTLING TO EARTH. The New York Times fills in the late arrivers to Tevis fandom: "Walter Tevis Was a Novelist. You Might Know His Books (Much) Better as Movies".
The wildly popular Netflix series "The Queen's Gambit" has done for chess what Julia Child once did for French cooking. Chess set sales have skyrocketed; enrollment in online chess classes has surged. The series has been the subject of hundreds of articles and interviews. The novel that inspired the show, first published in 1983, has been on The New York Times's trade paperback best-seller list for five weeks.

Yet little attention has been paid to Walter Tevis, the author whose creation has stirred all the commotion.

…Born in 1928, Tevis wrote six novels, a surprising number of which made high-profile leaps to the screen: "The Hustler," about a young pool shark played by Paul Newman; "The Man Who Fell to Earth," starring David Bowie as a lonesome alien; and "The Color of Money," a follow-up to "The Hustler," which won Mr. Newman his first Oscar. Tevis's 1980 science fiction book, "Mockingbird," a commentary on humanity's dwindling interest in reading, has long had a modest cult following.
(14) BODY OF KNOWLEDGE. "The next The Crown or The Queen's Gambit? Netflix's Chinese sci-fi series The Three-Body Problem is sparking hype – and controversy – already": a roundup of what is known, in the South China Morning Post.
The show's release date is still unconfirmed

Despite the hype – good and bad – surrounding Netflix's announced adaptation and the impressive list of names who will feature on the creative team, the production of The Three-Body Problem is still in its early days. Writers and producers might be signed up, but there have been no casting reveals yet and, crucially, no release date announced. The Covid-19 pandemic has undoubtedly delayed progress, but fans of the books might expect further details next year.
(15) DROPPING THE OTHER. Mental Floss coached viewers about "'A Christmas Story': Fun Mistakes, Anachronisms, and Other Things to Look For". It's only poetic justice that a movie featuring a leg lamp would have missing footage.
25. FLASH GORDON GETS CREDIT, TOO.

Keep watching the end credits roll and you'll see Flash Gordon and Ming the Merciless among the names that scroll by. Though it never made the final cut, the credits for an additional fantasy sequence in which Ralphie and his trusty firearm help Flash Gordon face off against Ming remain.
Michael Toman sent the link with this enthusiastic intro: "Am sure that I'm not the only Filer who would appreciate the opportunity to see 'an additional sequence in which Ralphie and his trusty firearm help Flash Gordon face off against Ming.' Has anyone considered adapting this movie as a Graphic Novel?"
(16) HO HO IO. Io9's Julie Muncyinvites everyone to "Relax With This Classic Addams Family Christmas Short" posted on YouTube by MGM.
…And of course, even they adore Santa Claus. I love it. What a perfect family.
[Thanks to Mike Kennedy, Michael Toman, Martin Morse Wooster, JJ, John King Tarpinian, Andrew Porter, John Hertz, James Bacon, Cliff, Contrarius, and Cat Eldridge for some of these stories. Title credit goes to File 770 contributing editor of the day Andrew (not Werdna).]