(1) BUGLER, SOUND REBOOTS AND SADDLES! "J. Michael Straczynski Rallies Fans to Save the Babylon 5 Reboot" – Tor.com boosts the signal. JMS asks fans to light up social media on behalf of Babylon 5.
The Babylon 5 reboot at The CW managed to survive the many rounds of cuts the network made in the lead up to its eventual sale. According to creator J. Michael Straczynski, however, the fate of the show is still uncertain, and he wants fans to express their support for the show on the Interweb so The CW's new owners as well as Warner Bros. TV know there's an audience for the sci-fi show….
Straczynski also dropped the hashtag #B5onCWin23 as the rallying point for fans to prove their desire to see the reboot. The hashtag became the top trending one on Twitter at one point, so here's to hoping that The CW and Warner Bros. TV are listening.
(2) GUNN CENTER'S SFF BOOK CLUB. The Gunn Center's Sci Fi, Fantasy, & Speculative Lit Book Club is officially back. You can register for the event using this link.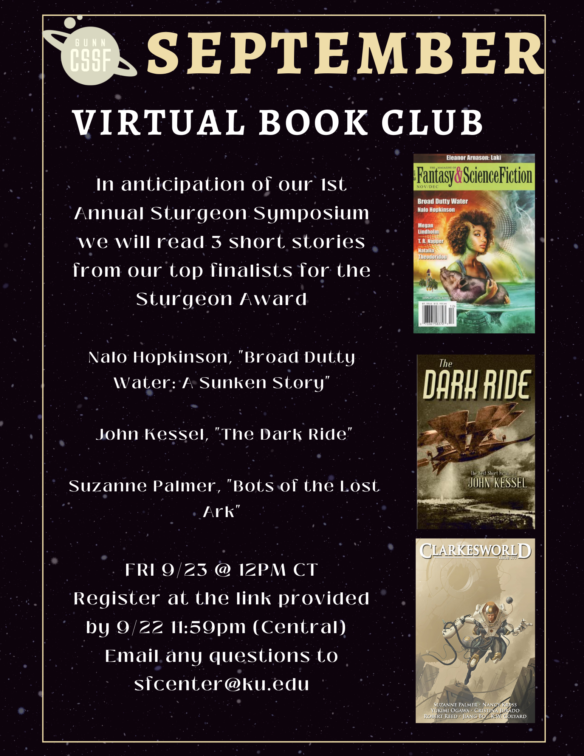 In honor of the upcoming Sturgeon Symposium: Celebrating Speculative Communities and the announcement of the 2022 Sturgeon Award winner at the end of this month (Sept. 29 & 30), we've chosen 3 short stories to read from the list of finalists:
Nalo Hopkinson's "Broad Dutty Water: A Sunken Story"
John Kessel's "The Dark Ride"
Suzanne Palmer's "Bots of the Lost Ark"
Based on what we've heard from the jury, these are the final contenders for the award, so be sure to read their stories and take your guesses as to who you think the winner will be!

Sign up by midnight on the 22nd so that we can get you added to the list. Upon registration, you'll be sent the Zoom link and passcode as well as links and pdfs to the readings.
P.S. To register for the Gunn Center's First Annual Sturgeon Symposium (Sept. 29-30), use this link.
(3) YO HO NO. It's not "speak like a pirate" day in France.Publishing Perspectives understands why "French Publishers Cheer a Court's Order to Block a Book Piracy Site".
Today (September 19), an announcement from the French publishers' association—the Syndicat national de l'édition (SNE)—signals a victory for French publishers in cases against piracy-facilitation sites drain revenue of many world markets' book publishing industries.

A judgment was handed down in Paris on August 25, according to SNE and that court ruling has ordered Internet service providers to block the site (and associated domain names) of a piracy group called "Z-Library." The result, according to the syndicate, is that 209 domain names and their extensions on mirror sites are being rendered inaccessible.

"Presenting itself 'as a free library' since 2009," the publishers' association says "but offering a paying model for access to counterfeit works, the Z-Library site—accessible via multiple addresses—offered access to more than 8 million books" across all editorial sectors "and 80 million pirated items."

…"This collective success," the French publishers' syndicate writes in its media messaging today, shuts down at least these instances of an abiding and expensive impediment to doing business and to copyright protection, "and opens the way to new actions by the publishers and the Syndicat national de l'édition—blocking and de-referencing, quickly and systematically, against Web sites operating to defeat copyright protections.

"French publishing is investing massively to allow broad public access to digital books," the publishers say in today's announcement. "Book piracy undermines the remuneration of creators, both authors and publishers. It poses a threat to the entire book ecosystem, particularly booksellers, and harms cultural diversity.
(4) CHICON 8 MASQUERADE CREDITS. As reported earlier this month, Chicon 8 posted a rich gallery of photos: "Masquerade! Astounding Faces on Parade!" It includes notes on the award winners, including Best in Show, Arwen's Lament presented by Rae Lundquist and company. (Which also won "Excellence in Workmanship for Hobbit Feet".)
We also want to credit the directors and judges. (Thanks to John Hertz for rounding up the names).
Masquerade Directors: Sue Finkle, Renata O'Connor (co-directors)
Judges: Debi Chowdhury, Byron Connell
Workmanship Judges: Karen Berquist-Dezoma, John Hertz, Leah O'Connor
M.C.: William Dezoma
(5) POSSIBILITY ZERO. [Item by Bruce D. Arthurs.] Got a post-convention report from local (Scottsdale) convention CoKoCon, held Labor Day weekend earlier this month. They had 221 in attendance and reported the following about their Covid-prevention results:
COVID CASES – ZERO REPORTED!

We've seen a lot of reports of COVID cases coming out of other conventions, whether they be of similar size to us or much larger. Some of them, perhaps unsurprisingly, had no COVID policy in place, and became spreader events. Others had a very strict policy, so strict that it was broadly ignored.

We tried to find a middle ground that would keep all members of CoKoCon as safe as possible and it seems to have worked out, because our case count is… zero, as far as we are aware. Not one positive case has been reported.

If you did attend CoKoCon and tested positive for COVID within the next week, please let us know by e-mailing [email protected]. For now, it seems like we found a good balance and we couldn't be happier.

Because of this, we will continue our current policy into 2023.
I think I mentioned in a Pixel Scroll comment that attendees were cooperative about following the convention guidelines: Masks required in the conference center facilities, no eating or drinking inside the facilities (the Ice Cream Social was held on an outside patio), and social distancing encouraged, both in and outside the conference rooms.
(6) MEDIA BIRTHDAY.
1989 – [By Cat Eldridge.] Adapted from the Alien Nation film, the Alien Nation series premiered on Fox thirty-three years ago this evening. I'm sure that I saw that night. And even liked. It. I wouldn't say that it's the greatest series ever conceived but it was good enough that I caught most, if not all, of the twenty-two episodes aired.
You probably know the concept of starship crashing near Los Angeles carrying a race we called the Newcomers. Some join the LA police force, hence the police procedural theme of the series. Our central story revolves Detective Matthew "Matt" Sikes, a human, and Detective George Francisco, a Newcomer is who's his partner. I thought they did a reasonably decent job of dealing with racism and associated issues framed within an SF setting.
Yes, it includes weird things like even the aliens have male pregnancies. Awkwardly done I thought.
Was it perfectly done? (See above.) Oh Hell no. But they tried.
It was produced by Kenneth Johnson who you might recognize from the V franchise that he done earlier. He also was responsible for The Bionic Woman and The Incredible Hulk,
TV Guide would later include the series in their 2013 list of 60 shows that were "Cancelled Too Soon" I disagree. I don't think that it was that well a conceived a series and honestly I'm not sure that it was going anywhere. It did spawn five films after it was cancelled.
In June 2009, Syfy (You know, that which had been the Sci-Fi Channel) announced that they were developing a new take on the series. Before that went anywhere, the series was cancelled by the network in favor of paranormal reality shows and professional wrestling. Since then talk after talk has been made of a reboot. Do you see a series happening?
Amazon, Hulu, Sling and Starz are streaming it.
(7) TODAY'S BIRTHDAYS.
[Compiled by Cat Eldridge.]
Born September 19, 1922 — Damon Knight. Author, editor, critic. Kate Wilhelm who was his wife is also regrettably no longer with us. His 1950 short story, "To Serve Man" was adapted for The Twilight Zone. His first story, "The Itching Hour," appeared in the Summer 1940 number of Futuria Fantasia which was edited and published by Ray Bradbury.  It's hard to briefly sum up his amazing genre career but let me note he was a member of the Futurians and a reviewer as well as a writer. Novels of his I'll single out are Hell's Pavement, The Observers and Special Delivery but don't think I'm overlooking his brilliant short stories. The Encyclopedia of SF notes that "In 1995, he was granted the SFWA Grand Master Award – which from 2002 became formally known, in his honour, as the Damon Knight Grand Master Award. He was posthumously inducted into the Science Fiction Hall of Fame in 2003." (Died 2002.)
Born September 19, 1928 — Adam West. Best known as Batman on that classic Sixties series, he also had a short role in 1964's Robinson Crusoe on Mars as Colonel Dan McReady. He last played the role of Batman by voicing him in two animated films, Batman: Return of the Caped Crusaders and Batman vs. Two-Face. He also most excellently voiced The Gray Ghost in an episode of the Kevin Conroy voiced B:TAS, "Beware the Gray Ghost". So what did he do that I didn't note here? (Died 2017.)
Born September 19, 1933 — David McCallum, 89. His longest running, though not genre, role is pathologist  Dr. Donald "Ducky" Mallard on NCIS where he appeared in every episode of the first fifteen seasons. Genre wise, he was Illya Nickovitch Kuryakin on The Man from U.N.C.L.E., and the British series Sapphire & Steel where he was Steel and Joanna Lumley was Sapphire. He played the lead in a short-lived U.S. version of The Invisible Man. He was Dr. Vance Hendricks on Babylon 5's "Infection" episode.
Born September 19, 1941 — Mariangela Melato. She was Kala, one of the female enforcers of Ming the Merciless in the Eighties version on the Flash Gordon film. The only other film she was in that might have been genre is Thomas e gli indemoniati. (Died 2013).
Born September 19, 1942 — Victor Brandt, 80. He showed up not once but twice during Star Trek's third and final season. He played Watson in the "Elaan of Troyius" episode and Tongo Rad in the "The Way to Eden" episode. He's since done work in The Invaders, They Came From Outer Space, and voice work in Star Wars: The Clone Wars. 
Born September 19, 1947 — Tanith Lee. I hadn't realized that she wrote more than ninety novels and three hundred short stories in her career. Ninety novels! She even wrote two of the Blake's 7 episodes as well. I am more fond of her work for children such as The Dragon Hoard and The Unicorn Series than I am of her adult work. She has garnered well-deserved Stoker and World Fantasy Awards for Lifetime Achievement. (Died 2015.)
Born September 19, 1952 — Laurie R. King, 70. She's on the Birthday Honors list for the Mary Russell series of historical mysteries, featuring Sherlock Holmes as her mentor and later partner. Hey it's at least genre adjacent.  She's also written at least one genre novel, Califia's Daughters.
Born September 19, 1970 — N. K. Jemisin, 50. Her most excellent Broken Earth series has made her the only author to have won the Hugo for Best Novel in three consecutive years. Her "Non-Zero Probabilities" was nominated for the Best Short Story losing out to Will McIntosh's "Bridesicle" at Aussiecon 4. "Emergency Skin" I'm pleased to note won the Best Novelette Hugo at CoNZealand. Yeah I voted for it. And at Chicon 8 she won a Best Graphic Story or Comic Hugo for Far Sector, written by her, with art by Jamal Campbell.
(8) WHAT TOMORROW WILL LOOK LIKE. Mysterious Galaxy Bookstore will host a virtual panel – "OCCUPY GONDOR: Using Speculative Fiction To Interrogate The New Gilded Age" – with Elizabeth Bear, Katherine Addison, Arkady Martine, C. L. Polk, Scott Lynch, and Max Gladstone on September 30 at 6:00 p.m. Pacific. Register at the link.
God-emperors and space capitalists got you down? The discourse surrounding speculative fiction, and in particular fantasy and space opera, often pushes the idea that SF is inherently regressive. Join our panel of award-winning and best-selling authors as they interrogate the assumption that the future necessarily has to look anything like the past.
(9) FAMILIAR MOTIFS. In "Review: Goliath by Tochi Onyebuchi", Camestros Felapton says readers' persistence will be rewarded.
This is an absolutely tremendous book that befits its Biblically gigantic name yet I feel the need to start the review in a similar way to many of the reviews I've since read. I initially struggled to get into the book but you should stick with it.

The other repeated review comparison I've seen is to Samuel Delany's Dhalgren. It is a comparison with some merit — both books do have a disorientating sense of an urban landscape in collapse — but it is not a helpful comparison. Rather like the initial statement I made, it is a comparison that feels like you are making either excuses or giving a warning. Where Dhalgren can feel obscure or even occult, Goliath is quite direct about its thesis even if it is complex in the way it interplays the lives of the multiple characters…
(10) JEOPARDY! Andrew Porter spotted the contestants tripping over this one on tonight's episode of Jeopardy! Might have gotten me, too!
Category: A Hunger For Reading

Answer: The title eatery of this Douglas Adams book is Milliways, famed for its Pan Galactic Gargle Blaster.

Wrong question: What is 'The Hitchhiker's Guide to the Galaxy'?

Right question: What is 'The Restaurant at the End of the Universe'?
(11) KEY AND PEELE VOICE TITLE CHARACTERS. This teaser trailer for Henry Selick's new film dropped last week: Wendell & Wild.
From the delightfully wicked minds of Henry Selick (director of The Nightmare Before Christmas and Coraline) and Jordan Peele (Nope, Us, Get Out) comes the story of Kat (Lyric Ross), a troubled teen haunted by her past, who must confront her personal demons, Wendell & Wild (played by Keegan-Michael Key and Jordan Peele) to start a new life in her old hometown.
(12) NO SH!T SHERLOC? "'Tantalizing' Mars rocks strengthen the idea the Red Planet once hosted life" – Inverse has the story.
NASA'S PERSEVERANCE ROVER has detected a plethora of potential biosignatures on Mars, the agency announced Thursday.

Now that the car-sized robot has covered 13 kilometers of Martian terrain over the span of 560 sols (days on the Red Planet), the mission team happily announced that the rover's SHERLOC instrument detected organic material across many more samples of unique Mars rocks than first anticipated.

…WHAT THEY FOUND — The rocks are "tantalizing" and "whetting our appetite for what's next," Laurie Leshin, director of NASA's Jet Propulsion Laboratory, said on Thursday.

First, the team found evidence that the rocks are excellent at preserving organic material. They learned this thanks to SHERLOC, short for Scanning Habitable Environments with Raman & Luminescence for Organics & Chemicals. It performed the preliminary analysis of Perseverance's target rocks by shooting a laser at exposed faces — called abrasion patches — to analyze the rocks' compositions….
(13) VIDEO OF THE DAY. [Item by Martin Morse Wooster.] Warner Brothers dropped this 2022 featurette on the batsuit, featuring interviews with five directors of Batman movies and six Batmans, last week. Narrated by Kevin Smith. "The Evolution of the Batsuit".
[Thanks to JJ, John King Tarpinian, Andrew Porter, Chris Barkley, John Hertz, Bruce D. Arthurs, Michael Toman, Cat Eldridge, Mike Kennedy, and Martin Morse Wooster for some of these stories. Title credit belongs to File 770 contributing editor of the day Daniel Dern.]