(1) TRYING TO CROSS THE MIGHTY AMAZON. Kindle Direct Publishing has been yanking Mark Lawrence's chain: "My attempts to get sense from KDP".
KDP is what authors use to self-publish books and short stories. A self-published author will use just KDP. A traditionally published author may use KDP to publish additional material. I used it for Road Brothers, the Book of the Ancestor story Bound, and my short story During the Dance….

…The 'crime' they're accusing me of concerns – if you follow the link – 'willfully misleading metadata'. More on that later. …

…Without acknowledging the stupidity of their request they unblocked my account. But since the only item they had complained about was still 'in review' and you can't alter anything on a book in review, I had to email them again. I'm telling them that I think they're complaining about me referencing books I didn't write & I'm telling them that I did write those books…
(2) INKLINGS WATERING HOLE TO REOPEN. A historic pub frequented by authors including J.R.R. Tolkien and C.S. Lewis will open its doors again reports the Oxford Mail: "Historic Oxford pub Lamb & Flag to reopen in time for Christmas".
The pub in St Giles, popular with students and real ale drinkers, has been serving since 1566, and switched to its current site in 1613.

St John's announced its closure in January, citing tough conditions created by the Covid-19 pandemic and its impact on the hospitality sector.

But following an outcry, the Inklings Group – named in honour of the pub's former literary patrons JRR Tolkien and CS Lewis – has signed a long-term lease to relaunch the pub.

The modern Inklings is a group of fans of the pub from 'town and gown'. It is described by St John's as a 'diverse and eclectic mix of Oxford people, past and present' which includes scientists and entrepreneurs, writers and artists, as well as local businesses and suppliers.

Kate O'Brien, chairman of the Inklings Group, said: "Several hundred people, brought together by a love of Oxford and the Lamb & Flag pub, have established the Inklings Group to secure the future of this well-loved pub….
I knew of the Inklings' association with Oxford's Eagle and Child pub but this other place was news to me. I checked with Inklings scholar Diana Glyer who explained, "From time to time, the Eagle and Child ran out of beer, so the Inklings walked across the street to the Lamb & Flag. And then when the Bird & Baby remodeled in 1962, they permanently switched to the Lamb & Flag."
(3) LEARNING THE GAME. [Item by Martin Morse Wooster.] Behind a paywall in the Financial Times, Tom Faber discusses "tutorials," the part of a video game where players learn the rules of the game.
There is an adage in game design that players enjoy learning but not being taught. Some games get tutorials right by following this maxim. The undisputed pinnacle is 'World 1-1' in 1985's SUPER MARIO BROS., which shows how expert environmental design can teach wordlessly. Players learn how Mario moves and jumps intuitively, while the designers employ 'affordances,' cues that draw on players' existing knowledge. So we run away from one guy because he has angry eyebrows and we put the key in the lock because that's where keys go, The reason Mario collects coins is because the developers needed to think of something that anyone would want to pick up off the ground — what else but money?"…

…Other titles dare to be creative. In HORIZON ZERO DOWN, hero Aloy grows from child to adult as the player learns abilities. FALLOUT 3 gamifies childhood by showing the player/character being born, taking their first steps and learning to shoot with a BB gun. These are excellent tutorials because they leave the player with the knowledge they need, excited to get into the game proper and with a sense that the game has respected their time and intelligence. We should applaud these games that have mastered the art of teaching, but the majority of the industry still has much to learn.
(4) KEEP THEM DOGGIES ROLLING. Jon Del Arroz and Vox Day steal the hubcaps off the wheels of Comicsgate in "Debarkle Chapter 66: The Rise and Self Destruction of Comicsgate" at Camestros Felapton.
…Inevitably tying the culture war to crowdfunding comic books was a step that somebody was going to take.

Although it was not obvious in March 2017, the shine was coming off Vox Day's Castalia House publishing project. When the Rabid Puppies campaigns finally ran out of steam, Day's enthusiasm for publishing new science fiction novels would also wane sharply. Provoked by an article in The Federalist by Jon Del Arroz jumping on the trend of attacking diversity in comics, Day asked his followers if they'd be interested in crowd funding a line of comics from Castalia….
(5) THESE LOOK FAMILIAR. Literary Hub's Emily Temple defends her choices for "The 25 Most Iconic Book Covers in History". Almost a third of them are genre.
First things first. What makes a book cover iconic? There are no hard and fast rules, of course—like anything else, you know it when you see it. But in order to compile this list, I looked for recognizability, ubiquity, and reproduction—that is, if there are a million Etsy stores selling t-shirts/buttons/posters/tote bags with the book cover, or if someone you know has ever dressed up as it for Halloween, or has a tattoo of it, it probably counts as iconic….
(6) WHAT YOU SEE WHEN YOU KEEP WATCHING THE SKIES. "11 Scary Space Facts That'll Make You Appreciate the Earth We're Destroying" – a slideshow at Lifehacker.
We need to get rid of outer space—it's too dark and too terrifying, and everything out there wants to kill us. Yet some of our most popular billionaires seem convinced that rocketing humanity off into the stars is a more viable longterm survival strategy than simply trying a little less hard to ruin the one planet we've already got.

Perhaps they should review the following strange and horrifying space facts, which will definitely make you thankful you were born on good old Earth…..
First on the list:
Something we cannot see may be tilting the entire universe

There is something in the space between the constellations of Centaurus and Vela that is pulling groups of galaxies toward it. This mystery thing is too far away for us to see, but we can observe that galaxy clusters are moving toward the whatever-it-is at extraordinary speed. Scientists surmise that The Thing could be so big it's essentially tilting the universe. Vibes: bad.
(7) MEMORY LANE.
1974 – Forty-seven years ago on NBC (where else would it be?), Star Trek: The Animated Series first aired. The first spin-off from Star Trek, it had the entire voice cast of the original series save Walter Koenig (who did write one episode). Show writers David Gerrold and D. C. Fontana considered it to be a fourth season of the first series. Its second season won an Emmy for Outstanding Entertainment in a Children's Series. It lasted but two seasons consisting of a total of twenty-two episodes. "The Slaver Weapon" episode was adapted from "The Soft Weapon" by Larry Niven who the episode. Audience reviewers at Rotten Tomatoes currently give it an outstanding rating of ninety-four percent. And yes, I remember the series fondly.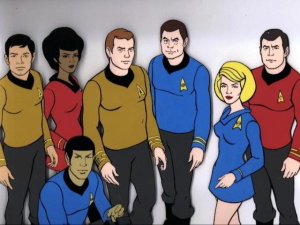 (8) TODAY'S BIRTHDAYS.
[Compiled by Cat Eldridge.]
Born October 8, 1920 — Frank Herbert. Dune, of course, which won a Hugo at Tricon. (I've read it myriad times.) I'll admit I only like the series through Dune Messiah. The BBC full cast audio version of Dune is quite amazing. I'm also fond of Under Pressure.  (Died 1986.)
Born October 8, 1928 — John Bennett. A very long involvement in genre fiction starting with The Curse of the Werewolf in the early Sixties and ending forty years later with a role on the Minority Report series. Being a Brit, naturally he appeared on Doctor Who in the prime role of Li H'sen Chang as part of a Fourth Doctor story, "The Talons of Weng-Chiang". He had roles in Blake's 7, Watership Down, Tales of The Unexpected, The Plague Dogs, Dark Myth, Sherlock Holmes and the Leading Lady (as Dr. Sigmund Freud!), Merlin of The Crystal Cave and The Infinite Worlds of H.G. Wells. (Died 2005.)
Born October 8, 1949 — Sigourney Weaver, 72. I'm picking her greatest genre role as being the dual roles of Gwen DeMarco and  lieutenant Tawny Madison in Galaxy Quest. Chicon 2000 did give the film Best Dramatic Presentation Award after all and it is a loving homage to all that is good in the genre. And yes, I know Conspiracy '87 gave Aliens a Best Dramatic Presentation Award as well but I'm really not a fan of that franchise. 
Born October 8, 1949 — Richard Hescox, 72. Illustrator who between the years of 1976 and 1993 illustrated over 135 covers for genre books but now works mostly in the games industry and for private commissions. Also notable for producing advertising art for such movies as Escape from New York, Time Bandits, Swamp Thing, The Dark Crystal, The Neverending Story and Conan the Barbarian.  Some of his work is collected in The Deceiving Eye: The Art of Richard Hescox (2004) with text by Randy Dannenfelser. 
Born October 8, 1951 — Terry Hayes, 70. Screenwriter of Mad Max 2: The Road Warrior which he co-wrote with George Miller and Brian Hannant, Mad Max: Beyond Thunderdome with Miller, and From Hell (from the Alan Moore and Eddie Campbell novel) which he co-wrote with Rafael Yglesias. He's also His the writer of an unused screenplay, Return of the Apes.
Born October 8, 1954 — Stephen Furst. Stephen is dead, damn it all. The saddest part of doing these birthdays is discovering how many folks have died that I reasonably expected were still living. Babylon 5 has had far too many deaths among its cast with Mira Furlan being the latest. Furst died of complications from diabetes at a far too young age. You know him most likely as Centauri diplomatic attaché Vir Cotto on Babylon 5, a decent being way over his head in a job he was ill prepared for. He also directed three low-budget movies for the Sci Fi Channel: Dragon Storm, Path of Destruction, and Basilisk: The Serpent King; he additionally co-starred in the last two films. And he produced Atomic Shark which aired during Sharknado Week on Syfy. 
Born October 8, 1974 — Lynne M. Thomas, 47. Librarian, podcaster and award-winning editor. She has won nine Hugo Awards for, among other things, one of many involved in SF Squeecast fan cast and editing Uncanny magazine with and husband Michael Damian Thomas. She and her husband are fanatical Whovians, so it's no surprise that with Tara O'Shea, she edited the superb Chicks Dig Time Lords: A Celebration of Doctor Who by the Women Who Love It. 
Born October 8, 1993 — Molly C. Quinn, 28. Fey / Intern Molly / Melony on the Welcome to Night Vale podcast and Pemily Stallwark on the sort of related Thrilling Adventure Hour podcast. She's Jenny in the Authurian Avalon High series, and showed up in Guardians of the Galaxy Vol. 2 as Howard's date.
(9) COMICS SECTION.
(10) CROWD-PLEASERS. Gothamist's "The Best Cosplay From Comic Con 2021's Subdued Opening Day" has 72 photos.
… Capacity restrictions made the usually jam-packed aisles and atria feel almost empty at times. Proof of vaccination or a negative COVID test for the under-12 set are required for entry, and masks are mandatory inside. But after a lost year, devoted cosplayers and their oglers were not going to let pandemic protocols spoil the party.

"I love it!" said Michelle Ford, who came as Mira from Aquaman in an astonishing jellyfish dress that took two months to make. "I come to Comic Con every year, it's literally the highlight of my year, and I like to hit it hard. Last year I took my 2019 costume and did a cosplay transformation video from home, but this is WAY better. I love the people and the interaction, it's priceless."…
(11) LOVECRAFT OR BUST. At Heritage Auctions there are two days left to bid on the Gahan Wilson-designed Lovecraft bust World Fantasy Award presented to Glen Lord in 1978. The top bid as of this writing is $410.
Gahan Wilson (Designer) H.P. Lovecraft Bust World Fantasy Award Sculpture for Publisher Glenn Lord Memorabilia Science Fiction (World Fantasy Convention, 1978). Cartoonist Wilson's passion for horror fiction shaped his dark-humor cartoons for Playboy magazine, but it was in his homages to author H.P. Lovecraft that Wilson really let his freak-flag fly. This foot-tall bust of Lovecraft is a dimensional interpretation of a Wilson design, complete with Wilson's google-eyed facial details. It was manufactured during 1975-2015 for presentation to recipients of the World Fantasy Award, recognizing a year's best bizarre fiction. This near-pristine specimen went to publisher Lord (1931-2011) – best known for his career-spanning representation of the estate of Robert E. Howard, originator of the Conan the Cimmerian cycle of stories….
(12) CANUCKSPLOITATION NO MORE. [Item by Olav Rokne.] Well, this sounds promising; a well-reviewed Canuck sci-fi movie. Hope it lives up to the hype. "Review: Chilling sci-fi thriller Night Raiders sets fire to Canadian history" in the Globe and Mail.
"A thoughtful and invigorating sci-fi thriller quite unlike anything else this country has produced, Night Raiders takes a hard look at Canada's past and sets an oil-slick fire to the idea of our safe, nice and boring nation."
(13) PLAGUE YEAR IN COMICS. The New York Times' Ed Park analyzes "How Comics Responded to Our Locked-Down, Anxious Covid Lives".
…At the outset of last year, [Tasmanian-born cartoonist Simon Hanselmann] was riding high from recent successes, and (as he muses in the endnotes) "2020 was set to be another banger!" — international travel, nonstop partying, following up his great 2019 book "Bad Gateway." But, as we know, the coronavirus had other plans, locking down artists and audiences at home. Hanselmann pivoted to create what he calls that "repulsive thing," a free serial webcomic, and figured the world would return to normal in a month. Instead Covid kept getting worse, and from March 13 to Dec. 22, Hanselmann kept putting his stable of timeworn miscreants through the wringer. This book emerged from that agonizing year.

It begins with Megg, Mogg and Owl at home as the outbreak grows more worrisome. Megg's chief concern is that her Animal Crossing preorder will now be delayed: a perfect snapshot of early-pandemic cluelessness. Soon, the house is packed with uninvited (if masked) houseguests: Werewolf Jones and his two feral kids (bearing toilet paper), the green-scaled trans woman Booger, and the chill, mustached Mike (a Harry Potter fan). To uptight Owl's dismay, Jones starts performing sex acts on camera for money. ("I lost my warehouse gig," Jones says. "I don't have a foofy 'work from home' type job like you.") But when Owl himself gets axed — unbeknown to him, his work laptop has been capturing scenes of domestic depravity — he demands a cut of Jones's new gig and dictates content….
(14) STILL LOST. Netflix dropped a teaser trailer for the third and final season of the Lost in Space reboot.
(15) CALTECH READY FOR HALLOWEEN. Gizmodo introduces us to the "Creepy New Drone That Walks and Flies Is a Robopocalypse Nightmare Come True". They're working on it at Sheldon Cooper's alma mater (if you follow the biographical breadcrumbs dropped at Big Bang Theory rather than those at Young Sheldon).
Introducing LEONARDO, or LEO for short. The name is an acronym for LEgs ONboARD drone, which nicely but insufficiently describes this robot. The Caltech engineers who built LEO didn't just slap a pair of robotic legs onto an aerial drone—they had to design the bot with both walking and flying in mind and develop specialized software to integrates its various components.

LEO is still a prototype—a kind of proof-of-concept to see if a bipedal flying robot can perform tasks that would otherwise be difficult or impossible for ground robots or aerial drones to accomplish on their own. In the future, a full-fledged version could be tasked with difficult or dangerous jobs, such as inspecting and repairing damaged infrastructure, installing new equipment in hard-to-reach places, or attending to natural disasters and industrial accidents. Eventually, a LEO-like robot could even transport delicate equipment to the surface of a celestial body, such as Mars or Saturn's moon Titan. More ominously, the agile bipedal flier could be used in defense or warfare….
[Thanks to JJ, John King Tarpinian, Andrew Porter, Michael Toman, Olav Rokne, Michael J. Walsh, SF Concatenation's Jonathan Cowie, James Davis Nicoll, Michael Damian Thomas, Cat Eldridge, Mike Kennedy, and Martin Morse Wooster for some of these stories. Title credit belongs to File 770 contributing editor of the day Daniel Dern.]