(1) BURTON OUT OF JEOPARDY, UNFORTUNATELY. LeVar Burton won't succeed the late Alex Trebek as host of the game show Jeopardy! According to Deadline, the show's executive producer Mike Richards will be taking the job.
LeVar Burton tweeted today:
I have said many times over these past weeks that no matter the outcome, I've won. The outpouring of love and support from family, friends, and fans alike has been incredible! If love is the ultimate blessing and I believe that it is, I am truly blessed beyond measure.
Here's a look-back at a recent show when LeVar Burton presided over "The Science Fiction Category".
(2) WHO'S ON FIRST. "Doctor Who's next showrunner is more important than its next Doctor" insists Radio Times.
…But the showrunner is responsible for literally everything – from the tone of the show to its look, its casting, its music… even, to a lesser degree, its format and structure. Yes, making Doctor Who – and indeed, any show like it – is a massive team effort, but the showrunner picks (or is at least involved in the hiring of) their writers, the composer, the production designer, the make-up artists, the casting director… all those talented folk whose hard work goes into putting the show together.

Think how distinct the Russell T Davies era is from the Steven Moffat era, and how different both are to Chibnall's show. Bar a few cosmetic changes, Doctor Who starring Christopher Eccleston and Doctor Who starring David Tennant are broadly the same series. But there'd be no mistaking Moffat's Who for Davies' – yes, they're ostensibly the same programme, but the visuals are different, the humour is different, certain of the tropes are different… everything has regenerated, far more dramatically than when the show switches out one lead actor for the next. (That lead actor, of course, is also picked by the showrunner – pending BBC approval.)…
(3) HUGO HISTORY UPDATE. [Item by Kevin Standlee.] Ben Yalow located a copy of the 1993 Hugo Awards Nominating & Final Ballot Details report and I have updated the 1993 Hugo Awards entry at the official Hugo Awards site with a copy of it.
Note that the rules in 1993 were different than they are today, and this report included what was required under the rules as they existed at that time.
[Editor's egoscanning note: I see File 770 came in second, as it was wont to do in the Nineties.]
(4) ON YOUR MARK. Tenth Letter of the Alphabet has combed through the Official Gazette of the United States Patent Office and assembled a vast collection of "Pulp Fiction Trademarks" like these —
(5) ANOTHER CONLANG. "What Language Does Leeloo Speak In The Fifth Element?" – let Looper tell you.
…A lot of time and effort, including the formation of a special language, went into crafting "The Fifth Element," with Besson working on the project for around 15 years. What some might not know is that the unique language Leeloo speaks in the film is called the Divine Language, and it's actually a personal creation of Besson's, made solely for the movie. 

The Divine Language that was developed for "The Fifth Element" only has around 400 words in total, but that's certainly enough to carry a conversation. According to an interview with i-D, Jovovich gives Besson complete credit for the language's creation, stating that "He brought me a dictionary of words. We would write each other letters in the language, so I was getting used to communication and speaking it."… 
(6) UNDERSTANDING SILKPUNK. BookRiot's Lyndsie Manusos has some definite opinions about "Silkpunk: What It Is And What It Definitely Is Not". "Silkpunk does NOT apply to every speculative, science fiction, or fantasy book inspired by Asian history or culture. Here's what it is."
…In the long history of speculative and SFF genres, silkpunk is pretty new. It was invented by Ken Liu to describe his 2015 novel The Grace of Kings. Liu coined the term, and wrote a post on his website to delve into its definition. Liu's post begins with: "No, [silkpunk is] not "Asian-flavored steampunk." No, it's not "Asian-influenced fantasy." No, it's not…
(7) A PAIR OF ACES. Molly Templeton pointed out to Tor.com readers where they can "Watch Martha Wells and Becky Chambers in Conversation".
… The two discuss outlining (or not); television watching (Wells, like all wise viewers, enjoys Elementary); how much time Chambers thought about tea while writing Psalm; writing with compassion for your characters; and how excellent it is that more voices are telling their stories in SFF….
(8) TOP 10. ScreenRant shared the list of "The American Film Institute's 10 Best Sci Fi Movies". Guess what is only number six!!
6. Blade Runner

A cerebral film with lofty existential themes, Blade Runner is a duly highly regarded sci-fi film and often noted as one of the best of the sci-fi genre. Another Ridley Scott film – one of his best science fiction films – Blade Runner follows an officer and blade runner named Deckard that is tasked with tracking down and destroying four replicants, which are sentient robots that were deemed illegal after a replicant uprising on a faraway planet.

On Deckard's journey to destroy, or retire, the replicants, he is faced with questions of what it means to be human and the accuracy or inaccuracy of perception of reality. Further, the film paints a bleak portrait of a potential future with animals being extinct and a highly polluted atmosphere, connecting to concerns that modern audiences have for the environment.
(9) STONE SOUP. At "Building Beyond: Leaf Me Alone", Sarah Gailey is joined by Stephen Rider and Amal El-Mohtar to play with this writing prompt:
The global forest community has decided to cut off all economic and trading ties with the outside world. From now on, forest-based resources are for the forest alone.
(10) MEMORY LANE.
1970 – Fifty one years at Heicon '70 where John Brunner was the Toastmaster, Ursula Le Guin wins the Hugo for Best Novel for The Left Hand of Darkness. It was first published in 1969 as Ace SF Special, Series 1.  Other nominated works that year were Robert Silverberg's Up the Line, Piers Anthony's Macroscope, Kurt Vonnegut, Jr.'s Slaughterhouse-Five and Norman Spinrad's Bug Jack Barron. It would also win a Nebula Award and be nominated for a Ditmar Award as well. 
(11) TODAY'S BIRTHDAYS.
[Compiled by Cat Eldridge.]
Born August 5, 1906 — John Huston. Yes, the Huston who directed  and wrote The Maltese Falcon graced our community. He was M in Casino Royale, and The Lawgiver in Battle for the Planet of the Apes. He was in Sherlock Holmes in New York as Professor Moriarty, and voiced Gandalf in The Return of The King. (Died 1987.)
Born August 5, 1929 — Don Matheson. Best remembered for being Mark Wilson in Land of the Giants. He also had roles in Lost in Space (where he played in an alien in one episode and an android in another episode), Voyage to the Bottom of the Sea, The Alfred Hitchcock Hour, an Alice in Wonderland film and Dragonflight. (Died 2014.)
Born August 5, 1935 — Wanda Ventham, 86. Mother of Benedict Cumberbatch. She's been on Who three times, in "The Faceless Ones", a Second Doctor story, in "Image of the Fendahl", a Fourth Doctor story and finally in "Time and the Rani", a Seventh Doctor story. She also had roles in The Blood Beast Terror, Project U.F.O and Captain Kronos: Vampire Hunter. She was often on British TV series including Danger Man, The Saint, The Avengers and The Prisoner. And yes, she was on his Sherlock series where she played…his mother.
Born August 5, 1940 — Natalie Trundy, 81. First, she was one of the Underdwellers, named Albina, in Beneath the Planet of the Apes.  Next, she played Dr. Stephanie Branton, a specialist studying apes from the future who came into our present day in Escape from the Planet of the Apes.  Then in Conquest of the Planet of the Apes and Battle for the Planet of the Apes, she played the chimp Lisa.  As far as I can tell, she's the only performer to play three different roles in the Apes films. 
Born August 5, 1947 — Élisabeth Vonarburg, 74. Parisian born, she's been a Quebec resident for four decades. She was the literary director of the French-Canadian SF magazine Solaris. Her first novel, Le Silence de la Cité, was published in 1981. Since then she's been a prolific writer of novels and short fiction. I'm pleased to say that the usual suspects is deeply stocked in her works. Her website, in French of course, is here. She's won ten Prix Aurora Awards for the best Canadian science fiction and fantasy works and activities in English and French. Très, très impressionnant! 
Born August 5, 1961 — Tawny Kitaen. I first remember her in Hercules and the Circle of Fire as Deianeira, a role remarkable only for the minimalist costume she wore. She repeated the role throughout the series. Her first genre acting was actually in low budget horror flick Witchboard. And other than an appearance in a SF comedy series They Came from Outer Space, that's it for her. (Died 2021.)
Born August 5, 1980 — JoSelle Vanderhooft, 41. Former Green Man reviewer with a single novel so far, Ebenezer, and several collections, Steam-Powered: Lesbian Steampunk Stories and Steam-Powered II: More Lesbian Steampunk Stories which the former were nominated for a Lambda Award. She also co-edited with Steve Berman, Heiresses of Russ 2011: The Year's Best Lesbian Speculative Fiction.
(12) COMICS HISTORY. "Let Otto Binder show you how the mid-'60s comic book sausage was made" at Scott Edelman's blog.
Two more treasures found in my late sister-in-law Ellen Vartanoff's collection — mid-'60s scripts by the extremely prolific comics writer Otto Binder. Wikipedia claims he wrote 4,400 stories under his own name — and 160 more under the pen-name Eando Binder…

…His [Otto Binder's] story in Creepy adapted of one of the 10 stories he wrote for Amazing Stories with his brother Earl Binder (under the pen name Eando Binder) about the intelligent robot Adam Link.

Someday I'll scan and share the entirety of both scripts, but for now, here's a comparison of the first page of the Mighty Samson one, as well as the published page, with art by Frank Thorne — who's perhaps best-known for his work on Marvel's Red Sonja….
(13) DRAWN THAT WAY. Studio co-founder Alvy Ray Smith tells IEEE Spectrum readers "The Real Story of Pixar" – "How a bad hardware company turned itself into a great movie studio."
…The story… goes back to a time when I and other researchers in computer graphics scattered around the United States began to see the technology as allowing a new art form: the creation of digitally animated movies. A handful of us began talking about when somebody would make the first one—"The Movie," we called it—and the massive computing power it would take to pull it off. That kind of computing power was not affordable in the mid-1970s. But with Moore's Law cranking along at a steady pace, there was every reason to think that the cost of computing power would come down sufficiently within a decade or so. In the meantime, we focused on developing the software that would make The Movie possible.

By definition, The Movie could incorporate no hand drawing. The tools to build it emerged piecemeal. First came the software that enabled computers to create two-dimensional images and, later, virtual 3D objects. Then we figured out how to move those objects, shade them, and light them before rendering them as frames of a movie….

…We kept the possibility of The Movie alive during the next five years with a series of short films, including Luxo Jr. (1986), nominated for an Academy Award; Tin Toy (1988) winner of an Academy Award; Red's Dream (1987); and Knick Knack (1989). These were four of the sparkling jewels that sustained us during these otherwise tough years.

Each one of these pieces represented continued improvements in the underlying in-house technologies. Luxo Jr., for example, incorporated the first articulated objects that self-shadowed themselves from multiple light sources. Red's Dream showed off our Pixar Image Computer: the principal background for the piece, a bicycle shop, was the most complex computer graphics scene ever rendered at the time….
(14) THEY'RE COMING TO TAKE ME AWAY. "R2-D2 is now a Tamagotchi you'll forget about" predicts Engadget. (See demos at the company's own interactive info page: Star Wars R2-D2 Tamagotchi.)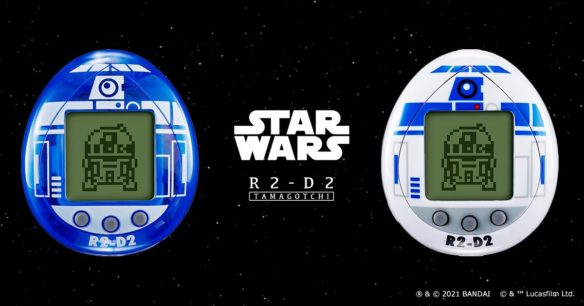 Disney and Bandai have teamed up to bring Artoo to the pockets of fans who don't mind training, cleaning and looking after a needy, digital version of the droid wherever they are. …As you might expect from a Tamagotchi, you'll interact with the toy using three physical buttons.

There are 19 skills for Artoo to learn. You'll need to keep him charged and clean. Unlike with other Tamagotchis, you won't have to clear up any poop from R2-D2 (he's a droid, after all). A Lucasfilm spokesperson told Engadget that if R2-D2 sits for too long, he'll accumulate dust. You can clean that away with the press of a button.

There are nine mini-games you can play with him, including firefighting and Star Wars staple Dejarik (or holochess). If you don't keep the droid happy, some Jawas might arrive to take him away….
(15) FROM OUTSIDE OF TIME. Episode 37 of Octothorpe 37, a podcast about science fiction and SF fandom from John Coxon, Alison Scott, and Liz Batty, is available here.
 We didn't record this week so this is the fabled EPISODE X, part of the SUMMER OF FUN (summer of fun). We discuss the Retro Hugo Awards and reading old books from a time when Graham Linehan was still on Twitter. Crazy.
(16) MINUS MEN. Y: The Last Man premieres September 13 — on FX on Hulu.
Based on DC Comics' acclaimed series by Brian K. Vaughan and Pia Guerra, Y: The Last Man traverses a post-apocalyptic world in which a cataclysmic event decimates every mammal with a Y chromosome but for one cisgender man and his pet monkey. The series follows the survivors in this new world as they struggle with their efforts to restore what was lost and the opportunity to build something better.
(17) THE STARS BYE DESTINATION. Gizmodo knows why "This Blasted Star Is Getting the Hell Out of the Milky Way".
Careening through the Milky Way at nearly 2 million miles per hour, the star LP 40–365 shows no signs of stopping. A team of astronomers recently figured out that the star was propelled into its current speedrun by a supernova explosion millions of years ago.

LP 40–365 is unusual. It's a white dwarf, a small, compact star at the end of its life, and it's very rich in metals. LP 40–365 also has own atmosphere, which is mostly composed of oxygen and neon. But most important to this story is that the star is a runaway from a huge stellar explosion, which set in motion its dash out of the galaxy….
(18) VIDEO OF THE DAY. In "Honest Game Trailers: Mario Golf", Fandom Games says this Mario Bros. line extension "turns the fusty game of golf into the PGA version of Death Race."
[Thanks to Cat Eldridge, Mike Kennedy, Andrew Porter, N., John Coxon, Daniel Dern, Scott Edelman, Martin Morse Wooster, JJ, Michael Toman, and John King Tarpinian for some of these stories. Title credit belongs to contributing editor of the day Andrew (not Werdna).]