(1) EKPEKI ALSO THREATENED BEFORE CHICON 8. Oghenechovwe Donald Ekpeki today said that he was the second person, in addition to Patrick Tomlinson, who received death threats about attending the 2022 Worldcon (see "Chicon 8 Reveals Anonymous Death Threats Were Made Against Two Program Participants").
Ekpeki wrote on Facebook:
Said participants were Patrick Tomlinson & myself. Been getting death threats before this, warning me not to attend Chicon 8 – Chicago Worldcon 2022. I was informed of the new threats & steps to keep things secure. Which was reassuring. I in turn did my panels and enjoyed the event immensely.

All in all, it was an amazing event, my 1st physical SFF con. Thanks to the organizers, volunteers, panelists, participants, all who donated funds & voices, to crowdfund, clamour, and ensure bigoted systems & persons did not prevail in this case. See ya'll in perhaps another Chicon, WorldCon, soon, hopefully.
(2) ATTENTION FANZINE COLLECTORS. The "Massive Archive of Fanzines from the Golden Age" that belonged to the late Donald Day (1909-1978) is being offered for $150,000. If you can't write the check, you can at least drool over the examples in the 77-page announcement. Where else will you see hand-stenciled cover art by Ray Bradbury? (Page 63.)
An immense archive of over 3,000 original fanzines and ephemera, mostly from the late 1930s to mid/ late-1950s– the years when scifi fandom was a close[1]knit group of correspondents, before the scifi boom expanded its audience. A small percentage of later fanzines (from mid '50s to the 1970s) are included, but the collection is primarily rooted in the Golden Era of Science-Fiction, from the late 1930s and 1940s. This archive shows the highly-organized and sophisticated world of mid-20th century fandom fandom, made up of far-flung individuals who had found one another by reaching out to into the ether, united by their love of dreaming of the future, while using present day printing technology and speaking to each other through DIY-publishing. While mostly published in America, some fanzines hail from the United Kingdom, Canada, Japan, New Zealand, Australia, and Mexico.
(3) TAKE I-5 TO D23. "'Indiana Jones 5′: Harrison Ford Shows New Footage at D23" reports Variety. The clip is not available online yet.
The king of adventure is back once again.
"Indiana Jones 5" showed its first trailer on Saturday during the D23 Expo. Although it was not released online, Harrison Ford appeared onstage to speak about the footage, joined by director James Mangold and co-star Phoebe Waller-Bridge.

"Thank you for making these films such an incredible experience for all of us," he said, looking quite emotional. "I'm very proud to say to say that this one is fantastic. [Points at Waller-Bridge] And this is one of the reasons."

"'Indiana Jones' movies are about fantasy and mystery, but they're also about heart," he continued. "We have a really great story to tell, as well as a movie that will kick your ass."…
(4) DID TOLKIEN KNOW? Jeff LaSala is hot on the trail of the answer to the question "Where in the World Is Galadriel in the Second Age? (And For That Matter, Where Is Celeborn?)" at Tor.com.
…It could be asked, who has it in for Sauron the most? Where? And with what? Was it the Lady of the Golden Wood, in the Lórinand Conservatory, with the Lead Pipe?…
(5) GAIMAN WILL PRESENT. "Art Spiegelman to Receive NBF Lifetime Achievement Award" at Publishers Weekly.
The National Book Foundation will honor Art Spiegelman with the 2022 Medal for Distinguished Contribution to American Letters. Spiegelman is the first comic artist to receive the DCAL medal, which will be presented to him by author Neil Gaiman at the National Book Awards Ceremony on November 16.
(6) YOU COULD BE MULTITASKING IN ENGLAND. [Item by Dave Lally.] The Science Museum in London will host "Science Fiction: Voyage to the Edge of Imagination" from October 6, 2022 through May 4, 2023. (Science Museum, Exhibition Road, London SW7 2DD, UK.) This major SF exhibition follows on from similar (and very successful) ones earlier in the UK (one in The British Library and then, a few years later, one in The Barbican Centre).
And if visiting the UK from overseas and between the Exhibition dates above, this Science Museum London event may be of interest. And one could 'kill two birds with one stone', by combining it with the annual UK National SF Con-Eastercon in NEC, Birmingham in April 2023 (*). You'll be made very welcome. [ (*) UK annual National SF Con: Conversation 2023, the 2023 Eastercon. Fri 7 – Mon 10 April 2023 inclusive. Hilton Metropole Hotel, NEC (National Exhibition Centre), Birmingham B40 1PP, UK.]
[Nearest UK Rail Station: Birmingham International ("BI") – NOT Birmingham New Street. Inter-City express trains (Avanti West Coast) from London Euston Rail Station (above London Tube Station: Euston). Journey time: ~ 1hr 35 min.]
"If visiting but not during Eastercon, the UK-based, multi-Hugo Award winning sf-newszine Ansible usually carries a listing of many UK (plus other country) Cons. One could then combine such Con attendance with a visit to the Exhibition. (Ansible Editor is of course SF legend Dave Langford.)"
And the regular monthly London SF Meeting happens every 1st Thursday of the month: 1800->closing time. (total informality). Top Floor (private) Bar: THE BISHOPS FINGER (real/craft ales pub +hot food), West Smithfield, London EC1A 9JR. Overseas, passing-though/visiting fen, very welcome. Order food and drink downstairs on ground floor (bring your drink up with you — your food order is delivered to you upstairs later).
(7) SHELVES FULL OF CRIME. Martin Edwards leads "A Deep Dive Into the History of Bibliomysteries" at CrimeReads. One example even bears a touch of sff.
…A later and more sophisticated variant on the same theme is to be found in John Franklin Bardin's The Last of Philip Banter (1947). The eponymous Banter is an advertising man with marriage trouble and a drink problem. He finds a typed manuscript on his office desk, apparently typed by himself, which confuses past and future. It describes what is going to happen as though it had happened already. Then the "predictions" start to come true…
(8) GIBSON ADAPTATION. Ars Technica admires the way "William Gibson's novel comes to vivid life in first teaser for The Peripheral". The makers of Westworld are involved. Beware spoilers in article.
A young woman struggling to hold it together in small-town America finds herself witness to what may or may not be a murder in the first teaser for The Peripheral, a new Prime Video series based on William Gibson's 2014 novel of the same name.
The YouTube blurb says:
The Peripheral centers on Flynne Fisher, a woman trying to hold together the pieces of her broken family in a forgotten corner of tomorrow's America. Flynne is smart, ambitious, and doomed. She has no future. Until the future comes calling for her. The Peripheral is master storyteller William Gibson's dazzling, hallucinatory glimpse into the fate of mankind — and what lies beyond. Flynne Fisher lives in the rural American South, working at the local 3D printing shop, while earning much needed extra money playing VR games for rich people. One night she dons a headset and finds herself in futuristic London—a sleek and mysterious world, alluringly different from her own hardscrabble existence. But this isn't like any game she's ever played before: Flynne begins to realize it isn't virtual reality… it's real. Someone in London, seventy years in the future, has found a way to open a door to Flynne's world. And as utterly beguiling as London is… it's also dangerous. As Flynne searches to discover who has connected their worlds, and for what purpose, her presence here sets dangerous forces into motion…forces intent on destroying Flynne and her family in her own world.
(9) MEMORY LANE.
1977 – [By Cat Eldridge.] Don't worry if you never heard of this Saturday morning series that lasted one season forty-five years ago on NBC. Hardly anyone else did either as the ratings were truly awful. Space Sentinels was originally titled Young Sentinels, renamed for somewhat obvious reasons midway through its only season of thirteen episodes.
It was directed by Hal Sutherland who was an animator and painter who began his career at Disney in the Fifties working on Sleeping Beauty, Lady and the Tramp and Peter Pan.
Now I've not a clue who created the series as no one claims credit for it. Hmmm. Create by numbers?
It was produced by Filmation. Genre wise, they were busy doing such animated series as The New Adventures of Superman, The Adventures of Superboy, and the live action Fantastic Voyage.
Need I say that it had as characters two handsome males and one beautiful female? Seriously it did. Only this time she was black. And she was the field leader of the team. Could this be the influence of Star Trek? And two males who, like her, were supposed to be modeled on ancient Greek and Roman deities, though it was set millennia in the future and far, far away, competed for her favors. This being a children's series nothing happened.
Remember that I mentioned they changed the name of the series? Oopsy. Unfortunately, the series was in the can and the dialogue could not be altered as this is pre-digital, so the characters are sometimes addressed as being the Young Sentinels but never the Space Sentinels.
It has no rating at Rotten Tomatoes. JustWatch says it is not streaming anywhere. It was released on DVD sixteen years along with all five episodes of The Freedom Force. It goes from fifty-five dollars upwards as eBay and Esty.
In the image below, the three principal characters are on the left. Having not watched the series, I've no idea who the three characters are to the right but note the matching belts, a sure give-away!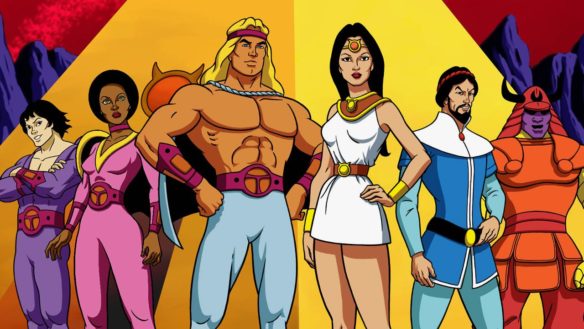 (10) TODAY'S BIRTHDAYS.
[Compiled by Cat Eldridge.]
Born September 10, 1898 — Bessie Love. She's best remembered for The Lost World, filmed in 1925, which was the very first screen adaptation of the Sir Arthur Conan Doyle novel and which he was involved in. She was Paula White. You know, the beautiful woman who must be there? I can't see checking IMDB that she did any other genre films. Did she? (Died 1986.)
Born September 10, 1951 — Harry Groener, 71. One of those performers who shows up in multiple Trek series, in his case it was The Next Generation where he was Elbrun on the "Tin Man" episode, Voyager where he was The Magistrate on the "Sacred Ground" episode and finally he appeared on Enterprise as Nathan Samuels in two episodes, "Demons" and "Terra Prime", and would have a novel written based around him, The Good That Men Do.
Born September 10, 1952 — Gerry Conway, 70. Writer who's best known for co-creating with John Romita Sr. and Ross Andru the Punisher character and scripting the death of Gwen Stacy during his long run on The Amazing Spider-Man. (The Punisher comic is far, far better than any the three films is. I broke my vow of not watching anything I like and deeply regret it. I really mean that.) I'm also fond of his work on Weird Western Tales at DC. A truly odd and deeply entertaining series.
Born September 10, 1953 — Pat Cadigan, 69. Tea from an Empty Cup and Dervish is Digital are both amazing works. And I'm fascinated that she co-wrote with Paul Dini, creator of Batman: The Animated Series, a DCU novel called Harley Quinn: Mad Love. In many ways, it was better than the damn series is which I'll discuss with anyone here.
Born September 10, 1953 — Amy Irving, 69. She has major genre credits, having her feature film debut in Brian De Palma's Carrie in the Seventies followed by a lead role in two years later in The Fury, a supernatural thriller. (I will confess that I've seen neither.) She'd play Katie in Rumpelstiltskin, before having the major role of the singing voice of Jessica in Who Framed Roger Rabbit? a few years later. Did you know there was a series called Twilight Zone: Rod Serling's Lost Classics? She appeared in it.
Born September 10, 1955 — Victoria Strauss, 67. Author of the Burning Land trilogy, she should be praised for being founder along with AC Crispin of the Committee on Writing Scams. She maintains the Writer Beware website and blog.
Born September 10, 1959 — Nancy A. Collins, 63. Author of the Sonja Blue vampire novels, some of the best of that genre I've ever had the pleasure to read. She had a long run on Swamp Thing from issues 110 to 138, and it is generally considered a very good period in that narrative. I certainly enjoyed that period. She also wrote Vampirella, the Forrest J Ackerman and Trina Robbins creation, for awhile.
Born September 10, 1964 — Chip Kidd, 58. Graphic designer. And isn't that an understatement. He did Batman: Death by Design which was illustrated by Dave Taylor, and there's his amazing homage to Plastic Man with Art Spiegelman, Jack Cole and Plastic Man: Forms Stretched to Their Limits. He also created the Tyrannosaurus rex skeleton design for the original Jurassic park novel which was later carried over into the film franchise. Neat. Really neat.
(11) COMICS SECTION.
(12) RACE IN TOLKIEN. [Item by Nick Hudson.] A paper by Charles Mills (influential philosopher, especially on race) on Tolkien, "The Wretched of Middle‐Earth: An Orkish Manifesto", was just published posthumously after long being thought lost. It was probably written in the late 80s so dated as far as Tolkien scholarship goes, but it's currently free to read. Also, some background on the paper: "Introduction to Charles Mills's 'The Wretched of Middle‐Earth: An Orkish Manifesto'".
(13) CHILLERCON. [Item by SF Concatenation's Jonathan Cowie.] SF2 Concatenation has just advance Tweeted a convention report on Chillercon ahead of its seasonal edition. Ian Hunter reports on Chillercon UK. The event had been previously cancelled a number of times due to CoVID.
There were almost 300 attending to see four guests of honour: Gollancz Editor Gillian Redfearn who was being interviewed by her husband, horror writer, Joe Hill; American horror writer, Grady Hendrix; author and critic, Kim Newman who is one of my favourite writers whose works adorn several shelves in Hunter Towers; and the film-maker, producer, director, and screenplay writer, Mick Garris, whose many credits include directing the TV versions of The Shining and The Stand, as well as directing other Stephen King "stuff". There were also two special guests in the shape of writer M. R. (Mike) Carey, and actor Robert Lloyd Parry who did a reading and also performed on the Saturday night as M. R. James.
(14) WHEN TOLKIEN MET THE QUEEN. The One Ring recently celebrated the 50th anniversary of J.R.R Tolkien receiving the OBE. (The photo at the link [left] is cropped to show Tolkien and a woman, which I guess we are supposed to think is him next to Queen Elizabeth when she was younger. However, the full photo [right] reveals we're actually looking at Tolkien flanked by his son John and daughter Priscilla.)
September 8

50 years ago – in 1972 – Queen Elizabeth II appointed JRR Tolkien Commander of the Order of the British Empire "for services to English Literature."

She was 11 when The Hobbit was published, and The Lord of the Rings hit bookstores two years into her reign.

Tolkien wrote to his publisher Rayner Unwin about the day, Letter 334 "But I was very deeply moved by my brief meeting with the Queen, & our few words together. Quite unlike anything that I had expected."

After everything he had lived through, and all the fairy stories he had written, meeting the Queen was a special moment for him.
(15) TUNE TIME. Author Amy Sterling Casil sings as part of "Bruce & Amy – Guitar and Vocals". Enjoy a video of them performing here.
Philly Meets LA! Bruce arranges songs and plays guitar, Amy sings – rock, country, blues/soul …
(16) HULKING OUT. SYFY Wire introduces clip: "Daredevil meets 'She-Hulk' in new trailer setting up Season 1".
…Matt seems to be encouraging Jenn about being a hero in both the courtroom and on the streets, and if there's anyone qualified to help her along that path, it's Hell's Kitchen hero turned legal expert himself. There also seems to be a bit of a … spark between the two. Just imagine it — Walters, Nelson & Murdock has a pretty nice right to it, right?
(17) RETURN TO SALEM. You ate the cereal: now see the movie! "Hocus Pocus 2 Official Trailer".
(18) DISENCHANTED. This sequel to Enchanted is coming to Disney+ in November.
(19) LIVE ACTION LITTLE MERMAID. It's been a busy weekend at D23, or had you noticed?
"The Little Mermaid," visionary filmmaker Rob Marshall's live-action reimagining of the studio's Oscar®-winning animated musical classic, opens exclusively in theaters nationwide May 26, 2023. "The Little Mermaid" is the beloved story of Ariel, a beautiful and spirited young mermaid with a thirst for adventure. The youngest of King Triton's daughters, and the most defiant, Ariel longs to find out more about the world beyond the sea, and while visiting the surface, falls for the dashing Prince Eric. While mermaids are forbidden to interact with humans, Ariel must follow her heart. She makes a deal with the evil sea witch, Ursula, which gives her a chance to experience life on land, but ultimately places her life – and her father's crown – in jeopardy.
[Thanks to JJ, John King Tarpinian, Andrew Porter, Nick Hudson, Rob Thornton, SF Concatenation's Jonathan Cowie, Dave Lally, Chris Barkley, Michael Toman, Cat Eldridge, Mike Kennedy, and Martin Morse Wooster for some of these stories. Title credit belongs to File 770 contributing editor of the day Jamoche with an assist from Anna Nimmhaus.]