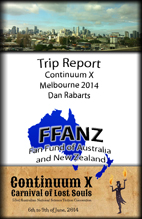 Dan Rabarts took up the flag for FFANZ (Fan Fund of Australia and New Zealand) in 2014 and travelled to Continuum X, the 53rd Australian National Science Fiction Convention in Melbourne. His trip report is now available as a digital bundle.
For NZ$2.50 (US$1.83 is what I paid via PayPal) you receive the PDF directly when you order, then Rabarts says he will also send epub and mobi versions of the file.
All proceeds from the sale of his trip report go to FAANZ for the 2016/17 fund to send a Kiwi fan to Australia.