(1) OVERVIEW OF THE NEW LOTR SERIES. Amazon just unloaded Parler but now they're bringing back Sauron? What are they thinking? io9 has the story: "Amazon Reveals Lord of the Rings TV Show Details—Sauron Returns".
…Confirmed via a synopsis provided to TheOneRing.net, Amazon Studios revealed that the series—currently filming in New Zealand with a cast that seems about as large as the population of a small country on top of that—is indeed set in the Second Age, "thousands" of years before the events of The Hobbit and The Lord of the Rings. The show will concern itself with characters "both familiar and new" as they reckon with the fact that the Dark Lord Sauron has returned to cast shadow and flame across Middle-earth.
(2) WORLDCON HOTEL NEWS. "Owner of DC's Wardman Park Hotel files for bankruptcy" reports WTOP. The hotel is where DisCon III, the 2021 Worldcon, would be held if an in-person 2021 Worldcon is possible:
Wardman Hotel Owner LLC, an affiliate of Pacific Life Insurance Co., has filed for Chapter 11 bankruptcy and has ended its management contract with Marriott International.

The 1,152-room Wardman Park, one of the largest hotels in D.C., opened in 1918, during the Spanish Flu pandemic.

Pacific Life permanently closed the hotel just before filing for bankruptcy protection, and is seeking to sell the property, which could clear the way for the property's redevelopment.

The Chapter 11 petition was filed Jan. 11 in the U.S. Bankruptcy Court for the District of Delaware.

Marriott and Pacific Life have been locked in legal disputes since shortly after the COVID-19 pandemic led to the hotel's temporary closure in March 2020.

…The owner's bankruptcy filing Monday came the same day that neighboring historic hotel the Omni Shoreham reopened.
The DisCon III committee hasn't posted a response to the latest development, but last October they did address their plans for an alternative to the Wardman Park if needed. The chairs wrote in the convention's newsletter [PDF file]:
As you can imagine, we have uncertainty related to the Coronavirus but planning and activities continue. The status of the Marriott Wardman Park Hotel is unclear. Litigation between the owners was filed 2 September and settled at the end of September. At the start of October, Marriott filed a lawsuit against one of the entities that owns the hotel. What a mess! The hotel itself does not have an official statement at this time, and we are in close touch. Our Facilities team does have the room blocks for both the Marriott and the Omni Shoreham set up, and our current plan is to release those in January 2021.
(3) BOOM BOOM BOOM. James Davis Nicoll names "Five Books Featuring Space Travel Powered by Atomic Bombs". Strange that I've read four of these but only remembered the nukes from one of them.
Nuclear explosives can be used to address many urgent issues: a shortage of mildly radioactive harbours, for example, or the problem of having too many wealthy, industrialized nations not populated by survivors who envy the dead. The most pressing issue—the need for a fast, affordable space drive—wasn't solved until the late 1950s. Theodore B. Taylor and others proposed that the Bomb could be used to facilitate rapid space travel across the Solar System. Thus, Project Orion was born….
(4) SOMETHING ELSE THAT'S SURGING. "Online D&D provides relief during the COVID-19 pandemic" – the Los Angeles Times profiled D&D players.
… Players and scholars attribute the game's resurgent popularity not only to the longueurs of the pandemic, but also to its reemergence in pop culture — on the Netflix series "Stranger Things," whose main characters play D&D in a basement; on the sitcom "The Big Bang Theory"; or via the host of celebrities who display their love for the game online.

Liz Schuh, head of publishing and licensing for Dungeons & Dragons, isn't surprised by the game's reanimated popularity. Revenue was up 35% in 2020 compared with 2019, the seventh consecutive year of growth, she said.

Many newcomers purchase starter kits packed with character sheets, a rule book, a set of dice and a story line. New dungeon masters may buy a foldable screen to hide their rolls and anything else they'd like to keep from the player-characters. Once the introductory journey ends, players pore through other adventure books for sale — or conjure an original odyssey.

"The first few days of news [of the virus] coming out globally, at the top of every hour all the alarms were going off at the company," said Dean Bigbee, director of operations for Roll20, an online tabletop gaming platform. "The amount of new account requests were so high that the systems thought that we were under a denial-of-service attack. But they were legitimate. They were accounts from Italy, and then France, following the paths of lockdowns across the world."
(5) FORTIES SF'S POWER COUPLE SPEAKS. G.W. Thomas at Dark Worlds Quarterly put together a fine link compilation: "In Their Own Words: Interviews with Leigh Brackett & Edmond Hamilton", who married in 1946 and put Kinsman, Ohio on the map.
Here are some interviews given by Leigh Brackett and Edmond Hamilton. They range from artsy film magazines to the cheapest of fanzines. My favorite is the audio clip from Youtube when Leigh and Ed were the guests of honor at the 1964 (PacifiCon) WorldCon. It is somehow revealing to hear what their voices sounded like and to glean a little of their personalities beyond the printed page….
Included are Q&A's conducted by one of fandom's best interviewers, Paul Walker, such as his Leigh Brackett interview from Luna Monthly #61 [1976] [Internet archive link].
(6) STRAIN OBIT. Actress Julie Strain, whose genre resume is mostly erotic horror movies, has died reports Joblo.com: "R.I.P.: Julie Strain, B-movie legend and Penthouse Pet, has died at age 58". This is the third time her death has been announced, however, news sources are satisfied this time the news is accurate.
Last January, it was mistakenly announced that B-movie legend and 1993 Penthouse Pet of the Year Julie Strain had passed away. The announcement was quickly retracted – but in a sad twist of fate, friends and family are confirming that Strain has passed away almost one year to the day after that erroneous report. She was 58 years old.
(7) MEMORY LANE.
1991 — Thirty years ago at Chicon V, Lois McMaster Bujold's The Vor Game  as published by Baen Books wins the Hugo for Best Novel. Runners-ups were David Brin's Earth, Dan Simmons' The Fall of Hyperion, Michael P. Kube-McDowell's The Quiet Pools and Greag Bear's Queen of Angels. It would nominated for the HOMer as well.  A portion of this novel had appeared in the February 1990 issue of  Analog magazine in slightly different form as the "Weatherman" story.
(8) TODAY'S BIRTHDAYS.
[Compiled by Cat Eldridge and John Hertz.]
Born January 13, 1893 – Clark Ashton Smith.  Poetry, prose, graphic art, sculpture.  One novel, two hundred thirty shorter stories, seven hundred poems; a dozen covers, a hundred thirty interiors; five dozen posthumous collections.  Pillar of Weird Tales with Howard and Lovecraft.  "I make use of prose-rhythm, metaphor, simile, tone-color, counter-point, and other stylistic resources, like a sort of incantation."  (Died 1961) [JH]
Born January 13, 1933 – Ron Goulart, age 88.  Eighty novels, a hundred fifty shorter stories.  Book reviews for The Magazine of Fantasy & Science Fiction and Venture.  Comic-book stories and prose about The Phantom; scripts for Marvel.  Inkpot Award.  Detective fiction, including half a dozen books featuring Groucho Marx.  Nonfiction, e.g. The Great Comic Book Artists, Comic Book Encyclopedia.  [JH]
Born January 13, 1937 – George Barr, age 84.  Decades-long career as a fanartist; here is a cover for Amra; here is one for Trumpet; two Hugos as Best Fanartist; Fan Guest of Honor at Westercon XXVI, at MidAmeriCon the 34th Worldcon.  Also developed a career as a pro.  Here is The Dying Earth.  Here is the Sep 86 Amazing.  Here is Adventures in Unhistory.  Artist GoH at ConAdian the 52nd Worldcon.  Fifty illustrated limericks for Weird Tales.  Fan and pro, two hundred covers, seven hundred interiors.  Artbook Upon the Winds of Yesterday.  [JH]
Born January 13, 1938 — Charlie Brill, 83. His best remembered role, well at least among us, is as the Klingon spy Arne Darvin in "The Trouble with Tribbles". And yes, he'll show in the DS9 episode that repurposed this episode to great effect. He was the voice of Grimmy in the animated Mother Goose and Grimm series, as well having one-offs in They Came from Outer Space, The Munsters Today, Sliders, The Incredible Hulk, Wonder Woman and Super Train. Not even genre adjacent but he was a recurring performer on Rowan & Martin's Laugh-In. (CE) 
Born January 13, 1945 — Joy Chant, 76. Chant is an odd case as she only wrote for a short period between 1970 and 1983 but she produced the brilliant House of Kendreth trilogy, consisting of  Red Moon and Black Mountain, The Grey Mane of Morning and When Voiha Wakes.  Her other main work, and it is without doubt absolutely brilliant, is The High Kings, illustrated lavishly by George Sharp and  designed by David Larkin with editing by Ian and Betty Ballantine. It is intended as a reference work on the Arthurian legends and the Matter of Britain with her amazing retellings of the legends.  I've got one reference to her writing Fantasy and Allegory in Literature for Young Readers but no cites for it elsewhere. Has anyone actually read it? (CE) 
Born January 13, 1957 – Claudia Emerson.  Five poems for us in Son and Foe.  Eight collections.  Poetry editor for Greensboro Review.  Pulitzer Prize.  Acad. Amer. Poets Prize.  Poet Laureate of Virginia.  Elected to Fellowship of Southern Writers.  Donald Justice Award.  (Died 2014) [JH]
Born January 13, 1960 — Mark Chadbourn, 61. I've read his Age of Misrule series in which the Celtic Old Gods are returning in modern times and they're not very nice but they make for very entertaining reading. It's followed by the Dark Age series which is just as well crafted. His two Hellboy novels are actually worth reading as well. (CE)
Born January 13, 1968 — Ken Scholes, 53. His major series, and it's quite worth reading, is The Psalms of Isaak.  His short stories, collected so far in three volumes, are also worth your precious reading time. He wrote the superb "The Wings We Dare Aspire" for METAtropolis: Green Space. (CE) 
Born January 13, 1972 — Una McCormack, 49. She's the author of The Baba Yaga and The Star of the Sea, two novels  in the delightful Weird Space series. She's also written myriad Trek novels including a Discovery novel, The Way to the Stars, and the first Picard novel, The Last Best Hope. She's also a writer of Who novels having five so far, plus writing for Big Finish Productions. (CE) 
Born January 13, 1979 – Bree Despain, age 42.  Six novels, a couple of shorter stories.  Took a semester off college to write and direct plays for inner-city teens.  Felt she wasn't special enough to be a writer, decided to study law.  Hit by a pickup truck.  Thought it out again.  First book sold on 6th anniversary of collision.  [JH]
Born January 13, 1980 — Beth Cato, 41. Her first series, the Clockwork Dagger sequence beginning with The Clockwork Dagger novel is most excellent popcorn literature. She's fine a considerable amount of excellent short fiction which has been mostly collected in  Deep Roots and Red Dust and Dancing Horses and Other Stories. Her website features a number of quite tasty cake recipes including Browned Butter Coffee Bundt Cake. Really I kid you not. (CE) 
Born January 13, 1981 – Ieva Melgave, age 40.  Her "Siren's Song" has been translated from Latvian into English.  Interviewed (in English) in Vector 281.  [JH]
(9) COMICS SECTION.
(10) ALIENS OMNIBUS. Marvel invites fans to jump on the Aliens Omnibus when the volumes arrive in April and August.
The classic comic book tales set in the iconic—and terrifying—world of the Alien franchise are being collected in brand-new hardcover collection starting in April with Aliens Omnibus Volume 1. And in August, fans of the iconic franchise can enjoy even more of these thrilling comic book stories with Aliens: The Original Years Omnibus Vol. 2.

A rogue scientist's genetic experiments create a horrific new alien king! A ragtag unit of Colonial Marines battles a xenomorph infestation on a space station — and the survivors face a pack of bizarre hybrids! An investigator must solve a murder on a deep-space alien-research station! But what dread music will a deranged composer make with an alien's screams? And can a synthetic xenomorph rebel against its sadistic creator? Plus: Flash back to an alien attack in the 1950s! And witness the fate of England as aliens overrun the Earth! This rare collection includes: Aliens: Rogue #1-4, Aliens: Colonial Marines #1-10, Aliens: Labyrinth #1-4, Aliens: Salvation, Aliens: Music Of The Spears #1-4 and Aliens: Stronghold #1-4 — plus material from Dark Horse Comics #3-5, #11-13 And #15-19; Previews (1993) #1-12; Previews (1994) #1; and Aliens Magazine (1992) #9-20.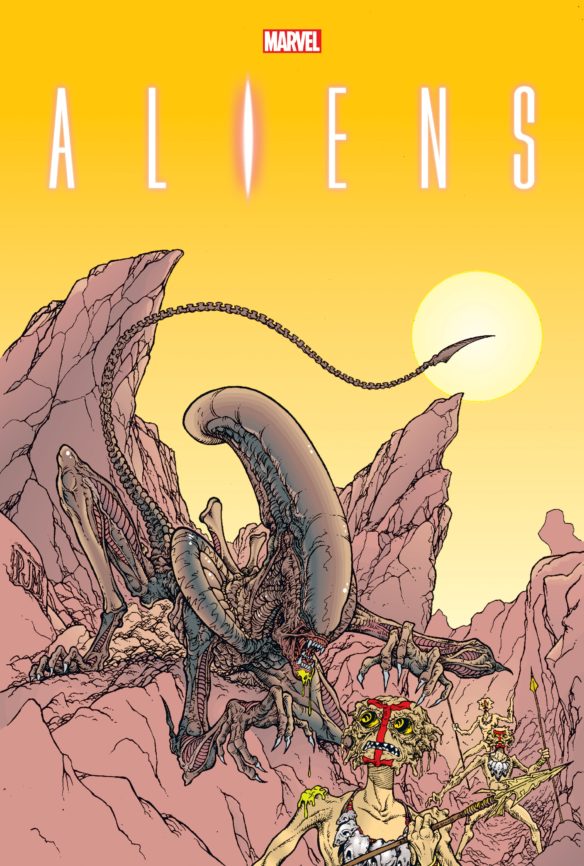 (11) THE REAL SPACE COMMAND. "U.S. Space Command to be headquartered in Huntsville, Ala." reports station WAFF.
The permanent headquarters of U.S. Space Command will be located at Huntsville's Redstone Arsenal.

According to a statement from the Secretary of the Air Force, Huntsville was confirmed as the preferred location for the U.S. Space Command Headquarters.

The Department of the Air Force conducted both virtual and on-site visits to assess which of six candidate locations would be best suited to host the U.S. Space Command Headquarters. The decision was based on factors related to mission, infrastructure capacity, community support and costs to the Department of Defense.
(12) AUDIOBOOK NARRATION. In AudioFile's latest Behind the Mic, narrator Joniece Abbott-Pratt shares her thoughts about recording Jordan Ifueko's Raybearer, on AudioFile's list of the 2020 Best Young Adult Audiobooks.
Listeners meet Tarisai as a lonely younger girl growing up with a distant mother, and we feel her astonishment when she's brought to the palace in Aristar and meets the prince — and discovers her new friend is the person her mother cursed her to kill. This vibrant and multilayered fantasy audiobook comes to life with Joniece's evocative narration.

"You watch her save the world… and that was really cool, to be inside of a story of a young woman that got to stand in her truth and in her power. You watch a princess mature into a queen."—Narrator Joniece Abbott-Pratt
Read AudioFile Magazine's review of Raybearer by Jordan Ifueko.
(13) COOK BOOKS. Get stacks of Glen Cook novels via this new Bundle of Holding deal.
Adventurer! This Glen Cook Bundle presents novels by fantasy and science fiction author Glen Cook from Night Shade Books. Best known for his Black Company dark military fantasies, Cook has also written the eight-book Dread Empire epic fantasy series, the Starfishers and Darkwar trilogies, and many free-standing novels. This all-new fiction offer gives you nearly two dozen Glen Cook novels in both ePub and Kindle ebook formats for an unbeatable bargain price.

For just US$7.95 you get all five titles in our Glen Cook Sampler (retail value $69) as DRM-free ePub and Kindle ebooks

… And if you pay more than the threshold price of $25.97, you'll level up and also get our entire Complete Collection with eight more titles…
(14) ON SECOND THOUGHT. He's a busy man, you know.
(15) HELICONIA WINTER. Richard Paolinelli handed out the 2021 Helicon Awards [Internet archive link] yesterday, some to bestselling sff writers, two to L. Jagi Lamplighter and Declan Finn, but if you want to know what's really on Richard's mind look at this entry on the list:
John W. Campbell Diversity in SF/F Award – J.K. Rowling
Paolinelli also presented awards named for Melvil Dewey and Laura Ingalls Wilder, which he created after their names were removed from two American Library Association awards in recent years.
(16) VIDEO OF THE DAY. In "Honest Game Trailers: Cyberpunk 2077" on YouTube, Fandom Games says that Cyberpunk 2077 is "the most anticipated release since Cup And Ball 2″ and that it lets gamers wallow in a world which is "not cool, not fun, and everything's broken."
[Thanks to JJ, John King Tarpinian, Martin Morse Wooster, Mike Kennedy, Cat Eldridge, John Hertz, Michael Toman, James Davis Nicoll, and Andrew Porter for some of these stories. Title credit goes to File 770 contributing editor of the day Anna Nimmhaus.]