(1) HWA ELECTIONS UPCOMING. The Horror Writers Association will be holding elections for President, Secretary, and three Trustee positions in September.
John Edward Lawson is running unopposed for President, and Becky Spratford is the lone candidate for Secretary.
The candidates for the three Trustee positions are Marc L. Abbott, Linda Addison, James Chambers, Ellen Datlow, Anthony Gambol, Sèphera Girón, Douglas Gwilym, Frances Lu-Pai Ippolito, Eugene Johnson, Stephen Mark Rainey, David Rose, Lindy Ryan, and John F.D. Taff.
The candidates' statements are here. The elected officers will hold their respective offices for terms of two years, beginning on November 1 and ending on October 31.
(2) KEENE HEALTH UPDATE. Horror writer Brian Keene is positive for Covid-19 – and has symptoms — so he alerted Facebook readers who might have come in contact with him at last weekend's Scares That Care Charity Weekend VIII.
For those who had me sign their books or take a selfie with them this past weekend: I have just tested positive for Covid-19. As you saw, I was pretty militant about keeping my mask on, so I hopefully didn't spread it. But you deserve a heads up, regardless. My symptoms are more than mild but less than severe. Will be quarantining at home.
(3) LITERARY CONTACT TRACING. David Agranoff, host of the DickHeads Podcast, says the evidence suggests Philip K. Dick based a Ubik character in part on Robert Lichtman. Thread starts here.
(4) WRITERS GETTING PAID. Deadline reports "WGA Wins $42 Million 'Self-Dealing' Arbitration Against Netflix".
The WGA said today that it has prevailed in a huge "self-dealing" arbitration against Netflix that it says will result in hundreds of writers on more than 100 Netflix theatrical films receiving an additional $42 million in unpaid residuals. The WGA West and the WGA East say they now are pursuing about $13.5 million in interest that Netflix reportedly owes writers for late payment of these residuals.

In a notification to their members, the guilds said that their victory stems from "an important arbitration over Netflix's underpayment of the writer's residuals for the theatrical motion picture Bird Box. Netflix argued the WGA should accept a substandard formula the company negotiated with DGA and SAG-AFTRA. After a hearing, however, an arbitrator determined differently — that the license fee should have been greater than the gross budget of the film. He ordered Netflix to pay the writer a total of $850,000 in residuals along with full interest of $350,000."

"As a direct result of this ruling," the WGA added, "216 writers on 139 other Netflix theatrical films are receiving an additional $42 million in unpaid residuals. The guild is now pursuing approximately $13.5 million in interest Netflix also owes writers for late payment of these residuals."
The meaning of self-dealing and its consequences were explained by the guilds in their message to members:
"When a theatrical is licensed or released in any other market – like streaming or television or home video – residuals must be paid on revenues earned in those markets. The typical residual for the credited writer is 1.2% of the license fee paid to the producer for the right to exhibit that film.

"If the license is between related parties – for example, when Netflix is both the producer and the distributor of the film — the MBA requires that the company impute a license fee based on arm's length transactions between unrelated parties of comparable pictures — for example, a Sony film licensed to Netflix. This critical definition, negotiated as part of the resolution of our strike in 2008, protects against the undervaluation of license fees through self-dealing.

"Rather than follow the established MBA definition for related party transactions (which exists in the DGA and SAG-AFTRA agreements with the AMPTP as well), Netflix negotiated new deals with the DGA and SAG-AFTRA that allow Netflix to pay residuals on significantly less than the cost of the film. Netflix then tried to force the WGA to take this 'pattern' deal. Since it was clear the new formula negotiated by the other Guilds undervalued these 'imputed' license fees, the Guild instead took the dispute to arbitration.

"During the arbitration, the Guild showed that when Netflix licensed comparable theatrical films from third party producers it almost always paid a license fee that exceeded the budget. The industry refers to this model as 'cost-plus.' The Guild argued that Netflix must apply this cost-plus model to its own films and impute license fees in excess of the budget for the purpose of paying residuals. The arbitrator agreed and ruled that the license fee should be 111% of the gross budget of the film."
(5) A "FAN FICTION" CAUSE CÉLÈBRE. Meanwhile, Netflix lawyers are busy spreading joy in another direction, suing the Grammy-winning team behind an unofficial Bridgerton musical: "Netflix Sues 'Bridgerton The Musical' Creators For Infringement, Seeks to Halt Live Stagings" – Deadline has the details. From the complaint: "Barlow & Bear's conduct began on social media, but stretches 'fan fiction' well past its breaking point." (Read the full complaint here.)
…Songwriting duo Abigail Barlow and Emily Bear were the minds behind the popular adaptation of the hit television series. They staged a live concert of "The Unofficial Bridgerton Musical Album Live in Concert" at the Kennedy Center in Washington, DC earlier this week, selling out the venue.

Netflix originally hailed the concept when it debuted as a free online homage. But when that expanded into a profitable business, things became sticky.

"Defendants Abigail Barlow and Emily Bear and their companies ("Barlow & Bear") have taken valuable intellectual property from the Netflix original series Bridgerton to build an international brand for themselves," the lawsuit stated. "Bridgerton reflects the creative work and hard- earned success of hundreds of artists and Netflix employees. Netflix owns the exclusive right to create Bridgerton songs, musicals, or any other derivative works based on Bridgerton. Barlow & Bear cannot take that right—made valuable by others' hard work—for themselves, without permission. Yet that is exactly what they have done."…
(6) SOA AWARDS TAKING SUBMISSIONS. The Society of Authors 2023 Awards are open, including new prize to encourage disability representation in literature, called the ADCI (Authors with Disabilities & Chronic Illnesses) Literary Prize. Entries are being taken through October 31.
Launched in 2022, the ADCI (Authors with Disabilities and Chronic Illnesses) Literary Prize seeks to encourage greater positive representation of disability in literature.

Founded by author Penny Batchelor and publisher Clare Christian together with the Society of Authors, the prize is generously sponsored by Arts Council England, ALCS, the Drusilla Harvey Memorial Fund, the Hawthornden Literary Retreat, and the Professional Writing Academy.

Open to authors with a disability and/or chronic illness, the prize will call for entries of novels which include a disabled or chronically ill character or characters. The winner will receive £1,000 and two runners-up £500 each.
(7) EATING THE FANTASTIC. Scott Edelman invites listeners to catch up with Sam J. Miller over khachapuri in episode 177 of his Eating the Fantastic podcast.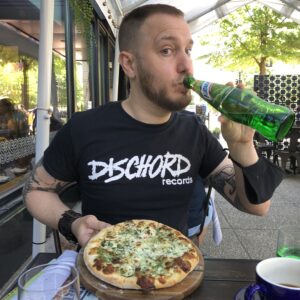 It's time to settle in for another lunch during the Washington, D.C. pop culture festival Awesome Con. Last episode, you eavesdropped on my meal with Patrick O'Leary, and this time around you get to take a seat at the table with Sam J. Miller.

You first heard me chat and chew with Sam 5-1/2 years ago in Episode 24, and when I noted he'd be at the con to promote his debut short story collection Boys, Beasts & Men, I knew it was time for us to catch up.

So much has changed since I last shared him with you in late 2016! His first novel, The Art of Starving, was published the following year and was a finalist for the 2018 Lodestar Award for Best Young Adult Book, and won the 2018 Andre Norton Award. Blackfish City, published in 2018, won the 2019 John W. Campbell Memorial Award, and was named a best book of the year by Vulture, the Washington Post, and Barnes & Noble, as well as a must-read for Entertainment Weekly and O: The Oprah Winfrey Magazine. His second young adult novel, Destroy All Monsters, was published by HarperTeen in 2019, and his second adult novel, The Blade Between, was published by Ecco Press in 2020.

We discussed the 1,500 short story submissions he made between 2002 and 2012 (as well as the one story which was rejected 99 times), the peculiar importance of the missing comma from the title of his new collection Boys, Beasts & Men, his technique for reading collections written by others, why the Clarion Writing Workshop was transformative, how Samuel R. Delany gave him permission, the way his novels and short stories exist in a shared universe, the impossibility of predicting posthumous fame, the superpower he developed via decades of obscurity, the differing ideas of what writers block means, and much more.
(8) A DATE IN THE SF CALENDAR. From Ray Bradbury's "There Will Come Soft Rains".
The crash. The attic smashing into kitchen and parlor. The parlor into cellar, cellar into sub-cellar. Deep freeze, armchair, film tapes, circuits, beds, and all like skeletons thrown in a cluttered mound deep under. Smoke and silence. A great quantity of smoke. Dawn showed faintly in the east. Among the ruins, one wall stood alone. Within the wall, a last voice said, over and over again and again, even as the sun rose to shine upon the heaped rubble and steam: "Today is August 5, 2026, today is August 5, 2026, today is…"
(9) MEDIA BIRTHDAY.
1966 – [By Cat Eldridge.] Daleks' Invasion Earth 2150 A.D. is the Amicus film that premiered fifty-six years ago this evening. It was directed by Gordon Flemyng as written by Milton Subotsky, based off Terry Nation's The Dalek Invasion of Earth for the TV show. It was the second such film done, the first being Dr. Who and the Daleks which was was based off Terry Nation's The Daleks. It was not canon, nor has it been retroactively declared canon by the BBC.
Peter Cushing as Dr. Who and Roberta Tovey was Susan, his granddaughter. Bernard Cribbins appeared here as Tom Campbell. He appeared four times in the actual series. Despite this, the BBC explicitly note that that these films were not related to the series, nor any events here should reflect upon the series. Odd given that there was a Doctor Who there and his granddaughter, there was a TARDIS, there was Daleks and so forth.
Nation was paid five hundred pounds for three scripts with third being called The Chase but the second film drew so poorly that The Chase never got produced.
And if you watched this one, you'll have noticed the curious matter of the Doctor not being on-screen much of time. Cushing was seriously ill during shooting so they had to rewrite the script to remove much of his lines.
Part of the funding came from a cereal company. The breakfast cereal Sugar Puffs to be precise and, their signs and products can be seen at various points in the film. Sugar Puffs ran a competition on its cereal packets to for its fans win a Dalek film prop, was allowed to feature the Daleks in its TV advertisements.
The overall critical response at the time was that both films suffered greatly in comparison to the series itself. A typical comment was this one from The Times: "[T]he cast, headed by the long-suffering, much ill-used Peter Cushing, seem able, unsurprisingly, to drum up no conviction whatever in anything they are called to do." It's worth noting that was really made on the cheap by the BBC costing only three hundred thousand pounds.
Tom Baker later criticized both films saying "There have been two Doctor Who films in the past, both rather poor… There are many dangers in transporting a television series onto the big screen… a lot of things that you could get away with on the small screen wouldn't wash in the cinema."
It holds a poor rating of fifty-four percent among audience reviewers at Rotten Tomatoes.
I have not seen either film. I'm curious to hear from those of you who have seen them as to what you think of them.
(10) TODAY'S BIRTHDAYS.
[Compiled by Cat Eldridge.]
Born August 5, 1891 — Donald Kerr. Happy Hapgood in 1938's Flash Gordon's Trip To Mars which certainly is one of the earliest such films. His only other genre appearances were in the Abbott and Costello films such as Abbott and Costello Meet the Mummy and Abbott and Costello Meet the Invisible Man in uncredited roles. (Died 1977.)
Born August 5, 1929 — Don Matheson. Best remembered for being Mark Wilson in Land of the Giants. He also had roles in Lost in Space (where he played in an alien in one episode and an android in another episode), Voyage to the Bottom of the Sea, The Alfred Hitchcock Hour, an Alice in Wonderland film and Dragonflight. (Died 2014.)
Born August 5, 1948 — Larry Elmore, 74. His list of work includes illustrations for Dungeons & Dragons, Dragonlance, and his own comic strip series SnarfQuest. He is author of the book Reflections of Myth. He was nominated for Best Professional Artist at MidAmericCon II, has the Phoenix Award and has five Chesley Award nominations.
Born August 5, 1966 — James Gunn, 56. Director, producer and screenwriter whose first film as director was Slither. Very silly film. He's responsible for both Guardians of The Galaxy films, plus the forthcoming one. He executive produced both of the recent Avengers films, and he's directing and writing the next Suicide Squad film. I am far fonder of the Guardians of The Galaxy films than I am of the Avengers films.
Born August 5, 1972 — Paolo Bacigalupi, 49. I remember the book group I was part of some years ago having a spirited debate over The Windup Girl (which won a Hugo at Aussiecon 4 in a tie with China Miéville's The City & The City and a Nebula as well) over the believability of the central character. I think he did a better job with characters in his next novels, Ship Breaker and The Drowned Cities, but he's really not about characters anyways but ideas. The Tangled Lands, a collection of his short works, won a World Fantasy Award. His novelette, "The People of Sand and Slag" got nominated at Interaction; "The Calorie Man" novelette at L.A. Con IV; "Yellow Card Man" novellette at Nippon 2007; and "The Gambler" novellette at Anticipation.
Born August 5, 1975 — Iddo Goldberg, 47. Israel-born actor. Freddie Thorne in the Peaky Blinders series , Isaac Walton in supernatural Salem series and Bennett Knox in Snowpiercer series. He also had a recurring role on Westworld as Sebastian. And under a lot of costuming, he played the Red Tornado in an episode, "Red Faced" of Supergirl.
Born August 5, 1980 — JoSelle Vanderhooft, 42. Former Green Man reviewer with a single novel so far, Ebenezer, and several collections, Steam-Powered: Lesbian Steampunk Stories and Steam-Powered II: More Lesbian Steampunk Stories which the former were nominated for a Lambda Award. She also co-edited with Steve Berman, Heiresses of Russ 2011: The Year's Best Lesbian Speculative Fiction.
(11) IT'S IN THE CARDS. Gizmodo leads fans to "Relive X-Men Trading Card Nostalgia With This New Gallery".
Jim Lee's designs for the X-Men are burned into the minds of X-Fans like the Phoenix Force itself—whether you devoured comics, fell in love with the animated series, or, perhaps, just collected some of the iconic trading cards of the era. If you're the latter, then we've got some very good news.

io9 has your exclusive look inside The Uncanny X-Men Trading Cards: The Complete Series, Abrams ComicArts' 30th anniversary celebration of Jim Lee's iconic 105 Uncanny X-Men trading card set. Featuring an introduction by Bob Budiansky and a foreword by Ed Piskor, the book collects the backs and fronts of every card in the classic series, as well as insight from Marvel creators in interviews conducted by Budiansky, the original writer and editor on the trading card series…..
(12) KIPPLE IS UNDEFEATED. Robin Abcarian, the syndicated opinion writer, discovered a new word – but you probably know it already: "Why none of us can win against kipple".
It's coming up on two years since my father died at age 91. I miss him terribly, of course, but his death left me with a personal struggle I had not anticipated.

While you might understandably think his death left a void in my life, it did quite the opposite.

His death left me with so … much … stuff. He'd lived in the same house for more than 30 years, and even though he'd engaged in some half-hearted Swedish death cleaning — a decluttering aimed at easing burdens on one's survivors – what he did, mostly, was just put things in boxes. Boxes I had to open to figure out what they contained after he died….

… I want to keep all of it, but I also want to pile it up and torch it.

Last week, I was bemoaning this dilemma when Anton, my future son-in-law, said, "Yeah, all the kipple."

Kipple?

I thought it might be a Yiddish or German word, but Anton told me it was coined by the great science fiction writer Philip K. Dick in his 1968 dystopian novel "Do Androids Dream of Electric Sheep?" For those who need a plot refresher – or have not seen the 1982 movie "Blade Runner," which was based on the novel – the story takes place in the future, after Earth has been mostly destroyed by a nuclear global conflict, World War Terminus. Most animal life has been extinguished. The population has emigrated to "off-world colonies."

The word is used by the book's protagonist, Rick Deckard, a bounty hunter assigned to kill some uncannily human-like robots who have escaped involuntary servitude on Mars and returned to Earth.

"Kipple," Deckard explains in the book, "is useless objects, like junk mail or match folders after you use the last match or gum wrappers or yesterday's homepage. [Dick's incredibly prescient vision of a digital newspaper.] When nobody's around, kipple reproduces itself. For instance, if you go to bed leaving any kipple around your apartment, when you wake up the next morning there's twice as much of it."….
(13) UNFORCED ERROR. "Scientist admits 'space telescope image' was actually a slice of chorizo" says CNN.
A French scientist has apologized after tweeting a photo of a slice of chorizo, claiming it was an image of a distant star taken by the James Webb Space Telescope.

Étienne Klein, a celebrated physicist and director at France's Alternative Energies and Atomic Energy Commission, shared the image of the spicy Spanish sausage on Twitter last week, praising the "level of detail" it provided.

…Klein admitted later in a series of follow-up tweets that the image was, in fact, a close-up of a slice of chorizo taken against a black background.

"Well, when it's cocktail hour, cognitive bias seem to find plenty to enjoy… Beware of it. According to contemporary cosmology, no object related to Spanish charcuterie exists anywhere else other than on Earth"

After facing a backlash from members of the online community for the prank, he wrote: "In view of certain comments, I feel obliged to specify that this tweet showing an alleged picture of Proxima Centauri was a joke. Let's learn to be wary of the arguments from positions of authority as much as the spontaneous eloquence of certain images."…
(14) VIDEO OF THE DAY. [By Martin Morse Wooster.] In "Ms. Marvel Pitch Meeting," the writer explains that Kamala Khan begins as a big fan of Captain Marvel and has all of our stuff. "I like it when we can sell fictional merch," the producer explains. He also likes a scene where Ms. Marvel suddenly has time travel and goes back to 1942 to save her grandmother's life, because I think it's a good idea for a character to be born."
[Thanks to Cat Eldridge, Mike Kennedy, Martin Morse Wooster, JJ, Bill, John A Arkansawyer, John King Tarpinian, Andrew Porter, Chris Barkley, and Michael Toman for some of these stories. Title credit belongs to File 770 contributing editor of the day Chris S.]