(1) EVERYBODY COMPLAINS ABOUT THE WEATHER. And they complain even more if somebody does something about it. Sierra Garcia points to research about "How Early Sci-Fi Authors Imagined Climate Change" at JSTOR Daily.
More than a century before melting polar ice caps, geoengineering schemes, and soaring greenhouse gas emissions became the norm, humans causing climate change was the stuff of science fiction.

For a few decades in the late nineteenth and early twentieth centuries, authors from across ideologies and genres published stories that today would be called "cli-fi," or climate fiction. French author Jules Verne, best known for popular adventure stories like Around the World in 80 Days and Twenty Thousand Leagues Under the Sea, penned a novel in 1889 called Sans Dessus Dessous about capitalists intentionally heating the Arctic to extract coal reserves. Mark Twain included a subplot of selling warm climates in his 1892 novel The American Claimant. Recently, literary scholar Steve Asselin reexamined these and dozens of other early cli-fi stories, finding several disquieting themes relevant to how we think about modern-day climate change.
(2) STACK OF GREEN. Vox's Peter Kafka, in a "Recode" feature, analyzes "Why Substack writers are mad about money Substack is paying out", a topic mentioned in yesterday's Scroll (item #2). It includes revenue figures Matthew Yglesias shared about his own deal.
…First the why: [Jude] Doyle says they left Substack because they were upset that Substack was publishing — and in some cases offering money upfront to — authors they say are "people who actively hate trans people and women, argue ceaselessly against our civil rights, and in many cases, have a public history of directly, viciously abusing trans people and/or cis women in their industry."

Doyle's list includes some of Substack's most prominent and recent recruits: Former Intercept journalist Glenn Greenwald, my former Vox coworker Matt Yglesias, and Graham Linehan, a British TV writer who was kicked off Twitter last year for "repeated violations of [Twitter's] rules against hateful conduct and platform manipulation."

Substack's main business model is straightforward. It lets newsletter writers sell subscriptions to their work, and it takes 10 percent of any revenue the writers generate (writers also have to fork over another 3 percent to Stripe, the digital payments company).The money that Substack and its writers are generating — and how that money is split up and distributed — is of intense interest to media makers and observers

But in some cases, Substack has also shelled out one-off payments to help convince some writers to become Substack writers, and in some cases those deals are significant….
(3) CUT TO THE CHASE. In the Washington Post, David Betancourt interviews Zack Snyder and Deborah Snyder about the release of Zack Snyder's Justice League, with Deborah Snyder saying "the fans got a huge corporation to listen to them and make this (Snyder cut) a reality," but with Betanourt noting the release of the Snyder cut is also because HBO Max is hungry for superhero content to compete with Disney. "'Zack Snyder's Justice League' is what the director really wanted all along".
… Knowing the Snyder Cut would be a streaming experience and not a theatrical one allowed it to grow. The film is four hours and two minutes, twice as long a the original. HBO Max's hunger to have game-changing new superhero content to compete with Netflix and Disney Plus — not to mention a pandemic making everyone eager for more at-home offerings — created a golden opportunity for all involved.

"What the streaming services have done is allowed a lot more risks to be taken," Deborah [Snyder] said. "There's movies getting made — and [the Snyder Cut] is a perfect example — that wouldn't be made if it wasn't for the streamers. As a filmmaker and as a producer, that is exciting to me. I want to see the envelope being pushed and risks to be taken."
(4) JOURNEY PLANET IS GETTING CRAFTY! They're looking for a few good crafters… or any crafters really. Team Journey Planet (this time being James Bacon, Sara Felix, and Chris Garcia) is putting together a Crafting in the Time of COVID-19 theme issue that will explore the DIY methods that people tried to pass the time they would normally spend out in the world. They're looking for stories of hobbies taken up or re-kindled, photos of crafts managed, art cars or campers created, art you might have created during lockdown, and much more.
Did you build a rudimentary lathe and start turning artisanal batbase bats? We wanna hear about it. Did you start painting alternate bookcovers for your favorite novels? We wanna see 'em? Take up bookbinding, or clockmaking, or knitting, crocheting or tiara-making? Share 'em with us.
Deadline is March 31 — send any submissions or questions to [email protected]
(5) CHINA MUTES OSCARS COVERAGE. "China Tells Media to Downplay Oscars With Protest Film Nominated" reports Bloomberg.
China told local media not to broadcast next month's Oscars ceremony in real time and to play down coverage of the awards, according to people familiar with the matter, after a documentary on the Hong Kong protests was nominated and amid concern over the political views of Best Director contender Chloe Zhao.

…"Do Not Split," nominated for best short documentary, chronicles the anti-Beijing demonstrations that took hold in Hong Kong in mid-2019 and China's growing power and influence in the former British territory.

…While initially lauded in the Chinese press for the success of her naturalistic film "Nomadland," Zhao — who won the Golden Globe for Best Director last month — has since attracted criticism for a 2013 interview where she is said to have described China as "a place where there are lies everywhere."…
(6) FRANK THORNE OBIT. Frank Thorne (1930-2021), artist of the Red Sonja comics of the 1970s has died. Heavy Metal pays tribute:
… Red Sonja, a character from the Conan-verse created by Robert E. Howard, made her Marvel Comics debut in Marvel Feature #1, penciled by Dick Giordano. Thorne took over as artist in the second issue, and remained Red Sonja's artist through the title's seventh and final issue, dated November 1976. Red Sonja got her own title beginning in January 1977, illustrated by Thorne (he did it all — pencils, inks, colors and lettering, and cover art) through issue 11.

Thorne clearly relished Red Sonja; his association with the title went beyond a job and became part of his identity. There was also a performative aspect — Thorne would show up at conventions dressed in a wizard costume, accompanied by a model or few (calling themselves "The Hyborean Players") wearing the famous scale-mail bikini of Red Sonja. One of the Red Sonja models was Wendy Pini, who managed to make conventions and photo shoots when she wasn't illustrating the series that would make her famous in the comics world: ElfQuest. Yup, that Wendy Pini….
(7) MEDIA BIRTHDAY.
March 19, 1999 — On this day in 1999, Farscape premiered on Syfy. The series was conceived by Rockne S. O'Bannon and produced by The Jim Henson Company and Hallmark Entertainment. The Jim Henson Company was responsible for the various alien make-up and prosthetics, and two regular characters, Rygel and Pilot were completely Creature Shop creations. Filmed in Australia by Network Nine, it would would last for four seasons ending in The Peacekeeper Wars which is considered the fifth season.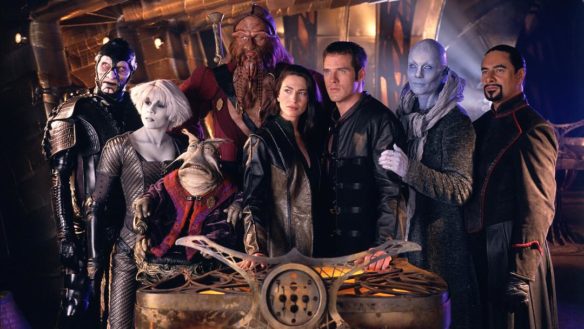 (8) TODAY'S BIRTHDAYS.
[Compiled by Cat Eldridge and John Hertz.]
Born March 19, 1821 — Sir Richard Francis Burton KCMG FRGS. He was a geographer, translator, writer, soldier, cartographer, ethnologist, spy, linguist, poet, fencer and diplomat. He worked on the translation of an unexpurgated version of One Thousand and One Nights. Also, Vikram and the Vampire or Tales of Hindu Devilry. Mind you, he was also the publisher of both Kama Sutra and The Perfume Garden. Philip Jose Farmer made him a primary character of the Riverworld series. (Died 1890.) (CE)
Born March 19, 1894 – Lilith Lorraine.  Author of poetry and otherwise, editor, radio lecturer, under various names.  Half a dozen short stories, a hundred poems.  Founded Avalon poetry ass'n; The Avalonian carried Robert Silverberg's first paid story.  Time Grows Thin posthumous coll'n of poetry (so consider the title!) has an introduction by Steve Sneyd.  (Died 1967) [JH]
Born March 19, 1926 — Joe L. Hensley. He was a First Fandom Dinosaur which is to say he was  active in fandom prior to July 4, 1939 and he received the First Fandom Hall of Fame Award. He is also a published genre author with "And Not Quite Human" in the September 1953 issue of Beyond Fantasy Fiction being his first published work, and The Black Roads being his only genre novel. It does not appear that his genre works are available in digital editions. (Died 2007.) (CE) 
Born March 19, 1928 — Patrick  McGoohan. Creator along with George Markstein of The Prisoner series with him playing the main role of Number Six. I've watched it at least several times down the years. It never gets any clearer but it's always interesting and always weird.  Other genre credits do not include Danger Man but do comprise a short list of The Phantom where he played The Phantom's father, Treasure Planet where he voiced Billy Bones and Journey into Darkness where he was The Host. (Died 2009.) (CE)
Born March 19, 1936 — Ursula Andress, 85. I'm sure I've seen all of the original Bond films though I'll be damned I remember where or when I saw them. Which is my way of leading up to saying that I don't remember her in her roles as either as Honey Ryder in the very first Bond film, Dr. No, or as as Vesper Lynd in Casino Royale. Bond girls aren't that memorable to me it seems. Hmmm… let's see if she's done any other genre work… well her first was The Tenth Victim based on Sheckley's 1953 short story "Seventh Victim". She also appeared in The Mountain of the Cannibal God, The Fifth Musketeer, Clash of the Titans where she played of course Aphrodite, on the Manimal series, The Love Boat series and the two Fantaghirò films. (CE) 
Born March 19, 1946 – John Gribbin, Ph.D., age 75.  Eight novels, a score of shorter stories; columnist, correspondent, reviewer for Analog, Omni, Vector; fourscore books of nonfiction e.g. Almost Everyone's Guide to Science (with wife Mary Gribbin); Hyperspace, Our Final Frontier; biographies of Einstein, Feynman, Schrödinger.  Lifetime Achievement Award from Ass'n of British Science Writers.  [JH]
Born March 19, 1953 – Laurie Sutton, age 68.  A dozen novels.  Worked for the Comics Code Authority awhile; "I never considered my job to be one of censorship…. being a comic book fan."  Then comics for DC (including Adam Strange) and Marvel (including Star Trek); introduced Frank Miller to Japanese comics.  Publishing Innovation Award.  [JH]
Born March 19, 1955 — Bruce Willis, 66. So do any of the Die Hard franchise count as genre? Setting them aside, he has a very long  genre list, to wit Death Becomes Her (bit of macabre fun), 12 Monkeys (weird shit), The Fifth Element (damn great), Armageddon (eight tentacles down),  Looper (most excellent), The Sixth Sense (not at all bad), Sin City (typical Miller overkill) and Sin City: A Dame to Kill For (yet more Miller overkill). (CE) 
Born March 19, 1960 – Karen Cooper, age 61.  Chaired Ditto 12 (fanziners' con; Ditto, a brand of spirit duplicator).  Long-time member of Minn-Stf.  Her Minicon 34 Restaurant Guide (with husband Bruce Schneier) was a Hugo finalist for Best Related Book (as the category then was, now "Best Related Work").  Fan Guest of Honor at WindyCon 40.  [JH]
Born March 19, 1964 — Marjorie Monaghan, 57. JoJo on all six episodes of Space Rangers. My brain keeps insisting it lasted much, much longer. She also was on Babylon 5 as the Mars Resistance leader during the Earth Alliance Civil War, where she was known as Number One. She's also appeared on Quantum Leap, in the cyberpunk Nemesis film, in The Warlord: Battle for the Galaxy film, on Andromeda series and on The Great War of Magellan film. (CE)
Born March 19, 1970 – Kimberly Sabatini, age 51.  One novel so far.  Alice Curtis Desmond Award.  When her father died, she "discovered … she's full of questions that need to be answered."  Has read Endurance (Scott Kelly), The Wonderful Wizard of Oz, Hidden Figures, Frankenstein, Nothing Stopped Sophie (Sophie Germain), Seabiscuit, Gone With the Wind.  [JH]
Born March 19, 1973 – Josh Rountree, age 48.  One novel, twoscore shorter stories including "The Review Lester Bangs Would Have Written for the New Stones Album if He'd Lived Long Enough to Witness the Fall of Humanity and the Rise of the Other".  Seen in Andromeda Spaceways, Beneath Ceaseless Skies, Daily SF, Electric Velocipede, Realms of Fantasy.  [JH]
(9) FUNKO SPOCK WITH SJW CREDENTIAL. Io9's Rob Bricken headlines these new collectibles: "Star Trek: The Original Series Finally Gets More Funko Pops".
Of the seemingly thousands of Pop figures that Funko has made, it's weird to think that the company has only released six from Star Trek: The Original Series, way back in 2013. Sure, it's made characters from The Next Generation, the Star Trek Beyond movie, and even put the cast of The Big Bang Theory in Trek uniforms since then. But Funko will finally right this wrong later this year with eight new figures from TOS.

The original six Pop figures included Kirk, Spock, Scotty, a Klingon, an Andorian, and an Orion Slave Girl. It shouldn't be surprising that after so long, as StarTrek.com reports, the new series also contains a Kirk and Spock, but now the former is sitting in his captain's chair, while Spock is, uh… holding a cat…
(10) HARRYHAUSEN IN THE MUSEUM. You won't need a ticket for an aeroplane, or time to take a fast train — Edinburgh News tells how you can see it. "Edinburgh gallery launches 'virtual experience' devoted to Hollywood special effects legend Ray Harryhausen".
The Scottish National Gallery of Modern Art has turned its Ray Harryhausen tribute into a "virtual experience" after spending years working on the exhibition with the legendary movie-maker's family.

A £10 pass, which is available from today, will offer unlimited access to the online incarnation of the exhibition, which explores how Harryhausen inspired cinematic legends like Steven Spielberg, George Lucas and Peter Jackson thanks to his groundbreaking work on Jason and the Argonauts, Clash of the Sitans, Earth vs the Flying Saucers and the Sinbad series.

They will be able to secure glimpses of rarely-seen models, drawings, sketches, photographs, posters and storyboards drawn from the archives of the Ray and Diana Harryhausen Foundation, which is run by the family of the Californian-born special effects legend and his wife, who both passed away in 2013.
(11) ZOOMING WITH THE BENFORDS. Fanac.org's next FanHistory Zoom will be "The Benford Twins, Fandom and the Larger Universe" on March 27, 2021, 2 pm Eastern. To receive a Zoom link, please RSVP to [email protected].
Jim and Greg Benford (founding editors of the legendary fanzine Void) became fans in the 1950s, and throughout a lifetime of science, professional writing, and extensive accomplishments, they have remained fans. In this Zoom session, they'll talk about their introduction into fandom, their fandom over the years, and tell stories about the important and interesting people they've met. What influence has fandom had on them? Did relocation change their interactions with fandom? How have their professional lives influenced their fandom? Join us and find out (and expect a few surprises.)

The current schedule of future Fan History zoom sessions is available here.
(12) BONESTELL GOING UNDER THE HAMMER. Heritage Auctions would like to get up to $30,000 for Chesley Bonestell's "Winged Rocket Ferry Orbits Mars Prior to Landing after 250-Day Flight" cover art for The Exploration of Mars (1956) when it's submitted to bidders during the April 30 Illustration Art Signature Auction in Dallas.
(13) FLAME ON. "NASA completes engine test firing of moon rocket on 2nd try" – AP News has the story.
NASA completed an engine test firing of its moon rocket Thursday, after the first attempt in January ended prematurely.

This time, the four main engines of the rocket's core stage remained ignited for the full eight minutes. Applause broke out in the control room at Mississippi's Stennis Space Flight Center once the engines shut down on the test stand.

NASA officials called it a major milestone in sending astronauts back to the moon, but declined to say when that might occur or even whether the first test flight without a crew would occur by year's end as planned.
(14) CANCEL THAT RENDEZVOUS WITH RAMA. AP News says "No cigar: Interstellar object is cookie-shaped planet shard".
Our solar system's first known interstellar visitor is neither a comet nor asteroid as first suspected and looks nothing like a cigar. A new study says the mystery object is likely a remnant of a Pluto-like world and shaped like a cookie.

Arizona State University astronomers reported this week that the strange 148-foot (45-meter) object that appears to be made of frozen nitrogen, just like the surface of Pluto and Neptune's largest moon Triton.

The study's authors, Alan Jackson and Steven Desch, think an impact knocked a chunk off an icy nitrogen-covered planet 500 million years ago and sent the piece tumbling out of its own star system, toward ours. The reddish remnant is believed to be a sliver of its original self, its outer layers evaporated by cosmic radiation and, more recently, the sun.
(15) VIDEO OF THE DAY. "MCI Commercial With Leonard Nimoy, TOS Cast, and Jonathan Frakes" on YouTube reveals that in 1993 the original Star Trek cast was eager to call 1-800-3BEAMUP to get 20 percent off the MCI Friends and Family Plan. But who invited Jonathan Frakes to the party?
[Thanks to John King Tarpinian, Cora Buhlert, Mike Kennedy, Andrew Porter, Martin Morse Wooster, JJ, Cat Eldridge, John Hertz, and Michael Toman for some of these stories. Title credit belongs to File 770 contributing editor of the day Nicole J. LeBoeuf-Little.]