(1) DIAGNOSIS. David E. Pascoe's post for Mad Genius Club, '"You Don't Look So Good", wonders if declining BEA attendance is symptomatic of the failing condition of traditional publishing. Wonders, or (perhaps) hopes, one or the other.
Look, nearly two decades ago, BEA had right at 30k attendees, all told, including industry professionals. By 2015, that had slipped to just a bit over 17k. I don't care who you are, you can't claim that your industry is healthy when the pre-eminent business gathering — the one where publishers make announcements about upcoming books, and where vendors make purchasing decisions for the year ahead, and where your special events include people of international profile (this year would be an Evening With Hillary Rodham Clinton. I'm crushed that my schedule wouldn't allow) — has slipped in attendance by that much over not-quite a decade.

If these numbers are legitimate — and I'm taking them right off the pdf of the official BEA fliers they circulate — then tradpub is looking more than a little green around the gills. I don't think it's unfair to say that the attendance at the major convention is a fair barometer for the general health of an industry. Sit down, tradpub. You aren't looking so good.
(2) CLASSIC COVERS. Mark Terry's Facsimile Dust Jackets LLC reproduces original book covers and offers them for sale. Click the link to search the "SciFi/Fantasy/Supernatural" category.
Facsimile Dust Jackets LLC had its beginnings in 1995 when I started making a few facsimiles solely for my own use. I had already been collecting books for some time, and found it discouraging that I would never be able to acquire many of the books I wanted in jacket. While building my own library, I had met many fellow collectors and was amazed at the remarkable jacket art I saw on their books. Because I had access to their collections, the idea of making my own jackets was conceived. Putting my computer and printing skills to use, I slowly began building a small assortment of jackets. Eventually, the results of my labor became popular enough to begin offering these facsimiles to others.

… As of September 2016, I have scanned over 50,000 different titles. If variants and duplicates are included, there are well over 70,000 jackets.

….Offering facsimiles dust jackets is how I support the Dust Jacket Archives project and is a way that everyone can have access to these great jackets. People order jackets for a variety of reasons. They've been used as props in plays or movies and for bibliographic resources. Occasionally, family members of the authors or artists have purchased them as well as publishers who wish to produce or reissue a book. I have had magazines order them to use in the stories they are running. However, these jackets are most commonly purchased by collectors who wish to protect their books with a quality facsimile, allowing them to enjoy the artwork they might otherwise have never see.
As far as I can tell, he never addresses the copyright issue, if there is one.
(3) TRULY ALIEN. Jeff VanderMeer tells interviewer Bence Pintèr why '"A giant flying elephant shrew would've been ridiculous" at Mandiner.Sci-fi.
One review highlighted the fact that your aliens are not familiar ones: they are as different from humans as possible. In your opinion which tells more about people? An alien which resembles them, or a monster which is totally different?

I think that was the New York Times Book Review. Yes, I was quite flattered and vindicated by that review because this is exactly my approach. To not make aliens or animals reflections of human beings, or not only that. If we're supposed to be imaginative in our approach as fiction writers then we need to also imagine things that have nothing to do with human beings.
(4) FROM THE TREASURE VAULTS OF TIME. Profiles in History's Hollywood Auction 89 (June 26-28) will put under the hammer some truly impressive pieces of entertainment history from Casablanca, The Twilight Zone, and Star Wars.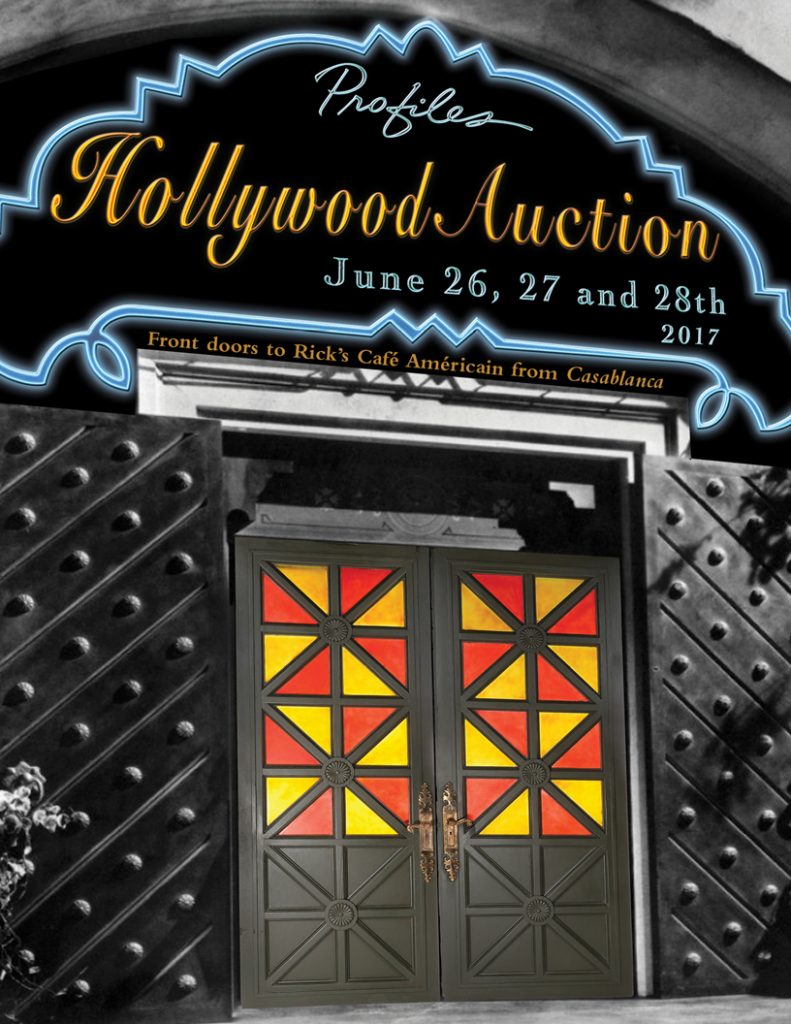 The Writers Guild of America rates Casablanca as the number one greatest screenplay of all time. We offer the most complete and historically significant working script and studio production material for Casablanca in existence. Offered alongside are the iconic original front entrance doors and hardware to Rick's Café Américain, along with Moroccan decorative wooden screen, floor lamp and chairs that decorated the fabled set.

Of monumental importance, we offer the collection of original hand-typed and annotated stories and scripts from 17 episodes of The Twilight Zone — from the collection of legendary and highly influential genre writer Richard Matheson, including such memorable episodes as Nightmare at 20,000 Feet, Nick of Time, and The Invaders.

And in celebration of the 40th anniversary of Star Wars, we're offering some of the most important pieces ever offered, including an unprecedented complete film used '"R2-D2" unit — one of the most beloved characters in pop culture. To complement R2, we offer Mark Hamill's hero '"Luke Skywalker" lightsaber from Star Wars and The Empire Strikes Back from the collection of producer Gary Kurtz. Included are original conceptual artworks by Tom Jung used to create the posters for the original Star Wars trilogy.
(6) LIMITLESS POSSIBILITIES. Thoraiya Dyer tells why she writes sff:
I find the heady power of writing speculative fiction incredibly addictive.

A non-fiction writer is allowed to say, 'Wellington defeated Napoleon at the Battle of Waterloo.'

A fiction writer is allowed to say, 'Wellington felt the futility of man's worldly struggles as he surveyed the battlefield at Waterloo.'

But a speculative fiction writer is allowed to say, 'Wellington ordered his magician to bring the dead soldiers back to life,' (Susanna Clarke, Jonathan Strange and Mr Norrell).

Or, 'Time travel to Victorian England is OK, but you can't go to the Battle of Waterloo because it's a crisis point,' (Connie Willis, To Say Nothing Of The Dog).

You can even say, with perfect aplomb, 'Dragons were used with deadly force in the Napoleonic wars,' (Naomi Novik, His Majesty's Dragon).

How much more fun is that?
(7) STRETCH OUT, ME HEARTIES. The 2017 Fantastic Fiction at KGB Fundraiser hit its initial target. Now the hosts ask —
Can You Help Us Reach Our Stretch Goals? Thanks to the amazing support from the community, we've reached $4500, our minimal funding goal. However, we set this intentionally low, because Kickstarter does not pay the fundraising party unless the minimum goal is met. Our true goal is $9,000, which will let us run for six more years. Can you help us reach it?
For those who aren't familiar with the event —
Fantastic Fiction at KGB is a monthly reading series hosted by Ellen Datlow and Matthew Kressel. It is held on the third Wednesday of every month at the famous KGB Bar in Manhattan. The reading series features luminaries and up-and-comers in speculative fiction. Admission is always free. The series brings together the greater New York community of writers, editors publishers, agents and fans into one location each month. We also publish a monthly podcast audio of the readings so people who cannot attend the physical event can still enjoy the readings. Additionally, we sell the authors' books at the events (currently through Word Bookstore). Fantastic Fiction is a great place to hear and meet talented new and veteran authors, as well as make valuable connections and meet new friends.
(8) TODAY IN HISTORY
June 2, 2010 — Actor Patrick Stewart was knighted by Queen Elizabeth II at Buckingham Palace.
(9) COMIC SECTION. John King Tarpinian recommends today's Lio for its sci-fi movie reference.
(10) WORKING FOR PEANUTS. Atlas Obscura explains NASA's Silver Snoopy awards:
Yes, NASA really does give out a prestigious award called the Silver Snoopy. But it isn't given to astronauts.

Instead, astronauts give them to members of their various research and support staffs, in recognition of their contributions to the safety of the space program. Why Snoopy? Because in the 1960s, there was no one hotter.

In that decade, the popularity of Charles M. Schulz's Peanuts characters were at an all-time high. The first animated special, A Charlie Brown Christmas, hit the airwaves at the end of 1965. Earlier that same year, the characters were featured on the cover of Time. In the Peanuts gang, and specifically in breakout star Snoopy, NASA saw a way to bring a beloved, smiling face to the space program at a time when it desperately needed one.
(11) GRRM & KSR. The Arthur C. Clarke Center for the Human Imagination has a new installment of its podcast, Into the Impossble, '"Episode 8: Fantastica, with George R.R. Martin and Kim Stanley Robinson".
Science fiction and fantasy have gone from the sidelines to the mainstream. We bring you a live conversation between two of the field's living legends, George R.R. Martin ('"A Song of Ice and Fire," adapted for television as Game of Thrones, the Wild Card series) and Kim Stanley Robinson (New York 2140, the Mars trilogy), discussing their careers, the history of fantastic literature, and how it shapes our imagination. They came to the Clarke Center in support of the Clarion Science Fiction and Fantasy Writers Workshop (clarion.ucsd.edu), the premiere training and proving ground for emerging writers, which the Clarke Center organizes each summer with the Clarion Foundation.
(12) ROWELL'S RUNAWAYS. Rainbow Rowell is one of my daughter's favorite writers — I'll have to see if she's interested in this new Marvel comic, scheduled to be in shops this September.
They were just a normal group of teenagers, linked only by their wealthy parents' annual business meeting…until a chance discovery revealed the shocking truth: their parents were secretly Super Villains! This discovery led these kids to run away and put them at odds with the people who raised them! Their parents are gone and the team is scattered across the Marvel Universe. This September, get ready to run again with Marvel's favorite teen Super Heroes, Nico, Chase, Karolina, and Molly for an all-new comic book series, RUNAWAYS by award-winning author, Rainbow Rowell (Eleanor & Park, Carry On) and Kris Anka (All-New X-Men, Star-Lord).

'"The Runaways are down on their luck at the beginning of this story,€ said series writer Rainbow Rowell. '"I mean, a fair number of them are missing or dead… And the ones who are still standing feel lost. After their parents died in the original series, all they had was each other. What do they have now? Who are they on their own? This story brings the gang back together, but — in true RUNAWAYS fashion — probably not the way you'd expect."

This new series kicks off when one original member does something drastic. '"Chase makes a huge mistake — and then immediately drags Nico into his mess," continued Rowell. '"This whole arc explores what it actually means to be a Runaway. Are they a team? Are they a family? Do they have any reason to get back together?"
(13) THE TRALFAMADORIAN CREATOR. The Spring 2017 issue of UCI contains Gregory Benford's close encounter — "Escorting Vonnegut".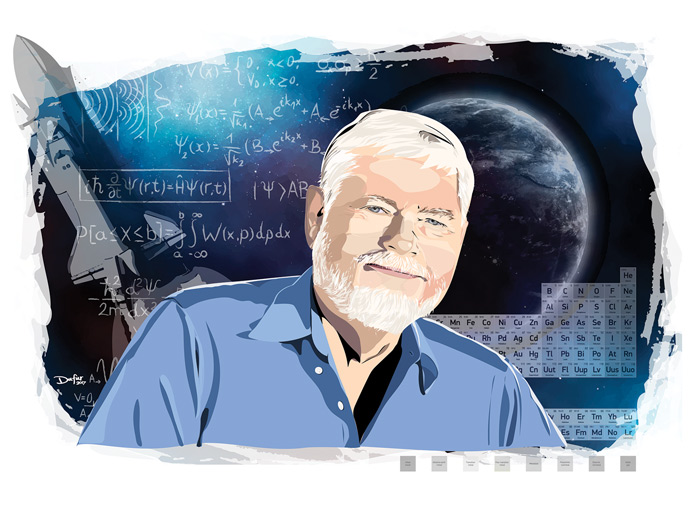 For decades, starting in the 1970s, I was UCI's default escort for visitors and speakers a bit out of the ordinary. This usually meant science fiction writers with a large audience, though not always. I was an sf writer too, but with real-world credentials as a professor of physics, which some thought qualified me to mediate between the real and the imaginary.

The most striking writer I hosted, in the early 1990s, was Kurt Vonnegut.

The university leaders asked me to walk him around campus, have dinner with him and host his public talk in our largest center, where he drew well over 1,000 people. With his curly hair askew, deep red pouches under his eyes and rumpled clothes, he looked like a part-time philosophy professor, typically chain-smoking, coughs and wheezes dotting his speech.

To my surprise, he knew who I was. '"Sure, I've read – " and he rattled off six of my titles, starting with Timescape and through my Galactic Center series, then incomplete. He was affable, interested in the campus, and wanted to talk about sf. '"I live in Manhattan and go to the literary parties, but I don't read their books. I read just enough reviews to know what to say, then look enigmatic." …
(14) HOW ALARMING. There's now an official Welcome To Twin Peaks sign —
The City of Snoqualmie has installed a permanent Welcome to Twin Peaks town sign at approximately 41471 SE Reinig Rd in Snoqualmie, WA, which is the backroad where David Lynch planted a similar fictional sign back in February 1989 to shoot Dale Cooper's entrance into the town. Little did the original sign painter know his work would become an iconic piece of television history, and the inspiration for a permanent tribute 28 years later.

Unless they were in town around the same time as the Twin Peaks Festival, when Richard and Barbara Koefod usually and temporarily put up their own recreation of the sign, Twin Peaks fans visiting Snoqualmie had to imagine it, bring a print-out or their own portable version.
(15) HOLD THE APPERTAINMENT! Umm, I'm not seeing it. Or else that explains the notorious level of copyediting you see here at File 770 every day —
This sign says "one million dollars dollars." This is why you need copy editors, people. pic.twitter.com/TPnQAjFwpS

— John Scalzi (@scalzi) June 2, 2017
He's arguing that the dollar sign counts as a word. But now we're into the question of '"what do you say in your own head" when you see the symbol? I apprehend the dollar sign but I don't mentally enunciate '"dollars" when I see it.
[Thanks to Bill, Cat Eldridge, Carl Slaughter, Gregory Benford, Matthew Kressel, Bence Pintér, and John King Tarpinian for some of these stories. Title credit belongs to File 770 contributing editor of the day Daniel Dern (slightly amended by OGH).]