(1) LINDSAY ELLIS LEAVES TWITTER. Hugo-nominated video essayist and Astounding-nominated author Lindsay Ellis has announced her departure from Twitter as a result of dogpiling and other forms of internet abuse.
Newsweek connects some of the events leading up to this decision in "Lindsay Ellis 'Omelas' Meaning As Vlogger Quits YouTube Over 'Raya' Controversy".
YouTuber Lindsay Ellis has quit social media months after she was at the center of a Twitter controversy over her criticism of the film, Raya and the Last Dragon.

On March 26 of this year, the film critic and content creator ignited a frenzy among movie fans when she compared the Pixar movie to Avatar: The Last Airbender.
A month after the controversy began Ellis discussed it in "Mask Off".
Ellis explained her decision to leave Twitter in a post available to her Patreon subscribers. Newsweek has seen the post and says, "in it, Ellis discusses her difficult year following the Raya controversy and how she is exhausted by the barrage of criticism she faces online."
While Ellis' Patreon post is not for public quoting, one resource she repeatedly cites in it is Porpentine's "Hot Allostatic Load" from 2015 at The New Inquiry, which is available online (excerpt below).
… This is in defense of the hyper-marginalized among the marginalized, the Omelas kids, the marked for death, those who came looking for safety and found something worse than anything they'd experienced before.

For years, queer/trans/feminist scenes have been processing an influx of trans fems, often impoverished, disabled, and/or from traumatic backgrounds. These scenes have been abusing them, using them as free labor, and sexually exploiting them. The leaders of these scenes exert undue influence over tastemaking, jobs, finance, access to conferences, access to spaces. If someone resists, they are disappeared, in the mundane, boring, horrible way that many trans people are susceptible to, through a trapdoor that can be activated at any time. Housing, community, reputation—gone. No one mourns them, no one asks questions. Everyone agrees that they must have been crazy and problematic and that is why they were gone.

I was one of these people….
Meredith also recommends reading Joreen's 1976 article "Trashing: The Dark Side of Sisterhood".
… What is "trashing," this colloquial term that expresses so much, yet explains so little? It is not disagreement; it is not conflict; it is not opposition. These are perfectly ordinary phenomena which, when engaged in mutually, honestly, and not excessively, are necessary to keep an organism or organization healthy and active. Trashing is a particularly vicious form of character assassination which amounts to psychological rape. It is manipulative, dishonest, and excessive. It is occasionally disguised by the rhetoric of honest conflict, or covered up by denying that any disapproval exists at all. But it is not done to expose disagreements or resolve differences. It is done to disparage and destroy….
Today Kiva tweeted a thread on the theme that "social media is inherently unjust." Thread begins here.
(2) ON THE WAY. "The Bat and The Cat Trailer" dropped yesterday. The Batman comes to theaters March 4.
Vengeance equals justice for both the Bat and the Cat.
(3) SOCKET TO ME. [Item by Andrew (not Werdna).] "How the AIpocalypse begins" or "I Always Do What Teddy Says" updated: "Alexa tells 10-year-old girl to touch live plug with penny" at BBC News.
Amazon has updated its Alexa voice assistant after it "challenged" a 10-year-old girl to touch a coin to the prongs of a half-inserted plug.

The suggestion came after the girl asked Alexa for a "challenge to do".

"Plug in a phone charger about halfway into a wall outlet, then touch a penny to the exposed prongs," the smart speaker said.

Amazon said it fixed the error as soon as the company became aware of it.

The girl's mother, Kristin Livdahl, described the incident on Twitter.

She said: "We were doing some physical challenges, like laying down and rolling over holding a shoe on your foot, from a [physical education] teacher on YouTube earlier. Bad weather outside. She just wanted another one."

That's when the Echo speaker suggested partaking in the challenge that it had "found on the web".

The dangerous activity, known as "the penny challenge", began circulating on TikTok and other social media websites about a year ago….
(4) POWER POLL. Ursula Vernon polled Twitter readers about a question that may have been inspired by a discussion of editorial power making the rounds. (Or not!) There's also plenty of comments from writers that follow this tweet.
(5) TWO-DIMENSIONAL SPACE. BoardGameGeek tells how you can "Bring Star Trek and Heroes of Might and Magic III to Your Tabletop" next year. Full game descriptions at the link. These cards are from Missions.
U.S. publisher WizKids has been releasing Star Trek-themed games for years, and it will release two more such titles in 2022, both being themed editions of previously released games. Star Trek: Super-Skill Pinball makes that connection clear right in the title…

… Star Trek: Missions uses the same game engine as Bruce Glassco's Fantasy Realms, with players building a hand of cards that will score points based on the composition of that hand….
(6) TRIBUTES TO TWO SCIENTISTS. The New Yorker is "Honoring the Legacy of E. O. Wilson and Tom Lovejoy", two scientists who died very recently.
Over the weekend, two of the country's leading naturalists, E. O. Wilson and Tom Lovejoy, died a day apart. Wilson, who was perhaps best known for his work on ants, was a pioneer in the field of conservation biology; Lovejoy was one of the founders of the field. The two men were friends—part of an informal network that Wilson jokingly referred to as the "rain-forest mafia"—and there was something eerie about their nearly synchronous passing. "I'm trying very hard not to imagine a greater planetary message in the loss of these biodiversity pioneers right now," Joel Clement, a senior fellow at the Harvard Kennedy School's Belfer Center for Science and International Affairs, tweeted on Monday….
The Scientist ran this tribute to Wilson: "E.O. Wilson, Renowned Ant Researcher, Dies at 92".
… In other work, Wilson performed a mass extinction study by removing insects from six mangrove islands in Florida via fumigation and documenting species recolonization and repopulation over two years. The observations, published in Ecology in 1970, provided insights into species extinction and conservation science.

Wilson is also credited with developing the field of sociobiology, which addresses the biological underpinnings of animal behavior, according to the Post. When he extended this thinking to humans in his 1975 book Sociobiology: The New Synthesis, which argues that people's behavior is genetically determined, he incited much controversy, reports Reuters.

In the 1980s, Wilson pivoted his efforts to conservation biology, continuing to travel around the world and arguing that only by preserving half the Earth as wild will biodiversity be saved and mass extinction avoided, according to the Times….
(7) ANDREW VACHSS. The Official Website of Andrew Vachss reports he has died: "The loss cannot be measured and the debts can only be paid forward." Vachss' genre work includes some supernatural noir, the Cross series, and a Batman story.
Some of his most important work (non-sff) included writing about the realities about CASAs ("Court Appointed Special Advocate" volunteers), a program that wants to be "the child's voice in court."
Joe R. Lansdale mourned the death of Vachss, who felt like a brother to him. Lansdale linked to a published conversation they had about writing:
(8) MEDIA BIRTHDAY.
1981 — [Item by Cat Eldridge.] Forty years ago, K-9 And Company: A Girl's Best Friend first aired. It was a pilot for a proposed spin-off of Doctor Who. It features former Who series performers Sarah Jane Smith, an investigative journalist played by Elisabeth Sladen, and K9, a robotic dog voiced by John Leeson. Both characters had been companions of the Fourth Doctor, but they had not appeared together before.
It was broadcast by BBC1 as a Christmas special long before the traditional Doctor Who Christmas specials which didn't start until the Tenth Doctor, and it did not become a continuing series. It was created by John Nathan-Turner as written by Terence Dudley who had the Fourth Doctor story, "Meglos" and three stories for the Fifth Doctor. 
Despite not being picked up as a series, it had very good ratings as eight point four million viewers watched it. Under a different production team some twenty-six years later, the overall concept of a Sarah Jane and K9 series did eventually come to be as The Sarah Jane Adventures which would last five seasons. Though K9 would be used sparingly in the new series.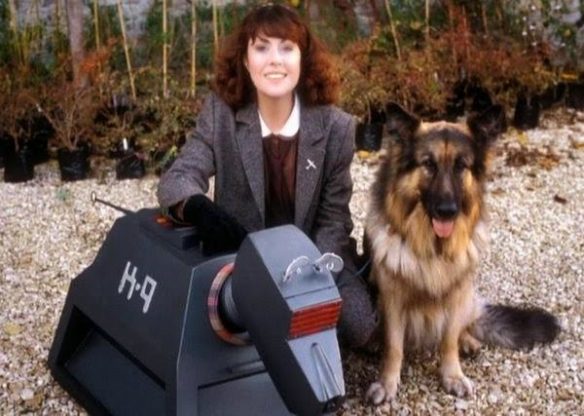 (9) TODAY'S BIRTHDAYS.
[Compiled by Cat Eldridge.]
Born December 28, 1913 — Charles Maxwell. He makes the Birthday List for being Virgil Earp in the "Spectre of the Gun", a not terribly good Trek story. (My opinion of course, yours may differ.) He also appeared in My Favorite Martian in "An Old Friend of the Family" as the character Jakobar. His longest running genre role was as the Radio Announcer on Gilligan's Island which he was largely uncredited for. Interestingly he had six appearances playing six different characters on the Fifties series Science Fiction Theatre. (Died 1993.)
Born December 28, 1922 — Stan Lee. Summarizing his career is quite beyond my abilities. He created and popularized Marvel Comics in a way that company is thought to be the creation of Stan Lee in a way that DC isn't thought of as having a single creator. He co-created the Fantastic Four, Spider-Man, the X-Men, Iron Man, Thor, the Hulk, Daredevil, Doctor Strange, Black Panther, Scarlet Witch and Ant-Man, an impressive list by any measure. And it's hardly the full list. I see he's won Eisner and Kirby Awards and he won a Hugo at Anticipation for Iron Man. (Died 2018.)
Born December 28, 1932 — Nichelle Nichols, 89. Uhura on Trek. She reprised her character in Star Trek: The Motion Picture, Star Trek II: The Wrath of Khan, Star Trek III: The Search for Spock, Star Trek IV: The Voyage Home, Star Trek V: The Final Frontier and Star Trek VI: The Undiscovered Country. Other film SF roles included Ruana in Tarzan's Deadly Silence with Ron Ely as Tarzan, High Priestess of Pangea in The Adventures of Captain Zoom in Outer Space, Oman in Surge of Power: The Stuff of Heroes and Mystic Woman in American Nightmares. Other series appearances have been as Lieutenant Uhura and additional voices in the animated Trek, archive footage of herself in the "Trials and Tribble-ations" DS9 episode and as Captain Nyota Uhura In Star Trek: Of Gods and Men which may or may not be canon.
Born December 28, 1934 — Maggie Smith, 87. First genre role was as Theis in Clash of the Titans though she's better known as Minerva McGonagall In the Harry Potter film franchise. She also played Linnet Oldknow in From Time to Time and voiced Miss Shepherd, I kid you not, in two animated Gnomes films.
Born December 28, 1942 — Eleanor Arnason, 79. She won the Otherwise Award and the Mythopoeic Award for A Woman of the Iron People and also won the Gaylactic Spectrum Award for Best Short Fiction for "Dapple". She's a WisCon Guest of Honor. I wholeheartedly recommend her Mammoths of the Great Plains story collection, which like almost all of her fiction, is available at the usual digital suspects.
Born December 28, 1945 — George Zebrowski, 76. He won the John W. Campbell Memorial Award for Best Science Fiction Novel for Brute Forces. He's married to Pamela Sargent with whom he has co-written a number of novels, including Trek novels.
Born December 28, 1970 — Elaine Hendrix, 51. I found a Munsters film I didn't know about (big fan I am, yes) and she's Marilyn Munster in it: The Munsters' Scary Little Christmas. She later is Gadget Model 2 (G2) in Inspector Gadget 2. (Anyone watch these?) And she's Mary in the animated Kids vs Monsters.
Born December 28, 1981 — Sienna Miller, 40. The Baroness in one of the endless G.I. Joe films I've no attention ever of seeing, G.I. Joe: The Rise of Cobra to be precise. More interestingly, she's Victoria in the flawed but still worth seeing Stardust. (Go listen to Gaiman reading it for the best take on it — brilliant that is!) And she's Darcy in Kis Vuk, A Fox's Tale, a Hungarian-British animated tale that sounds quite charming.
(10) COMICS SECTION.
(11) SKY FIE. "Elon Musk sparks China fury as space station takes emergency measures to avoid collision" reports the UK publication Express.
SPACEX CEO Elon Musk faced the ire of Chinese citizens online after their space station was reportedly forced to take evasive actions to avoid collision with satellites.

Chinese citizens lashed out against the tech billionaire's space ambitions on Monday after satellites from Starlink Internet Services, a division of Musk's SpaceX aerospace company, had two "close encounters" with the Chinese space station. According to a document submitted by China to the UN space agency, the incidents occurred on July 1 and October 21.

In the papers, Beijing complained about how the near-miss incident "constituted dangers to the life or health of astronauts aboard the China Space Station".

It said: "During this period, Starlink satellites launched by Space Exploration Technologies Corporation (SpaceX) of the United States of America have had two close encounters with the China Space Station.

"For safety reasons, the China Space Station implemented preventive collision avoidance control on 1 July and 21 October 2021, respectively.

"For safety reasons, the China Space Station took the initiative to conduct an evasive manoeuvre in the evening of that day to avoid a potential collision between the two spacecraft."…
(12) HE LOOKED. John Scalzi's "Brief Review: Don't Look Up" is at Whatever. Just quoting the first line here – don't want my excerpt to bogart the post.
I liked it a lot, which is not surprising as it combines two of my favorite things — astronomy and satire — into one movie, and then also gives me an excellent cast and a pretty good script….
(13) ALTERNATE APOLLO. Jeff Foust reviews Chris Hadfield's alternate-history novel: "Review: The Apollo Murders" at The Space Review.
… Such a book could easily go disastrously bad, but Hadfield pulls it off. He manages to find a balance between the narrative tension involved in a thriller, with multiple characters and plot lines coming together for the climax, with the technical details space enthusiasts will be looking for. Hadfield offers plenty of such details, whether it's flying a Cessna or a high-performance jet or a lunar lander. He also mixes in actual historical figures among the fictional ones, like Gene Kranz, Alan Shepard, Sam Phillips, and Vladimir Chelomei (an author's note at the end lists those actual figures.) Hadfield pays great attention to such details and others throughout the book; it might be overlooked or simply underappreciated by some readers, who simply want to get on to the next part of the plot, but such details never really drag the pace of the action….
(14) GILGAMESH GOES HOME. "Ancient Gilgamesh tablet returned to Iraqi National Museum" – The National News has the story.
A rare antique clay tablet that bears a portion of the Epic of Gilgamesh was returned to Iraq from the US on Tuesday in a victory for the war-torn nation in its long-running struggle to repatriate stolen artefacts.

The 127mm by 152mm fragment dates back 3,500 to 4,000 years. It was part of a group of more than 17,000 artefacts smuggled from Iraq decades ago and illegally imported to nations around the world. The tablets and other objects were seized from the Oklahoma-based Hobby Lobby company.

The chain of arts and crafts shops was forced by the US government to relinquish the items in 2017 and fined $3 million for failing to act on expert advice that the objects may have been looted or to declare their provenance to the authorities….
(15) RESISTANCE IS FUTILE. "Dave Eggers Created the Google-Amazon Mash-Up of Your Nightmares" – the New York Times' Kara Swisher interviews the author of The Every.
… kara swisher: One thing about this book, which is — it's a little funnier than "The Circle," which was a slightly more malevolent and menacing, although it's the same company. Right? You seem to have gotten a little more of a sense of humor about it. One of the quotes was, "You're disobedient and we strive to be too. Disobedient was a recently favored word replacing mutinous, which had replaced insurgent, which had replaced disruption, disruptor, which is, of course, the one they use now."

david eggers: Yeah, I love the language of Silicon Valley. There's always a word that is the word of the month or the word — and I can't believe "disruption" is still out there. It's been there for six, seven years or something and people are still using it. And everything for that period of time is measured against that word. Is it disruptive or is it not disruptive? Is this taco that I'm ordering, is that disruptive? I don't know. And so — I had a lot of fun trying to think of not just the words that exist now but what would they invent or use in the future. And if you're on the bleeding edge of that next word, the next "disruption," you are seen as, I guess, a visionary in some way. But the words are kind of, they're always — nouns used as verbs is always an easy thing to go for. But they're always kind of awkward words. A little bit muscular but awkward and ungainly. And so it makes conversations so clunky and strange, almost like you're talking in a second language in translation. Because so often you're like, well, that word doesn't at all belong there. It never meant that before, but here we are using it….
(16) THUMBS DOWN. Of course you want to know: "5 Worst Sci-Fi Movies Of 2021 (According To Rotten Tomatoes)".
… Looking back at the 2021 releases, there were plenty of new sci-fi features released to keep audiences entertained. While some fantastic movies were offering fresh and fun takes on robot uprisings, anti-hero carnage, and anime endings, many fell short of the mark. This list looks back at the 5 worst sci-fi releases of the year according to Rotten Tomatoes featuring lackluster demonic possessions, bored Bruce Willis, and contrived romances….

Bliss (28%)

Directed by Mike Cahill and starring Owen Wilson as Greg and Salma Hayek as Isabel, Bliss follows recently divorced, Greg who happens to meet the strange and enigmatic Isabel at a bar. Isabel seems to know Greg and believes that the world they inhabit is a simulation. What follows is a messy mix of attempted mind-bending as Greg and Isabel begin to lose sight of what is real and what is fantasy. Bliss misses the mark with both its sci-fi and romance elements, leaving viewers wishing for an escape back to reality….
(17) VIDEO OF THE DAY. [Item by Martin Morse Wooster.] In "The Matrix Resurrections Pitch Meeting" on Screen Rant, Ryan George, in a spoiler-filled episode, had the writer say that the first three Matrix movies told a story that "was over. It was done with." So in the fourth film, Keanu Reeves plays a video game developer who has told the story of the Matrix in three video games and is forced to make a fourth one. The film basically retells the story of the first Matrix movies with additions that are so confusing that the producer asks at the end of the pitch, "What was that about?"
[Thanks to Andrew Porter, Michael Toman, Cat Eldridge, Meredith, Todd Mason, amk, Jeffrey Jones, Anne Marble, Andrew (not Werdna), Mike Kennedy, Martin Morse Wooster, JJ, and John King Tarpinian for some of these stories. Title credit belongs to File 770 contributing editor of the day Daniel Dern.]