(1) ANIME CENTRAL RELAXES MASK POLICY. Anime Central is a convention taking place in Chicago from May 20-22. At the end of April the con committee was adamant that for ACen 2022 they'd be requiring all attendees to wear a mask and provide proof of vaccination or a negative Covid test result, and that this policy would not change.
However, their Covid policy has changed after all, reports Anime News Network: "Anime Central 2022 Reverses Mask Policy, No Longer Requires COVID-19 Vaccination or Negative Test". ANN says, "An e-mail sent by and to Anime Central staff suggests that this was a decision made by the Midwest Animation Promotion Society (MAPS) following 'lack of support from the venue' and 'last-minute communication.'"
Anime Central has changed its Covid policy to read:
…Our policies are based on current CDC Guidelines and align with the requirements of the Donald E. Stephens Conventions Center and state and local health authorities regarding large indoor events. Currently, verification of vaccination or proof of negative test are not required for admission to the Donald E. Stephens Convention Center or Anime Central. We will continue to monitor the requirements and guidance from state and local health departments….

Face Coverings Required in Select Areas

In our recent vaccine and mask policy change announcement, we stated that face coverings may be required in some areas of Anime Central or at the request of our guests of honor at their events. We've received a lot of feedback for clarification on which areas and events will require a face covering and which do not. Face coverings will be required to enter:
All guest and panelist events
The Dances
The Exhibit Hall
The Artist Alley
The Gaming and Entertainment Hall
We strongly recommend wearing masks in all lobbies, hallways, public spaces, and restrooms. Our team will continue to do the best we can to help enforce this in our spaces, we ask that you also join in in masking even where it's not required.
(2) A WARNING. "'Have we not loved you? Have we not cared for you?': The Plight of AI in the Universe of Douglas Adams" examined by Rachel Taylor at the Tor/Forge Blog.
…When we think of the dangers of AI, we normally think of Skynet, HAL or AM. And sure, there is a non-zero chance that any Super AI might spend five minutes on the internet and think "ah, I see the problem. Where are those nuclear codes?" But honestly, if I had to place money on the science fiction writer who will prove most prophetic in depicting our future relationship with AI? Not Philip K. Dick. Not Harlan Ellison. Not Asimov.

Douglas Adams, all the way.

In the universe of the Hitchhiker's Guide to the Galaxy and its sequels across all media the relationship between humanity and the various computers and robots they've created is less apocalyptic warfare and more like a miserably unhappy marriage….
(3) ROSWELL VOICES. Here are the celebrity readers for this weekend's 2022 Roswell Award event. Register for the free Zoom presentation.
The Roswell Award and Feminist Futures Award: Celebrity Readings & Honors recognizes outstanding new works of science fiction by emerging writers from across the United States and worldwide, including the winner of this year's feminist themed sci-fi story. This thrilling show will feature dramatic readings by celebrity guests from some of today's hottest sci-fi and fantasy shows and movies. Following the readings, the authors will be honored for their writing!
(4) AURORA VOTERS PACKAGE. Canadian Science Fiction & Fantasy Association members can now download the 2022 Aurora Awards Voters Package. Login (or join) at www.prixaurorawards.ca. Downloads remain available until voting closes on July 23. Voting for the 2022 awards will begin on June 11.
Have you started reading works by this year's finalists? We are pleased to announce that this year's voters' package contains either e-versions or links for every single one of our 2022 nominated works and is open to all CSFFA members to download.

The electronic versions of these works are being made available to you through the generosity of the nominees and their publishers. We are grateful for their participation and willingness to share with CSFFA members. Please remember, all downloads are for CSFFA members only and are not to be shared.

The purpose of the voters' package is simple–before you vote for the awards, we want you to be able to experience as many of the nominated works as possible so you can make informed decisions.
(5) HEAR RHYSLING NOMINEES READ ALOUD. The second of three readings of the short poems nominated for the Rhysling Awards will be held on May 20, 2022 from 7:00 to 8:15 p.m. Eastern, live on Facebook via Zoom. tinyurl.com/Rhysling2
The Science Fiction and Fantasy Poetry Association presents the annual Rhysling Awards, named for the blind poet Rhysling in Robert A. Heinlein's short story "The Green Hills of Earth." Apollo 15 astronauts named a crater near their landing site "Rhysling," which has since become its official name.

Nominees for each year's Rhysling Awards are selected by the membership of the Science Fiction and Fantasy Poetry Association. For 2022, 103 short poems and 78 long poems were nominated.
The last reading of the nominated short poems in the Rhysling anthology will be held on June 6, 2022 from 7 to 8 p.m. EDT. The readings, hosted by Akua Lezli Hope, are free and open to the public.
(6) THE FIRST TRAILER FOR SHE-HULK. "You'll like her when she's angry." She-Hulk: Attorney at Law, an Original series from Marvel Studios, starts streaming August 17 on Disney+.
(7) HIGHER LEARNING. In the Washington Post, Mary Quattlebaum interviews Dhonielle Clayton about The Marvellers, her YA magic-school novel. "'The Marvellers' by Dhonielle Clayton features a diverse school of magic".
… "So many people said it couldn't be done," said Dhonielle (pronounced don-yell) Clayton about a novel set in a school of magic. "How can anyone compete with Harry Potter?"

Well, Clayton proved them wrong. "The Marvellers," the first book in her new middle-grade series, was launched this month.

The boarding school — called the Arcanum Training Institute for Marvelous and Uncanny Endeavors — is quite different from the Hogwarts of J.K. Rowling's global publishing phenomenon. It's located in the sky rather than a mystical land that resembles the Scottish Highlands. Young magic folks from around the world are invited to attend.

Clayton's inspiration came from a real school, one in New York City's East Harlem neighborhood, where she was a librarian.

"The kids there were from different countries, different cultures," said Clayton, who lives in the city. "They didn't see themselves in the fantasy books they wanted to read."

So for the past five years, Clayton devoted herself to researching and writing a book that might reflect and connect with those students — and so many like them, around the world….
(8) THOUGHTS AND PREYERS. Giant Freakin Robot assures us, "The Predator Actually Looks Good Again In The Trailer For New Movie Set 300 Years Ago".
…Prey will stream on Hulu starting Friday, August 5. While it will technically be a prequel to the rest of the Predator films, it will reportedly not directly reference any of their events. Besides, you know. Having someone from the same freaky alien species hunting people down and murdering them….
The YouTube intro says:
Set in the Comanche Nation 300 years ago, "Prey" is the story of a young woman, Naru, a fierce and highly skilled warrior. She has been raised in the shadow of some of the most legendary hunters who roam the Great Plains, so when danger threatens her camp, she sets out to protect her people. The prey she stalks, and ultimately confronts, turns out to be a highly evolved alien predator with a technically advanced arsenal, resulting in a vicious and terrifying showdown between the two adversaries.
(9) MEMORY LANE.
2013 – [By Cat Eldridge.] Ok I cannot do this essay without SPOILERS, so you are warned. Go away now if you haven't read Ancillary Justice.
Just nine years ago, Ancillary Justice, Ann Leckie's debut novel came out. And oh what a novel it is! It's the first in her Imperial Radch space opera trilogy, followed by Ancillary Sword and Ancillary Mercy. Breq is both the sole survivor of a starship destroyed by treachery by her own people and the carrier of that ship's consciousness. What an amazing job Leckie does differentiating between those two characters.
Doing space opera that feels original is damn hard but she pulls it off here amazingly well. The very personal and the grand political are present here, balanced in a way and tangled together as well that is rarely done so intelligently. Genevieve Valentine of NPR in her review agrees with me saying that it is "A space opera that skillfully handles both choruses and arias, Ancillary Justice is an absorbing thousand-year history, a poignant personal journey, and a welcome addition to the genre."
Everyone in our community liked it as not only did it win a most deserved Hugo at Loncon 4, but it effectively swept the awards season garnering an Arthur C. Clarke Award, a BSFA Award, a Kitschies Golden Tentacle for Best Debut Novel, Locus Award for Best First Novel, a Nebula Award for Best Novel and a Seiun Award for Best Translated Novel. And it got nominated for a Compton Crook Award, Otherwise Award and Philip K. Dick Award.
The next two novels in this trilogy are just as stellar. Ancillary Sword got nominated for a Hugo at Sasquan, and Ancillary Mercy would get a nomination at MidAmericaCon.
The audioworks are narrated by Adjoa Andoh who appeared on Doctor Who as Francine Jones during the Time of the Tenth and Eleventh Doctors. They are quite superb.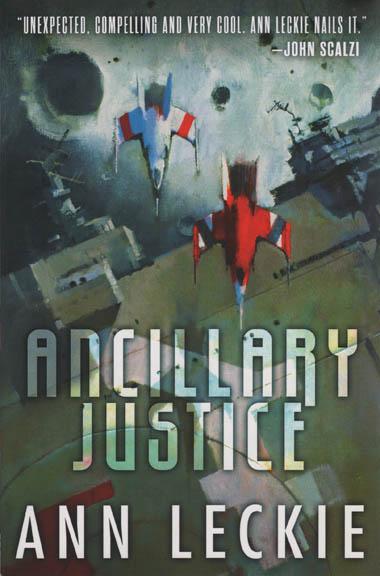 (10) TODAY'S BIRTHDAYS.
[Compiled by Cat Eldridge.]
Born May 18, 1930 — Fred Saberhagen. I'm reasonably sure I've read the entirety of his Berserker series though not in the order they were intended to be read. Some are outstanding, some less so. I'd recommend Berserker Man, Shiva in Steel and the original Berserker collection.  Of his Dracula sequence, the only one I think that I'veread is The Holmes-Dracula File which is superb. And I know I've read most of the Swords tales as they came out in various magazines.  His only Hugo nomination was at NYCon 3 for his "Mr. Jester" short story published in If, January 1966. (Died 2007.)
Born May 18, 1934 — Elizabeth Rodgers. Yes, Nyota Uhura was the primary individual at the communications post but several others did staff it over the series. She appeared doing that as Lt. Palmer in two episodes, "The Doomsday Machine" and "The Way to Eden".  She was The Voice of The Companion in a third episode, "Metamorphosis". She would also appear in The Time Tunnel, Land of The Giants and Bewitched. (Died 2004.)
Born May 18, 1946 — Andreas Katsulas. I knew him as the amazing Ambassador G'Kar on Babylon 5 but had forgottenhe played played the Romulan Commander Tomalak on Star Trek: The Next Generation. I'm reasonably sure that his first genre role on television was playing Snout in A Midsummer Night's Dream and he had a recurring role in Max Headroom as Mr. Bartlett. He also had appearances on Alien Nation, The Death of the Incredible Hulk, Millennium, Star Trek: Enterprise anda voice role on The Real Adventures of Jonny Quest. Screw the damn frelling Reaper for taking him far too soon.  (Died 2006.)
Born May 18, 1948 — R-Laurraine Tutihasi, 74. She's a member of LASFS and the N3F. She publishes Feline Mewsings for FAPA. She won the N3F's Kaymar Award in 2009. Not surprisingly, she's had a number of SJW creds in her life and her website here gives a look at her beloved cats and a lot of information on her fanzines. 
Born May 18, 1952 — Diane Duane, 70. She's known for the Young Wizards YA series though I'd like to single her out for her lesser-known Feline Wizards series where SJW creds maintain the gates that wizards use for travel throughout the multiverse. A most wonderful thing for felines to do! Her Tale of the Five series was inducted into the Gaylactic Spectrum Award Hall of Fame in 2003. She also has won The Faust Award for Lifetime Achievement given by The International Association of Media Tie-In Writers. 
Born May 18, 1958 — Jonathan Maberry, 64. The only thing I've read by him is the first five or six novels in the Joe Ledger Series which has an extremely high body count and an even higher improbability index. Popcorn reading with a Sriracha sauce.  I see that he's done scripts for Dark Horse, IDW and Marvel early on. And that he's responsible for Captain America: Hail Hydra which I remember as quite excellent. Not surprisingly, he's won Stoker Awards and nominated for at least a dozen more. 
Born May 18, 1969 — Ty Franck, 53. Half of the writing team along with Daniel Abraham that s James Corey, author of the now-completed Expanse series. I'll admit that I've fallen behind by a volume or two as there's just too many good series out there too keep up with all of them, damn it, but now that it's ended I intend to finish it. The Expanse won the Best Series Hugo at CoNZealand. The "Nemesis Games" episode of The Expanse is nominated at Chicon 8 for a Hugo as have two episodes previously. 
(11) FREE READ. "Grant Morrison Releases a Sci-Fi Comic He Made Back in the '80s" and Gizmodo invites you to read it in a slideshow presented at the link.
Grant Morrison, multiple award-winning writer of acclaimed comic books like All-Star Superman, The Invisibles, Doom Patrol, New X-Men, Batman, and many many more, had a special gift released this past Free Comic Book Day. In wasn't a new title; in fact, it was quite the opposite—a 40-year-old short story he'd written and drawn in the very early stages of his career. While Morrison originally posted it on their SubStack, we're absolutely honored to be able to republish it on io9.
(12) A KALEIDOSCOPIC AUDIENCE. Charles Payseur, who now is reviewing short fiction for Locus and stepped away from his epic Quick Sip Reviews blog, speaks openly about how public expectations whipsaw critics. Thread starts here.
(13) ABANDONED LAUNDRY. The Guardian's Lucy Mangan says, "Steven Moffat's adaptation of Audrey Niffenegger's 2003 bestseller is witty and well done, but it can't overcome the novel's depressingly old-fashioned and iffy implications." – "The Time Traveler's Wife review – far too much ick factor to be truly great".
…He [The Time Traveler] learns to find his feet (and some clothes) a little faster each time. In the course of his many unchronological journeys, he meets his soulmate, Clare. They are wrenched repeatedly from each other's arms to reunite weeks, months or years later in more or less romantic scenarios, depending on their ages at the time.

It is, in short, guff of a high order. But the new six‑part adaptation (Sky Atlantic) by Steven Moffat (a longtime fan of the book, which he used as inspiration for the Doctor Who episode The Girl in the Fireplace) does it proud. He takes the melodrama down a notch and salts the schmaltz with wit where he can.

Nonetheless, an emetic framing device remains….
(14) TELL NASA WHAT YOU THINK. "NASA Seeks Input on Moon to Mars Objectives, Comments Due May 31".
As NASA moves forward with plans to send astronauts to the Moon under Artemis missions to prepare for human exploration of Mars, the agency is calling on U.S. industry, academia, international communities, and other stakeholders to provide input on its deep space exploration objectives.

NASA released a draft set of high-level objectives Tuesday, May 17, identifying 50 points falling under four overarching categories of exploration, including transportation and habitation; Moon and Mars infrastructure; operations; and science. Comments are due to the agency by close of business on Tuesday, May 31.

"The feedback we receive on the objectives we have identified will inform our exploration plans at the Moon and Mars for the next 20 years," said Deputy Administrator Pam Melroy. "We're looking within NASA and to external stakeholders to help us fine-tune these objectives and be as transparent as possible throughout our process. With this approach, we will find potential gaps in our architecture as well as areas where our goals align with those from industry and international partners for future collaboration."
(15) WEIRDO CEREAL NEWS. [Item by Martin Morse Wooster.] Not even kids stoked on sugar wanted to see creepy creatures staring at them from the cereal bowl, so I bought a box on the half-price shelf today. "Minecraft" at Kellogg's.
(16) VIDEO OF THE DAY. [Item by Martin Morse Wooster.] The Blue Peter gang drive a full-scale Thunderbirds Fab-1 complete with a rotating license plate, machine gun, and a closed-circuit TV set in this 1968 BBC clip that dropped yesterday.
Blue Peter presenters Valerie Singleton, John Noakes and Peter Purves bring a fully-functioning life-size replica of Lady Penelope's iconic Rolls-Royce, FAB 1 into the studio.
[Thanks to Martin Morse Wooster, JJ, John King Tarpinian, Chris Barkley, Olav Rokne, Andrew Porter, Michael Toman, Cat Eldridge, and Mike Kennedy for some of these stories. Title credit belongs to File 770 contributing editor of the day Ingvar.]