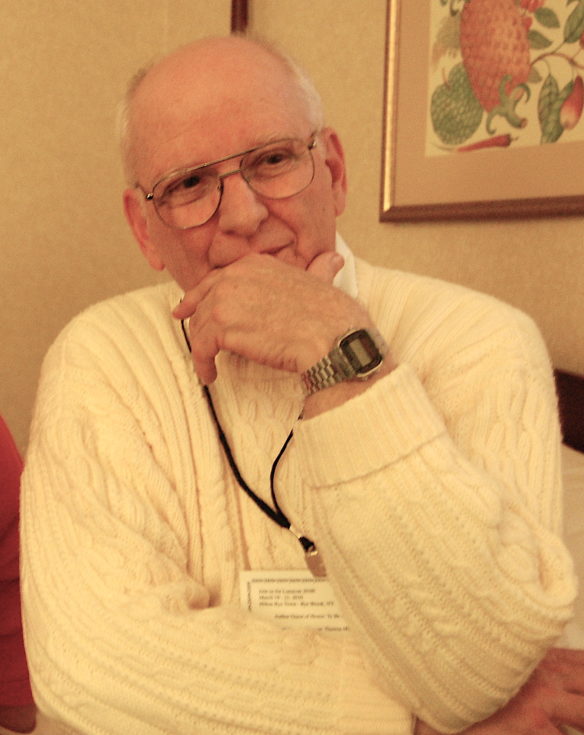 Don Lundry, chair of the 1977 Worldcon, died February 14 after a long illness. The family obituary is here at Legacy.com.
In his last days he was cared for by his wife of 12 years, Peggy Davis Lundry. Previously, Don was married to Grace Campbell Lundry for 40 years before her passing in 2003.
Lundry chaired SunCon, the 1977 Worldcon, held in Miami Beach, with Grace as his effective co-chair.
Prior to that he chaired the 1972 and 1976 Lunacons in New York. He first found fandom in 1967.
Lundry worked for IBM, General Electric, and other firms over the years as a software engineer and manager. He also served as a U.S. Army Reservist in the Signal Corps for approximately 30 years, reaching the rank of Colonel. He was a graduate of the U.S. Army War College.
The "Seven for 77" Worldcon bid Lundry chaired is at least as well remembered as the convention, because the committee took the novel approach of initially not bidding for a specific city, but offered itself as an experienced group of con-runners who would locate a first-rate site and negotiate a good deal. In mid-1974, they were looking at Boston, Atlanta and Orlando. By January 1975 (six months before the vote), they picked a hotel in Orlando and renamed the bid Orlando in 77. Unfortunately, the hotel they selected went bankrupt and in early 1976 the committee was forced to move the convention to the Hotel Fountainbleu in Miami Beach, FL where they ran SunCon.
Don Lundry is survived by his wife, Peggy, three children ten grandchildren; and three sisters.