(1) WORLDWIDE CHANGE. Reuters Graphics explores how non-binary people identify themselves in highly-gendered languages around the world, using animated examples to explain the challenges to English-language readers. "Beyond pronouns: How languages are reshaping to include nonbinary and gender-nonconforming people".
Not everyone identifies as a woman or a man. The movement to recognize gender identities beyond female and male is growing in places like Western Europe and the United States, and changing languages around the world.

In English, the pronouns people use — such as 'she,' 'he,' or 'they' — have come to the fore. In some languages, other parts of speech can also be feminine or masculine.

Modifying language to reflect a spectrum of gender identities is a fundamental change that stirs fierce debate….
(2) FIRST CHAIR. Actor Doug Jones will receive the inaugural The Chair Award from the Make-Up Artists and Hair Stylists Guild (IATSE Local 706). Star Trek: Discovery's Sonequa Martin-Green will present the honor during the guild's awards ceremony on February 19 — The Hollywood Reporter has details.
He's known for roles such as the so-called Amphibian Man in Guillermo del Toro's The Shape of Water, which won 2017's best picture Oscar, and Pale Man in del Toro's Oscar-winning Pan's Labyrinth. He was the Silver Surfer in Fantastic 4: Rise of the Silver Surfer and the blue fish-man Abe Sapien in del Toro's Hellboy and Hellboy II: The Golden Army. Jones is also the villainous title character in a remake of Nosferatu, currently in postproduction.

TV roles have included such series as Star Trek: Discovery, Buffy the Vampire Slayer and Falling Skies….
(3) VILLENEUEVE TO MAKE RENDEZVOUS. Movieweb reports "Denis Villeneuve to Direct Rendezvous with Rama Adaptation".
It seems as if Denis Villeneuve can't keep his eyes from the stars. The director of 2021's Dune has been signed on to direct another science fiction adaptation. This time the subject will be Rendezvous with Rama by Arthur C. Clarke.

The project was picked up by Alcon Entertainment, who previously worked with Villeneuve on Prisoners and Blade Runner 2049. The rights to the novel had previously been under the control of Morgan Freeman and his partner Lori McCreary's Revelations Entertainment. The film has been a passion project of Freeman since the early 2000s, but the project was stuck in development hell for many years.

It seems as if the film is finally going to get its wings with this new partnership at last. Alcon will be financing the project….
(4) WHEN NOT ONLY KANGAROOS HAVE POCKETS. At CrimeReads, "Juneau Black" (pen name of Jocelyn Cole and Sharon Nagel) discusses how to write an animal fantasy where the animals have human characteristics: "How To Craft Non-Human Characters With Plenty of Personality".
… Our problem in a nutshell: Foxes don't own handkerchiefs. Well, that's an obvious statement, isn't it? Of course they don't. They don't have hands. Yet in the world of Shady Hollow, our civilized animal denizens do wear clothes and own accruements and if someone starts blubbering into their coffee, it would be downright rude to not offer a clean bit of cloth to soothe them.

But what to call that cloth? It has to be a word that instantly conveys the idea of handkerchief, without the human-centric assumption of hands. We could call it a pawkerchief…but that sounds too cutesy for a book with murders in it. So we looked for alternatives: Hankie? No, it's a riff on "hand" and therefore isn't a word that would exist in this world (and its logical equivalent "pawkie" is so twee it's sickening). Snot rag is accurate but maybe too gross. Pocket square turned out to be our winner, since it describes the object in a way that the characters themselves would understand….
(5) THEY ASKED HIM ANYTHING. Hosted today at Reddit – "I'm Gideon Marcus, science fiction writer, publisher, space historian…and time traveler. Ask Me Anything!" In connection with Galactic Journey he said:
…Our coolest new project is watching the original Star Trek "as it comes out" on the original air dates (minus 55 years). And they've got the original commercial breaks in them! It's been fascinating watching this classic in its original form, and with about a dozen young people who have never seen it before. We've also been reading the period trekzines and fanzines of the time, and that's been a trip.

…Thank you! It's been really neat. The show was designed with the traditional four act and teaser format, punctuated with little cliffhangers. The commercials give the show room to breathe and marinate. Plus, the period ads give context — you go from Kirk fighting a giant lizard to… cigarette ads.

Hey, they're both killers!
(6) FANCAST Q&A. Cora Buhlert posted another Fancast Spotlight for GeekShock, a podcast run by several people who met while working at a Star Trek live show in Las Vegas: "Fancast Spotlight: GeekShock".
Tell us about your podcast or channel.

GeekShock is a podcast about the week-in-geek. We like to think we're a funny bunch, so we style ourselves as a comedy podcast. We approach geek topics of the day however they may strike us as humorous, but we get serious when serious subjects arise. We talk about movies and television of course, but we also cover subjects in comics, games of all types (video, board, tabletop rpg), geek accessories i.e., toys, collectables, curiosities, and genre literature.
(7) 17TH CENTURY SPACE EXPLORATION. The Huntington hosts a free Zoom lecture, "Blasting into Space: The Poetics of Faith and Astronomy in 17th-Century England", by Wendy Wall on February 16, at 7:30 p.m. Pacific. Register at the link.
In this lecture, Wendy Wall, Professor of the Humanities at Northwestern University, describes how 17th-century woman Hester Pulter, while sick and confined to her bedroom after giving birth to her 15th child, sought solace in an unusual way: she wrote poems about taking off into space to explore planets in the heliocentric universe. While intellectuals of the day feared that new conceptions of astronomy undermined cherished religious beliefs, Pulter was exhilarated in incorporating cutting-edge ideas about space into a new type of devotional poem. How can this relatively newly discovered female poet enlarge our understanding of ways that writers used poetry to interconnect religion, science, and the imagination? How might Pulter's poetry reveal previously unacknowledged ways that early modern women engaged in intellectual production and the mapping of the heavens, even from their remote estates or bedrooms?
(8) THE SCIENCE IN THIS FICTION. In "Malorie Blackman on seeing her sci-fi novel about a pig heart transplant come true", the author tells Guardian readers that questions are the best place to start when writing a book.
What some call science fiction, I prefer to call science possible or sometimes science probable. One branch of sci-fi is based on imagined technological or scientific advances, and major social or environmental changes. It was that branch that I embraced when I wrote Pig Heart Boy. I loved the idea of exploring xenotransplantation through the eyes of Cameron, a 13-year-old boy with a bad heart who just wants to live. I found the whole notion of transplanting organs from one species into another fascinating and the perfect subject matter for a children's book.

Now I hasten to add that I'm not a scientist or expert on xenotransplantation, nor do I claim to be. I'm a layperson with a love of science who occasionally reads science magazines. My approach was from an author's angle, spending months on research before writing a single word…
(9) ANOTHER NAME FROM APPENDIX N. Ngo Vinh-Hoi profiles fantasy writer John Bellairs, one of the more obscure names listed in the Appendix N to the original D&D Dungeon Master's Handbook: "Adventures in Fiction: John Bellairs" at Goodman Games.
… The modest success of The Face in the Frost was enough for Bellairs to turn to full-time writing, and his next work The House with a Clock in its Walls was also a dark fantasy. Supposedly Bellairs had difficulty selling the book until a publisher suggested rewriting it as a young adult (YA) book set in the fictionalized Michigan of Bellairs's childhood. The House with a Clock in its Walls proved to be a huge critical and sales success, so much so that Bellairs became a full-time YA author for the rest of his career, completing a total of 15 books for young readers, most of which were illustrated by the great Edward Gorey….
(10) WILL THE REAL CONAN PLEASE STAND UP. Howard Andrew Jones explains which of the many Conan pastiche novels are worth reading: "The Best Of The Conan Pastiche Novels" at Goodman Games.
… You can fit the sum total of all the Conan that Howard wrote (including some fragments and rejected stories) into one large hardback. That's not a lot of fiction about such a great character, and so for decades, people have been trying to create new tales of adventure starring Conan, mostly because they wanted MORE!

What makes those stories pastiche instead of fanfic, I suppose, is that many of these writers were paid to write it and the result was distributed widely. You would assume that meant that the work was well-edited and had some kind of consistency, but a lot of people, me among them, would tell you you're wrong….
(11) MEDIA BIRTHDAY.
1971 — [Item by Cat Eldridge.] Fifty-one years ago, City Beneath the Sea premiered on NBC. It had a tangled history as it was originally a pilot for a series that Irwin Allen had pitched to that network several years earlier. The film itself was an expansion of a much shorter idea reel that Allen had shown to the network.
The story was by Allen, but the screenplay was by John Meredyth Lucas who had written four Trek episodes, "Elaan of Troyius", "The Changeling", "Patterns of Force" and "That Which Survives" in addition to direction and production duties there. 
The primary cast was Stuart Whitman, Rosemary Forsyth, Robert Colbert, Burr DeBenning, Robert Wagner, Joseph Cotten and Richard Basehart. Irwin's suggested cast for the series was Glenn Corbett, Lloyd Bochner, Lawrence Montaigne, Francine York, Cecile Ozorio and James Brolin.
I couldn't, for love or money, find any critical reviews of the film. Rotten Tomatoes has none which is highly unusual. Audience reviewers at Rotten Tomatoes weren't fond of it giving it a rating of just forty percent. Here's the trailer for it. City Beneath the Sea (1967).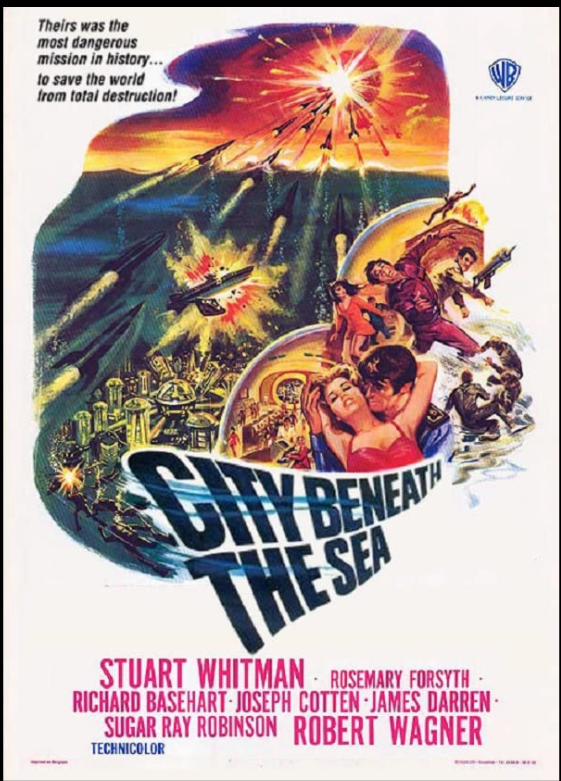 (12) TODAY'S BIRTHDAYS.
[Compiled by Cat Eldridge.]
Born January 25, 1905 — Margery Sharp. Her best remembered work is The Rescuers series which concerns a mouse by the name of Miss Bianca. They were later adapted in two Disney animated films, The Rescuers and The Rescuers Down Under. I'm reasonably sure I've seen the first one a very long time ago. Her genre novel, The Stone of Chastity, is according to her website, based on English folklore. Other than the first volume of The Rescuer series, she's not really available digitally though she is mostly in print in the dead tree format. (Died 1991.)
Born January 25, 1918 — King Donovan. Jack Belicec in the original and by far the best version of Invasion of the Body Snatchers. Thirty years later, he'd be Lunartini Husband in Nothing Lasts Forever, a SF comedy film with a contentious history. His only other genre appearance was a one-off on Night Gallery. (Died 1987.)
Born January 25, 1920 — Bruce Cassiday. Under two different pen names, Con Steffanson and Carson Bingham , he wrote three Flash Gordon novels (The Trap of Ming XII, The Witch Queen of Mongo and The War of the Cybernauts) and he also wrote several pieces of non-fiction worth noting, The Illustrated History of Science Fiction, co-written with Dieter Wuckel, and Modern Mystery, Fantasy and Science Fiction Writers. The latter done in '93 is rather out of date and out of print as well. Checking the usual suspects shows nothing's available by him for this genre though some of his pulp novels are available with appropriately lurid covers. (Died 2005.)
Born January 25, 1950 — Christopher Ryan, 72. He's played two different aliens on Doctor Who. First in the Sixth Doctor story, "Mindwarp", he was Kiv where he looked akin to Clayface from the animated Batman series. Second in the era of the Tenth Doctor ("The Sontarian Experiment" and "The Poison Sky") and the Eleventh Doctor ("The Pandorica Opens"), he was the Sontarian General Staal Commander Stark.
Born January 25, 1958 — Peter Watts, 64. Author of the most excellent Firefall series which I read and enjoyed immensely. I've not read the Rifters trilogy so would welcome opinions on it. And his Sunflower-linked short stories sound intriguing. He won a Hugo for Best Novelette at Aussiecon 4 for "The Island".
Born January 25, 1963 — Catherine Butler, 59. Butler's most important work is Four British fantasists : place and culture in the children's fantasies of Penelope Lively, Alan Garner, Diana Wynne Jones, and Susan Cooper. Another important work is Reading History in Children's Books, with Hallie O'Donovan. Her website is here.
Born January 25, 1973 — Geoff Johns, 49. Where to begin? Though he's done some work outside of DC, he is intrinsically linked to that company having working for them for twenty years. My favorite work by him is on Batman: Gotham Knights, Justice League of America #1–7 (2013) and 52 which I grant which was way overly ambitious but really fun. Oh, and I'd be remiss not to notehis decade long run on the Green Lantern books. He's the writer and producer on the most excellent Stargirl now streaming on HBO Max.
Born January 25, 1975 — Mia Kirshner, 47. She was Amanda Grayson in Star Trek: Discovery. Her first genre was in the really not great The Crow: City of Angels as Sarah Mohr. (I editorialize, it is what I do.) she had another run as Isobel Flemming in The Vampire Diaries and one-offs in The War of The Worlds, Dracula: The Series, Are You Afraid of the Dark? and Wolf Lake. She had a plum role in Defiance as Kenya Rosewater. 
(13) NOT JUST ANYBODY. Here they are! Screen Rant's choices as the "10 Most Nonsensical World Domination Plans In Movie History". Some of them have better musical accompaniments than others.
Help! (1965)

Given that this movie stars the Beatles and that it is intended as a comedy, it makes sense that its central world domination plan would be nonsensical.

However, even by that standard, the central plot strains the ability of the audience to make sense of anything of what is happening, much of which revolves around a seemingly magical ring. The fact that the movie moves along at a frantic pace makes its plot even more difficult to follow.
(14) SWORD & SORCERY'S ANCESTRY. At DMR Books, Brian Kunde chronicles his research into the life of Clifford Ball, Weird Tales contributor and probably the most obscure of the first wave of sword and sorcery writers: "Who Was Clifford Ball?"
…In this we are in a position similar to that of Shakespearean scholars, who on the basis of surviving records have also put together a threadbare sketch of an outer life while likewise failing to illuminate the inner man. As with them, our surest guides to our subject's inner life and interests remain those we started with—in Ball's case, his published works, together with what he and "W. C., Jr." set down in their letters and notes in Weird Tales. Having left no descendants, whatever else Ball might have left of a personal nature likely perished with him or his near heirs. The who we already had may have led us to a more complete picture of the life he lived, but how that life was reflected in his thoughts, hopes and dreams remains elusive….
(17) TROLL SIGHTINGS. Jim C. Hines has updated the "Jon Del Arroz's History of Trolling and Harassing" webpage: "Among other things, JDA had a friend take pictures of Tomlinson at ConFusion, which JDA posted for mockery." The screencaps are here.
(18) NEWBERY AT 100. In "The centennial of the Newbery Award: what publishers should do with older winners that don't hold up", Slate's Sara L. Schwebel and Jocelyn Van Tuyl challenge the award winners' status as canonical children's books.
…Many of us are increasingly aware that American childhoods can look very different from one another, varying with race and ethnicity, geographic location, economic status, and many other factors. This has always been true, of course, but until very recently, the imagined child reader was monolithic. So your favorite Newbery from childhood may now seem out of touch, hopelessly uncool. Worse yet, it may feature offensive viewpoints and stereotypes.

Some readers may reject older titles for their objectionable content. But some people feel that recent medal books threaten a long-cherished vision of a universal American childhood experience—a vision they still hold dear. This was the case recently when schools in Katy, Texas, retracted (then subsequently reinstated) an invitation for author Jerry Craft to speak. Craft's 2020 medal winner, New Kid, depicts a Black boy's first year in a predominantly white prep school, where he faces frequent microaggressions. Concerned that some readers might experience white guilt, agitators claimed the book ran afoul of Texas' ban on teaching critical race theory….

…The Newbery makes aspirationally high art for children into news.

This is what Newbery founder Frederic Melcher had in mind: Librarians' professional neutrality would keep prizing above the taint of commercialism, benefiting publishers' bottom lines and also, of course, children's minds and spirits. The prize was about building a junior American canon, books that cultivated readers and inspired the highest ideals of democratic citizenship in the nation's youth. But the result was a canon that is overwhelmingly white and often marked by a colonialist worldview. Today, the Newbery's mission increasingly encompasses an awareness of past failures to think about all children as future leaders….
(19) SLICE OF THE DAY. "Icelandic pizzeria nods to pagan tradition by serving sheep's head as special topping" – CBC explains it all to you. Photo at the link. (Which I plan to leave at the link.)
On a bed of arugula and carrot slices, an Icelandic pizzeria has laid out an unusual topping for their new, seasonal pizza: a sheep's head boiled in stout beer.

The head itself is laced with a smoked chili barbecue sauce that plays up the animal's flavour — more than when it's traditionally been served for Thorrablot, the midwinter food festival celebrating Iceland's pagan history.

And that's because the sauce includes another juicy ingredient — sheep dung.

"It's really delicious. I mean, it has to be tasted to be able to describe it," Laufey Sif Larusdottir, the owner of Olverk Pizza and Brewery in Hveragerdi told As It Happens host Carol Off.
(20) LUCY IN THE SKY WITH SAUSAGES. The Guardian has good news: "Stranded dog saved from rising tide after rescuers attach sausage to drone".
As the tide rose, it began to look perilous for Millie the jack russell-whippet cross, who had defied the efforts of police, firefighters and coastguards to pluck her from treacherous mudflats.

So the rescuers had to think imaginatively, and came up with the idea of attaching a sausage to a drone and hoping the scent of the treat would tempt Millie to safety. It worked gloriously and Millie has been reunited with her grateful owner after following the dangling sausage to higher, safer ground.

Millie disappeared after slipping her lead in Havant, Hampshire, and after frantic public appeals was spotted on the mudflats, in danger of being engulfed by the tide. She resisted efforts to encourage her to a safer spot until a drone pilot suggested attaching food to one of the unmanned aerial vehicles that had been used to track the dog….
(21) MYSTERY OF EARTH'S DIFFERENT MOON POSSIBLY SOLVED. [Item by SF Concatenation's Jonathan Cowie.] Massive Moon strike could explain why its near-side and far-side are so different. Even the minerals on the near and far side are different: why does not the far-side have the lava seas seen on the near-side? One theory has it that a huge object smashed into the early Moon; possibly its South Pole and the Aitken Basin. Whatever the impact researchers at Macau University have modelled what a huge impact would do. Back then the Moon would have had a thin crust and a molten interior. The impact would have punched through the crust and made the molten interior even hotter and more fluid. Gravitational influences from its orbit about the Earth – and remember, in its early days the Moon orbited closer to the Earth – would have caused a more fluid type of magma to migrate to the near side where it erupted onto the surface. Nature has the abstract: "Lunar compositional asymmetry explained by mantle overturn following the South Pole–Aitken impact".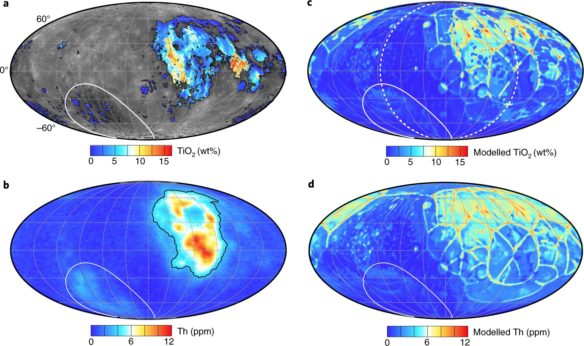 (22) VIDEO OF THE DAY. [Item by Martin Morse Wooster.] In "Harry Potter and the chamber of Secrets Pitch Meeting" on Screen Rant, Ryan George says that in the second Harry Potter movie, if you're wondering how the pipes surrounding Hogwarts could be big enough for a giant basilisk, hey, kids eat a lot!" Also, the producer wonders why Hogwarts has the Weeping Willow, which is "a tree that bludgeons kids to death."
[Thanks to John King Tarpinian, Andrew Porter, Michael Toman, Cora Buhlert, SF Concatenation's Jonathan Cowie, Cat Eldridge, Mike Kennedy, Martin Morse Wooster, and JJ for some of these stories. Title credit belongs to File 770 contributing editor of the day Steve Davidson.]