(1) FROM THE LIFE OF JMS. J. Michael Straczynski has released an unlocked Patreon post of a chapter he cut from his autobiography: "Chapter Cut from Bio: The Great Bible Battle". Here's his introduction:
As noted elsewhere, I cut a good chunk of material from my autobiography Becoming Superman because there was just too much stuff for one book and I didn't want to do this in two volumes. It was already almost too long.

This is actually one of the better, and in part most heartfelt chapters in the whole book, but it was also one that could be cut without damaging the structure of the book because it was for all intents and purposes unconnected from what came before and what followed. It also marks one the first times that something I'd done earned me death threats (yes, there were others).

So I present this to you, good patrons, seen here for the first time anywhere, ever.
(2) AWARD RETURNING. Submissions are being taken for the 2022 IAFA Imagining Indigenous Futurisms Award through December 1, 2022.
The IAFA Imagining Indigenous Futurisms Award recognizes emerging authors who use science fiction to address issues of Indigenous sovereignty and self-determination.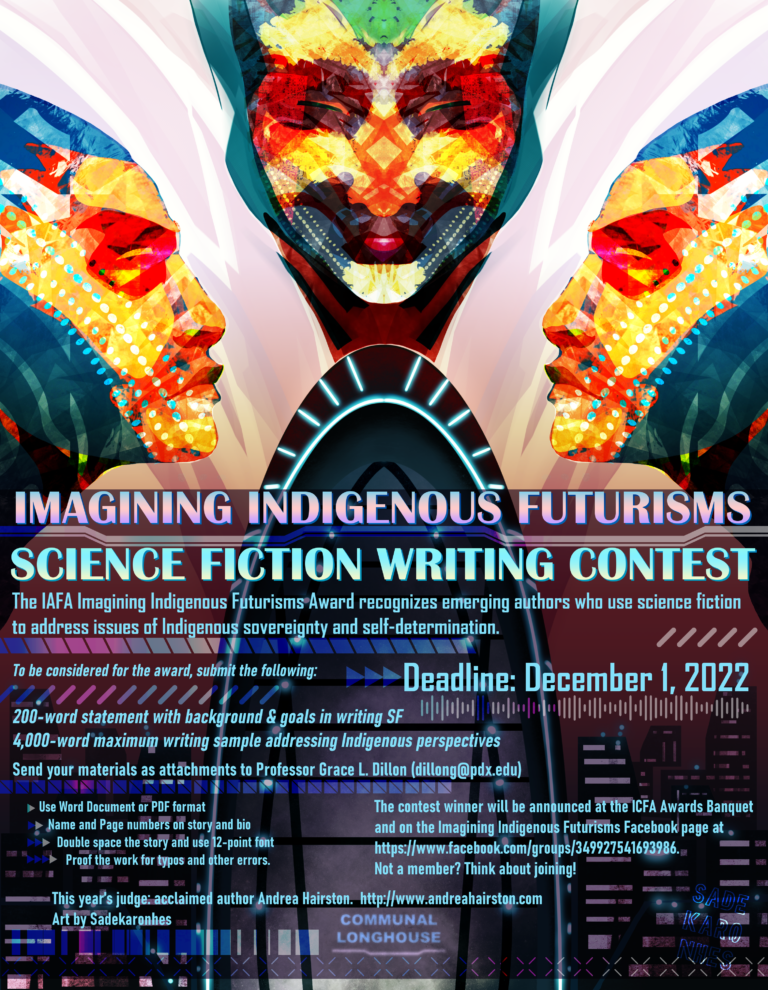 (3) AWARD FLAMBEAU. Serge Ecker's video takes you inside the foundry to witness the "Making of the European Science Fiction Award 2022 – LuxCon, the 2022 EuroCon". Molten metal and flames aplenty.
(4) LOVE IS BLUE. Somtow Sucharitkul is creating "Terrestrial Passions: a Regency Romance with Aliens" on Kindle Vella. The wry titles of the first four installments set the tone — "A Most Peculiar Frenchman", "Universally Acknowledged", "Dissuasion", and "Incense and Insensibility".
The widowed Mrs. Dorrit lives a marginal existence with her brother, a vicar, and twin daughters in a cottage on the estate of her wealthy cousin, Lord Chuzzlewit, in the West London village of Little Chiswick. As the season dawns and a rakish Earl takes up residence in the once-abandoned Flanders House nearby, their lives, and the marital prospects of Emma's daughters, become immeasurably complicated when a starship lands in her apple orchard. By World Fantasy Award winning author S.P. Somtow
Where did this art come from? Somtow says, "Hilarious cover created for my Vella Serial by an Austrian designer on Fiverr." No name given.
(5) VERTLIEB HONORED. Steve Vertlieb shared today that he has been honored "for his dedication and tireless activity to keep Miklos Rozsa's memory alive," by the Hungarian Hollywood Council. Congratulations, Steve!
(6) HOW KENTUCKY LEGISLATION WILL AFFECT LIBRARIES. "New Kentucky Law Hands Control of Libraries to Local Politicians" reports Publishers Weekly.
In a move that has alarmed library supporters, a new law in Kentucky will give politicians control over local library boards in the state. According to a report in the Lexington Herald Leader, SB 167—which came back from the dead last week with a dramatic veto override—will empower local politicians to "appoint whomever they want to library boards and block major library spending."

Last week, the bill appeared to be killed after Kentucky governor Andy Beshear vetoed it, and the Kentucky House of Representatives fell short of the necessary votes to override. But in a surprise maneuver, supporters of the bill were able to revive the bill for another override vote—and this time, four representatives who had not voted in the previous effort voted to override Beshear's veto, carrying the measure into law. The law is scheduled to take effect in January 2023.

According to the Lexington Herald Leader, Kentucky Republicans say the issue is "accountability," pointing out that most of Kentucky's public library boards can levy taxes and should therefore "answer to someone elected by voters." But critics say the bill is in fact a thinly veiled effort to "politicize" library boards, and give unprecedented control over library operations to politicians….
(7) CAN IT BE THEY DON'T LOVE US? Lise Andreasen sends "A warm hug to everybody who feels physical pain at 'it's not science fiction' and 'it's science fiction but'" in her roundup of critics' slighting comments about the sff genre in "They Bellow… Dune edition".
(8) MEDIA BIRTHDAY.
1955 — [Compiled by Cat Eldridge.] Sixty-seven years ago, George Pal's fourth genre film premiered. It was the Conquest of Space and it had two firsts, our first trip to Mars and our first space station, a marvel in itself. It was based off The Conquest of Space by Willy Ley and Chesley Bonestell. The former author has a crater on the far side of the moon named after him. Later in life he became a believer In cryptozoology. Ohhh well. (I've actually met Loren Coleman, the prime proponent of that fake science. Don't get me started on that subject.)
Ley and Bonestell would win an International Fantasy Award for the book. Bonestell would be recognized with Special Award for Beautiful and Scientifically Accurate Illustrations at DisCon II (1974). He later won a Hugo for Best Related Work for The Art of Chesley Bonestell at ConJosé (2002). He'd also pick up a Retro Hugo at Noreascon 4 (2004) for Best Professional Artist.
(Pal had hired Bonestall to the technical adviser on Destination Moon buthe bought the book's film rights at the urging of Ley.)
The screenplay was by James O'Hanlon from an adaptation by Barre Lyndon, Phil Yordan and George Worthing Yates. O'Hanlon had done the Destination Moon screenplay which won a Retro Hugo at the Millennium Philcon.
It was directed by Byron Haskin who is best remembered for directing The War of the Worlds, one of many films where he teamed with producer George Pal. Bonestell who is known for his photorealistic paintings of outer space, provided the film's space matte paintings.
So what did critics think about when it was released?
The Variety said of it that, "When Byron Haskin's direction has a chance at action and thrills they come over well, but most of the time the pacing is slowed by the talky script fashioned from the adaptation of the Chesley Bonestell-Willy Ley book by Philip Yordan, Barre Lyndon and George Worthington Yates."
The New York Times likewise liked it: "THERE is very little doubt about who should receive a generous amount of credit and praise for 'Conquest of Space,' yesterday's science-fiction entry at the Palace. They are the special effects artists, John P. Fulton, Irmin Roberts, Paul Lerpae, Ivyle Burks and Jan Domela. In telling the fanciful tale of man's first trip to Mars, they created top-flight effects such as 'the wheel,' a self-contained station orbiting about earth, rocket flights in space and a horrendous near-collision with an asteroid. These facets of the Paramount production—and fortunately they are many and frequent—are much to marvel at. But then there is a story. As plots go in this type of unearthly entertainment—and it is nothing more than broad, undemanding entertainment—it is not offensive."
Audience reviewers at Rotten Tomatoes do not like it at all giving at just a twenty percent rating. Damned if I know why this is so.
(9) TODAY'S BIRTHDAYS.
[Compiled by Cat Eldridge.]
Born April 20, 1908 — Donald Wandrei. Writer who had sixteen stories in Astounding Stories and fourteen stories in Weird Tales, plus a smattering elsewhere, all in the Twenties and Thirties. The Web of Easter Island is his only novel. He was the co-founder with August Derleth of Arkham House. He received the World Fantasy Award for Lifetime Achievement, and he's a member of First Fandom Hall of Fame. Only his "Raiders of The Universe" short story and his story in Famous Fantastic Mysteries (October 1939 issue) are available at the usual digital suspects. (Died 1987.)
Born April 20, 1937 — George Takei, 85. Hikaru Sulu on the original Trek. And yes, I know that Vonda McIntyre wouldn't coin the first name until a decade later in her Entropy Effect novel. Is it canon? Post-Trek, he would write Mirror Friend, Mirror Foe with Robert Asprin. By the way, I'm reasonably sure that his first genre roles were actually dubbing the English voices of Professor Kashiwagi of Rodan! The Flying Monster and the same of the Commander of Landing Craft of Godzilla Raids Again. Oh, and it won't surprise you he played Sulu again in the fan fic video Star Trek: Phase II episode, "World Enough and Time."
Born April 20, 1939 — Peter S. Beagle, 83. I've known him for about twenty years now I realize, met him but once in that time. He's quite charming. (I had dinner with him here once several years back. His former agent is not so charming.) My favorite works? A Fine and Private Place, The Folk of The Air, Tamsin, Summerlong and In Calabria. He won the Novelette Hugo at L.A. Con IV for "Two Hearts". And he has the World Fantasy Award for Lifetime Achievement. He is working on a new novel now I'm told by his editor Deborah Grabien, another friend of mine.
Born April 20, 1949 — Jessica Lange, 73. Her very first role was Dwan in the remake of King Kong. Later genre roles are Sandra Bloom Sr. in Big Fish, Katherine Pierson in Neverwas, and the amazing run of Constance Langdon / Elsa Mars / Fiona Goode / Sister Jude Martin in American Horror Story.
Born April 20, 1949 — John Ostrander, 73. Writer of comic books, including Grimjack, Suicide Squad and Star Wars: Legacy. Well those are the titles he most frequently gets noted for but I'll add in The Spectre, Martian Manhunter and the late Eighties Manhunter as well. His run on the Suicide Squad is available on the DC Universe app as is his absolutely amazing work on The Spectre.
Born April 20, 1951 — Louise Jameson, 71. Leela of the Sevateem, companion to the Fourth Doctor. Appeared in nine stories of which my favorite was "The Talons of Weng Chiang" which I reviewed over at Green Man. She segued from Dr. Who to The Omega Factor where she was in the regular cast as Dr. Anne Reynolds. These appear to her only meaningful genre roles. And she like so many Who performers has reprised her role for Big Finish.
Born April 20, 1964 — Sean A. Moore. He wrote three Conan pastiches, Conan the Hunter, Conan and the Grim Grey God and Conan and the Shaman's Curse. He also wrote the screenplay for Kull the Conqueror, and the novelization of it. All were published by Tor. He was active in Colorado fandom. He died in car crash in Boulder. (Died 1998.)
Born April 20, 1964 — Andy Serkis, 58. I will freely admit that the list of characters that he has helped create is amazing: Gollum in The Lord of the Rings films and The Hobbit: An Unexpected Journey, King Kong in that film, Caesar in the Planet of the Apes reboot series, Captain Haddock / Sir Francis Haddock in The Adventures of Tintin (great film that was), and even Supreme Leader Snoke in The Force Awakens and The Last Jedi. Last year, he portrayed the character of Baloo in his self-directed film, Mowgli: Legend of the Jungle. His readings of The Hobbit and The Lord of The Rings are truly amazing as well.
(10) COMICS SECTION.
Bizarro reports a shocking defection from a well-known superhero team.
(11) PANTHER CHOW. In the Washington Post, Emily Heil interviews Nyanyika Banda, author of The Official Wakanda Cookbook, who explains how they tried to come up with a cuisine that wasn't just pan-African but actually might have recipes that would come from that imaginary country. "Wakanda cookbook brings Black Panther food lore to life".
The fictional worlds spun in many TV shows, movies and video games can feel as real and as meaningful to fans as places with actual Zip codes. Think of Hogwarts, the magic-filled, honey-lit boarding school in the world of Harry Potter books and movies; the faraway galaxy of "Star Wars"; or even the lovably quirky small town of Stars Hollow in "Gilmore Girls."

Wakanda, the wealthy, technologically advanced, mountain-ringed land of the "Black Panther" comics and blockbuster 2018 movie, though, occupies an even more rarefied role. It's not just the setting for the action in a beloved franchise; it has become a symbol of African greatness, a mythical place that feels like an actual homeland to many people, and not just to comics geeks with posters of King T'Challa on their bedroom walls.

This week, the mythical country is seeing its culture expand with "The Official Wakanda Cookbook," a collection of recipes sanctioned by "Black Panther" publisher Marvel….

… Aside from the challenges posed by satisfying an avid fan base and respecting a cultural touchstone, Banda faced another, more practical task. Often, a cookbook author writing about a region of the world is concerned about staying true to the dishes, the ingredients, the people and the history of the land. But what does it mean to be faithful to something that doesn't actually exist?…
(12) JEOPARDY! Andrew Porter was tuned into Monday night's episode of Jeopardy! and watched as contestants drew blanks on several items about the fantasy genre:
Category: Fantasy Fiction

Answer: In George R.R. Martin's saga of Westeros, this blustery & bloody volume follows "A Game of Thrones" & "A Clash of Kings"

No one could ask, What is "A Storm of Swords?"

***

Answer: Set in ancient China, "A Hero Born" by Jin Yong takes place in a world where this martial art is practiced magically.

Wrong question What is Karate?

Right question: What is Kung-Fu?

***

Answer: Victor LaValle's "The Changeling" tells the tale of a human baby switched at birth with one of these Nordic creatures.

No one could ask, What is troll?
(13) FUTURE IS NOW FOR SJW CREDENTIALS. [Item by Martin Morse Wooster.] In the Washington Post, Maria Luisa Paul discusses ViaGen Pets, which will clone your dead cat for $25,000. But while the clone may look like the original cat, it won't have the personality of the original feline. "A woman cloned her pet after it died. But it's not a copycat."
… When the beloved 5-year-old cat died in 2017, there was nothing her owner, Kelly Anderson, could do — or so she thought.

Chai's body had not yet turned cold when Anderson remembered a conversation with her roommate about the Texas-based ViaGen Pets, one of just a few companies worldwide that clones pets. The next morning, she called them.

Some $25,000 and five years later, Anderson — a 32-year-old dog trainer from Austin — has a 6-month-old carbon copy of Chai curled up in her lap. Belle is nearly identical to Chai, down to her deep-blue eyes and fluffy white coat. The two cats share a couple of quirks, like sleeping with their bodies stretched out against Anderson's back. But that's where the similarities end, Anderson said….
(14) PUTTING IT ALL TOGETHER. What could be more wholesome? Mecha Builders is coming from the makers of Sesame Street.
Catch a sneak peek of an all-new series from Sesame Street in this official Mecha Builders Trailer! Together Elmo, Cookie Monster, and Abby are the Mecha Builders! The Mecha Builders are always ready to save the day, and while they may not get it right the first time, they won't give up until they do! There's no problem too big or too small for this super team to solve … all before snack time. New series coming to Cartoonito! Watch on Cartoon Network May 9th and stream the next day on HBO Max!
(15) SUMMERTIME, AND THE CONCATENATING IS EASY. [Item by SF Concatenation's Jonathan Cowie.] The SF² Concatenation summer* edition is now up, which is a few days later than usual so as to capture news announced over Easter. This edition has its full news page, articles and convention reports, including: Film News; Television News; Publishing News; General Science News and Forthcoming SF Books from major imprints for the season, among much else. Plus there is a tranche of stand-alone book reviews. Something for everyone.
* 'Summer' season here being the northern hemisphere, academic year summer.
v32(3) 2022.4.20 — New Columns & Articles for the Summer 2022
v32(2) 2022.4.20 — Science Fiction & Fantasy Book Reviews
v32(3) 2022.4.20 — Non-Fiction SF & Science Fact Book Reviews
(16) E.T. FAMILY REUNION. Dee Wallace played Drew Barrymore's mom in the iconic film E.T. almost 40 years ago. They will be reuniting at the 40th Anniversary screening of E.T. the Extra-Terrestrial on Opening Night of the: 2022 TCM Classic Festival. And Wallace got a head start by appearing on Drew's TV show. Yahoo! has the story: "Drew Barrymore Reunites with E.T. Onscreen Mom Dee Wallace Ahead of Film's 40th Anniversary".
Drew Barrymore is taking fans on a trip down memory lane.

The Golden Globe winner, 47, reunited with Dee Wallace, who played her mother in 1982's E.T. the Extra-Terrestrial, as they reminisced about the film ahead of its 40th anniversary Monday on The Drew Barrymore Show.

"That was the first day on the set and I'm sitting in this really high director's chair," Wallace, 73, recalled of a photo of the two of them. "And Drew comes up to me and she says, 'Hi, I'm going to sit on your lap now.' And I said, 'Well, come on up Drew.'"

"I mean, I knew you were going to be a director/producer back then," she told Barrymore.

Barrymore raved about how "sexy" Wallace looked in the cheetah costume her character wore for the Halloween scene. "I still fit in it too," Wallace proclaimed….
(17) VIDEO OF THE DAY. Neil deGrasse Tyson was on Colbert last night to talk about his new book Welcome To The Universe In 3D. "Aliens May Have Been Watching Earth's TV Shows For The Last 80 Years – Neil deGrasse Tyson".
[Thanks to Michael Toman, Cat Eldridge, Chris Barkley, Rob Thornton, Michael J. Walsh, Mike Kennedy, Martin Morse Wooster, JJ, John King Tarpinian, and Andrew Porter for some of these stories. Title credit belongs to File 770 contributing editor of the day Daniel Dern.]