(1) THEY COULD HAVE BEEN CONTENDERS. Rich Horton has "Hugo Nomination Recommendations, 1959", which he says is the next-to-last in the series.
…I have cited Jo Walton's excellent Informal History of the Hugos before, and in that book you can find Jo's comments on the short lists, her choices for the winners, and comments by a variety of people (myself included) discussing the stories and often offering additional possible nominees or winners. I'll list Jo's choices below, along with Richard Lupoff's short fiction selection from What If, Volume 1. And for the years from 1960 on, I'll leave the field to Jo! (After all, my thoughts are generally recorded in her book anyway.) I've decided to go ahead and make one additional post for stories from 1959, for two reasons: one, to round out the decade of the 1950s by story publication year, not just Worldcon year; and, two, because I was born in 1959….
(2) SUGGESTED INFLUENCES. Phil Christman has an "Interview With Adam Roberts" in his newsletter The Tourist.
…As a British Gen X-er, you were a child during an era of televised fantastika that strikes me (if maybe only me, and a handful of bloggers who use the word "hauntology" a lot) as uniquely rich. I'm thinking of the later Nigel Kneale, or of things like The Owl Service, Sapphire and Steele, and Children of the Stones, not to mention some of the stronger seasons of "Doctor Who," and even "The Tomorrow People" (laughable as it often is). Was this an influence on you? I'm wondering partly because these shows do "haunted suburb" scenes really well, and that's true of some of your work—though I suppose that could all just be the influence of Ballard.

I read Owl Service, and indeed all of Alan Garner (my Dad was at Manchester Grammar School with Garner—I mean, he wasn't a family friend or anything, but going back to visit relatives meant wandering around Alderley Edge and so on which added a frisson to my reading of Weirdstone of Brisingamen) … although I never saw the TV version. But I did watch Sapphire and Steele, Tomorrow People—maybe if I rewatched that one I'd find it laughable, but I certainly didn't at the time—and of course Doctor Who. But also US shows like The Time Tunnel and Star Trek. TOS Trek is intensely suburban, I think: the bridge of the USS Enterprise is a comfortable suburban living room with a big comfy chair for the 'Dad' to sit as he watches the universe come to him via his gigantic TV screen. So much of Trek is a manifestation of the comfortable life, surrounded by labour-saving devices, demure women to attend you like suburban wives and so on.

I never watched what are, now, some of the classic shows—the Patrick Goohan Prisoner series for instance was before my time, I only saw when I was properly grown up, by which time it was basically a period piece. But two shows nobody talks about any more made a big impact upon me: Greatorex's 1990, and Terry Nation's Survivors. I also remember the last of the Quatermass series, with John Mills as an elderly Quatermass: I hadn't seen, and frankly had no idea about, the earlier Quatermass shows, but that 1979 drama worked strangely and powerfully upon my teenage imagination….
(3) INTERNATIONAL SHORT FICTION. InterNova edited by Michael K. Iwoleit is an international SF zine with fiction in English. It's an offshoot of the German SF zine Nova. The current online issue is here: July 2022 – InterNova.
InterNova is intended be a showcase of contemporary SF writing in all those countries and regions that are generally neglected by the Anglo-American centered sf markets. American and British writers will not be excluded but the main intention is to feature stories and essays by writers who are rarely published outside of their home countries. We will try to be as international as possible, advancing our editorial work into countries and areas that are rarely associated with Science Fiction.

To make InterNova available for readers in as many countries as possible this e-zine is published in English which has become the lingua franca of the international SF community. It is planned, however, to later include some stories in the original languages, especially in Spanish, but also in French and German.
(4) WRITING VIDEO GAME MUSIC. [Item by Martin Morse Wooster.] In the Financial Times behind a paywall, Tom Faber discusses video game music and interviews Austin Wintory, whose music for Journey earned him a BAFTA Award. On August 1, the BBC Proms held their first concert devoted to video game music.
Wintory's first step is to analyse the gameplay and map out the 'spider web of possibilities' of player behaviour. In his score for Assassin's Creed Syndicate, an open-world adventure game, he accommodated not only whether a player was fighting or exploring, but also which part of the Victorian London setting they were in, writing musical themes inspired by boroughs such as Whitechapel and Westminster which played as they crossed those particular rooftops. There would be alternate versions of the score with additional instruments and vocal layers, depending on whether it was day or night on the in-game clock, whether the player had completed specific missions and even which of the game's two protagonists they were controlling at the time.

What makes one game soundtrack rise above the rest in popularity? It could be the nostalgia factor, or the marriage of a memorable gameplay moment with the perfect musical accompaniment. Wintory suspects that it might be the undeniable appeal of a great melody. "Humans are fundamentally melodic instruments," he says. "We can't strum a chord with our vocal cords or simulate a choir on our own. We sing one note at the time, so it's not a shock that the music we hold on to is the stuff we can sing back. Melody has always been the thing that united the classics."
(5) THEY'VE GOT IT GOING ON. Episode 2 of the If This Goes On (Don't Panic) podcast is "Priuses of the Apocolypse with Tobias Buckell".
If This Goes On (Don't Panic) is a podcast about hope and resistance in Science Fiction and Fantasy. Cohosts Alan Bailey, Cat Rambo, Diane Morrison, and Graeme Barber interview a diverse breadth of writers, editors, activists, gamers, and various other members of the Science Fiction and Fantasy community.
(6) CENSORSHIP PROCEEDINGS. Publishers Weekly reports on Virginia litigation that could affect the availability in the state of Gender Queer by Maia Kobabe and A Court of Mist and Fury by bestselling author Sarah J. Maas: "With Hearing Set, Court Urged to Dismiss Closely Watched Virginia Obscenity Lawsuits".
A Virginia state judge has set an August 30 hearing to consider two lawsuits that, if successful, would cause two popular books to be pulled from bookshelves across the state, alleging they are "obscene" under an obscure state law.

First filed in May by lawyer and Republican Virginia assembly delegate Tim Anderson on behalf of plaintiff and Republican congressional candidate Tommy Altman, the suits allege that the graphic memoir Gender Queer by Maia Kobabe and A Court of Mist and Fury by bestselling author Sarah J. Maas—are "obscene for unrestricted viewing by minors." On May 18, judge Pamela Baskervill (a retired judge hearing the case by designation after all the sitting judges in the circuit disqualified themselves) found there was "probable cause" and ordered the defendants to answer the charges.

While the two lawsuits have not been officially consolidated, the court will consider the fate of both cases at the single hearing, noting their "overlap." According to a June 30 order, the hearing will focus on motions, which, if granted, "would result in dismissal of the suits." Lawyers for the authors and publisher defendants as well as bookseller Barnes & Noble filed motions to dismiss the suits late last month. Reply briefs from the plaintiffs are due August 9, with final replies due from the defendants on August 16….
(7) LOCAL LIBRARY DEFUNDED. The Guardian reports Gender Queer is also under attack in a Michigan town: "US library defunded after refusing to censor LGBTQ authors: 'We will not ban the books'".
A small-town library is at risk of shutting down after residents of Jamestown, Michigan, voted to defund it rather than tolerate certain LGBTQ+-themed books.

Residents voted on Tuesday to block a renewal of funds tied to property taxes, Bridge Michigan reported.

The vote leaves the library with funds through the first quarter of next year. Once a reserve fund is used up, it would be forced to close, Larry Walton, the library board's president, told Bridge Michigan – harming not just readers but the community at large. Beyond books, residents visit the library for its wifi, he said, and it houses the very room where the vote took place.

…The controversy in Jamestown began with a complaint about a memoir by a nonbinary writer, but it soon spiraled into a campaign against Patmos Library itself. After a parent complained about Gender Queer: a Memoir, by Maia Kobabe, a graphic novel about the author's experience coming out as nonbinary, dozens showed up at library board meetings, demanding the institution drop the book. (The book, which includes depictions of sex, was in the adult section of the library.) Complaints began to target other books with LGBTQ+ themes.
(8) IT'S ALL IN YOUR HEAD. Nina Nasseth looks at how horror movies manipulate your brain. "This is Your Brain On Horror" at CrimeReads.
…When we look at what gives any good horror movie its true horror vibe, we end up with two distinct elements: terror and horror. We often use these terms interchangeably, but they are very different. Terror is where tension lives. It's that awful, creepy-crawly feeling, the anxiety and anticipation that builds toward a horrifying event or realization— basically, it's the heebie-jeebies. Horror is how we react once that event actually occurs. We can thank Ann Radcliffe, mother of Gothic literature, for those definitions….
(9) UHURA FILK. [Item by Jennifer Hawthorne.] With the sad news of Nichelle Nichols' passing earlier this week, I kept thinking about this great filksong "Uhura" I heard decades ago by Joey Shoji, a Hawaiian-style love crooner for the Communications Officer of the Enterprise NCC-1701. It occurred to me, belatedly, to see if the song had been uploaded to the Internet. Turns out, it has, although the quality is a little iffy. It's the lead-in song in the following video. I thought it might be a nice tribute.
(10) MEMORY LANE.
1988 – [By Cat Eldridge.] In 1988 during the American fall television season was hampered by a writers' strike that prevented the writing of any new scripts. Producers, anxious to provide new series for viewers but with the prospect of a lengthy strike, went into the archives for previously written material. And the Powers That Be decided a new Mission Impossible series would be a good idea.
Now the only actor from the original series that ran from 1966 to 1973 (and which is streaming on Paramount+ though this one is not, odd that) who would end being involved in his series would be Peter Graves who once again is playing Jim Phelps. That might be because the Powers That Be decided to film it in Australia and a lot of actors did decline to disrupt their live by relocating there. The first season was in Queensland before moving to Melbourne.
The only other regular cast member (of course completely unseen) to return for every episode was the voice of "The Tape" (in this series, "The Disc") in the form of Bob Johnson. I'm assuming his bit was voiced back in the States.
The rest of the cast was of course mostly Australian. Nicholas Black, portrayed by Thaao Penghlis, was an actor, master of makeup/disguise, visual effects, voice impersonation, mimicry. He was there for all thirty episodes. Max Harte who played Tony Hamilton, an expert in strength, acting, role playing and marksmanship.
Now we get a connection to the first series — Grant Collier, played by Phil Morris who's the son of Greg Morris, was the computer expert here. And obviously he's American.
We had two women, who each did one season and were described as femme fatales in the press releases at the time. Terry Markwell played Casey Randall for the first season and Jane Badler played Shannon Reed, an ex-Secret Service agent, for the second season. She's actually Australian-American and is best remembered for her role as Diana, the main antagonist on V.
So how were the stories? I liked them a lot. They were more sophisticated in their use of SFX than the earlier series was but that was to be expected, say in "The Devils" where they investigated a member of the English gentry, and involves various officials in Satanic rituals and human sacrifice for blackmail purposes: they are available to make the eyes of Phelps and one other member glow very convincingly and they leave burning cloven hoofs as they leave the room.
Some scripts are reworked ones that were done during the original series. Some like "The Banshee" were from what we could call the slush pile as they never got used.
To my knowledge as I said, it's not streaming anywhere, but it on DVD fir quite reasonable prices. I got mine off eBay.
(11) TODAY'S BIRTHDAYS.
[Compiled by Cat Eldridge.]
Born August 6, 1874 — Charles Fort. Writer and researcher who specialized in anomalous phenomena. The term fortean is sometimes used to characterize such phenomena. No, not genre as such, but certainly an influence on many a writer. The Dover publication, The Complete Books of Charles Fort, that collects together The Book of The Damned and Lo!, Wild Talents and New Lands has a foreword by Damon Knight. L. Sprague de Camp reviewed it in Astounding Science-Fiction in the August 1941 issue when it was originally published as The Books of Charles Fort. (Died 1932.)
Born August 6, 1877 — John Ulrich Giesy. He was one of the early writers in the Sword and Planet genre, with his Jason Croft series. He collaborated with Junius B. Smith on many of his stories though not these which others would call them scientific romances. He wrote a large number of stories featuring the occult detective Abdul Omar aka Semi-Dual and those were written with Smith. I see Apple Books has at least all of the former and one of the latter available. Kindle just has the latter. (Died 1947.)
Born August 6, 1911 — Lucille Ball. She became the first woman to run a major television studio, Desilu Productions, which is where Star Trek was produced. Her support of the series kept it from being terminated by the financial backers even after it went way over budget in the first pilot. (Died 1989.)
Born August 6, 1926 — Janet Asimov. Wife of Isaac Asimov. Author of some half dozen novels and a fair amount of short fiction on her own, mostly as J.O. Jeppson; co-author with Isaac of the Norby Chronicles. Her memoir, Notes for a Memoir: On Isaac Asimov, Life, and Writing, came out sixteen years ago. (Died 2019.)
Born August 6, 1956 — Ian R. MacLeod, 66. Another author I need to read more of. I've read the first two in what's called the Aether Universe series, The Light Ages and The House of Storms, but there's a number of novels I'm intrigued by including Song of Time and The Great Wheel. Anything else y'all would recommend I read? 
Born August 6, 1960 — Leland Orser, 62. If you look closely, you'll spot him in Escape from L.A. as Test Tube and in Independence Day in the dual roles of the Day Tech and a Medical Assistant.  He's in Daredevil as Wesley Owen Welch, Kingpin's right-hand man. And someone at Trek casting liked him as he was on Deep Space Nine, Voyager and Enterprise. All different roles. 
Born August 6, 1962 — Michelle Yeoh, 60. Ok, I have to give her full name of Yang Berbahagia Tan Sri Dato' Seri Michelle Yeoh Choo-Kheng. Her first meaningful genre roles was as Wai Lin in Tomorrow Never Dies and Yu Shu Lien in Crouching Tiger, Hidden Dragon. I actually remember her as Zi Yuan in The Mummy: Tomb of the Dragon Emperor, the first film of a since cancelled franchise. And then there's her dual roles in the Trek universe where she's Captain Philippa Georgiou and Emperor Philippa Georgiou. A deliciously twisted role. Roles? The forthcoming Section 31 series will involve one of them but I'm not sure which one… or maybe both… Michelle Yeoh is Evelyn Wang in Everything Everywhere All at Once, a role that Filers now are thinking about for their Hugo ballot. 
(12) COMICS SECTION.
Tom Gauld shows a proofreading machine. It works alarmingly like the File 770 comments section.
(13) POTTERING AROUND. Ranker's Saim Cheeda presents "Things You Didn't Know About Wizarding Professions". First on the list:
1. Curse-Breakers Dig Up Gold And Magical Artifacts

The nature of Bill Weasley's job isn't too clear in the novels apart from his status as a curse-breaker for Gringotts Bank. Curse-breakers are specialized roles in which the witch or wizard needs to raid places like tombs and pyramids to find gold and magical artifacts for Gringotts to procure.

Curse-breakers make sure that the protective enchantments and curses around ancient locations are removed to ensure the safety of everyone involved. It's a dangerous but thrilling job, and Bill Weasley's distinguished O.W.L. and N.E.W.T. scores are the reason he managed to become a curse-breaker.
(14) A VISIT TO LA-LA-LAND. Ed Brubaker talks to CrimeReads about his graphic novel about Ethan Reckless. "Exploring a Reckless Vision of Los Angeles, with Ed Brubaker".
…"One of my favorite things about comics, graphic novels, whatever you want to call them, is that it costs the same to do a period piece (or a sci-fi) as it does to do something that takes place in modern times. It's just about research and trying to get it right. For the Reckless books, I've been trying to recreate my kind of 'dream LA' from my childhood," Brubaker said. "I didn't grow up in Los Angeles, but we visited it a lot in the 70s and 80s, and I was always Hollywood obsessed, because my uncle was a once-famous screenwriter—he wrote Crossfire, On the Beach, and The Wild One, among many others. So in making these books, I'm also trying to showcase forgotten or lost places in LA that meant something to me growing up. Like pieces of the LA punk scene, or cool old restaurants, or the way Venice used to feel—cheaper and more dangerous, but with lots more roller skaters."…
(15) THEY STEPPED ON SUPERMAN'S CAPE. Last weekend's box office had a leader you may not have heard about yet because it's only been released in China so far: "Chinese sci-fi movie 'Moon Man' becomes biggest movie in the world after $129 million weekend".
The Chinese sci-fi movie "Moon Man" outshined all others at the global box office over the weekend.

The film grossed $129 million over the weekend, according to Comscore, and that's only from the Chinese market. DC's animated movie "League of Super Pets," which follows the adventures of Superman's dog, lagged behind at $41 million internationally.

"Moon Man" follows the story of an astronaut stranded on the moon who believes he's the last human alive after witnessing an asteroid crashing into Earth.

The film is directed by Zhang Chiyu ("Never Say Die") and produced by the studio Mahua FunAge ("Hello Mrs Money").

Before its premiere on July 29, "Moon Man" had over 1.4 million fans rating the movie as "want to see" on Chinese film tracking platforms. It has since gone on to score a 9.4 and 9.5 out of 10 on film sites Maoyan and Taopiaopiao, respectively, according to Variety.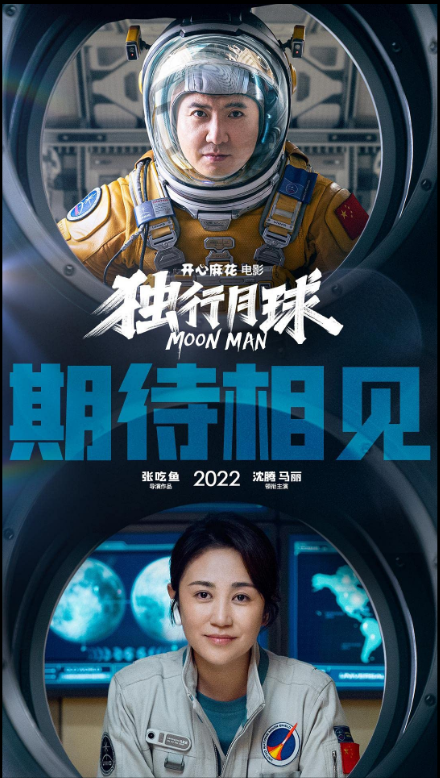 (16) NEW EDITION OF GADALLAH FAVORITE. The Legend of Sarah by Alberta author Leslie Gadallah, a classic Canadian science fiction novel originally published as The Loremasters by Del Rey Books in 1988, is now available in a new, revised edition from Shadowpaw Press.
At fourteen, Sarah is an accomplished pickpocket who knows all the back streets and boltholes of the town of Monn. She steers clear of Brother Parker and his Church of True Faith, knows better than to enter the Inn of The Honest Keeper, and avoids the attentions of Butch, the Miller's son, as best she can.

The one bright spot in Sarah's day is listening to the storyteller's tales of the magically easy lives of the Old People—and if, as darkness falls, one of the wealthier listeners happens to be so intent on the storyteller's voice that he becomes careless of his own purse, well, so much the better. Inspired by the storyteller's narratives, Sarah often imagines her own life as the stuff of legend for some future troubadour.

But even such daydreams can't prepare her for becoming embroiled with a witchy Phile—an agent of the devil, come in search of the Old People's hidden secrets. How could Sarah have known that picking the wrong pocket would strand her in the middle of a power struggle among Brother Parker, the Governor, and the encroaching Phile spies?
Leslie Gadallah grew up in Alberta and is currently living in Lethbridge with her geriatric black cat, Spook. Educated as a chemist, she has worked in analytical, agricultural, biological, and clinical chemistry. She has written popular science for newspapers and radio, has served as a technical editor, and is the author of four SF novels and a number of short stories.
The Legend of Sarah can be bought directly from the publisher or from most online bookstores. This handy URL provides links to multiple online sources: https://books2read.com/thelegendofsarah
(17) THUMBS UP AND DOWN. [Item by Martin Morse Wooster.] This video where Patton Oswalt discusses his picks for the five best and five worst sf films for GQ dropped Wednesday. Independence Day is on the bottom. "Patton Oswalt Critiques Sci-Fi Films (Top 5 & Bottom 5)".
(18) VIDEO OF THE DAY. Gizmodo declares "Weird Al's 'Scarif Beach Party' Is a Star Wars Summer Bop". It's from LEGO Star Wars: Summer Vacation which premieres August 5 on Disney+.
We knew that "Weird Al" Yankovic wouldn't just be appearing in the Lego Star Wars Summer Vacation special, but singing an entirely new song for it. And now that the special has arrived on Disney+ today, the full song has been released as well, and frankly? It rules.
[Thanks to Mike Kennedy, Martin Morse Wooster, JJ, John King Tarpinian, Jennifer Hawthorne, Andrew Porter, Chris Barkley, Michael Toman, and Cat Eldridge for some of these stories. Title credit belongs to File 770 contributing editor of the day Arby'sMom.]