(1) THE LIBRARY OF RAY'S YOUTH. "Work begins on renovation of Carnegie Library building" in Waukegan, IL reports the Chicago Tribune in a paywalled story.
Janet Kilkelly, the president of the Waukegan Park District's Board of Commissioners and the city clerk, remembers spending time in her youth at the Carnegie Library, built in 1903 at the northeast corner of Washington Street and Sheridan Road.

"The children's room was there," Kilkelly said, pointing to the room to the left as people walk in the door thinking about how it will soon be the home of the Waukegan History Museum. "It was a magical place. I like books. This was nirvana."

Kilkelly led a group of federal, state and local officials at the groundbreaking ceremony Tuesday in front of the Carnegie as a prelude to the start of construction for the renovation of the former library into the permanent home of the museum.

…"It will be a chance for them to learn about the history of Waukegan," Kilkelly said. "Perhaps one of them will be inspired like the young Ray Bradbury when he spent his days here," she added, referring to the Waukegan native and world-renowned author.

Ty Rohrer, the Park District's manager of cultural affairs, the chair of the city's Historic Preservation Commission and a historian by profession, said the onetime children's reading room will be redone to look as it did in Bradbury's youth.

When complete, Rohrer said the room will contain the collection of papers, books and other memorabilia Bradbury willed to the Waukegan Public Library. The collection will be there on a long-term loan from the library to the museum….
(2) SPOILERY DOCTOR WHO NEWS. Don't even hover your cursor over the link to Deadline's coverage of Jodie Whittaker's last Doctor Who episode if you want to preserve all surprises til you can view it yourself. On the other hand, if you want to know what happened, click through.
(3) CORFLU AWARDS. Corflu today adopted Tom Becker's proposal that fwa, the "fan writers of America", be changed to mean "fan writers association", with the proviso that "writer" stands in for any creative fannish endeavor. Subsequently, Claire Brialey was elected "past president of fwa" for 2021.
Also, Geri Sullivan was presented with the Lifetime Achievement Award.
(4) IRISH NATIONAL SF CON COVID REPORT. [Item by Edmund Schluessel.] Octocon 2022 returned to in-person in its new venue of Croke Park, Dublin and, with 283 warm bodies present, reports NO cases of COVID-19 one week after the convention wrapped.
Octocon had a policy of mandatory masks (exemptions were available) and requested all in-person members take self-tests before attending.
From the post-Octocon edition of the members' newsletter: "Thank you to everyone for complying with our mask requirements. We would like to remind people to let us know if they have tested positive following Octocon, either by using our #covid-safety channel on Discord, which has a ticketing bot to create a private message thread visible only to the committee, or by contacting [email protected]. We're happy to report that we've had no reports of positive tests so far."
(5) FINLAY ART OFFERED. Doug Ellis has been asked to raise some money quickly for Virgil Finlay's granddaughter, Brien, and so rather than putting together his usual type of catalog, Ellis has taken pictures of 42 pieces of Finlay art that have not appeared in any of his catalogs and posted the images here on Dropbox.
All of this art is on consignment from Brien. All of the files have an identifying number in the image together with the price, and that info also is included in the file name (except for the one Word file, which contains info on the size of each piece). The prices do NOT include shipping.
If you'd like to purchase any of these, please email Doug Ellis at [email protected]
(6) FLY FREE. The SFWA Blog series "The Indie Files" continues with Anthony W. Eichenlaub's advice about "An Indie Approach to Series".
…Fixing a Series After Publication

You've crunched the numbers. Readers who get through the second book in your series tend to read every book after that. You expect a dropoff from the first to the second, but the numbers are terrible, and you know why:

The first book isn't good.

You've grown as a writer, and now that book's flaws are painfully obvious. The later books in your series are fantastic. Reviews are great. People who get that far are turning into your best fans. The problem is that most of them just aren't getting that far.

A traditionally published author would likely be stuck. They could either work on a new series or, if their publisher allowed it, continue to crank out books hoping to overcome the weak start with rave reviews for later entries.

An indie author has the power to fix a bad Book 1. You can go in and tweak a few things, send it through another round of edits, or even in extreme circumstances, give it a complete rewrite. You can make the imperfect first book a prequel or even remove it entirely, promoting Book 2 to the first spot….
(7) JUSTIN E.A. BUSCH DIES. [Item by George Phillies.] Justin Edwin Anton Busch, editor of the N3F zine Films Fantastic and monthly fanzine review column "Fanfaronade", died peacefully in his sleep in the early evening of Friday, October 21, 2022. His death, while untimely, was not unexpected.
Justin E. A. Busch, a long-time fan from St. Paul, Minnesota authored the nonfiction work The Utopian Vision of H.G. Wells, published by McFarland Company in 2009.
(8) MEMORY LANE.
1962 — [By Cat Eldridge.] Bradbury wrote one of the shortest opening narrations that Serling gave in the series:
They make a fairly convincing pitch here. It doesn't seem possible, though, to find a woman who must be ten times better than mother in order to seem half as good, except, of course, in the Twilight Zone. — "I Sing the Body Electric"
Though I didn't know that Bradbury had a script produced for the one and true Twilight Zone, it doesn't at all surprise me that he did. I had assumed Serling wrote all of the episodes. Not true as it turns out, to my delight, as we get the "I Sing the Body Electric". It is said that he contributed several scripts to The Twilight Zone, but this was the only one produced. He certainly was no stranger to tv script writing with five scripts for the Alfred Hitchcock Presents series alone.
This would air as the thirtieth-fifth episode of the third season on May 18, 1962. This was one of six Twilight Zones episodes directed by James Sheldon and his co-director William Clazton who did four.
LOOK, GO EAT A CANDY APPLE FOR A MINUTE PLEASE.
Just three words this time— sweet robotic grandmothers. Ok, a few more. My god, this episode drips with cloyness, it does. A recent widower, needing care for his three young children, orders a robotic "grandmother". Two of the children accept her, but one of his daughters adamantly rejects her, with what might be near fatal consequences.
DID YOU ENJOY THAT CANDY APPLE?
You can see it on Paramount +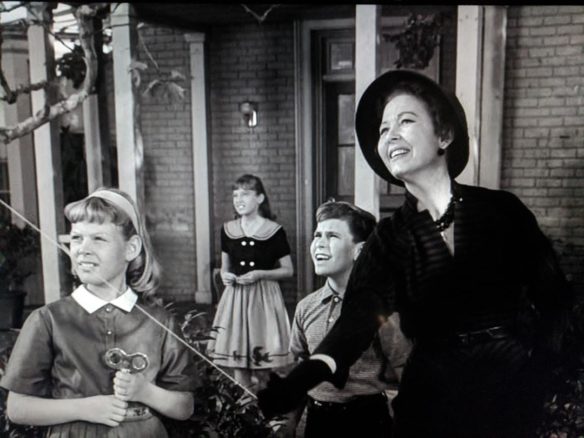 (9) TODAY'S BIRTHDAYS.
[Compiled by Cat Eldridge.]
Born October 23, 1880 — Una O'Connor. Actress who appeared in the 1930s The Invisible Man as Jenny Hall. She had a bit part in Bride of Frankenstein, and a supporting role in the genre-adjacent The Adventures of Robin Hood. Though not even genre adjacent, she was Mrs. Peters in the film adaptation of Graham Greene's Stamboul. Great novel, I'll need to see if I can find this film. She's in The Canterville Ghost, and shows up twice in TV's Tales of Tomorrow anthology series. And that's it. (Died 1959.)
Born October 23, 1918 — James Daly. He was Mr. Flint in Trek's "Requiem for Methuselah" episode. He also showed up on The Twilight Zone, Mission:Impossible and The Invaders. He was Honorious in The Planet of The Apes, and Dr. Redding in The Resurrection of Zachary Wheeler.  (Died 1978.)
Born October 23, 1935 — Bruce Mars, 87. Here for his most excellent role on Star Trek in the "Shore Leave" episode as Finnegan. Earlier he had been brought in to audition for the role of Junior Navigations Officer Dave Bailey in episode "The Corbomite Maneuver" but someone else got that part, but he did come back for a part in "Assignment Earth" where he was listed as First Policeman.  He had one-offs in Time Tunnel, Voyage to the Bottom of the Sea and Mission: Impossible. He is now Brother Paramananda with the Self-Realization Fellowship in Los Angeles which he joined shortly after ending his acting career in 1969. 
Born October 23, 1948 — Brian Catling. Author of The Vorrh trilogy whose first novel, The Vorrh, has an introduction by Alan Moore. Writing was just one facet of his work life as he was a sculptor, poet, novelist, film maker and performance. And artist. Impressively he held Professor of Fine Art at the [John] Ruskin School of Drawing and Fine Art in Oxford and was a fellow of Linacre College. Yeah that John Ruskin. (Died 2022.)
Born October 23, 1953 — Ira Steven Behr, 69. Best remembered for his work on the Trek franchise, particularly Star Trek: Deep Space Nine, on which he served as showrunner and executive producer. As writer and or producer, he has been in involved in Beyond Reality, Dark Angel, The Twilight Zone, The 4400, Alphas, and Outlander. 
Born October 23, 1959 — Sam Raimi, 63. Responsible for, and this is not a complete listing, the Darkman franchise, M.A.N.T.I.S., the Jack of All Trades series that Kage loved, the Cleopatra 2525 series, Hercules: The Legendary Journeys and Xena: Warrior Princess series and the Spider-Man trilogy. 
Born October 23, 1969 — Trudi Canavan, 53. Australian writer who's won two Ditmars for her Thief's Magic and A Room for Improvement novels and two Aurealis Awards as well, one for her "Whispers of the Mist Children" short story, and one for The Magician's Apprentice novel.  It's worth noting that she's picked up two Ditmar nominations for her artwork as well. 
Born October 23, 1974 — Naomi Alderman, 48. English novelist and game writer. The Power with its premise being the women suddenly the ability to release electrical waves from their hands, thus leading them to become the dominant sex. The novel is set to be turned an Amazon Prime Video television series, but what isn't? She's also written two Doctor Who novels set in the new series, Borrowed Time and Time Lapse, and some short fiction there as well.
(10) COMICS SECTION.
(11) COSTUME PARTY. Lis Carey's dog Cider went to a Howloween party at the dog park today.
(12) HIDE THAT BOOK! To enrich your Colleen Hoover knowledge, we bring you Mayi H.S. Hughes' article "In Defense of Colleen Hoover: Intellectual Snobbery at Harvard" from The Harvard Crimson.
A few weeks ago, I did something bizarre. I was sitting in the dining hall, reading a book when my friend approached me from behind and, peering over my shoulder, asked me what I was reading. Almost immediately, I slammed the book shut and spluttered, "Oh, nothing.".

As the conversation moved on, my eyes turned to the cover of my Colleen Hoover novel, which I had so shamefully hidden. The truth is, I was embarrassed. I had bought the book solely because of a TikTok video, with thousands of likes and comments raving about Hoover's "It Ends With Us." Having been up all night ripping through its pages, I had come to several conclusions: It was a terribly written book; it was repulsively predictable ]; and most importantly, I loved it.

My shame of being found reading Colleen Hoover stemmed from a culture of intellectual snobbery — feeling superior and prideful about the type of culture you consume. It's the person who prides themselves on their knowledge of "classical" literature, listing off the last names of authors such as John Milton, Charles Dickens, and Jane Austen as if they are family friends….

…David M. Levine, a Theater, Dance, and Media professor, described intellectual snobbery as "automatically excluding materials from intellectual consideration because they give immediate pleasure." Being an intellectual snob means feeling superior to e mass culture, due to the status and inaccessibility of the type of culture you consume, literary and beyond.

Intellectual snobbery can feel especially pervasive at Harvard, where books like Hoover's are rarely on reading lists. But her work was clearly popular amongst the masses – number one in the New York Times Best Sellers List as of January 2022. It was an easy read with a simple plot….
(13) TITANS MOVE TO THE CITY. That's The City. HBO Max dropped this trailer for the new season of Titans last week.
Having saved Gotham, the Titans hit the road to head back to San Francisco. But after a stop in Metropolis, they find themselves in the crosshairs of a supernatural cult with powers unlike anything they've faced before.
(14) VIDEO OF THE DAY. [Item by Martin Morse Wooster.] Andy Martin asks if people can stand the titanic genius of Mr. Director.
[Thanks to John King Tarpinian, Andrew Porter, Chris Barkley, Lis Carey, Doug Ellis, Jeffrey Smith, Lise Andreasen, Michael Toman, Cat Eldridge, Mike Kennedy, Martin Morse Wooster, and JJ for some of these stories. Title credit belongs to File 770 contributing editor of the day Dan'l Danehy-Oakes.]