(1) EMERGENCY KERFUFFLE. When the New York Times recently reported that "the Internet Archive is ending its program of offering free, unrestricted copies of e-books because of a lawsuit from publishers, which said lending out books without compensation for authors or publishing houses was 'willful mass copyright infringement'", part of the internet fell on Chuck Wendig who had called IA a "pirate site" for setting up the so-called National Emergency Library, even though he was only one of many to do so. His thread starts here. Update: "Only approved followers can see @ChuckWendig's Tweets"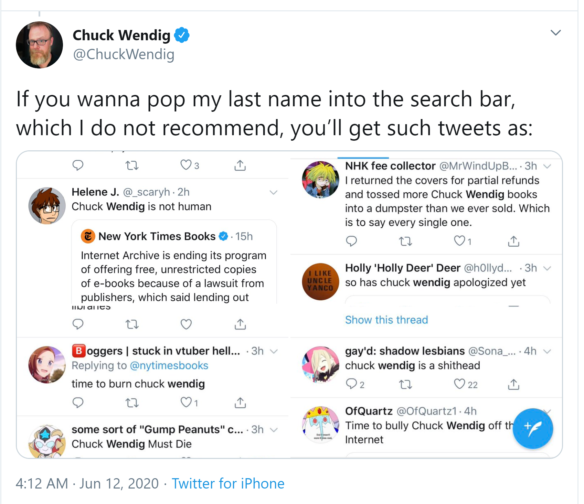 (2) ACTION ITEMS. The Booktubers behind the BooktubeSFF Awards have postponed the awards in favor of addressing some compelling issues:
(3) POINTING THE WAY. Here's Buzzfeed's list of "20 Books To Read If You Want To Get Into Black Sci-Fi And Fantasy".
BuzzFeed Books recently asked Goodreads about its most popular Black speculative fiction titles. Below are 20 books that get high ratings and ample attention from the site's many lovers of sci-fi and fantasy….
20. Mothership: Tales From Afrofuturism and Beyond, edited by Bill Campbell and Edward Austin Hall

Mothership: Tales From Afrofuturism and Beyond is an anthology gathering the writings of some of the most talented and groundbreaking authors of Afrofuturism and beyond, including N.K. Jemisin, Linda D. Addison, Rabih Alameddine, and more.

5-star review: "The best thing about this anthology is that it is filled with a variety of fiction across speculative genres from authors with both complementary and completely different styles. Mothership is a go-to if you want to bathe in Black speculative excellence, but it is also simply about the human experience across ethnicities, times, and places. It features works from and about other peoples of color, multi-racial individuals, and seats them all in different contexts." —Dara Crawley
(4) WW. Another delay: "Wonder Woman 1984 sets release date for Oct. 2" – CNET has the story.
… "Wish we were sharing our film yesterday but there are more important things going on in our world we'd rather you focus on for now," Wonder Woman director Patty Jenkins tweeted. "Thank you to our fans for being so great, by our sides."
(5) UNDER THE HOOD. The guidelines for CoNZealand's virtual masquerade are out. There are a lot of them. This is just an excerpt.
…Due to the current pandemic and global and local responses to it we are going digital! Both for our event and for all registrations, content, and that means entries.

All of the above rules apply. These are standard health and safety rules.

All entries will be pre-recorded.

You will have 2 minutes for your performance, solo entries included! Technical advice on recording your performance will be coming shortly, but most smartphones will be up to the task for video, more care will be needed for audio so please plan and have a back up accordingly!

You will also have 5 mins for a Q&A that will introduce you to our CoNZealand crew and audience.

We will be streaming the Masquerade as well as have the entries viewable before and after the event, this necessitates changes to what we are able to use for audio in entries. This information will be available soon.
(6) FULL LID. Alasdair Stuart, in this week's "The Full Lid — 12th June 2020", takes a long look at the extraordinary Blindspotting, written by and starring Daveed Diggs and Rafael Casal and directed by Carlos López Estrada. Then, "From Oakland we go to deep space and check out Nerys Howell's precise, brilliant one-season science fiction podcast Seren. Finally, we come into land in rural Ireland with the fantastic The Hole in the Ground, directed by Lee Cronin who will be directing the next Evil Dead movie." The interstitials this week are episodes of the superb Nightlight horror fiction podcast.
(7) LIZARD LEFTOVERS. You couldn't make this stuff up! But somebody did — "5 Super Weird Godzilla Vs. Movies That Almost Got Made". For instance:
Godzilla vs. Batman

Holy radiated lizard scales, is Godzilla vs. Batman really a thing? Yes, I'm afraid it is, and Toho isn't the only one that came up with the idea. American studio Greenway Productions, led by producer William Dozier, who produced Adam West's Batman: The Movie, had a script drafted called Batman Meets Godzilla. Toho, for its part, had screenwriter Shinzi Sekizawa, who wrote Mothra vs. Godzilla, write its own version, but little is known about that one. The draw to have Godzilla fight Batman in both Japan and the United States seemed purely logical at the time. Batman's comic books were flying off the shelves in Japan, and Godzilla movies were relatively popular in America too. So for both production companies, it seemed like a no-brainer to have a man dressed up like a bat fight a giant radiated lizard.

In William Dozier's script, Batman, Robin and Batgirl first fight the villainous mad scientist Klaus Finster, who eventually awakens Godzilla. Batman and his sidekicks use every Bat-tool in their Bat-belts to stop the destructive Godzilla, but eventually settle on a plan to lure Godzilla with a mating call and then knock him out with explosives. After a thrilling battle between Godzilla and the Bat-crew, Batman finds a way to attach an explosive to Godzilla's neck with Bat-rope and detonates it. While Godzilla is unconscious, the humans build a rocket around him and send him into the far reaches of outer space.

Sadly, this whimsical and silly adventure would never come to pass, likely because it's insane, but also because the seas of change were roaring. The Adam West Batman TV show only lasted three seasons and a much darker interpretation of Batman was brewing in the comic books. Eventually, both Batman and Godzilla would see a radical transformation, but they would never meet on the big screen.
(8) MEDIA BIRTHDAY.
June 13, 1958 — Forbidden Planet premiered. It was produced by Nicholas Nayfack, and directed by Fred M. Wilcox. The screenplay was by Cyril Hume from a story by Irving Block and Allen Adler. It starred Walter Pidgeon, Anne Francis and Leslie Nielsen, with narration by Les Tremayne. Critics loved the film. "Weird but fascinating and exciting" said one. On its initial run the film turned a modest profit. Audience reviewers at Rotten Tomatoes give it a spectacular 85% rating.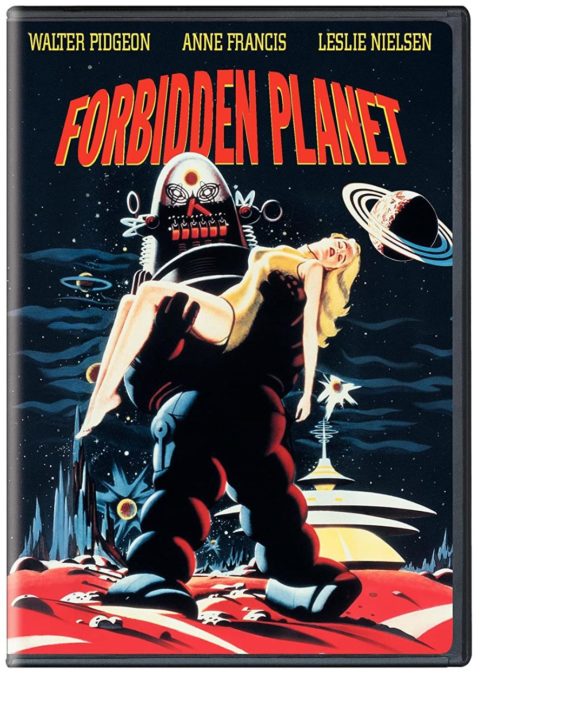 (9) TODAY'S BIRTHDAYS.
[Compiled by Cat Eldridge and John Hertz.]
Born June 13, 1860 – Lancelot Speed. Painter, illustrator, director of early British silent films, cartoonist in Punch and elsewhere. Illustrated Andrew Lang's Fairy books and Rider Haggard's She, for which he also designed the film sets. Here is Swanhild walking the seas, from Haggard's Eric Brighteyes; here is Snowdrop in her glass coffin, from The Red Fairy Book; here is a scene from The Odyssey. (Died 1931) [JH]
Born June 13, 1865 – W.B. Yeats. Nobel Prize in Literature. Co-founded the Abbey Theatre. Student of Irish folklore & fantasy; Fairy and Folk Tales of the Irish Peasantry reprinted 2015 as Irish Fairy Tales. A dozen short stories, forty poems, for us. Here is "Among School Children" (How can we know the dancer from the dance?). Here is "Byzantium". Here is "The Second Coming" (what rough beast?). (Died 1939) [JH]
Born June 13, 1892 — Basil Rathbone. He's best remembered for being Sherlock Holmes in fourteen films made between 1939 and 1946 and in a radio series of the same period. For films other than these, I'll single out The Adventures of Robin Hood (all Robin Hood is fantasy), Son of Frankenstein and Voyage to the Prehistoric Planet. (Died 1967.) (CE)
Born June 13, 1893 – Dorothy Sayers. Known for Lord Peter Wimsey, whom I applaud – including his meticulously shown faults – but little of her detective fiction is ours (there are a few, like "The Cyprian Cat" which happens not to have Lord Peter). Her religious writing was not fantasy for her. I offer two points. One small: in Busman's Honeymoon, climax of the Wimsey stories, the ghost, almost an aside, is superb. One great: her rendition of The Divine Comedy: it is fantasy: it's Dante's dream. Sayers didn't invent it; nor did Pope invent the Iliad and the Odyssey, his renditions of which, liberties taken and all, still shine. (Died 1957) [JH]
Born June 13, 1903 — Frederick Stephani. Screenwriter and film director who is best remembered for co-writing and directing the 13-chapter Flash Gordon serial in 1936. He directed Johnny Weissmuller's Tarzan's New York Adventure (aka Tarzan Against the World). He was also a uncredited writer on 1932's Dracula. (Died 1962.) (CE)
Born June 13, 1920 – Walter Ernsting. Co-founded the Science Fiction Club Deutschland – note its combined English-German name – editing its newsletter five years. Called the father of German fandom. Big Heart Award. Co-invented (as Clark Darlton) Perry Rhodan – who began, in 1961, as a U.S. Space Force Major of 1971; here is the first cover; as of early 2019, more than 3,000 weekly digest-size booklets, 400 paperbacks, 200 hardbacks, two billion copies in novella format sold worldwide. As CD and otherwise, three hundred SF novels, many shorter stories, many with co-authors; translated into Dutch, English, French, Russian; commemorative book in 2000, Clark Darlton, the Man who Brought the Future. (Died 2005) [JH]
Born June 13, 1929 — Ralph McQuarrie. Conceptual designer and illustrator. He worked on the original Star Wars trilogy, the first Battlestar Galactica, Star Wars Holiday Special, Cocoon, Raiders of the Lost Ark, Nightbreed, Star Trek IV: The Voyage Home andE.T. the Extra-Terrestrial. (Died 2012.) (CE)
Born June 23, 1934 – Doreen Webbert. First appeared in 1959, joining SAPS (the Spectator Amateur Press Society) and with husband Jim serving jointly as Official Editors six years. First convention, Westercon 13 (Boise, Idaho). Later to Arizona. Stalwart of Leprecons, Coppercons, Westercons, NASFiCs (N. Amer. SF Con, since 1975 held when the Worldcon is overseas). Fan Guest of Honor at Tuscon 15, Coppercon 9, Con/Fusion (sponsored by San Diego Comic-Con), Kubla Khanterfeit. [JH]
Born June 13, 1943 — Malcolm McDowell, 77. My favorite role for him was Mr. Roarke on the rebooted Fantasy Island. Of course, his most infamous role was Alex in A Clockwork Orange. Scary film that. His characterization of H. G. Wells in Time After Time was I thought rather spot on. And I'd like to single out his voicing Arcady Duvall in the "Showdown" episode of Batman: The Animated Series. (CE)
Born June 13, 1949 — Simon Callow, 71. English actor, musician, writer, and theatre director. So, what's he doing here? Well he got to be Charles Dickens twice on Doctor Who, the first being in "The Unquiet Dead" during the time of the Ninth Doctor and then later during "The Wedding of River Song", an Eleventh Doctor story. He'd also appear, though not as Dickens, on The Sarah Jane Adventures as the voice of Tree Blathereen in "The Gift" episode. I've not watched the series. How are they? He was also The Duke of Sandringham in the first season of Outlander. (CE)
Born June 13, 1953 — Tim Allen, 67. Jason Nesmith in the much beloved Galaxy Quest. (Which won a much deserved Hugo Award for Best Dramatic Presentation at Chicon 2000.) He actually had a big hit several years previously voicing Buzz Lightyear in Toy Story which would be the first in what would become a film franchise.
Born June 13, 1974 – Jeaniene Frost. Her Night Huntress books have been New York Times and USA Today best-sellers. Fifteen of them so far, nine more novels, half a dozen shorter stories. Audiobooks. She says, "In my dream, I saw a man and a woman arguing. Somehow I knew the woman was a half-vampire, the man was a full vampire, and they were arguing because he was angry that she'd left him." Her Website is here. [JH]
(10) COMICS SECTION.
(11) HISTORY MOVES IN HITCHCOCK'S DIRECTION. SYFY Wire tells "Six Ways Psycho Impacted The Future Of Film".
Psycho inspired the first documentary about a single scene in a film

By now, we are used to feature-length documentaries about the making of certain classic films – or what they could have been. Room 237, Jodorowsky's Dune, Lost Soul: The Doomed Journey of Richard Stanley's Island of Dr. Moreau, Lost in La Mancha, and Never Sleep Again: The Elm Street Legacy are just a few recent examples. But 78/52 is the first documentary to concentrate on a single scene in a film. The documentary, directed by Alexandre O. Philippe, focuses on the infamous "shower scene." The title refers to the number of set-ups in the scene (78) and the number of cuts (52). What other film has a three-minute scene that could hold enough interest to generate a 91-minute documentary?
(12) MARS SCIENCE CITY. CNN tells how "Architects have designed a Martian city for the desert outside Dubai" – with photos.
Dubai is a city where firefighters use jetpacks, archipelagos are built from scratch, and buildings climb into the clouds; a slick metropolis in the middle of a vast red desert. First-time visitors would be forgiven for thinking they had stumbled onto a film set for a sci-fi movie.

Now Dubai is set for what must be its most other-worldly architectural project yet.

In 2017, the United Arab Emirates announced its ambition to colonize Mars within the next 100 years. But architects are already imagining what a Martian city might look like — and planning to recreate it in the desert outside Dubai.

Mars Science City was originally earmarked to cover 176,000 square meters of desert — the size of more than 30 football fields — and cost approximately $135 million.

Intended as a space for Dubai's Mohammed Bin Rashid Space Centre (MBRSC) to develop the technology needed to colonize Mars, architects Bjarke Ingels Group were asked to design a prototype of a city suitable for sustaining life on Mars — and then adapt it for use in the Emirati desert.
(13) WATCHING MASTER SHIFU. "Red pandas tracked by satellite in conservation 'milestone'".
Conservationists are satellite tracking red pandas in the mountains of Nepal to find out more about the factors that are driving them towards extinction.

The mammals are endangered, with numbers down to a few thousand in the eastern Himalayas and southwestern China.

Ten red pandas have been fitted with GPS collars to monitor their range in the forests near Mount Kangchenjunga.
(14) BEST GUESSES. Vice is delighted to inform readers that "Scientists Have Discovered Vast Unidentified Structures Deep Inside the Earth". What are they? The article offers a couple of wild-ass theories.
Scientists have discovered a vast structure made of dense material occupying the boundary between Earth's liquid outer core and the lower mantle, a zone some 3,000 kilometers (1,864 miles) beneath our feet.

The researchers used a machine learning algorithm that was originally developed to analyze distant galaxies to probe the mysterious phenomenon occurring deep within our own planet, according to a paper published on Thursday in Science.
(15) DON'T LOSE THIS NUMBER. Marc Laidlaw shares "The Satellite 37L4O5 Etc. Waltz."
In the future, everyone will have a unique customized waltz, personalized entirely for them, which identifies them immediately. Reminder: Any waltz may be suspended at the discretion of the Identi-Waltz Authority.
[Thanks to Cat Eldridge, Andrew Porter, Martin Morse Wooster, Mike Kennedy, John Hertz, Michael Toman, Chip Hitchcock, JJ, Contrarius, and John King Tarpinian. Title credit goes to File 770 contributing editor of the day Bill.]