(1) MUST-READ GRAPHIC NOVELS. The Guardian has a little list: "From Maus to Tamara Drewe: the 10 graphic novels everyone should read".
The recent hoo-ha about the Man Booker prize's longlisting of a graphic novel for the first time, the chilling, understated Sabrina by Nick Drnaso, may have piqued your interest in exploring this ever-expanding medium further, or perhaps for the first time. Not everyone has grown up reading comics and the demands of their various verbal and visual literacies can take some adjusting to, particularly if you're used to the orderly typesetting of prose novels. It's never too late, though, to try stretching your brain – both sides of it when it comes to graphic novels, where looking is as important as reading.
The roundup begins with —
This experience comes through in the wordless migration parable The Arrival by Shaun Tan (2006), which follows a man who has gone on ahead of his wife and children to seek work abroad and struggles to navigate his alien surroundings and their indecipherable language. Unable to make himself understood, he resorts to making simple drawings to communicate his need for a room. The reader shares his bafflement and gradually grasps with him how his strange new homeland works. Tan's genius in children's picture books blossoms in this extended tale for all ages, illustrated in almost photographic sepia images.
(2) PREDATOR'S FIRST BITE. ScreenRant gives the popular actor's fans a reason to mourn: "The Predator Cuts Edward James Olmos' Character Due to Shorter Runtime".
As first reported by Slash Film, Olmos won't be appearing in The Predator as previously planned. When asked about his role in the film Olmos commented, "I'm not in the show though. It was too long so my character, they had to take me out. They were like half an hour, 3/4 of an hour too long. So I understand why". Olmos himself doesn't seem to be terribly disappointed by the news, but fans of his previous work such as Battlestar Galactica and Blade Runner certainly will be.
(3) CARTOON VERDICT. Camestros Felapton's "Review: Final Space (Netflix)" is an interesting tour whether you're likely to watch the series or not – and more likely not, based on his conclusions….
It's basically a fun kids cartoon but with more violence and (generally mild) sexual references. With a small amount of effort, it could have been a really good kid's cartoon instead of whatever it ended up being…

I wouldn't want to recommend you watch it as for some readers it might result in them using their mobile device as a projectile aimed at the wall but it is sort of a better show than it deserves to be.
(4) PAPER CANCELLED.  John Teehan notes that the SFWA Bulletin is abandoning its print edition.
End of an era. As production manager and occasional editor, I worked on 56 issues over 15 some odd years. The SFWA Bulletin is now going digital, and the current issue is the last print one I'll be involved with. It was a great run—one of the best gigs ever. Had some ups and downs, certainly, but the experience overall was a great one in which I found myself growing each year. Many thanks to everyone who supported our work over the years.
(5) TODAY IN HISTORY
August 5, 1861 — The United States government issued its first income tax, encouraging more people to write fantasy.
August 5, 2011 — Rise of the Planet of the Apes was a reboot that worked.
(6) TODAY'S BIRTHDAYS
Born August 5, 1930 – Neil Armstrong
(7) CURIOSITY'S QUIET ANNIVERSARY. [Item by Mike Kennedy.] You may have seen headlines about Curiosity singing (well, humming) Happy Birthday to itself in honor of it's fifth birthday (as measured in Earth years since landing) last week. Well, nope. Florence Tan at NASA's Science Mission Directorate explained to The Atlantic why this was a one-time occurrence (in 2013) rather than an annual event — "Why the Curiosity Rover Stopped Singing 'Happy Birthday'".
"The answer to your question will sound rather cold and unfeeling," her email began.

Oh, no.

"In a nutshell, there is no scientific gain from the rover playing music or singing 'Happy Birthday' on Mars," Tan said. In the battle between song and science, science always wins.
Vibrating the sample-analysis unit (which is a normal part of Curiosity's scientific endeavors) uses energy that could be put to use elsewhere and adds wear and tear to the SAM unit. Plus, of course, it takes someone to work the humming into an incredibly tight schedule:
"It's not just, 'Oh, I'm ready to send a command, just send an email to somebody,'" Tan said in a phone interview. The rover's activities are scheduled down to the minute, and SAM requires power to operate. Curiosity runs on a nuclear battery that turns heat into electricity, and it will eventually die.
So, the uncaged rover no longer sings.
(8) VONARBURG BIRTHDAY. Steven H Silver lights up another cake at Black Gate with "Birthday Reviews: Élisabeth Vonarburg's 'Cogito'".
She has twice been nominated for the Philip K. Dick Award and once for the James Tiptree, Jr. Memorial Award. Her greatest recognition came from the Canadian Casper/Aurora Awards, which she has won ten times. Vonarburg won the French language award in 1987 for her story "La Carte du Tendre" ("Readers of the Lost Art"). That same year, she received a second Aurora for her fannish contributions to Solaris. She won three additional short story Auroras for "Cogito" (1990), "Ici, des tigres" (1991), and "La Course de Kathryn" (2004) and five Auroras for Best book for Histoire de la Princesse et du Dragon (1991), Ailleurs et au Japon (1992), Chroniques de Pays des Mères (1993), Les Voyageurs malgré eux (1996), and Reine de Mémoire 4. La Princesse de Vengeance (2007). She won the Prix Rosny-Ainé and the Prix Boreal in 1982 for her novel Le Silence de la Cité. She also won the Boreal for Chroniques de Pays des Mères (1993), Les Rêves de la mer (1997), Reine de Mémoire 1. La Maisson d'oubli (2006) and Reine de Mémoire 4. La Princesse de Vengeance (2007). Prior to 1990, the Aurora Award was known as the Casper Award and in 2011, the Prix Aurora and Prix Boreal combined.
(9) EERIE. Bill "Beamjockey" Higgins has a birthday today, too – and is wondering how File 770's commenting bug knew!
I can easily accept that some crazy glitch in your blogware puts a far-future date on my draft comment.

What's spooky is that WHEN I WAS COMMENTING ABOUT CENTENNIALS AND BICENTENNIALS the date on my comment turned out to be 5 August 2854, 900 years after my own birth.

Pics, or it didn't happen?  I attach a screenshot.

Timebindingly yours….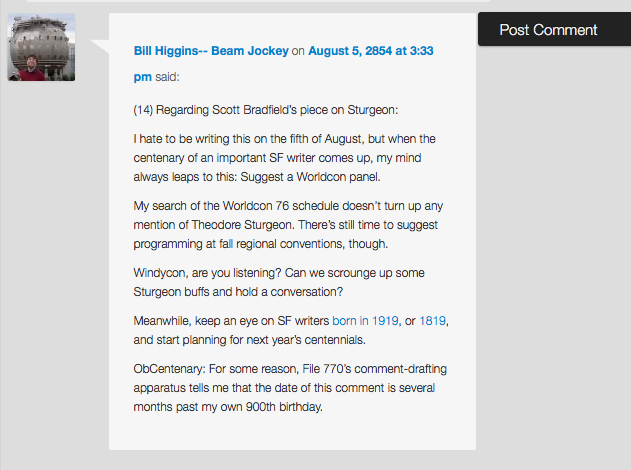 (10) OUTREACH. The reading evangelists from Dublin 2019 will be out again next weekend at a local event: "Dublin Comic Con and Outreach". Chair James Bacon outlines the history:

…No matter where we go, we try and focus on ensuring we have something for all ages of reader. We isolate books for children and younger readers, and keep them to one side; we know adults also love them, but we conserve them so every child can walk away with a book or comic.

This year in Dublin we have 4 large boxes of Childrens Comics, The Beano, Whizzer and Chips and Buster, and cartoon based Superhero comics as well as children's books, and we will ensure kids get them.

It positively encourages the gentle transition of fascination with all that is super heroes or fun on the screen, to reading on the pages.

These projects have benefited hugely from established conventions who support their logistical activities and also from individuals and organisations who make generous donations of books, magazines and comics as well as their time and effort. Publishers and book stores also support the activities, and Half Price Books in the states have consistently been very good to SF Outreach.

This year, Dave Finn from Incognito Comics has again given two car loads of magazines, books, and comics to Outreach, knowing from seeing it in action at London Film and Comic Con, that the energy and enthusiasm to encourage reading is genuine and if as a by-product, people go to more cons, well isn't that just fabulous.

Dublin Comic Con next weekend, and if you are in Dublin and want to check out anything to do with the Worldcon, please do call by and speak to us if you are going to Dublin Comic Con. (Check tickets availability, they do sell so well!)
(11) CHOCOLATE HUGO. Jerry Pournelle famously said, "Money will get you through times of no Hugos better than Hugos will get you through times of no money," however, at the 1984 Worldcon Larry Niven played off his collaborator's pet phrase when he presented him with a solid chocolate rocket during the ceremony: "Jerry, this is the Hugo that will get you through times of no money better than…."
All that came back to mind when I saw Worldcon 76 will auction the version of a chocolate Hugo given at last year's Hugo Loser's Party in Helsinki.
Delicious?

Yes, these were awarded at the legendary Hugo Loser's Party in Helsinki Finland at Worldcon 75. The frame is milk chocolate, the center is white chocolate. Together, they taste like victory.

We can't guarantee they're gluten free. They may have been made in a facility that works with nuts. If you have any kind of dietary restrictions, you can still buy and enjoy this, but don't eat it. Just relax and bathe in the glamor of owning a Worldcon Hugo Award.

And keep cool, or it might melt.
The beneficiary of the Worldcon76 in San Jose Charity Auction is the Alzheimer's Association.
(12) THOUGHT EXPERIMENT. If that was too much chocolate, then for certain this is too much jam: "What If the Earth Was Made Out of Blueberries?" at Popular Mechanics,
In the heart of blueberry season, Billy-bodega, a user on Physics Stack Exchange, posed the question: "Supposing that the entire Earth was instantaneously replaced with an equal volume of closely packed, but uncompressed blueberries, what would happen from the perspective of a person on the surface?" the question got promptly deleted. But it didn't stop Anders Sandberg, a researcher at Oxford's Future of Humanity Institute, to seriously tackle the idea, explaining the development of this blueberry planet (and even publishing the comprehensive answer in a paper).

What you'd end up with, according to Sandberg, "is a world that has a steam atmosphere covering an ocean of jam on top of warm blueberry granita." Here's how the planet would form: you start with fat, thick-skinned blueberries (blueberry Earth would be much less dense than actual Earth, and gravity would be weaker). Since blueberries can't withstand strong forces, gravity would turn them into mash, releasing air that previously separated them from their neighbors, shrinking the radius of the planet.
(13) NOVIK. Naomi Novik's Spinning Silver, her take on Rumplestiltskin, is reviewed by Choire Sicha in the New York Times Book Review. "Rumpelstiltskin Redux".
Here [the author] has gathered countless old tales and turned them into something new. The theft of summer, a burning demon who lives inside a prince, a witch's hut in the woods, the secret power of names, the frozen winter road that winds its way through the depths of the forest—they're all here.
(14) THUMB DOWN. At Locus Online, "An Awful Warning, in More Ways Than One: Gary Westfahl Reviews The Darkest Minds".
If anyone is glancing at this review for advice on which films to see this weekend, my recommendation would be to avoid The Darkest Minds. For while it is competently executed and offers some superficial novelties, it is a film that most people have already seen several times, and since two similar franchises to be discussed have failed to generate expected sequels, it may be that many filmgoers are growing as tired of this film as I am.

The film is a generally faithful adaptation of Alexandra Bracken's novel The Darkest Minds (2012), yet another version of a common formula for success in the modern marketplace of young adult fiction: a future dystopia spawned by an improbable disaster that prods evil adults to torment and oppress its teenagers, despite the fact that – or even because – these amazingly talented and virtuous youth are the only ones who can save humanity from impending extinction. In this case, the improbable disaster is the sudden appearance of a disease called IAAN (Idiopathic Adolescent Acute Neurodegeneration), which kills most young people and imbues the surviving youth with a variety of psychic powers: "greens," superintelligence; "blues," telekinesis; "yellows" (in the film, "golds"), control of electricity; "oranges," the ability to control others' minds; and "reds," pyrokinesis. Naturally, the government responds by declaring martial law, rounding up all teenagers, and placing them in concentration camps to either be slaughtered or exploited as slave labor. Our heroine, Ruby Daly (Amandla Stenberg), conceals her feared orange powers, keeping her alive until she escapes from her camp with the help of Cate Connor (Mandy Moore), a member of an underground organization called the Children's League which turns out to be similarly sinister. But Ruby runs away to join three other teenage fugitives, the blue Liam (Harris Dickinson), the gold Suzume, or Zu (Miya Cech), and the green Chubs (Skylan Brooks), and they proceed to have several adventures in the vicinity of Virginia (though the movie was filmed in Georgia).
(15) CLIMATE FIXES. Kim Stanley Robinson educates in "The King Of Climate Fiction Makes The Left's Case For Geoengineering" at Huffington Post.
…Robinson's New York 2140, published last year, lays out a vision of what climate catastrophe and a leftist uprising against the capitalist forces that caused it would look like. So HuffPost asked him to elaborate on what he sees as the future of geoengineering. The following was edited for length and clarity.

How do you define geoengineering and what are the forms it will most likely take?

I guess the definition would be something like "a deliberate planned attempt by human beings to mitigate the damages of climate change, of carbon dioxide and methane buildup in the atmosphere, and of ecological damage generally, by way of some action that is large-scale" — if not global in reach, then regional in ways that might have global repercussions.

I've been saying that "geoengineering" is a bad name because engineering implies we know what we're doing more than we really do. Also, that we have more powers than we actually have. I've suggested we think of it as "geo-finessing" or "geo-tweaking" or even "geo-begging," to better indicate our relative ignorance and weakness in the face of global geochemical processes. Lots of those processes we can't do anything about, even if we really want to. So the name needs some unpacking.

The most likely forms it might take, I think, are the following: casting dust-like particles into the atmosphere to mimic a volcanic eruption, so that for a number of years after that, the global average temperatures would go down a bit. Drawing carbon dioxide out of the atmosphere by way of biological and/or mechanical means. Pumping seawater onto the ice cap of Eastern Antarctica. Stimulating growth of small life forms in the ocean that would then die and take their carbon to the seafloor ? this has been mentioned as a possibility, but it's widely regarded as potentially dangerous for ocean ecologies. Still, it might be tested on small scales, even used on small scales, which would reduce its power to help but also its power to harm.
(16) RETRO TECH. How we know it's the 21st century: "Town dusts off typewriters after cyber-attack". Remember all those post-holocaust stories of reviving old tech? (But is anybody still making ribbons?)
Government workers in a borough of Alaska have turned to typewriters to do their jobs, after ransomware infected their computer systems.

A spokeswoman for Matanuska-Susitna said the malware had encrypted its email server, internal systems and disaster recovery servers.

She said staff had "resourcefully" dusted off typewriters and were writing receipts by hand.

The borough is in the process of rebuilding its systems.
[Thanks to Mike Kennedy, StephenfromOttawa, Cat Eldridge, JJ, Rob Thornton, John King Tarpinian, Martin Morse Wooster, Chip Hitchcock, Carl Slaughter, Bill "Beamjockey" Higgins, and Andrew Porter for some of these stories. Title credit goes to File 770 contributing editor of the day Lisa Goldstein.]